LOUISIANA
FRONT PAGE EVENTS
When reviewing the listed events, try to not look at each event as a stand-alone event but instead as a body of events that the Fire and Power of the Holy Spirit builds one upon the other...
← LOOKING FOR MORE? PLEASE GO TO THE LEGEND ON THE LEFT SIDE OF THIS PAGE AND PUT YOUR CURSOR ON ONE OF THE PAGES. THEN CLICK ON YOUR ITEM OF INTEREST.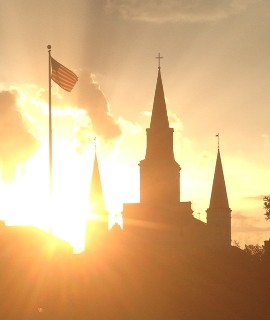 (Taken in New Orleans on Saturday, July 18, 2015)

Got a multi-parish Louisiana Catholic event you would like to have listed? If so, please send event information or a jpeg image or a pdf document to: macleanland@bellsouth.net to get it listed.
UPCOMING CATHOLIC EVENTS ACROSS LOUISIANA ARE SHOWN BELOW
AS MULTI-PARISH LOUISIANA EVENTS ARE RECEIVED, THEY WILL BE POSTED. THE ARE GENERALLY LISTED BELOW IN DATE ORDER WITH REGULARLY OCCURRING MONTHLY EVENTS LISTED LAST. PLEASE SEND YOUR MULTI-PARISH EVENT TO macleanland@bellsouth.net

SCROLL DOWN TO VIEW THEM IN:

LAKE CHARLES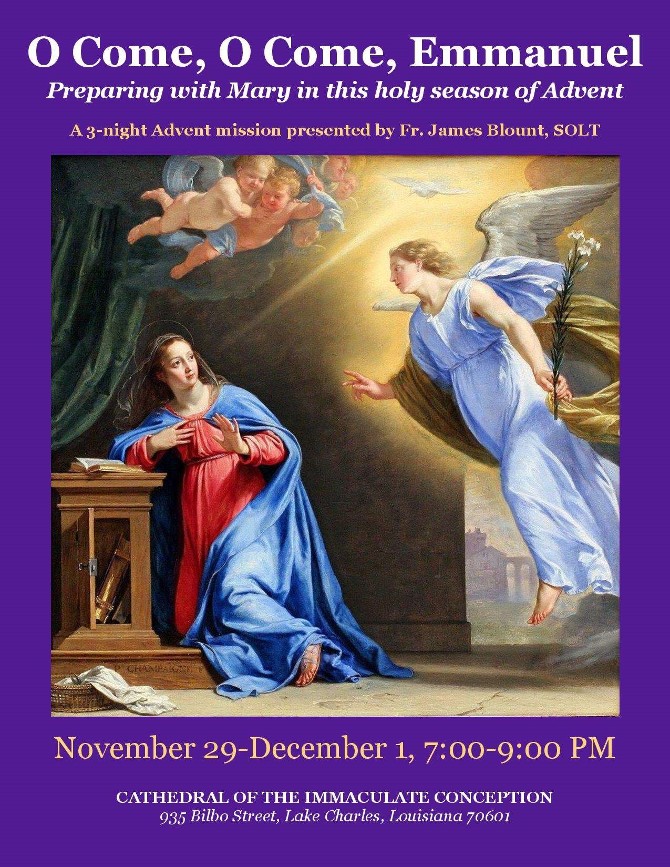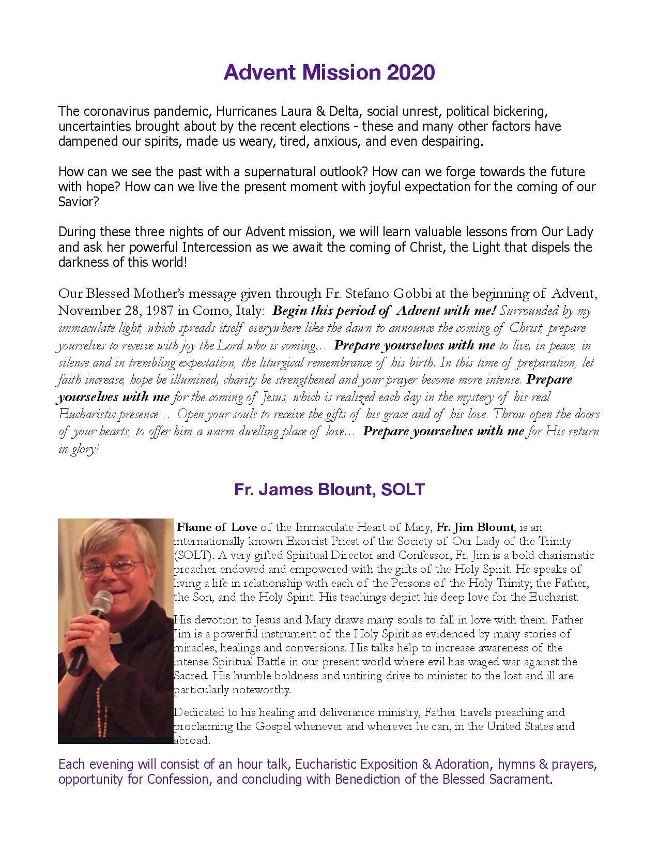 AMELIA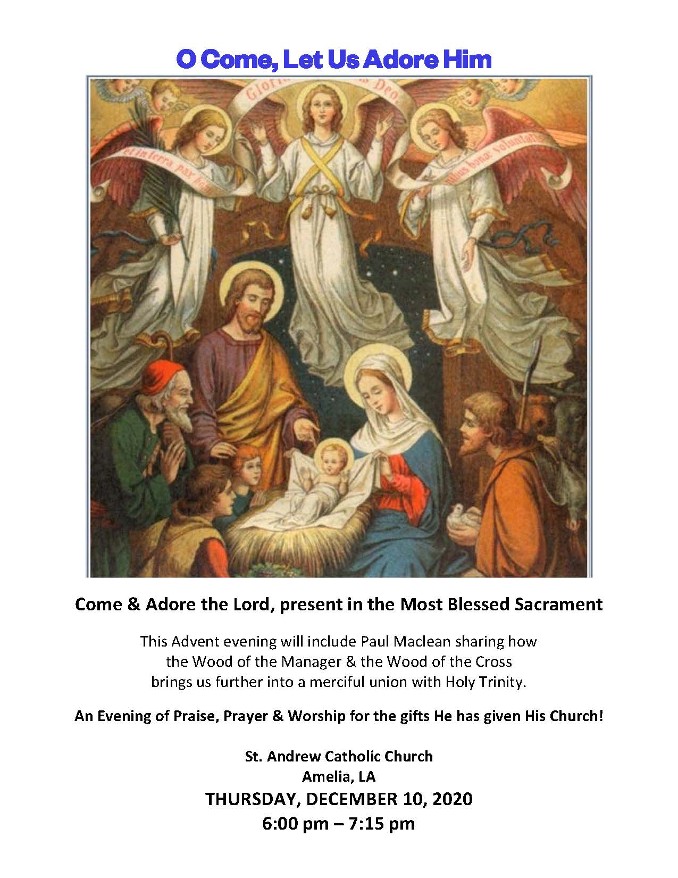 LAFAYETTE
Healing the Whole Person Retreat
&
Day of Equipping
December 10 – 12, 2020
Two events built into one powerful weekend!
Register for each separately.
Our Lady of Fatima Catholic Church,
2319 Johnston St, Lafayette, LA 70503, USA
Presenters: Dr. Bob Schuchtz
Bart Schuchtz
Sr. Miriam James
For all the information on these presenters, click here.
For information on the event and to register, click here.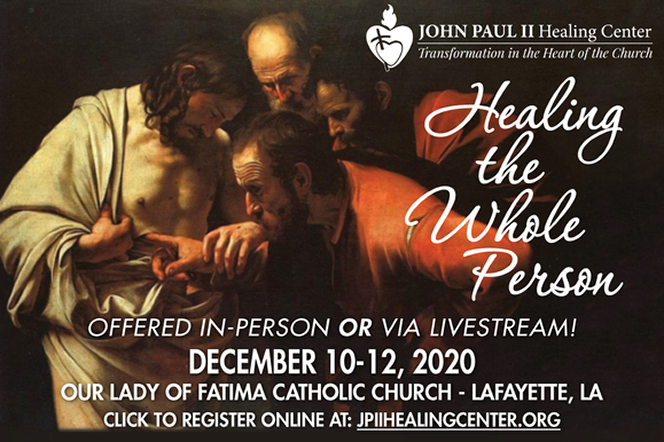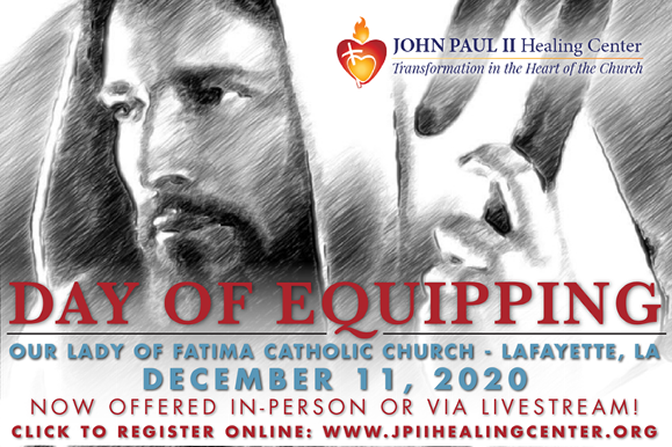 NEW ORLEANS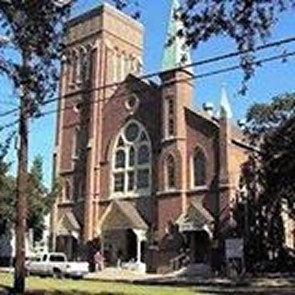 CENTER OF JESUS THE LORD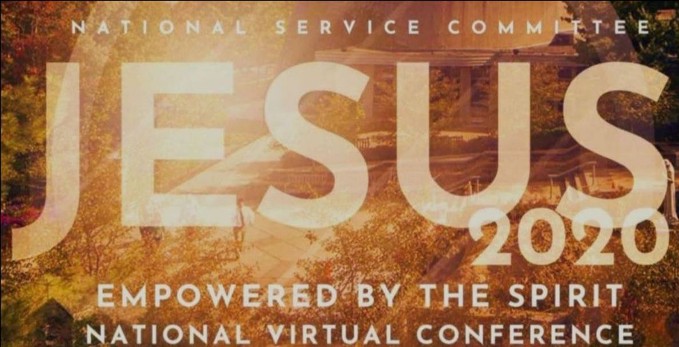 The center is hosting the National Charismatic Conference in 2020, come and Join us for Jesus 2020.
The center is excited to host this event and hopes everyone can be Empowered by the Spirit at the Jesus 2020 Live streamed conference.
• Friday December 11th & December 12th

• First night is Friday, December 11 at 5:30 pm CST, please arrive early to check in; RSVP at the Center 504-529-1636 or email glicata@centerofjesusthelord.org

• Live Streamed at Center Church, 1235 Louisiana Ave., New Orleans, LA

• Free Admission

Speakers:
Fr. Dave Pivonka
Peter Herbeck
Mary Bielski
Jim Beckman
Bishop Peter Smith
Scott Hahn
LULING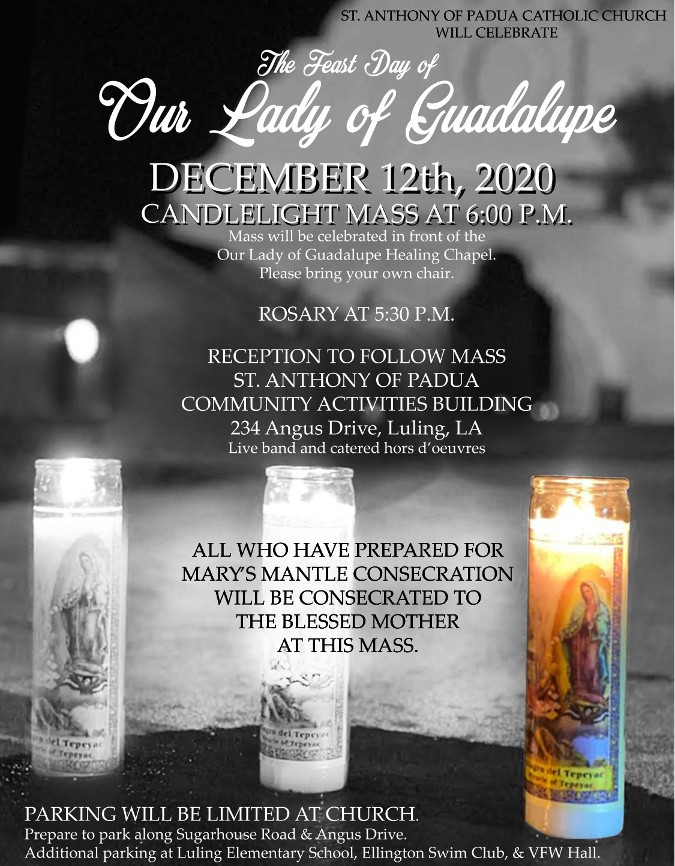 ST. BENEDICT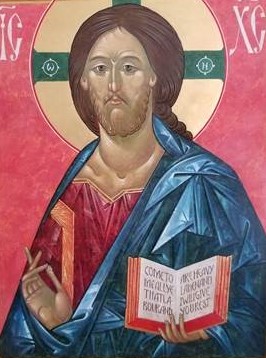 PROSOPON ICON WORKSHOP
December 16 - 21, 2020
THE CRUCIFIXION

Christian Life Center, Saint Joseph Abbey, Saint Benedict, LA
(Located within the Archdiocese of New Orleans, La.)

With an opportunity for daily prayer with the monks of St. Joseph Abbey
Instruction in the Byzantine-Russian Tradition by the Prosopon School of Iconology: www.prosoponschool.org

Workshop Objective*: Completion of one icon, provided attendance for the full six (6) days and the completion of daily assignments as allocated by the instructor.
For all information and to register, please contact:
Christine Daunis at 225-252-3090 or christinedaunis@yahoo.com
++++++++++
BATON ROUGE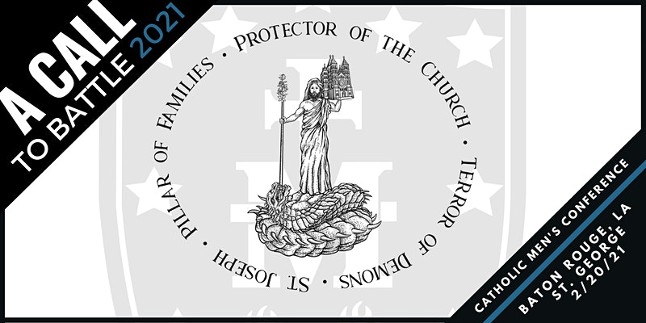 For all the information abou the conference, click here.
LACOMBE
SAVE THESE EVENINGS!
"Now, more than ever,
Come, Holy Spirit, Come!"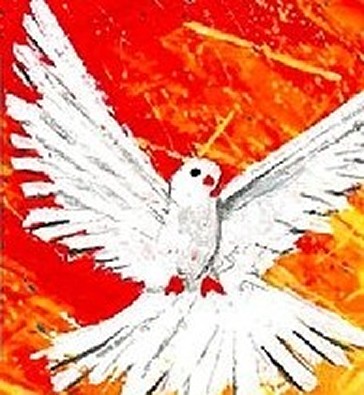 ANNUAL HOLY SPIRIT NOVENA AT
ST. JOHN OF THE CROSS CHURCH
Friday, May 14, 2021 through Saturday, May 22, 2021
Presenter and music ministries have been secured. Itinerary details are being finalized. All the information will be published here when released.
++++++++++++++++++
REOCCURING EVENTS: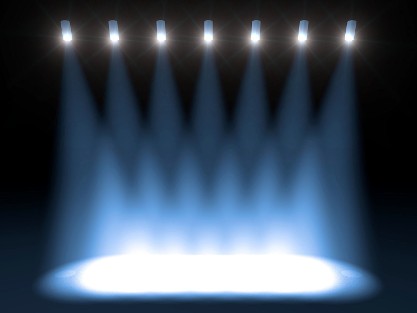 ACROSS LOUISIANA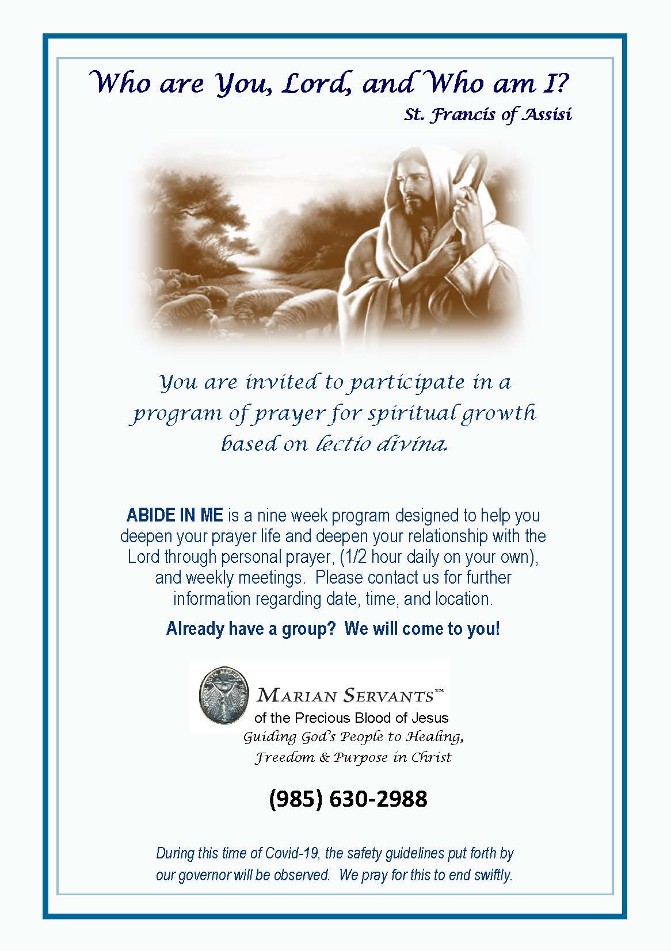 Abide in Me is an opportunity for a small group (four to ten) to share a spiritual growth opportunity. Participating groups can meet in their own space and at their own time and receive the aid of a Marian Servant facilitator.* Your group must agree to meet for one hour on the same day and time for nine weeks, and to each pray individually for a half hour each day using traditional lectio divina prayer with sacred scripture which will be taught in the program.
*Facilitators are graduates of the Marian Servants School of Spiritual Direction who hold certifications from the theology department of Franciscan University at Steubenville, Ohio. There is no charge for the program.
Call (985) (630 -2988 for more information.
MADISONVILLE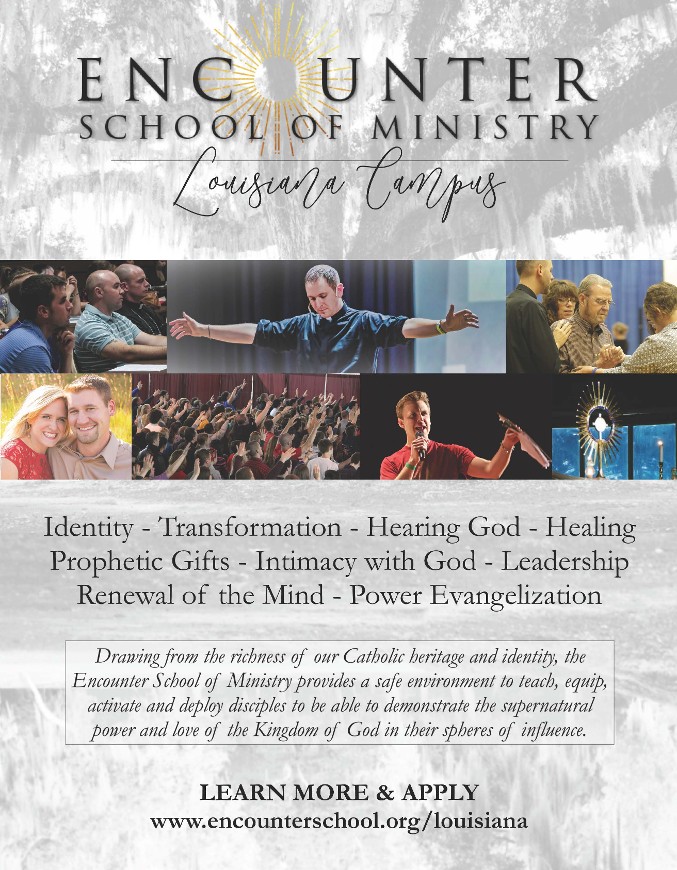 Encounter School of Ministry
Lake Pontchartrain Basin Maritime Museum
133 Mabel Drive
Madisonville, LA 70447
FOR INFORMATION ABOUT THE SCHOOL, CLICK HERE.
AMELIA
On the third Thursday of each month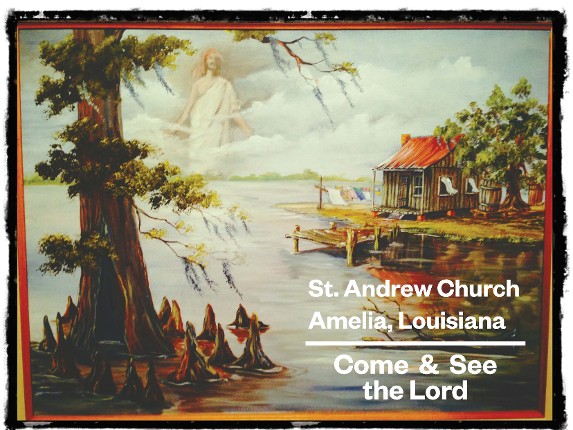 For November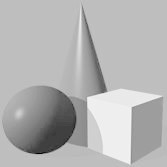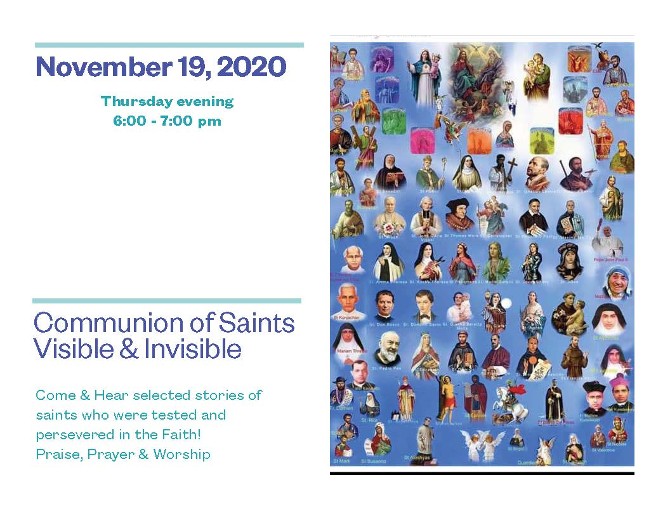 All are invited!
METAIRIE

SPACING GUIDELINES:
Masks are strongly encouraged.

Please observe social distancing; refrain from hugging, shaking hands, speaking closely, etc.

No song books will be used.

Priests and Ministers of Communion must use hand sanitizers before distributing
Communion and use masks while distributing Communion.

Reception of Communion on the hand is strongly encouraged; those who wish to receive on the tongue are requested to wait until the end, after everyone else has received.

Communion is under one specie only; the chalice will not be offered.

For all information and events, click here.
HOUMA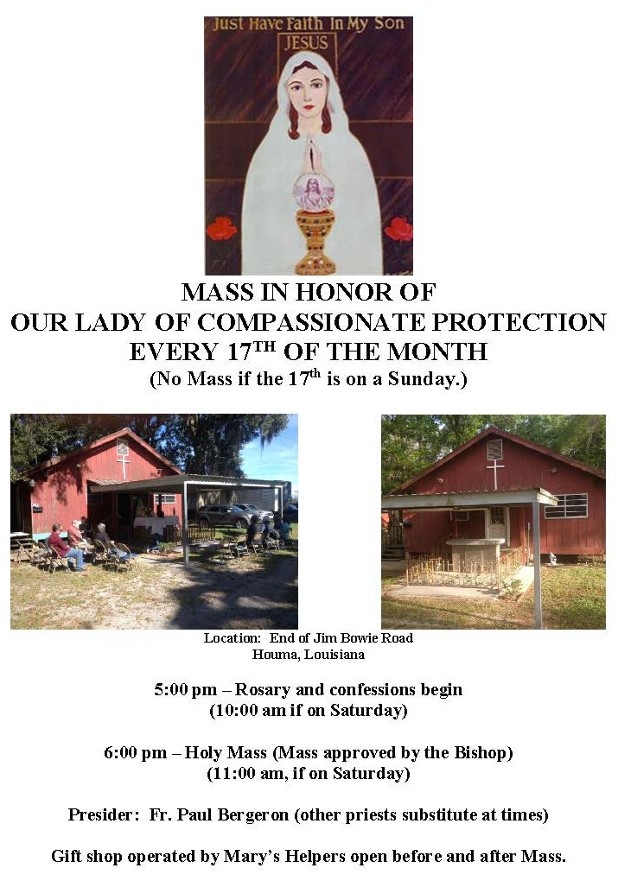 METAIRIE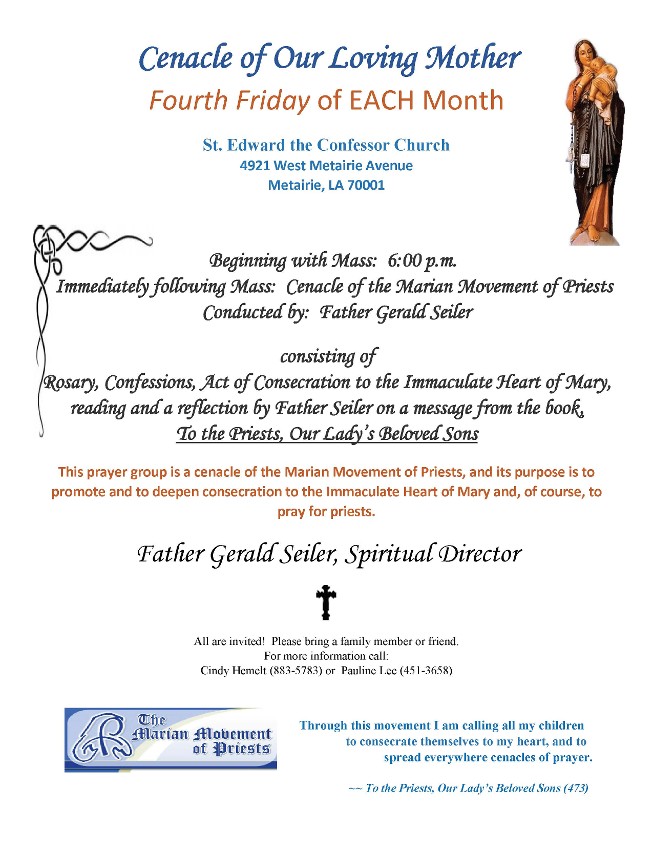 METAIRIE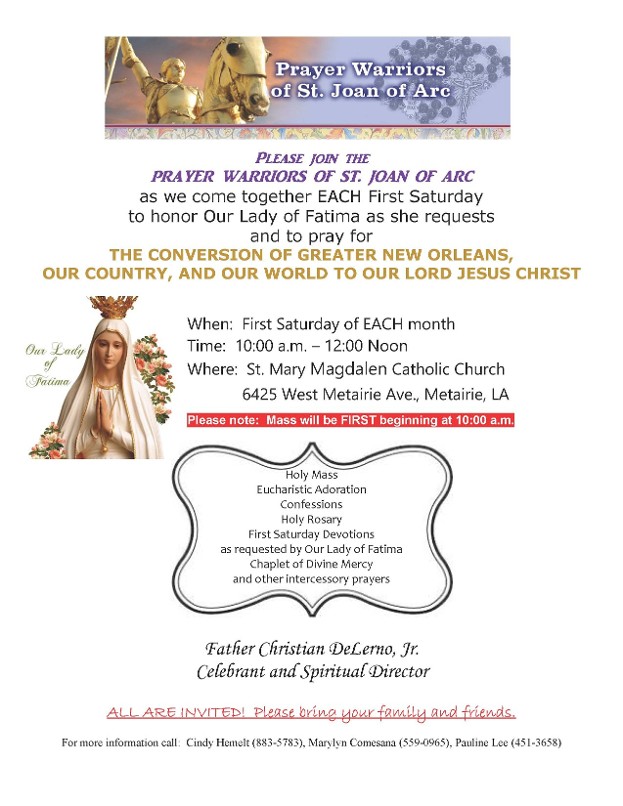 NEW ORLEANS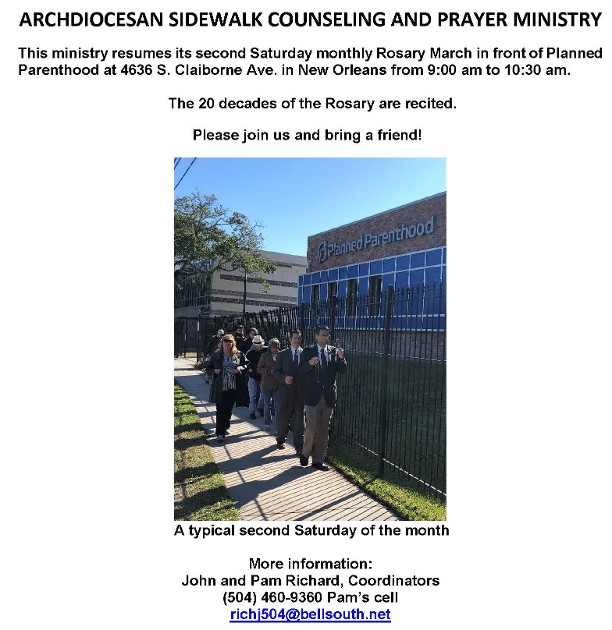 METAIRIE