LOUISIANA FRONT PAGE
NEWS AND EVENTS
← IF YOU CANNOT FIND AN EVENT IN THE LIST BELOW, GO TO THE LEGEND ON THE LEFT SIDE OF THIS PAGE AND PUT YOUR CURSOR ON ONE OF THE HEADINGS OF LOUISIANA SITES. THAT MIGHT HELP YOU. EVERYTHING WITHIN THAT HEADING WILL POP UP. THEN CLICK ON YOUR ITEM OF INTEREST. WANT TO ADD SOMETHING, LET US KNOW.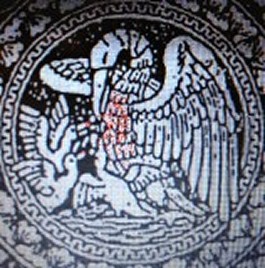 LOUISIANA
CREATED BY WATER, PURIFIED BY FIRE!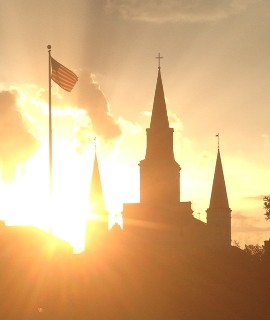 BE A PART OF THE FRESH FIRE TO FALL!
(Taken in New Orleans on Saturday, July 18, 2015)
EVANGELIZE!
Become a part of the upcoming events that are listed below. These events are listed to give Catholics a way to stay networked, connected and united as one body in Christ across Louisiana. These are supplied by others. Send in your multi-parish event and it may be posted as well.
+++++++++++++++++++++
UPCOMING CATHOLIC EVENTS OF INTEREST IN
LOUISIANA
PLEASE SCROLL ALL THE WAY DOWN TO SEE ALL THE NEWS AND EVENTS. THEY ARE LISTED IN NO PARTICULAR ORDER OF TIME OR IMPORTANCE. EVENTS AT THE END ARE EQUALLY AS EFFICACIOUS AS AT THE BEGINNING! SEE WHAT IS GOING ON ACROSS SOUTH LOUISIANA BUT MOST IMPORTANTLY WHAT IS NEAR YOU!!!
(To list a multi-parish Louisiana event at no cost, email: macleanland@bellsouth.net)
THE SPOTLIGHT IS CURRENTLY ON: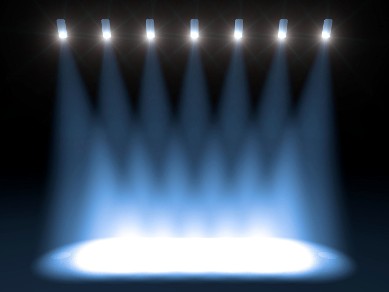 HURRICANE PROTECTION AT
OUR LADY OF THE MOST HOLY ROSARY
The problem: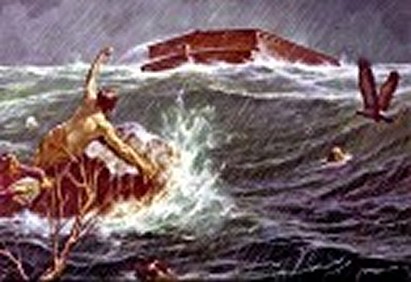 The solution: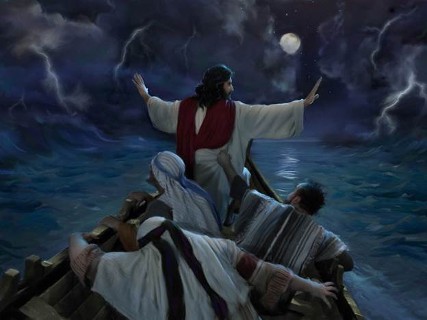 THE SOLUTION IS FOUND IN THE TABERNACLE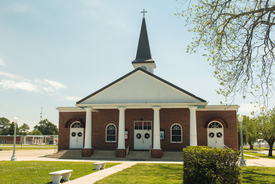 During the 2018 hurricane season, Our Lady of the Rosary Parish in Houma will be offering a Holy Hour each Friday in the St. Francis Chapel. It will begin at 3:00 pm and continue to about 4:00 pm with Benediction. This is the most effective way to calm all the storms in our lives! For more information, call the office. To read more about real hurricane protection click here.
+++++++++
SOME OF THE ACTIVE SOUTH LOUISIANA HEALING AND DELIVERANCE MINISTRIES THAT ARE CONFRONTING THE SERIOUS EFFECTS OF EVIL ACROSS OUR LAND.
in
Houma-Thibodaux Diocese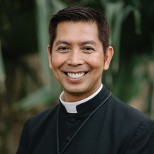 Fr. Cruz and Pax Christi Healing Ministry is being transferred from Sacred Heart Church in Montegut to St. Andrew Church in Amelia effective July 1, 2018! Venues will change accordingly after that date.
+++++++++
SPIRITUAL WARFARE AND DELIVERANCE CLASSES
St. Andrew Catholic Church in Amelia
From 6:30 pm to 8:30 pm in church
To view the 2018 Fall Spiritual Warfare and Deliverance schedule go to the legend above and put your cursor under "Houma-Thibodaux Diocesan Area" and click on his internal page.
+++++++++
HOLY MASSES AND HEALING SERVICES
at St. Andrew Catholic Church in Ameila (unless noted differently) on:
July 19th
August 16th
August 24th (Our Lady of Perpetual Help in Kenner)
September 13th
October 14th (Sunday),
November (date to be determined)
December 20th (presider Bishop Fabre).
(All dates subject to change, due to possible upcoming conflicts.)
Format for the night:
6:30 pm Rosary
7:00 Holy Mass followed by Healing Service
For more on Fr. Robert Cruz and Pax Christi Ministry, click on his image or go to the legend above and put your cursor under "Houma-Thibodaux Diocesan Area" and click on his internal page.
in
Lafayette Diocese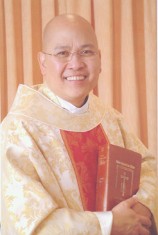 For more on Fr. Manny Fernandez and his ministry, click on his image.
in
New Orleans Archdiocese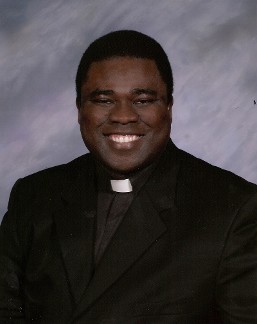 To contact Fr. Anthony Odiong's healing ministry at St. Anthony of Padua Parish in Luling on the 4th Thursday of the month at 6:00 pm, click here.
Fr. Anthony speaks about signs and wonders on Focus TV, click here.
ATTENTION!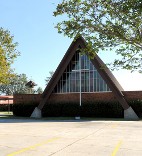 Fr. Odiong will be returning to St. Eloi Parish in Theriot (South of Houma along Bayou Dularge) for a second Healing Mass on Sunday, June 24th. The Mass will begin at 1:00 pm. This will be another great time of repentance, conversion and healing. Don't miss it and tell others!!!
+++++++++
CHAUVIN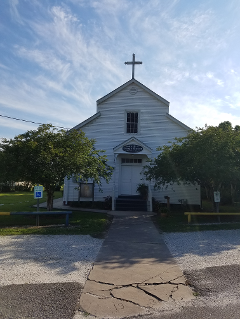 If you want to stay connected after the healing ministry events listed above, one possibilty is to attend the weekly prayer meetings at Our Lady of Prompt Succor Chapel in Chauvin each Thursday at 6:30 pm. To see what is happening there, scroll up this page and go to the legend above and put your cursor on "Houma-Thibodaux Diocesan Area" and click on Our Lady of Prompt Succor Adoration Chapel.
++++++++
LAFAYETTE DIOCESE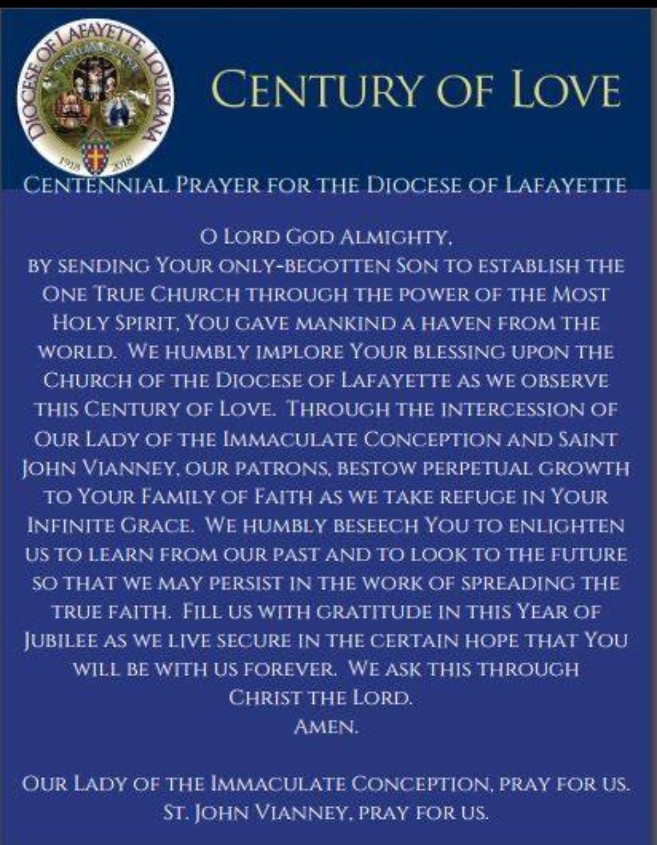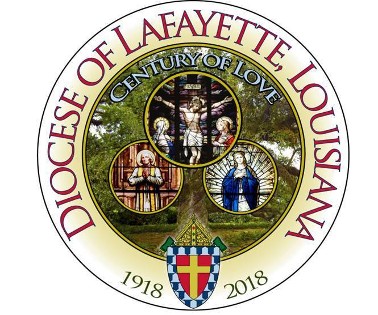 For more information, click on the image just above.
++++++++++
Little Friars and Little Nuns
of Jesus and Mary
COME TO LOUISIANA!
Want to know more about this community from Italy, that was established to EVANGELIZE the roads and bayous of South Louisiana and elsewehere? It now resides in the United States, and is first residenced in the Diocese of Houma-Thibodaux, Louisiana. Want to know about who they are? Want them to visit your parish and speak about their unique methods to evangelize? (You may see them anywhere on the by-ways of Louisiana - evangelizing all they meet). Click on the image and follow the links.
+++++
METAIRIE
THE PRAYER WARRIORS OF
ST. JOAN OF ARC IN NEW ORLEANS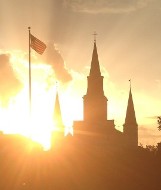 Would like to remind you that:
"Public prayer is far more powerful than private prayer to appease the anger of God and call down His mercy; and Holy Mother Church, guided by the Holy Ghost, has always advocated public prayer in times of public tragedy and suffering." St. Louis de Montfort
Join the prayer warriors at the intersection of Veteran's Highway and Clearview Parkway at Noon on Saturday, June 23rd to pray for traditional marriage.
++++++++
KENNER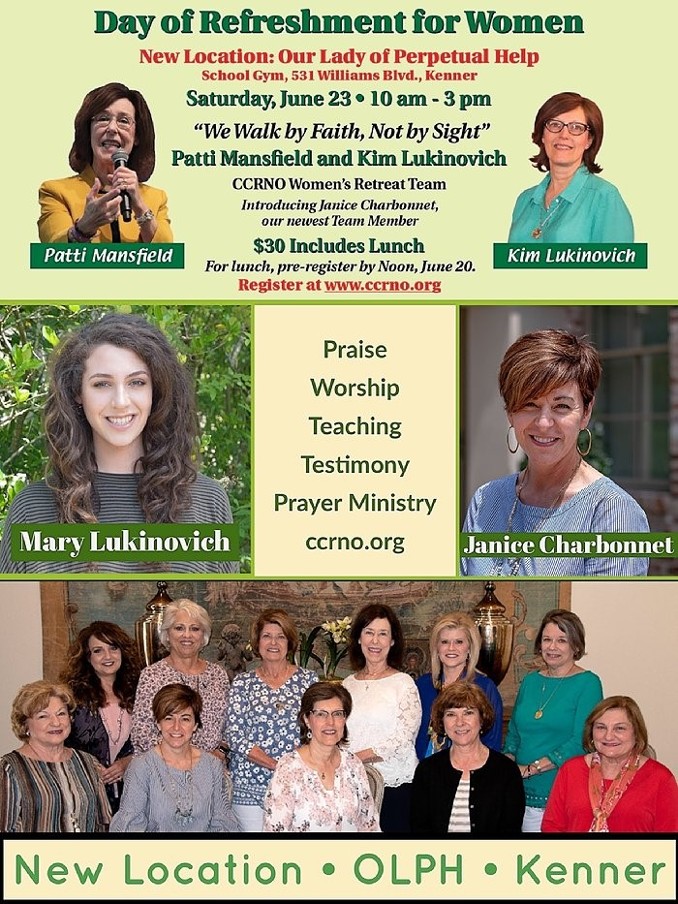 For more information, click here.
+++++++
LAKE CHARLES
IMMACULATE CONCEPTION CATHEDRAL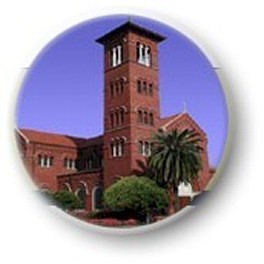 NATIVITY OF ST. JOHN THE BAPTIST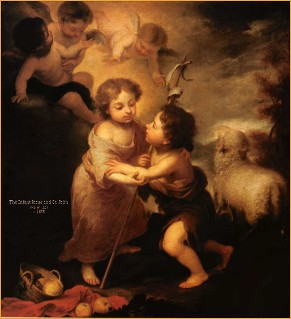 SOLEMN PONTIFICAL MASS
Missale Romanum of 1962
Sunday, June 24, 2018 at 5:00 PM
Celebrated by
HIS EXCELLENCY,
THE MOST REVEREND GLEN JOHN PROVOST, D.D., M.A.
Bishop of Lake Charles
Reception following in the Ave Maria Hall.
Experience "The most beautiful thing this side of heaven."
+++++++
NEW IBERIA
CELEBRATION AND CONFERENCE
TO HONOR OUR LADY OF ROSA MYSTICA
ON HER FEAST DAY OF JULY 13TH
at Sacred Heart Church along Bayou Teche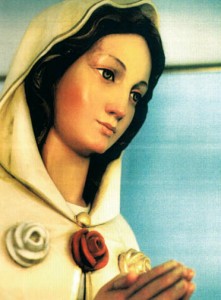 Begins on Friday, July 13th starting at 6:00 pm with registration.
At 7:00 pm Praise and Worship begins with Confession and Mass to follow.
Continues on Saturday, July 14th
8:00 am - Registration
9:00 am - Mass with conference to follow.
Conference ends at 3:00 pm
Fr. Mark Miley and Fr. Keith Landry are the presiders for the Masses.
There is no fee for this celebration and conference.
A "free will offering" will be collected during the day.
For more information, please contact Marla Perez:
Phone/Text at 337-967-1165
Email: mgbperez@yahoo.com
+++++
DULAC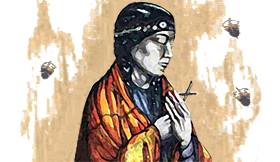 HOLY MASS IN HONOR OF
ST. KATERI TEKAWITHA
Holy Family Catholic Church
Friday, July 13, 2018
Mass begins at 6:30 pm
Dinner feast to follow after Mass at the
Terrebonne Parish Recreation Center
For more information on St. Kateri, click here.
+++++++++
LAFAYETTE
++++++++
LAFAYETTE

Note: Waterway has changed!
+++++++++
BAYOU LAFOURCHE
EUCHARISTIC PROCESSION
UP BAYOU LAFOURCHE
Save the date!
Saturday, October 6, 2018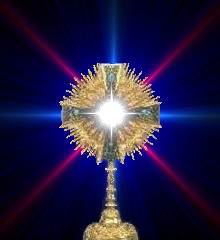 The Eucharist = the Body, Blood & Soul of Jesus
FROM GOLDEN MEADOW TO THIBODAUX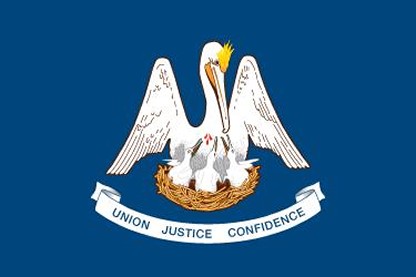 The Pelican = Symbol of Louisiana = Symbol of the Eucharist
The Eucharistic Procession along the waterway and roadway adjoining Bayou Lafourche that was scheduled for October 7, 2017 (but was canceled due to Hurricane Harvey) is again being planned for:
Saturday, October 6, 2018!
Become a part of actively claiming the land that was uniquely created and is symbolized by the Eucharist! A land that is promised from the water of a river that flows down the middle of that land. For more on this, click here.
As the plans are developed for this new date, they will show up and be detailed here. Stay tuned.
++++++++
ACROSS LOUISIANA
2018 ROSARY COAST TO COAST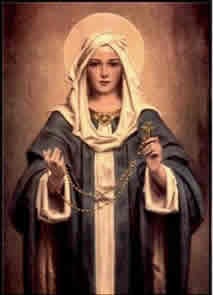 Sunday, October 7, 2018 at 3:00 pm (CST)
Wherever you are in Louisiana, you can join in.
KNOW THE ENEMY AND WHAT NEUTRALIZES EVIL
For much more information, click here.
+++++++
LAFAYETTE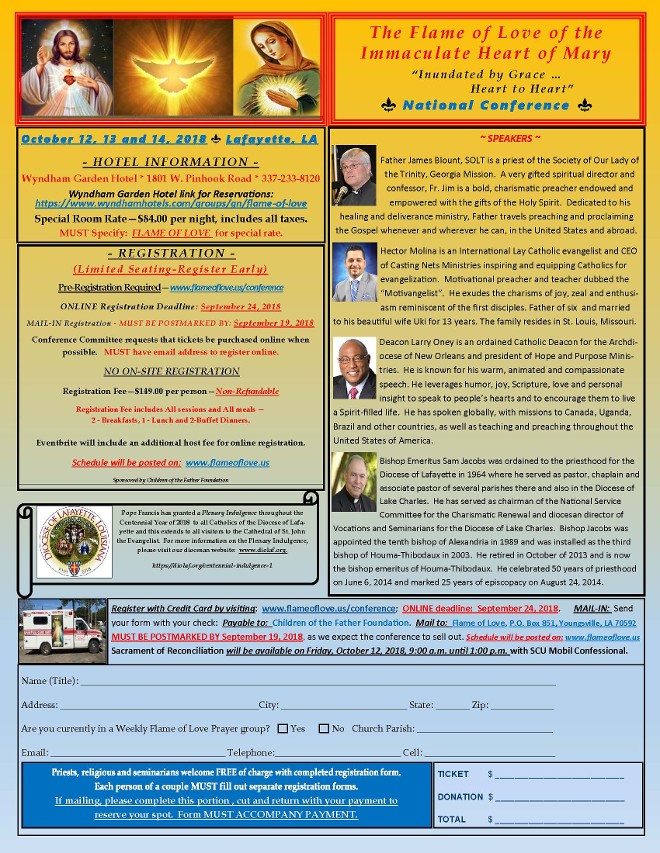 +++++++
METAIRIE
OPUS ANGELORUM RETREAT
Work of the Holy Angels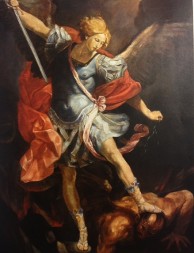 Silent Lay Retreat at:
The Archdiocese of New Orleans Retreat House.
From January 31st through February 3rd, 2019
For more information, click here.
++++++++++
BATON ROUGE
ARE YOU LOOKING FOR AN ALTERNATIVE
TO THE 2019 WASHINGTON MARCH FOR LIFE?
If you can't got to Washington (and most can't) but you still want to march for life, march through the streets of Louisiana. Spend one Saturday morning and make a public statement for the defenseless that cannot speak for themselves.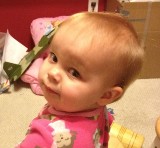 Follow me to the...
LOUISIANA LIFE MARCHES IN:
Baton Rouge (January 19, 2019)
Shreveport (January 26, 2019)
Alexandria (February 2, 2019)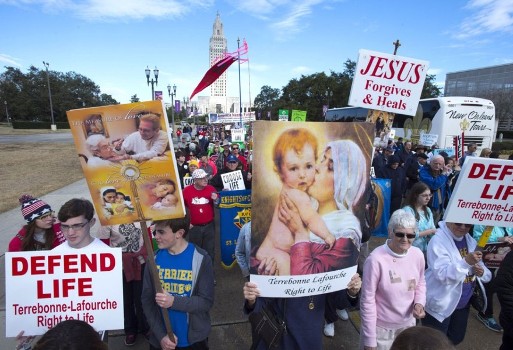 For information of how Louisiana cares for LIFE, click here.
+++++++++
BATON ROUGE
MEN, SAVE THE DATE!