LOUISIANA FRONT
PAGE NEWS AND EVENTS
← IF YOU CANNOT FIND AN EVENT IN THE LIST BELOW, GO TO THE LEGEND ON THE LEFT SIDE OF THIS PAGE AND PUT YOUR CURSOR ON ONE OF THE HEADINGS OF LOUISIANA SITES. THAT MIGHT HELP YOU. EVERYTHING WITHIN THAT HEADING WILL POP UP. THEN CLICK ON YOUR ITEM OF INTEREST. WANT TO ADD SOMETHING, LET US KNOW.
LOUISIANA
CREATED BY WATER, PURIFIED BY THE FIRE OF THE HOLY SPIRIT!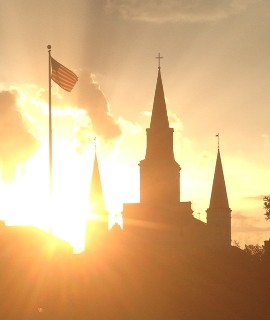 (Taken in New Orleans on Saturday, July 18, 2015)
To list a multi-parish Louisiana Catholic event, please send event information or a jpeg image or a pdf document to: macleanland@bellsouth.net to get it listed.
UPCOMING CATHOLIC EVENTS ACROSS LOUISIANA ARE SHOWN BELOW
THE SPOTLIGHT IS CURRENTLY ON: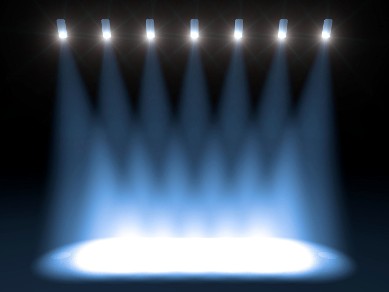 THE SIXTH GLORIOUS MYSTERY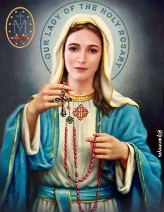 Our Lady's Rosary prayed to plead for the
"Glorious Return of Her Son!"
For more information, click here.
The Church needs more use of this powerful spiritual weapon NOW!
+++++++
HOUMA
TRADITIONAL LATIN MASS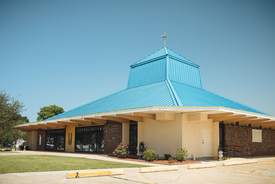 St. Gregory Barbarigo Church
Latin Mass is now being celebrated at St. Gregory Barbarigo Catholic Church in Houma.
Weekly Mass at St. Gregory will begin at 5:00 pm
Confessions will begin at 4:00 pm and end about 15 minutes before Mass
(Presider: Rev. Van Constant or Rev. Andre Melancon)
+++++++
AMELIA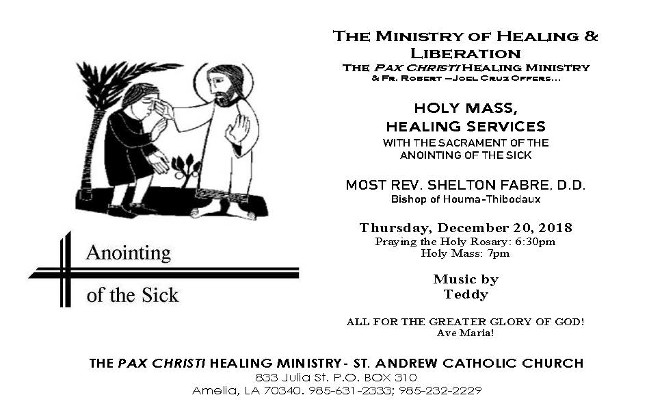 +++++++
KENNER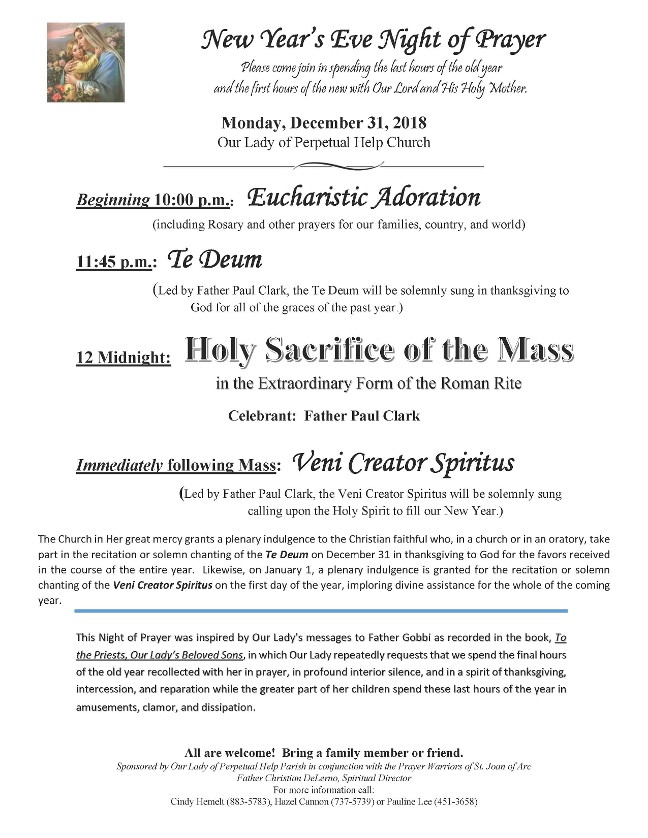 ++++++
LITTLE CAILLOU
January's "Nights of Renewal"
at Our Lady of Prompt Succor Adoration Chapel!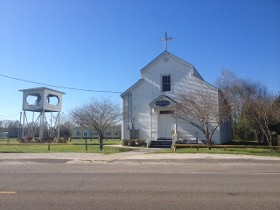 The chapel is located approximately 9 miles south of downtown Houma on Hwy LA 56
C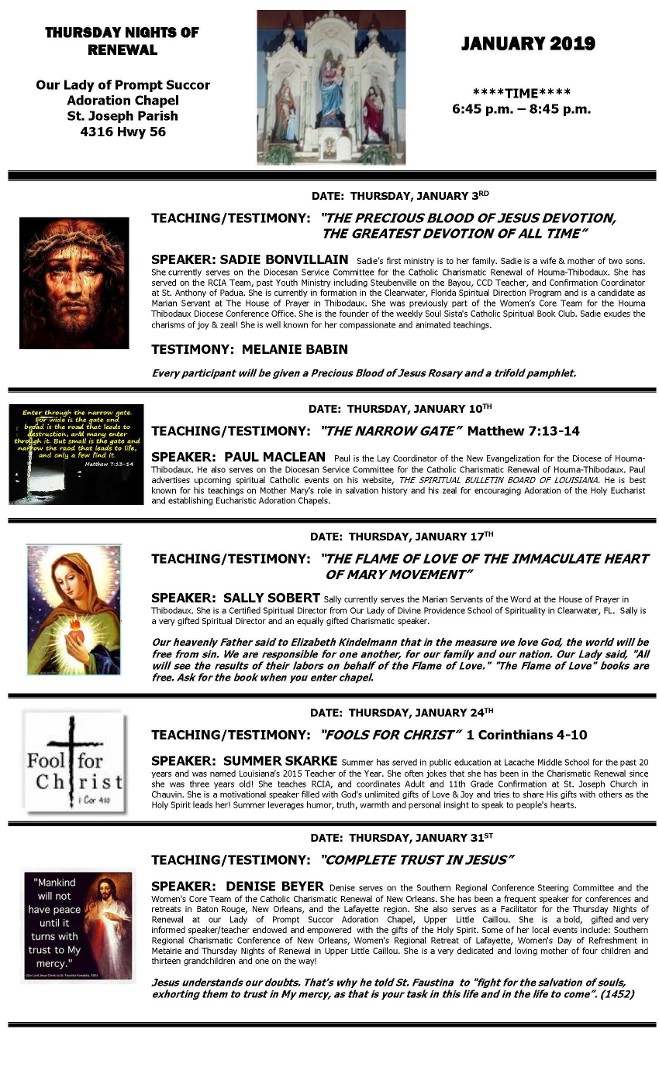 ++++++
METAIRIE
Join in Praying with the
St. Joan of Arc Prayer Warriors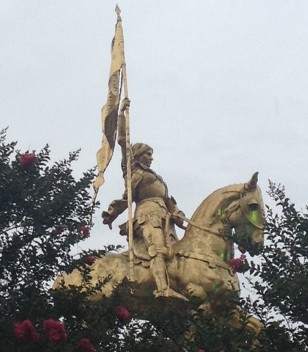 To pray for the Conversion of our Greater New Orleans Area, our Country, and our World to Our Lord Jesus Christ
Saturday, January 5, 2019
(and every First Saturday)
10:00 a.m. – 12:00 Noon
St. Mary Magdalen Catholic Church
6425 West Metairie Avenue, Metairie, LA 70003
Eucharistic Adoration
Confessions
Holy Rosary
First Saturday Devotions
Holy Mass
Chaplet of Divine Mercy
and other intercessory prayers.
Father Christian DeLerno, Jr.,
Celebrant and Spiritual Director
(Past Spiritual Director, Fr. Stan Klores)
ALL ARE INVITED!
Please bring your family and friends.
For more information call:
Cindy Hemelt (883-5783),
Marylyn Comesana (559-0965,
Pauline Lee (451-3658)
++++++++
METAIRIE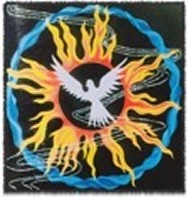 CCRNO January Retreat Day for Youth
"TAKE COURAGE"

January 5, 2019
ARCHBISHOP CHAPELLE HIGH SCHOOL
8800 Veterans Memorial Blvd, Metairie, LA 70003
9:00 am – 9:30 pm
Mass, Eucharistic Adoration, Praise & Worship,
Speakers, Skits, Frisbee, Small Groups with music by NoLoudRocks
$35 Registration (includes lunch and dinner)
For more information on all events visit CCRNO
+++++++
KENNER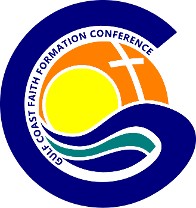 THE GULF COAST
FAITH FORMATION CONFERENCE
Thursday, January 10, 2019 through
Saturday, January 12, 2019
at the Ponchartrain Convention and Civic Center
The conference offers those involved in catechesis and evangelization in the Catholic Church an opportunity to enhance their ministries and to deepen their commitment to Jesus Christ through:
Personal and professional development sessions with leaders in evangelization and catechetical ministry

Liturgical celebrations and a variety of prayer experiences

Formal and informal networking opportunities
Thought-provoking and inspirational presentations
The conference is hosted and sponsored by the Archdiocese of New Orleans in collaboration with dioceses in Region V of the Official Catholic Directory, which includes Louisiana, Mississippi, and Alabama. Laity, clergy, and religious from the Gulf Coast and throughout the United States attend this conference each year. In its 37th year, the conference continues its heritage inspired by its previous namesake, Fr. Johannes Hofinger, S.J., a world-renowned missionary, evangelizer, teacher, and catechetical leader.
For the latest information about scheduling and registration, click here.
++++++
NEW ORLEANS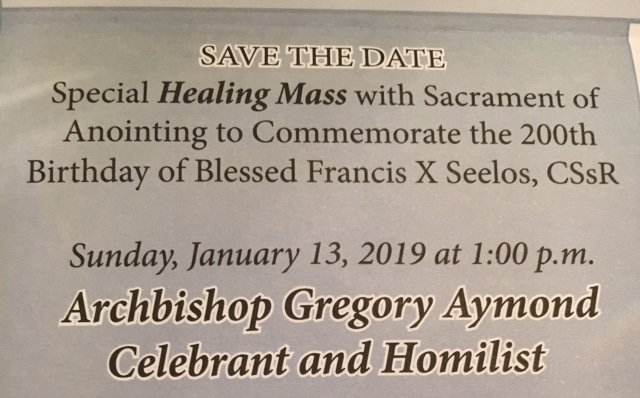 +++++++
PIERRE PART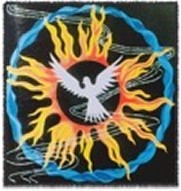 LIFE IN THE SPIRIT SEMINAR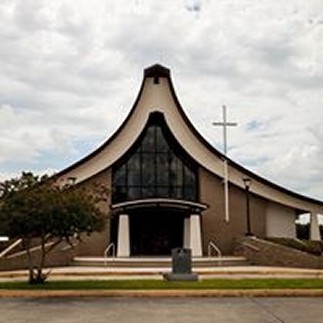 Saturday, January 19, 2019
St. Joseph the Worker Church Hall
Pierre Part, LA 70339
8:45 am to 3:30 pm
(Doors open at 8 am)
Presider – Cindy Scardina
Join us for Praise & Worship, Teachings and Baptism in the Holy Spirit!
Bring your brown bag lunch.
Snacks and drinks will be provided.
+++++++++
HOUMA
WANT TO MARCH FOR LIFE BUT CANNOT GO TO WASHINGTON, D.C.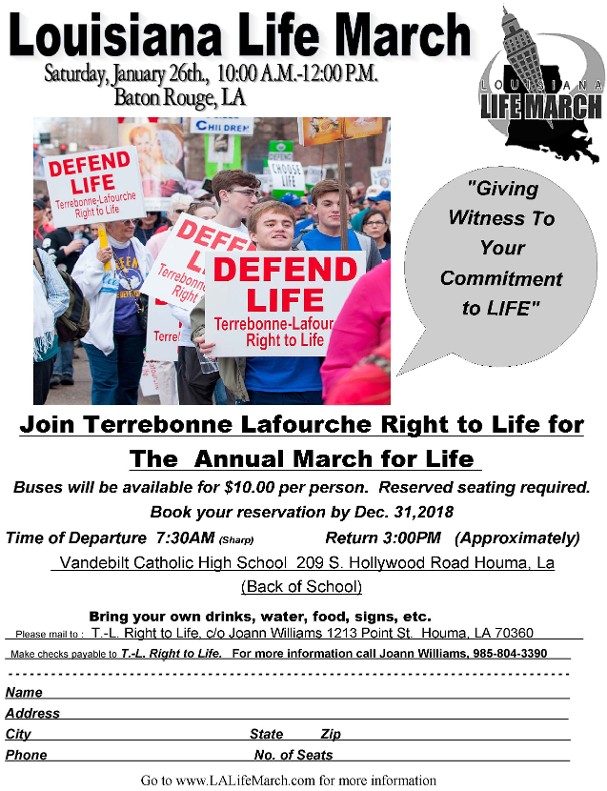 +++++++++
METAIRIE
OPUS SANCTORUM ANGELORUM RETREAT
Work of the Holy Angels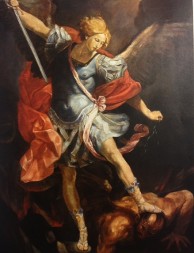 Silent Lay Retreat at:
The Archdiocese of New Orleans Retreat House.
From January 31st through February 3rd, 2019
For more information, click here.
++++++++++
BATON ROUGE
SHREVEPORT
ALEXANDRIA
ARE YOU LOOKING FOR AN ALTERNATIVE
TO THE 2019 WASHINGTON MARCH FOR LIFE?
If you can't got to Washington (and most can't) but you still want to march for life, march through the streets of Louisiana. Spend one Saturday morning and make a public statement for the defenseless that cannot speak for themselves.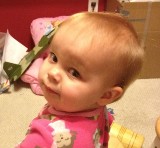 Follow me to the...
LOUISIANA LIFE MARCHES IN:
Baton Rouge (January 19, 2019)
Shreveport (January 26, 2019)
Alexandria (February 2, 2019)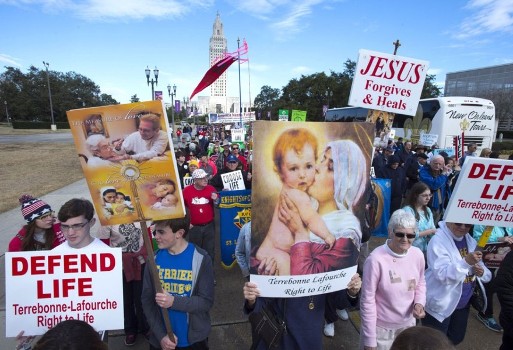 For information of how Louisiana cares for LIFE, click here.
+++++++++
METAIRIE
SCOTT HAHN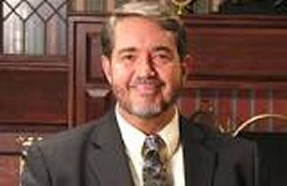 St. Clement of Rome Church
Saturday, January 26, 2019
To get more information and register, click here.
+++++++++
LAFAYETTE

+++++++++
BATON ROUGE
MEN, SAVE THE DATE!

2019 MEN OF THE IMMACULATA CONFERENCE SPEAKERS FINALIZED
After the opening of the conference and Benediction, our morning keynote speakers, Father Donald Calloway and Catholic Answers Apologist Tim Staples will inspire us with their personal testimonies and how to grow in holiness as an authentic Catholic man.
We are blessed to have Bishop Michael Duca of the Diocese of Baton Rouge joining us to celebrate the Holy Sacrifice of the Mass and Father Josh Johnson will be our final speaker of the conference to send us forth on our Lenten journey renewed in spirit.
Father Chris Decker will be back for a 2nd year as our gifted emcee, Sister Tracey Dugas returns to lead us in our rosary reflection and Chef John Folse is stirring it up for his 3rd consecutive conference appearance!

STAY IN TOUCH WITH THE LATEST DETAILS OF THIS EVENT AND WITH THE MEN OF THE IMMACULATA BY CLICKING ON THIS LINK: //www.catholicmenbr.com/
+++++++++++
HOUMA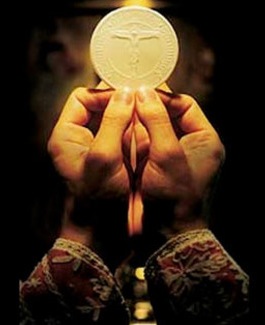 MYSTERIUM FIDEI LATIN MASS SOCIETY
SILENT RETREATS
at Lumen Christi Retreat Center
Women's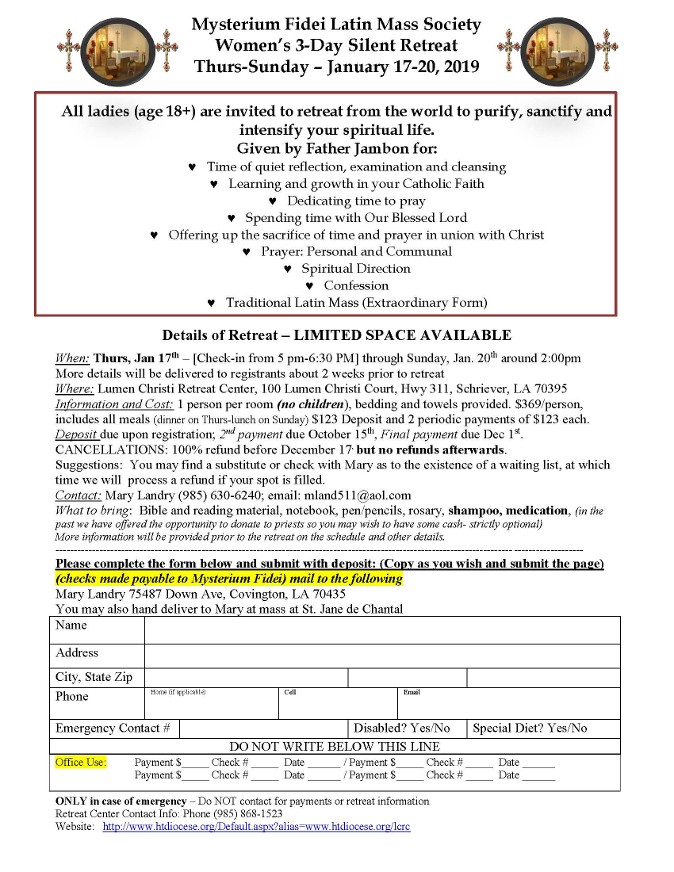 Men's