LOUISIANA FRONT PAGE
NEWS AND EVENTS
← IF YOU CANNOT FIND AN EVENT IN THE LIST BELOW, GO TO THE LEGEND ON THE LEFT SIDE OF THIS PAGE AND PUT YOUR CURSOR ON ONE OF THE HEADINGS OF LOUISIANA SITES. THAT MIGHT HELP YOU. EVERYTHING WITHIN THAT HEADING WILL POP UP. THEN CLICK ON YOUR ITEM OF INTEREST. WANT TO ADD SOMETHING, LET US KNOW.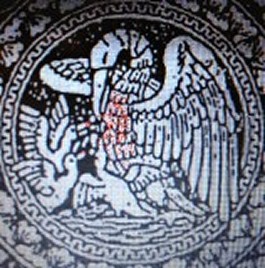 LOUISIANA
CREATED BY WATER, PURIFIED BY FIRE, REPENT LOUISIANA!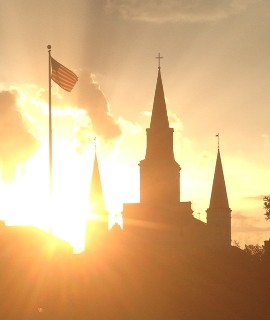 BE A PART OF THE FRESH FIRE TO FALL!
(Taken in New Orleans on Saturday, July 18, 2015)
EVANGELIZE!
Become a part of the upcoming events that are listed below. These events are listed to give Catholics a way to stay networked, connected and united as one body in Christ across Louisiana. These are supplied by others. Send in your multi-parish event and it may be posted as well.
+++++++++++++++++++++
CATHOLIC EVENTS
OF INTEREST
PLEASE SCROLL ALL THE WAY DOWN TO SEE ALL THE NEWS AND EVENTS. THEY ARE LISTED IN NO PARTICULAR ORDER OF TIME OR IMPORTANCE. EVENTS AT THE END ARE EQUALLY AS EFFICACIOUS AS AT THE BEGINNING! SEE WHAT IS GOING ON ACROSS SOUTH LOUISIANA BUT MOST IMPORTANTLY WHAT IS NEAR YOU!!!
(To list a multi-parish Louisiana event at no cost, email: macleanland@bellsouth.net)
THE SPOTLIGHT IS CURRENTLY ON: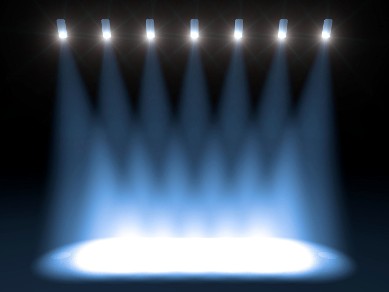 CATHOLIC RADIO ACROSS LOUISIANA
As you travel across Louisiana, listen to Catholic Radio. To find out more about what is available, go to the legend on the right side of the screen and put your cursor on Louisiana Catholic Radio or you can click here.
+++++++++++
DIVINE MERCY IN
LOUISIANA
Divine Mercy Sunday is April 8th. Know of a special Divine Mercy event that Catholics can attend? Sometimes they are hard to find. If you know of a parish that is offering a special event for that Sunday, anytime during the day, send that location to us, and we will post it here.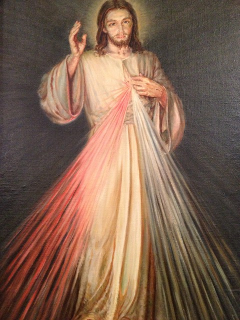 (Contact these parishes for details)
St. Martinville - Square of St. Martinville
(Reading entire Bible 24/7. Scroll down for info.)
New Iberia - St. Peter's
(New area Adoration Chapel being opened.)
Houma - St. Francis de Sales Cathedral
Theriot - St. Eloi Parish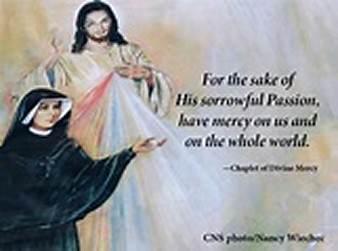 If you are considering an event, click on this image to read what the USCCB has to say about Divine Mercy Sunday.
++++++
HOUMA DIOCESE
Men...looking for the latest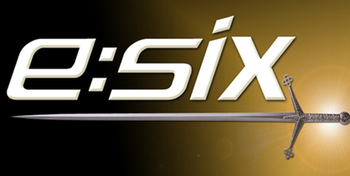 in, click on the image above.
++++++
HOUMA AREA
THE PRECIOUS BLOOD OF JESUS DEVOTION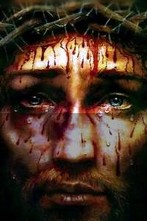 Fr. Anthony Anokete from NIgeria (residenced for years in the Diocese of Houma-Thibodaux and now studying in Washington, D.C.) is considering an event in South Louisiana later in 2018 dedicated to The Precious Blood Jesus. If you have a devotion to the Precious Blood of Jesus (or want to), you do not want to miss this possible event.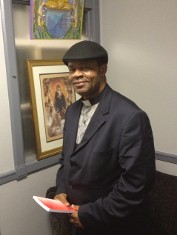 The exact day, schedule and location is still being prayed about. Stay tuned, for more information. It will be posted here.
++++++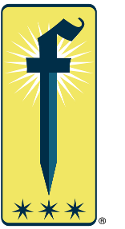 Catholic Men - Heads Up!
Fraternus is making more of an appearance across Houma area and South Louisiana. Fraternus is a brotherhood that connects Catholic men and youth. To learn more about Fraternus, click here to view its site and promo. It is worth a few minutes.
++++++
HEALING AND DELIVERANCE MINISTRIES
Houma-Thibodaux Diocese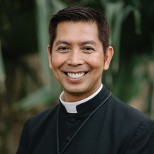 For more on Fr. Robert Cruz and Pax Christi Ministry, click on his image.
Lafayette Diocese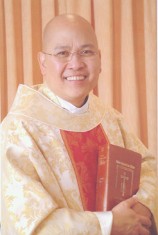 For more on Fr. Manny Fernandez and his ministry, click on his image.
New Orleans Archdiocese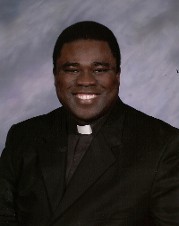 For more on Fr. Anthony Odiong's healing ministry at St. Anthony of Padua Parish in Luling on the 4th Thursday of the month at 6:00 pm, click here.
Fr. Anthony Odiong will preside and celebrate a Healing Mass at St. Eloi Parish in Theriot (Bayou Dularge) on Sunday, March 18 at 1:00 pm.
+++++++
LAFAYETTE DIOCESE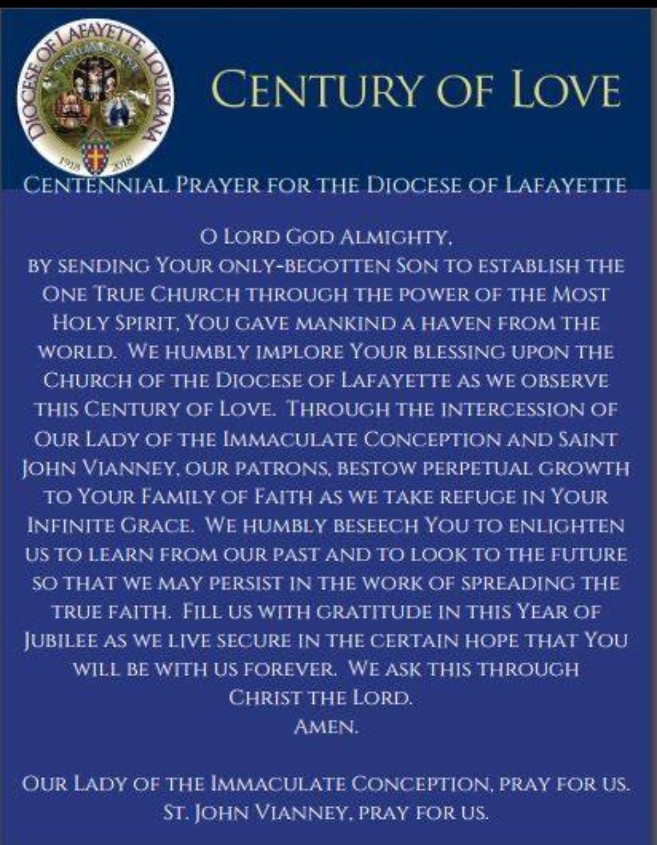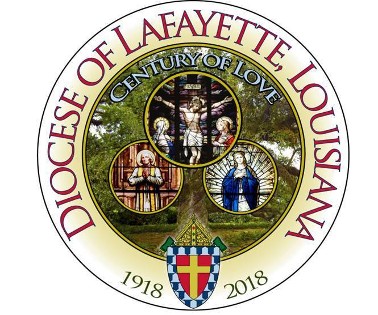 For more information, click on the image just above.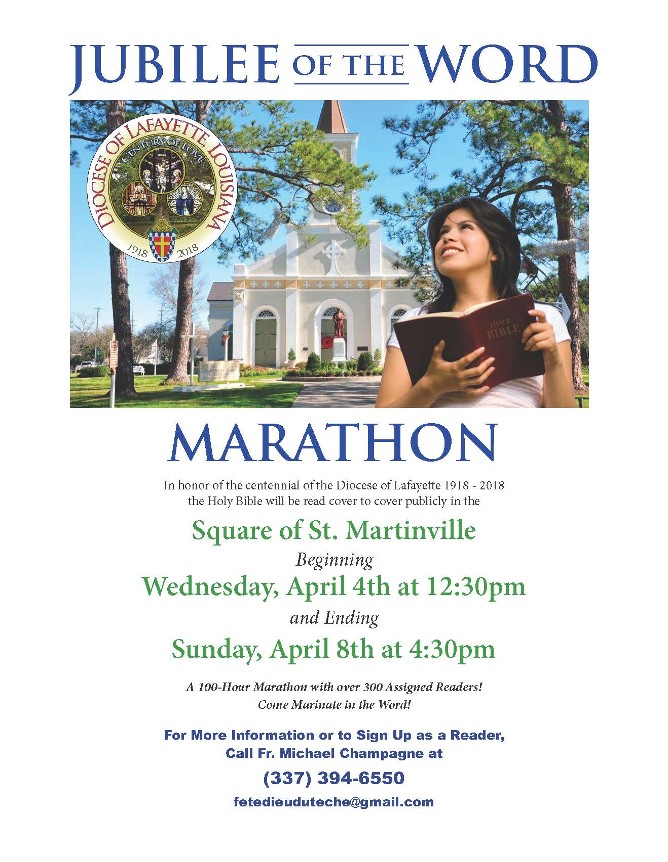 ++++++++++
METAIRIE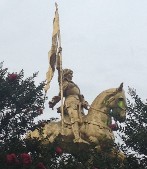 ST. JOAN OF ARC PRAYER WARRIORS
MEET EACH FIRST SATURDAY.
For more information, click here.
++++++++++
NEW ORLEANS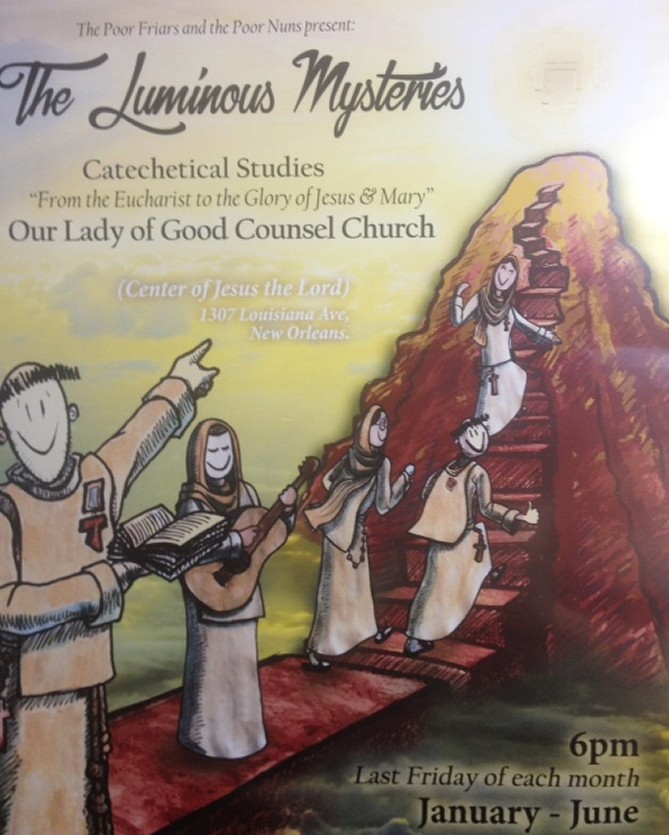 +++++++++
LAFAYETTE
HOLY TRINITY
CATHOLIC RESOURCE CENTER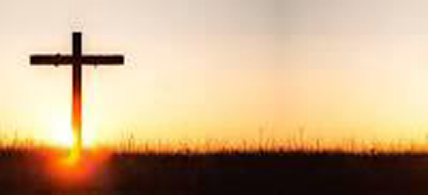 A Lenten retreat on "Friends of the Cross" presented by Deacon Cody Miller will be held at Holy Trinity Catholic Resource Center at 103 Amaryllis Dr., Lafayette, La. on Saturday, Feb. 24th from 9:00 am - 3:00 p.m.
Registration begins at 8:00 am. Admission is $25 (including lunch) and it will be collected at the door (cash or check only).
Please call 337-232-1848 to leave the names of retreatants no later than Wednesday, Feb. 21st at noon.
Deacon Cody Miller has served the diocese of Lafayette, La. for 27 years. He was assigned by Bishop Michael Jarrell to extension work in the New Evangelization. He is a musician and a missionary troubadour like his patron St. Louis de Montfort. Deacon Cody has become increasingly engaged both nationally and internationally as a spiritual director in the work of recruitment and formation for the Legion of Mary.
For more on the resource center, click here.
+++++++
METAIRIE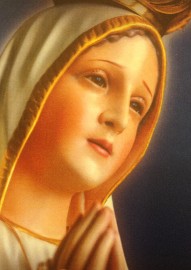 Marian Movement of Priests
Cenacle of Our Loving Mother
(every fourth Friday of the month)
St. Edward the Confessor Church
For more information on this monthly cenacle, click on image above.
++++++++++++++++++++
HOUMA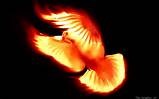 COME HOLY SPIRIT!
ANNUNZIATA PARISH
Life in the Spirit Seminar/Lenten Mission
On Wednesday, February 21st, 28th and March 7th.
Begins at 6:30 pm
+++++++
NEW ORLEANS/KENNER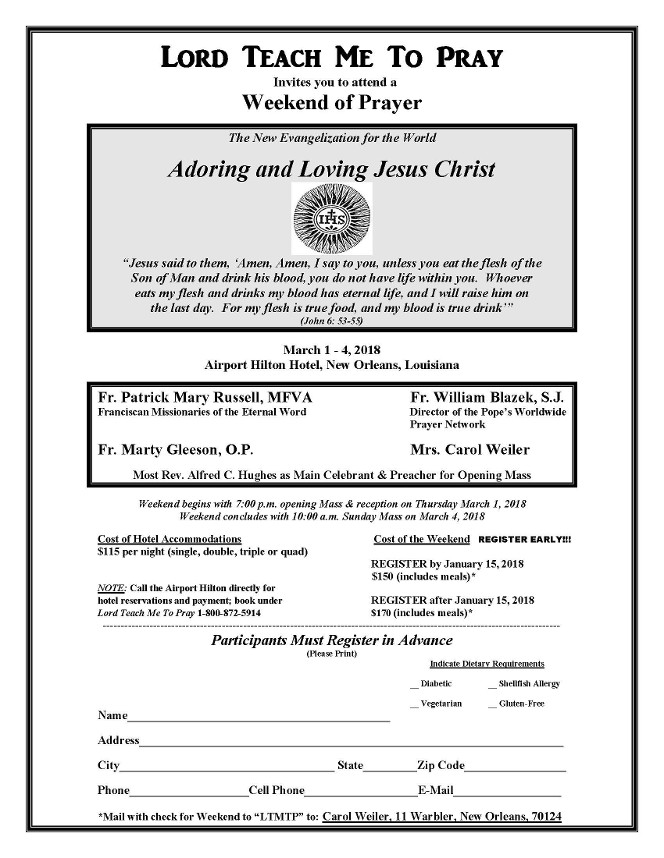 ++++++++
METAIRIE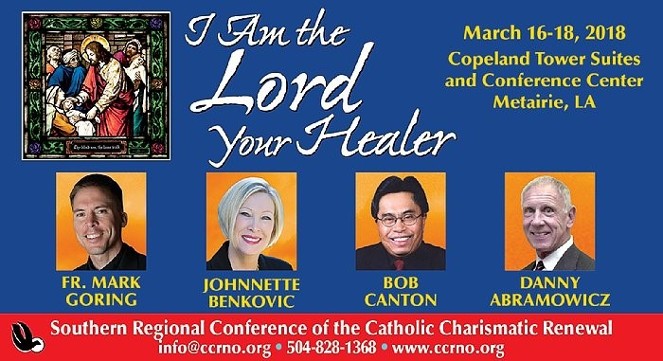 +++++++
LAKE CHARLES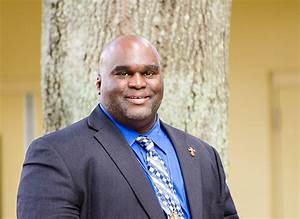 DEACON HAROLD BURKE- SIVERS
Lenten Mission at
Our Lady Queen of Heaven
3939 Lake Street
Monday through Wednesday
February 26 - 28, 2018
+++++++++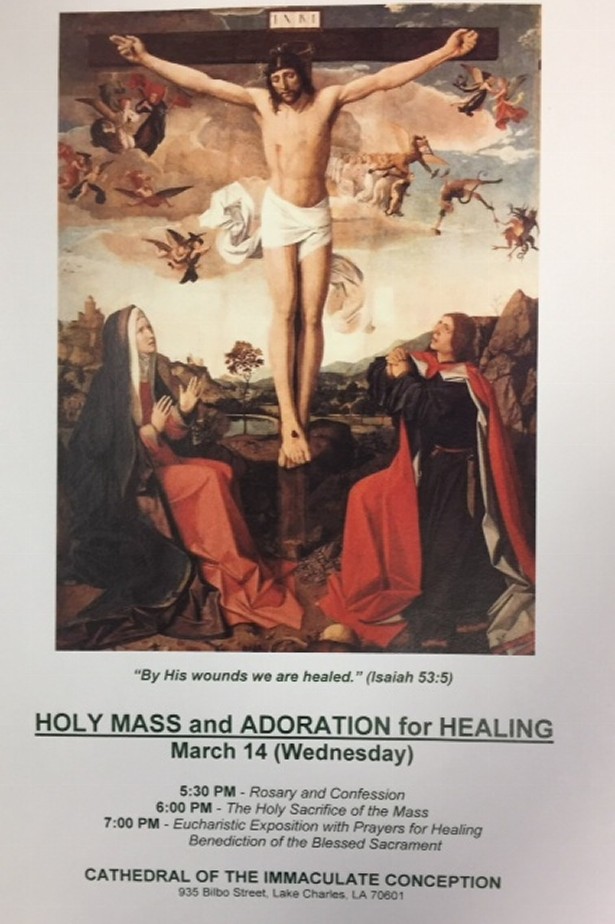 +++++++
THERIOT
HEALING MASS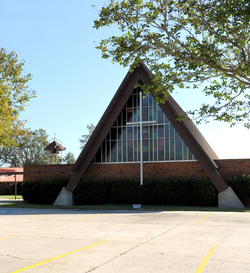 St. Eloi Catholic Church
Sunday, March 18, 2018
1:00 pm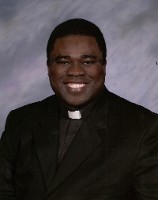 Fr. Anthony Odiong
from St. Anthony Parish in Luling
All welcome!!!
++++++
PONCHATOULA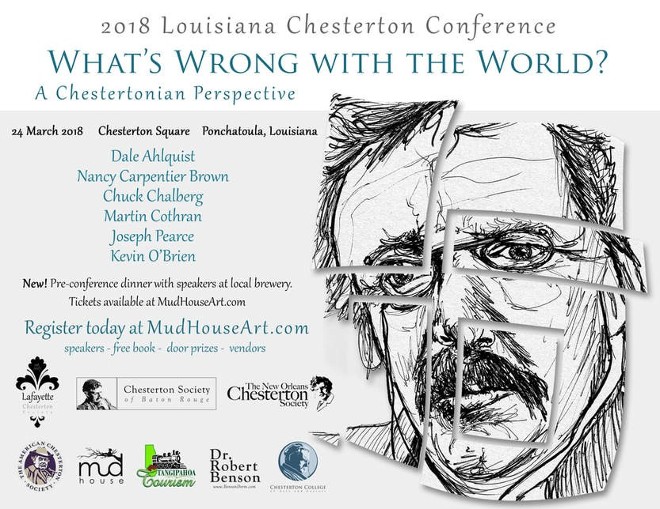 For all about this conference, click here.
+++++++
HOUMA
PRAISE AND WORSHIP
SWAMP PILGRIMAGE
Led by Bishop Sam Jacobs
on March 25, 2018 (Palm Sunday)
from 2:30 pm until sunset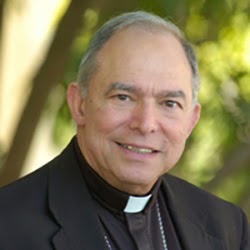 For more information about Bishop Jacobs' blog site
Spirit Aflame, click here.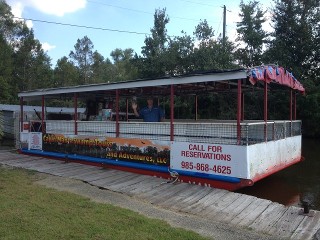 For more information about this pilgrimage
or scheduling your own this Spring, click here.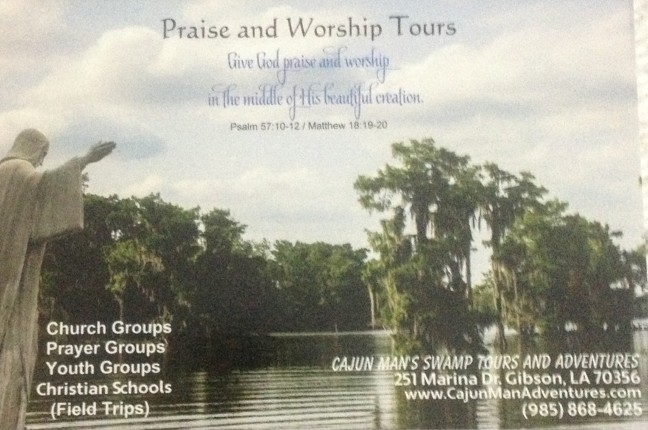 ++++++++
METAIRIE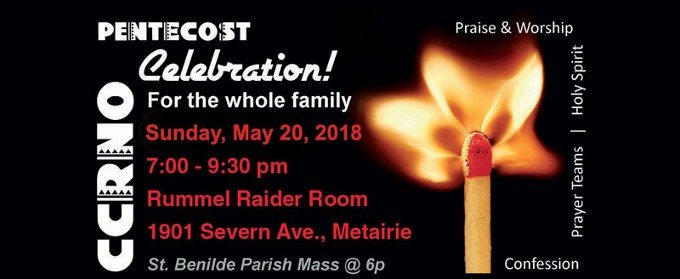 For more information, click here.
+++++++++++
LACOMBE
HOLY SPIRIT NOVENA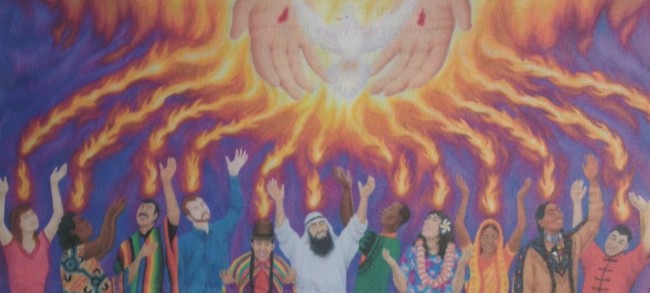 at St. John of the Cross in Lacombe
The Novena will begin at 7:00 pm
from May 11, 2018 through May 19, 2018
More information about the priests and music will be detailed on this site as it received. Try to attend as many nights as possible.
It is the oldest novena of the church.
(For more information about the history of the novena, click here.)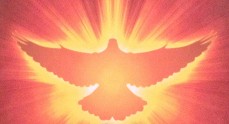 ++++++++
HOUMA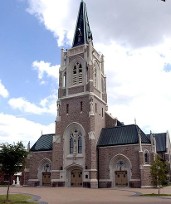 ST. FRANCIS DE SALES CATHEDRAL
MAY CROWNING
Saturday, May 5, 2018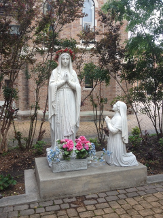 Rosary at 8:00 am
Mass at 8:30 am
Crowning after Mass in
Our Lady of Lourdes Prayer Garden
Lite Refreshments after crowning
++++++++
ST. BENEDICT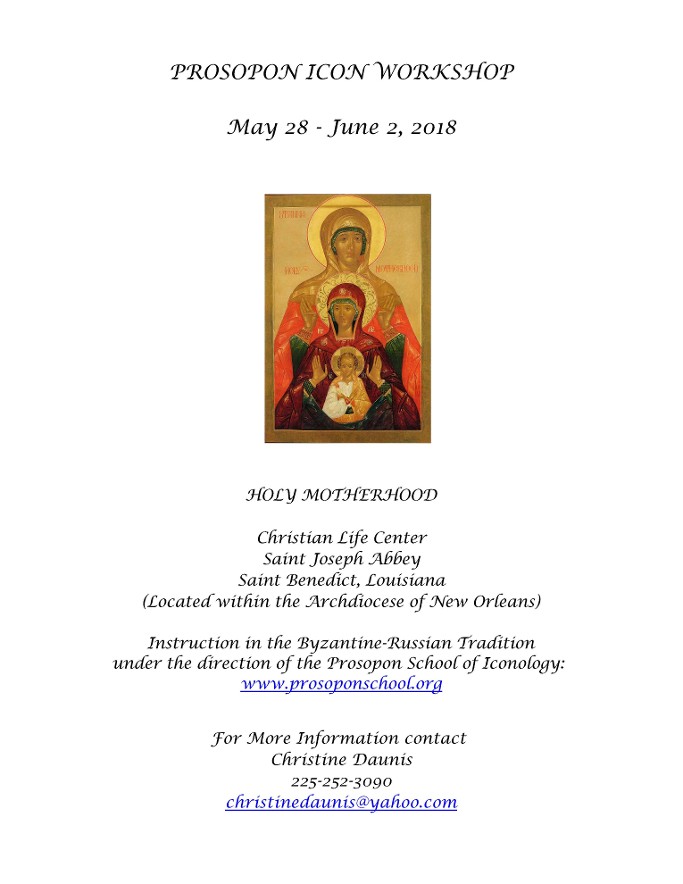 +++++++++
RIVER RIDGE

For more information, click here.
+++++++
ABBEVILLE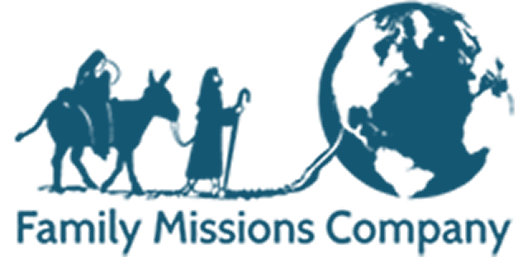 FAITH CAMP - 2018
Camp Woodman in Abbeville
For 7th, 8th, 9th and 10th graders!
Week one: July 9th through 13th, 2018
Week two: July 16th through 20th, 2018
Check out the details, click here.
+++++++++
BATON ROUGE
ARE YOU LOOKING FOR AN ALTERNATIVE
TO THE 2019 WASHINGTON MARCH FOR LIFE?
If you can't got to Washington (and most can't) but you still want to march for life, march through the streets of Louisiana. Spend one Saturday morning and make a public statement for the defenseless that cannot speak for themselves.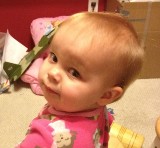 Follow me to the...
LOUISIANA LIFE MARCHES IN
Alexandria (2019 date tba)
Baton Rouge (2019 date tba)
Shreveport (2019 date tba)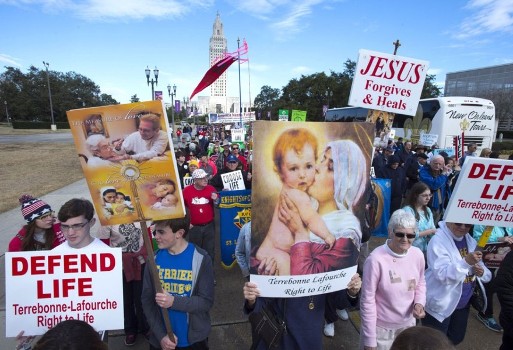 For information of how Louisiana cares for LIFE, click here.