LOUISIANA FRONT PAGE
NEWS AND EVENTS
← IF YOU CANNOT FIND AN EVENT IN THE LIST BELOW, GO TO THE LEGEND ON THE LEFT SIDE OF THIS PAGE AND PUT YOUR CURSOR ON ONE OF THE HEADINGS THAT MIGHT HELP YOU FIND IT. EVERYTHING WITHIN THAT TOPIC WILL POP UP. THEN CLICK ON YOUR ITEM OF INTEREST. WANT TO ADD SOMETHING, LET US KNOW.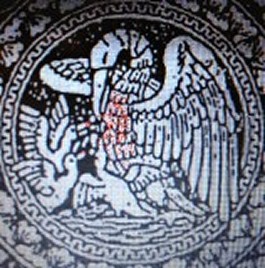 LOUISIANA
CREATED BY WATER, PURIFIED BY FIRE, REPENT LOUISIANA!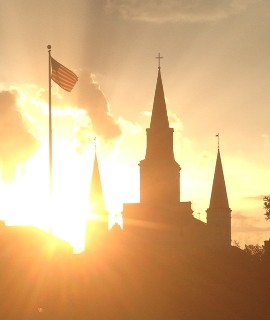 BE A PART OF THE FRESH FIRE TO FALL!
(Taken in New Orleans on Saturday, July 18, 2015)
Do something! Evangelize!
Become a part of the upcoming events that are listed below. These events are listed to give Catholics a way to stay networked, connected and united as one body in Christ. Send in events that you may be aware of! This is a personal website. These events are supplied by others. Send in your event and it may be posted as well.
if you want to see some of the awesome resources offered by the Diocese of Houma-Thibodaux, in its website, as well as the offices of the diocese dedicated to evangelize, go to:
Office of New Evangelization, click here.
To hear and see Bishop Fabre, Fr. Mark Toups and many others explain all about the Strategic Plan to evangelize as well as some of the numerous activities in the Houma-Thibodaux Diocese!...click here.
+++++++++++++++++++++
CATHOLIC EVENTS
OF INTEREST
PLEASE SCROLL ALL THE WAY DOWN TO SEE ALL THE NEWS AND EVENTS. THEY ARE LISTED IN NO PARTICULAR ORDER OF TIME OR IMPORTANCE. EVENTS AT THE END ARE EQUALLY AS EFFICACIOUS AS AT THE BEGINNING! SEE WHAT IS GOING ON ACROSS SOUTH LOUISIANA BUT MOST IMPORTANTLY WHAT IS NEAR YOU!!!
(To list a multi-parish Louisiana event at no cost, email: macleanland@bellsouth.net)
THE SPOTLIGHT IS ON: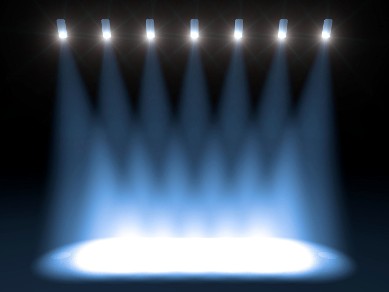 "THE ALMIGHTY 690 AM"
LOCATED IN SOUTH LOUISIANA
HAS POWERED UP!
690 am RADIO HAS POWERED UP TO 9,100 WATTS AND IS BROADCASTING FROM SOUTHEAST LOUISIANA ACROSS MUCH OF THE GULF COAST!
CLICK HERE TO LEARN MUCH MORE ABOUT IT.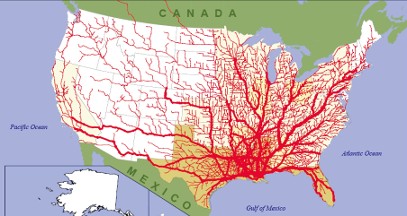 Louisiana Catholic Radio - With a Heart to Evangelize!
In the Introduction to Ralph Martin's & Peter Williamson's book titled: John Paul II and the New Evangelization one can read: "While the message of evangelization is always the same, the audience is different: the world is different; cultures are different; tools of communication are different. Because of these differences there is need to proclaim the same Jesus to all peoples in a new way with greater zeal, ardor and clarity, using modern means of communications whenever possible."
Bishop Sam Jacobs, Emeritus (Houma, LA)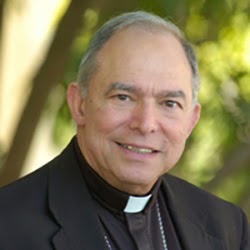 Visit Bishop Jacobs personal website...click here.
HOUMA-THIBODAUX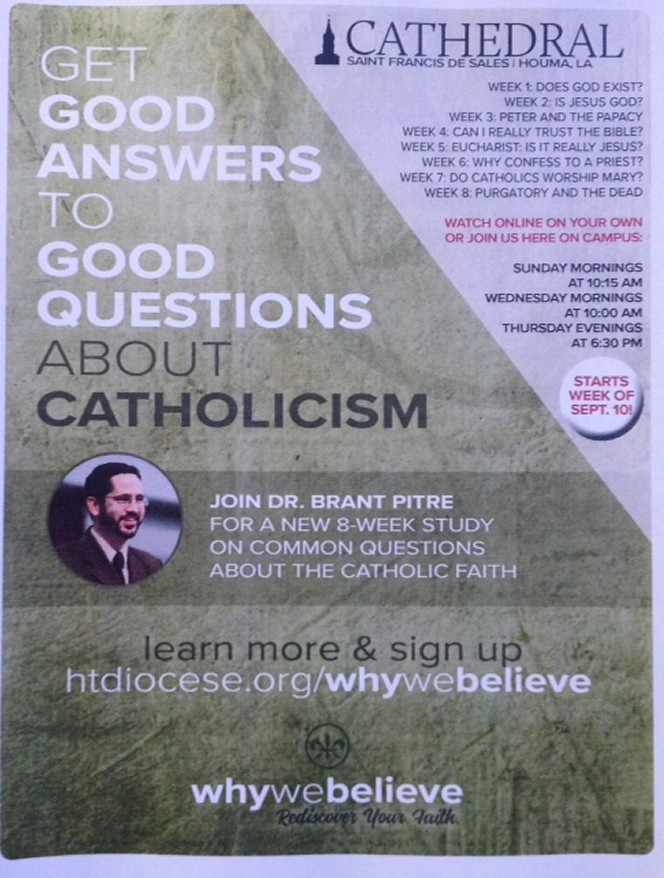 ++++++++
HOUMA-GIBSON
PRAISE AND WORSHIP SWAMP PILGRIMAGE TRIPS - Booking Now!
Priests, deacons, parish ministries, schools, prayer groups, schedule an Autumn day now to venture into Louisiana's swampland to praise and worship God in His creation.
If led by priest or deacon, there are locations on the pilgrimage route where Eucharistic Adoration is so natural. The Rosary and Divine Mercy Chaplet will also be prayed along the route.
Capt. Billy will work with you to help design the pilgrimage the way you want it. A typical trip lasts about two hours. Sometimes the Holy Spirit will show something along the way that will extend the trip a bit. That is part of the experience.
To learn more about how to schedule a pilgrimage, click on image below.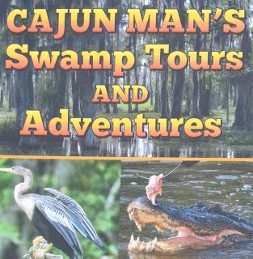 ++++++++
ACADIANA AREA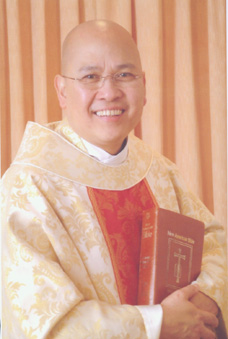 FR. MANNY FERNANDEZ
Healing Masses, services, rolling retreats start up again in September of 2017. To see Fr. Manny's webpage that lists the latest events and news, click on the image above.
++++++++
NEW ORLEANS AREA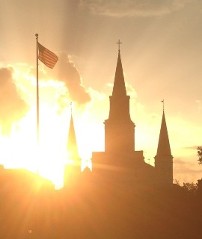 JOIN THE ST. JOAN OF ARC PRAYER WARRIORS
They meet each First Saturday of the month in the name of St. Joan of Arc to seek the intercession of Jesus and His Mother to address the issues of the present Battle for "New" Orleans. For many years this group was based in downtown New Orleans. Now they meet in Metairie. Attendees come from all over the Greater New Orleans Area.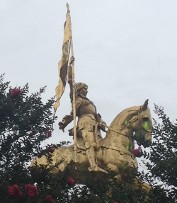 Want more information about the prayer warriors,
click image of St. Joan.
++++++++++
MONTEGUT
SPIRITUAL WARFARE CLASSES
(Next class is on Thursday, October 12th)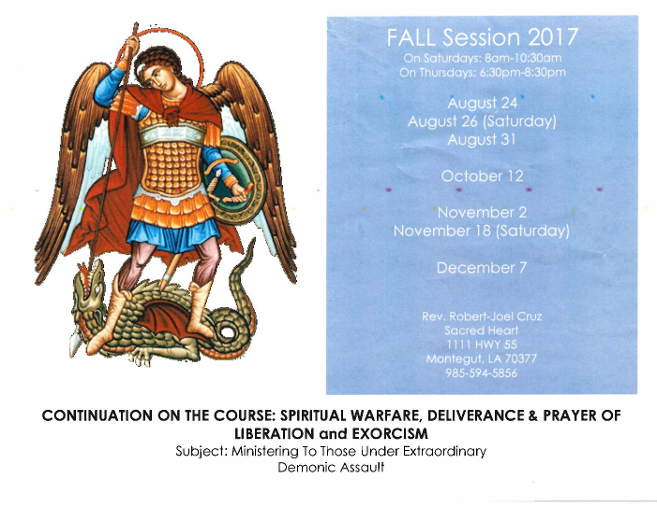 +++++++++++
HOUMA
Many in the Houma area are looking for a
Mass each Saturday morning?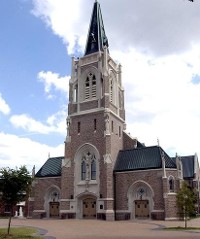 Each Saturday in Houma at
St. Francis de Sales Cathedral!
8:00 am - Rosary
8:00 am - Confessions
8:30 am - Mass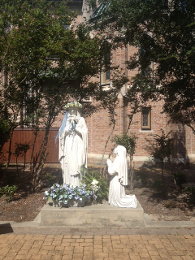 After Mass - Rosary in Our Lady of Lourdes Prayer Garden
+++++++++++
HOUMA
THE COMMUNITY OF FAITH WORKING TOGETHER
AT ST. FRANCIS DE SALES CATHEDRAL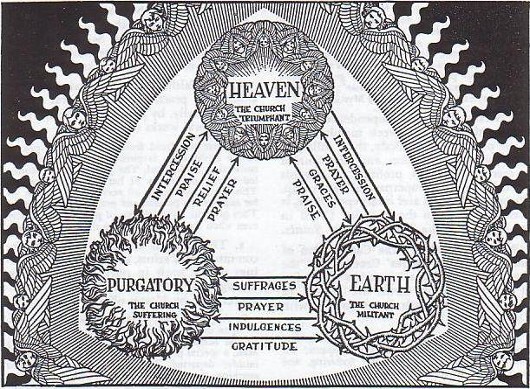 The Requiem Prayer Society
at St. Francis de Sales Cathedral Parish in Houma, La. meets monthly (every 2nd Tuesday) to pray for the poor souls in purgatory. The prayer session begins with Adoration of the Blessed Sacrament at 4:00 PM followed by Benediction, the Rosary for the poor souls at 5:00 PM and Holy Mass at 5:30 PM Confession is usally heard from 4:00 PM until Mass time. The Requiem Society maintains a list of the names of poor souls that are referred to it. Anyone, not just members can, can give the names of poor souls to be prayed for.
For more information, email requiem.sfps@gmail.com
+++++
LAKE CHARLES
CATHEDRAL OF THE IMMACULATE CONCEPTION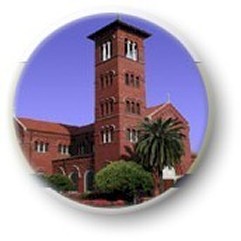 CELEBRATE FATIMA AND ITS MESSAGE
AS DELIVERED IN 1917 BY OUR LADY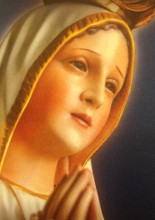 SAVE THESE DATES:
October 13 - Rosary Procession beginning at the Immaculate Conception Cathedral School (ICCS) at 8:00 AM, followed by Holy Mass at the Cathedral to celebrate the 100th anniversary of the sixth and last apparition of Our Lady of Fatima and the miracle of the sun. Bishop Provost will also celebrate the noon Mass, followed by Eucharistic Exposition and Adoration until 4:30 PM.
For more information, contact cathedral office or visit its website by clicking here.
+++++++++
ST. MARTINVILLE
Aquinas Institute - 2017 Fall Semester Classes
For all information, click here.
++++++++++++
CHAUVIN AREA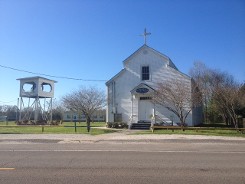 Each month thereafter) the Our Lady of Prompt Succor Adoration Chapel located along Bayou Terrebonne (Little Caillou) south of Houma hosts awesome speakers that speak on many different topics of faith. See what is scheduled, click here.
+++++++++
HARAHAN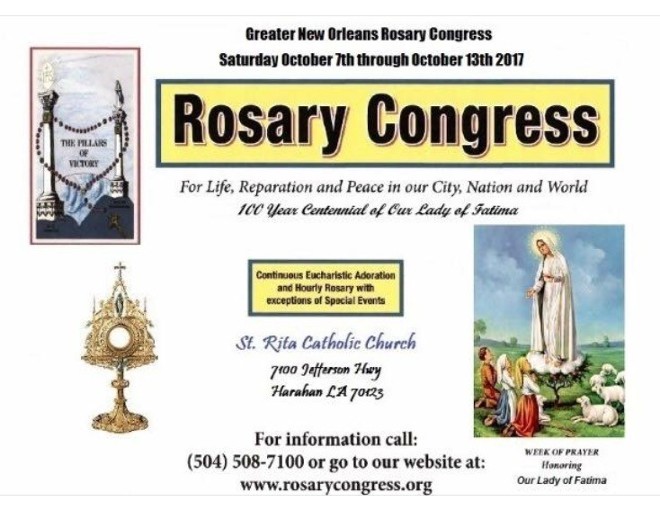 ++++++++++
METAIRIE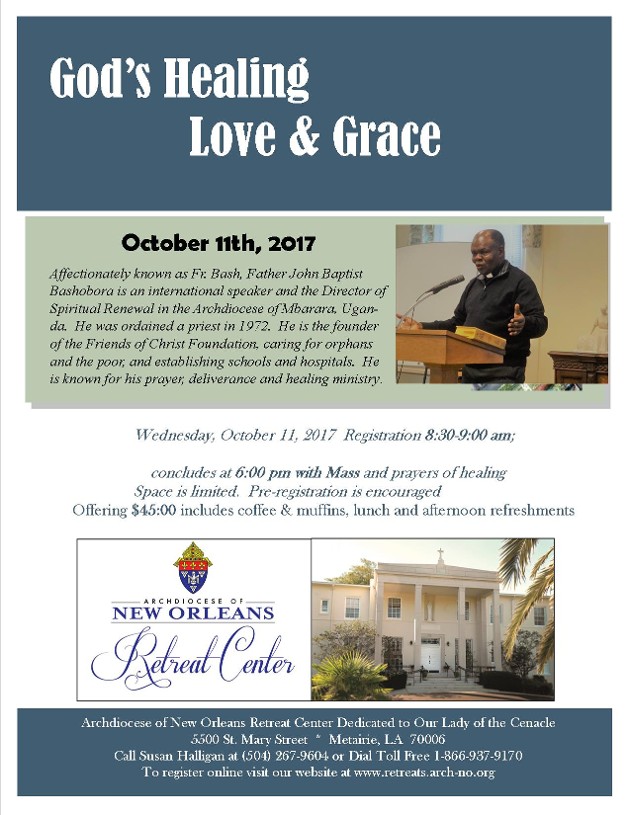 ++++++
MONTEGUT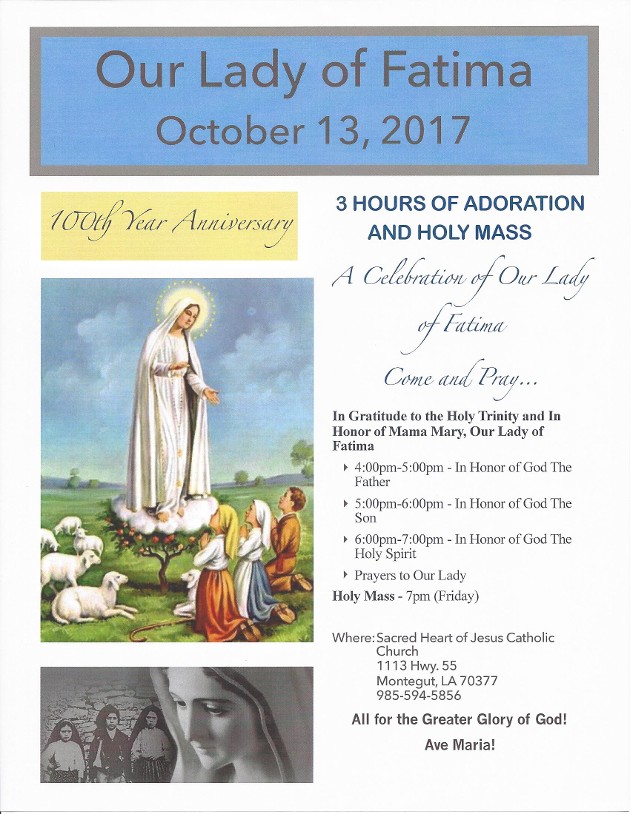 +++++++
HOUMA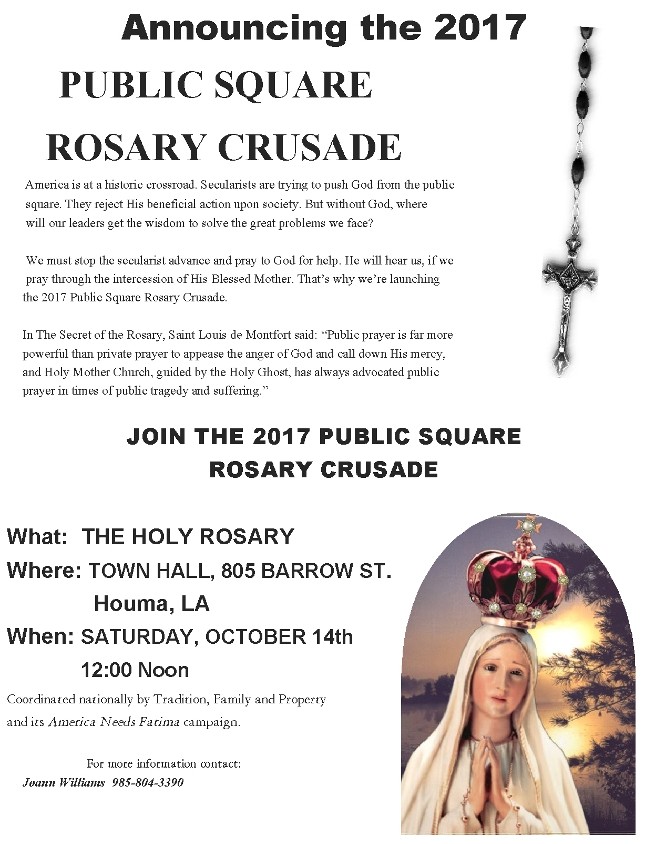 ++++++++
Another location in Houma where the rosary will be prayed on Saturday, October 14th is immediately in front of Immaculata Church at Noon.
+++++++
GALLIANO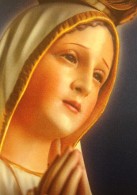 Another location where the rosary will be prayed on Saturday, October 14th is immediately in front of Galliano Shopping Center at Noon.
To visit the rosary rally center,
click on the image below: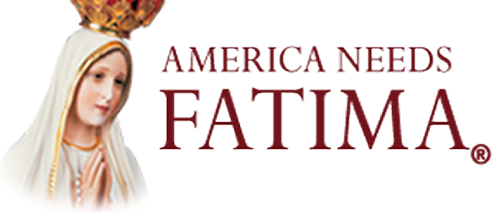 ++++++++
MONTEGUT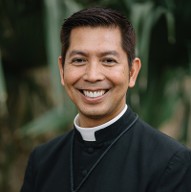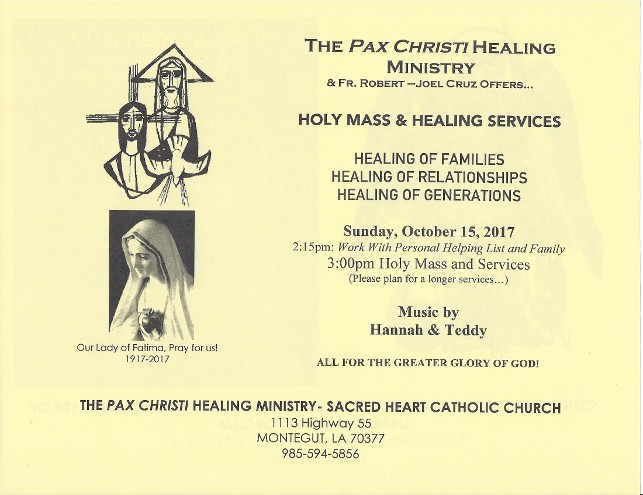 +++++++++
METAIRIE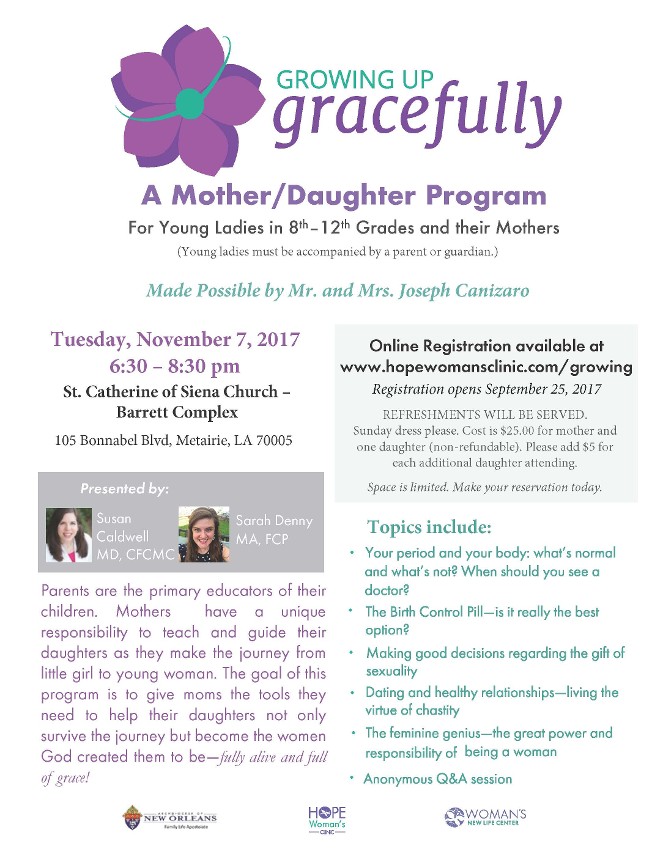 ++++++++
METAIRIE

Click here to what else CCRNO is doing.
++++++++
STATEWIDE
STOP! LISTEN UP!
YOU PRO-LIFE AND CANNOT
GO TO WASHINTON TO MARCH FOR LIFE?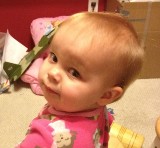 LOUISIANA LIFE MARCHES
IN 2018 ARE AT:
BATON ROUGE - JANUARY 20TH
SHREVEPORT/BOSSIER CITY - JANUARY 27TH
PINEVILLE/ALEXANDRIA - FEBRUARY 3RD
FOR ALL INFORMATION CLICK HERE:
++++++
LAFAYETTE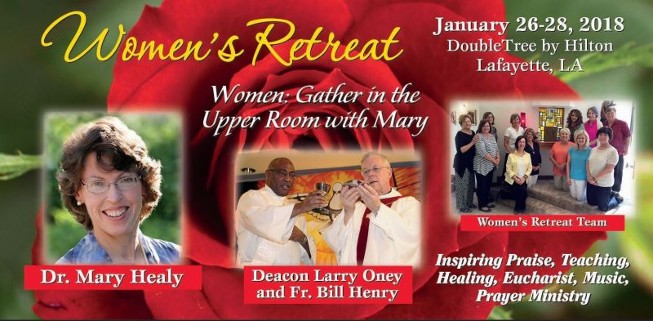 For more information, click here.