LOUISIANA FRONT
PAGE NEWS AND EVENTS
← IF YOU CANNOT FIND AN EVENT IN THE LIST BELOW, GO TO THE LEGEND ON THE LEFT SIDE OF THIS PAGE AND PUT YOUR CURSOR ON ONE OF THE HEADINGS OF LOUISIANA SITES. THAT MIGHT HELP YOU. EVERYTHING WITHIN THAT HEADING WILL POP UP. THEN CLICK ON YOUR ITEM OF INTEREST. WANT TO ADD SOMETHING, LET US KNOW.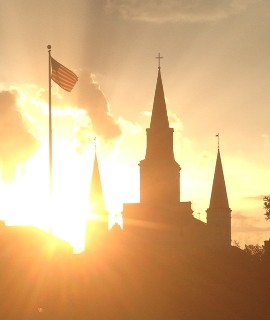 (Taken in New Orleans on Saturday, July 18, 2015)
To list a multi-parish Louisiana Catholic event, please send event information or a jpeg image or a pdf document to: macleanland@bellsouth.net to get it listed.
UPCOMING CATHOLIC EVENTS ACROSS LOUISIANA ARE SHOWN BELOW
THE SPOTLIGHT IS CURRENTLY ON: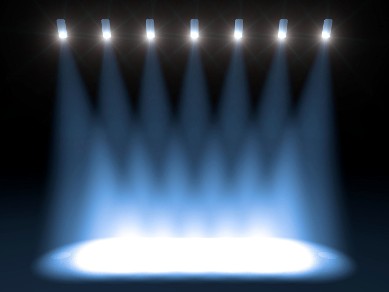 THIS WEBSITE GETS MANY REQUESTS ABOUT THE LOCATIONS OF HEALING MASSES THROUGHOUT SOUTH LOUISIANA. THERE IS A GREAT NEED FOR INDIVIDUAL HEALING AND HEALING OF OUR LAND AND NATION. HERE ARE THE MINISTRIES AND PRIEST THAT WE KNOW:
Houma-Thibodaux Diocese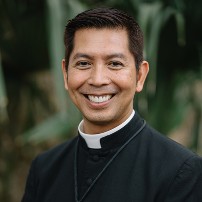 Fr. Joel Cruz in Amelia
Pax Chrisit Healing Ministry
Healing Masses are normally at St. Andrew Parish in Amelia,
unless advised otherwise.
Rosary at 6:30 pm
Mass at 7:00 pm
+++++++++++++++++++++++++++++++++++++
New Orleans Diocese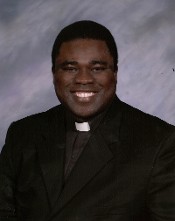 Fr. Anthony Odiong at St. Anthony Parish in Luling
Healing Service and Benediction after
6:00 pm Mass on last Thursday of the Month
Upcoming Healing Mass in French Settlement
at St. Joseph Catholic Church
Pentecost Sunday, June 9th at 2:00 pm
++++++++++++++++++++++
Lafayette Diocese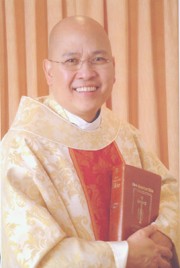 Fr. Manny Fernandez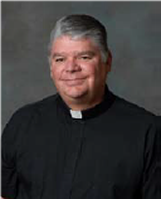 Fr. Mark Miley
Missionaries of Rosa Mystica website
++++++++++++++++++++++++++++++++++++
Lake Charles Diocese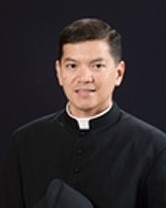 Fr. Rommel Tolentino
Cathedral of the Immaculate Conception
St. Raphael Ministries website
That is not to say there are not others.
If you know of others, please let us know.
+++++++++
LITTLE CAILLOU
at Our Lady of Prompt Succor Adoration Chapel!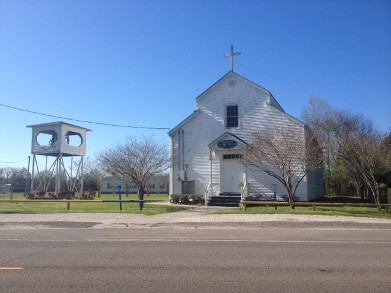 The chapel is located approximately 9 miles south of downtown Houma on Hwy LA 56
Divine Mercy Sunday is April 28th ... not May 28th ... as announcement wrongly states!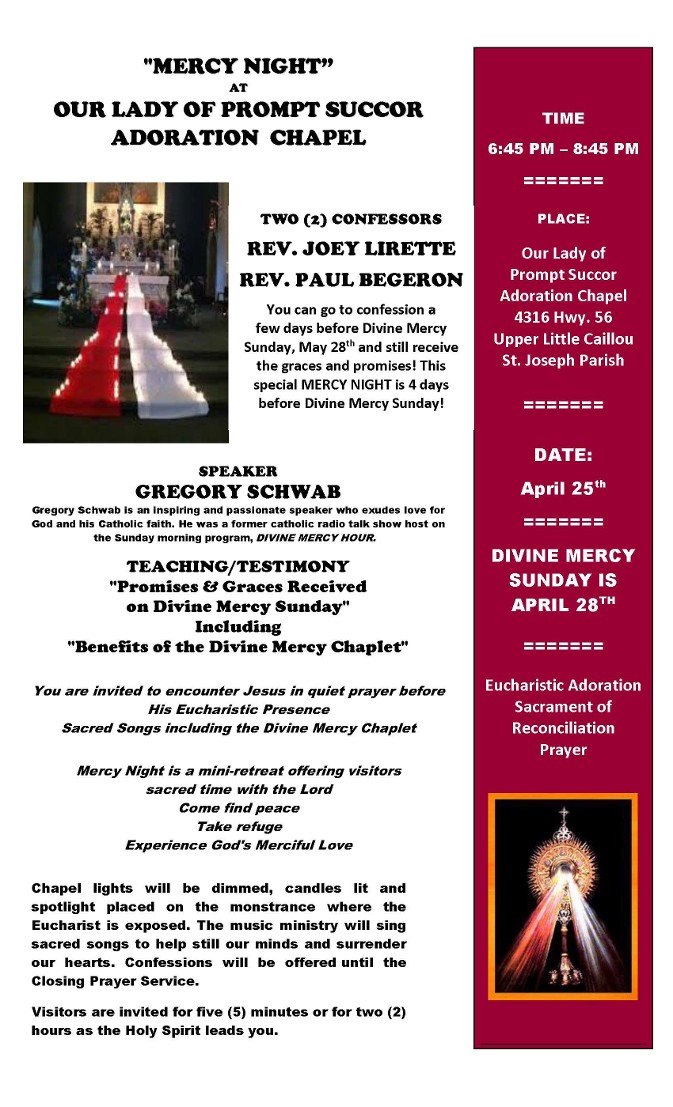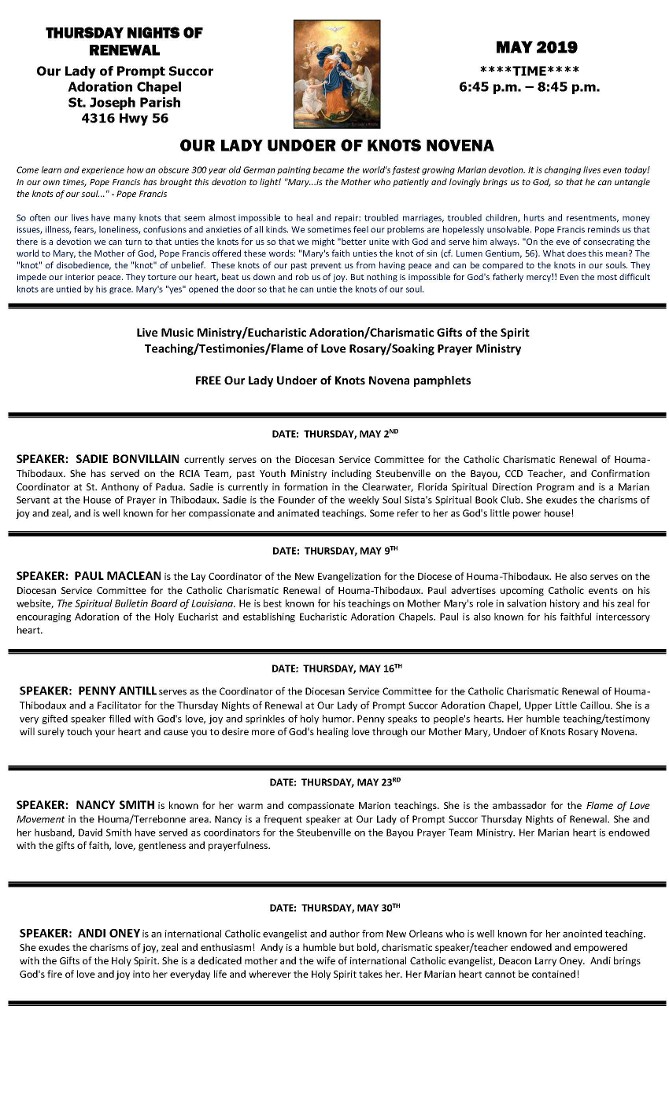 ++++++++
NEW ORLEANS &
BATON ROUGE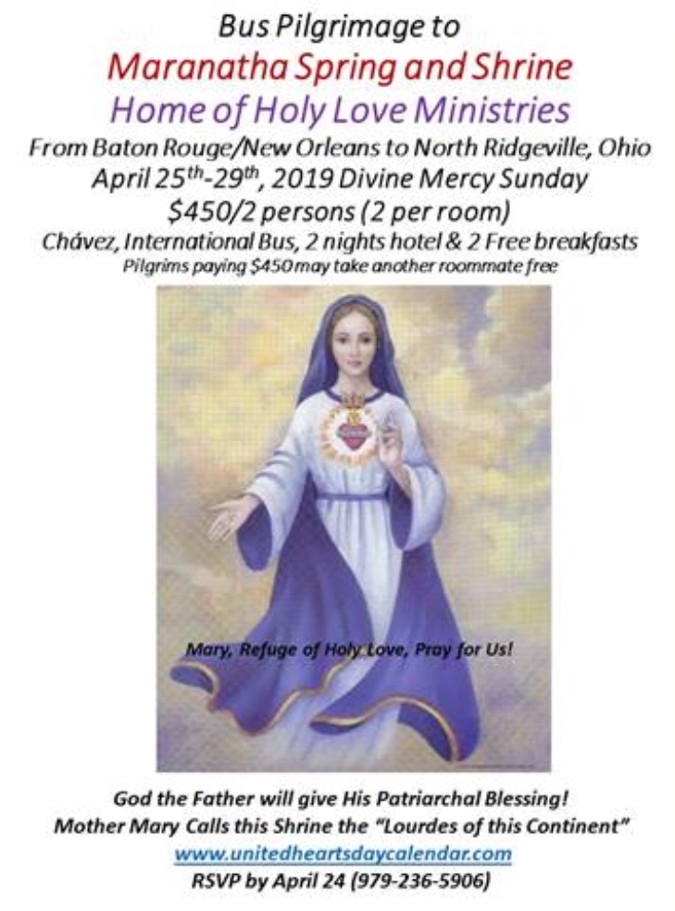 ++++++++
NEW ORLEANS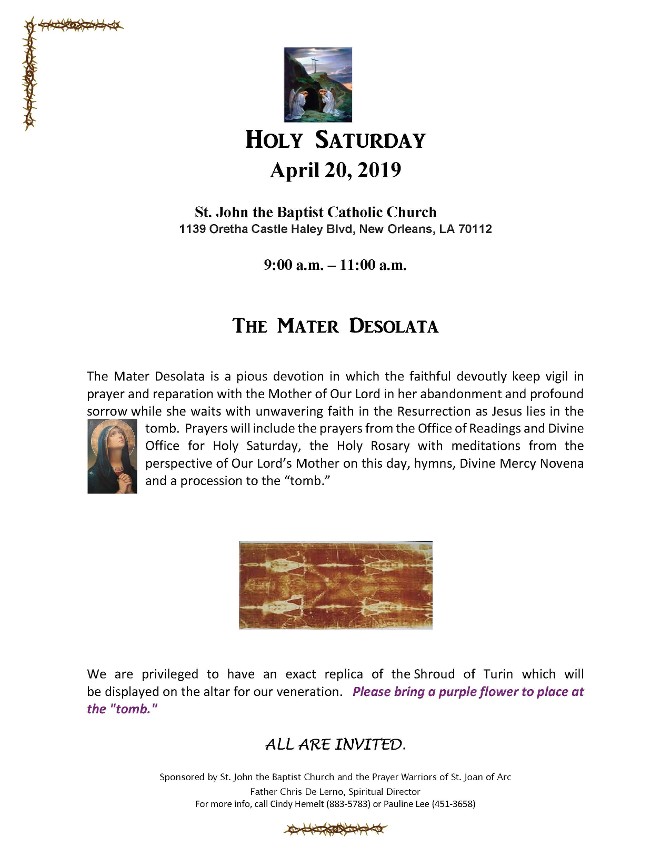 ++++++++++
METAIRIE
MARIAN MOVEMENT OF PRIESTS
Cenacle of Our Loving Mother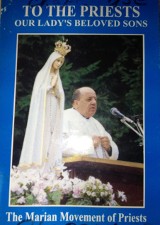 Friday, April 26, 2019
St. Edward the Confessor Church
4921 West Metairie Avenue
Metairie, LA 70001
Beginning with Mass: 6:00 p.m.
Immediately following Mass: Cenacle of the Marian Movement of Priests
Conducted by: Father Gerald Seiler, Pastor
consisting of
Rosary, Confessions, Act of Consecration to the Immaculate Heart of Mary,
reading and a reflection on a message from the book,
To the Priests, Our Lady's Beloved Sons
This prayer group is a cenacle of the Marian Movement of Priests,
and its purpose is to promote and to deepen consecration to the
Immaculate Heart of Mary and, of course, to pray for priests.
Father Gerald Seiler, Spiritual Director
For more information call
Cindy Hemelt (883-5783) or Pauline Lee (451-3658).
++++++
THIBODAUX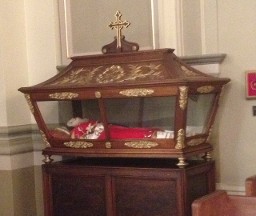 ST. VALERIE PROCESSION
Thibodaux's patronness for protection from fires and hurricanes!
Please join the community in procession on Saturday, April 27th beginning from the St. Joseph Co-Cathedral at 3:00 pm and returning for the 4:00 pm Vigil Mass
ALL ARE INVITED!
++++++++++
NEW ORLEANS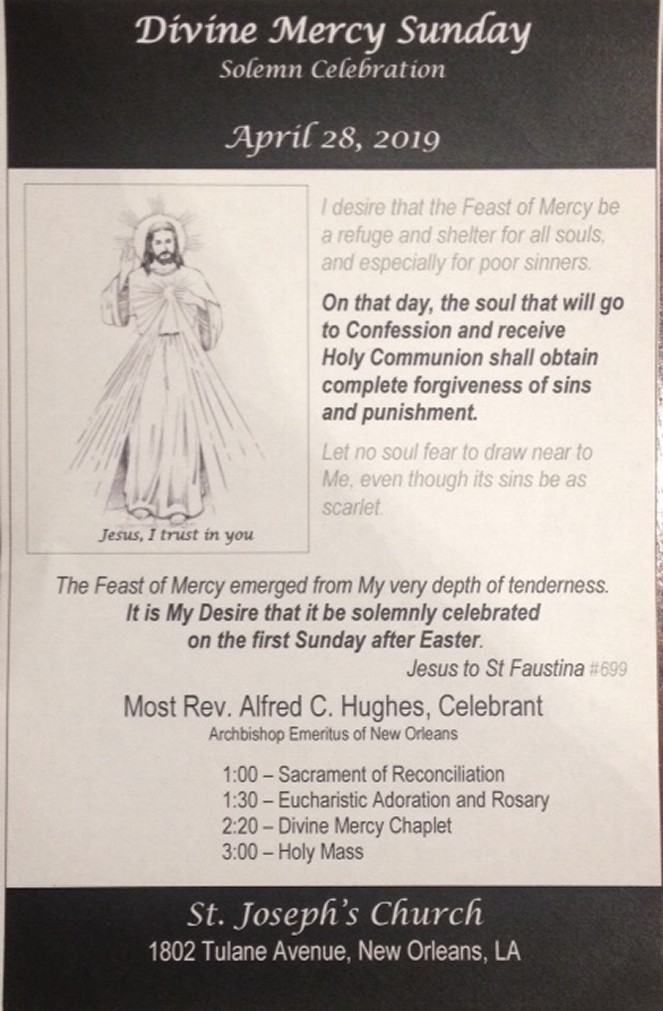 ++++++++++
NEW ORLEANS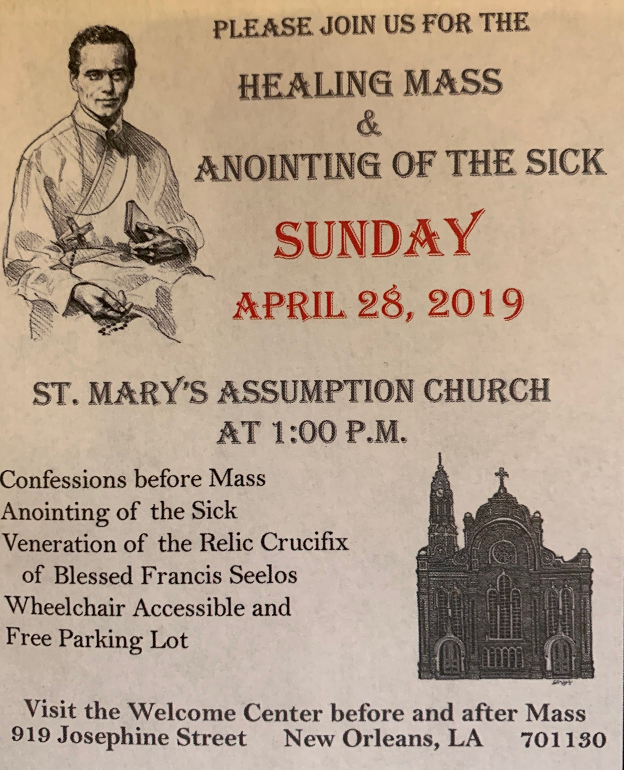 +++++++
HOUMA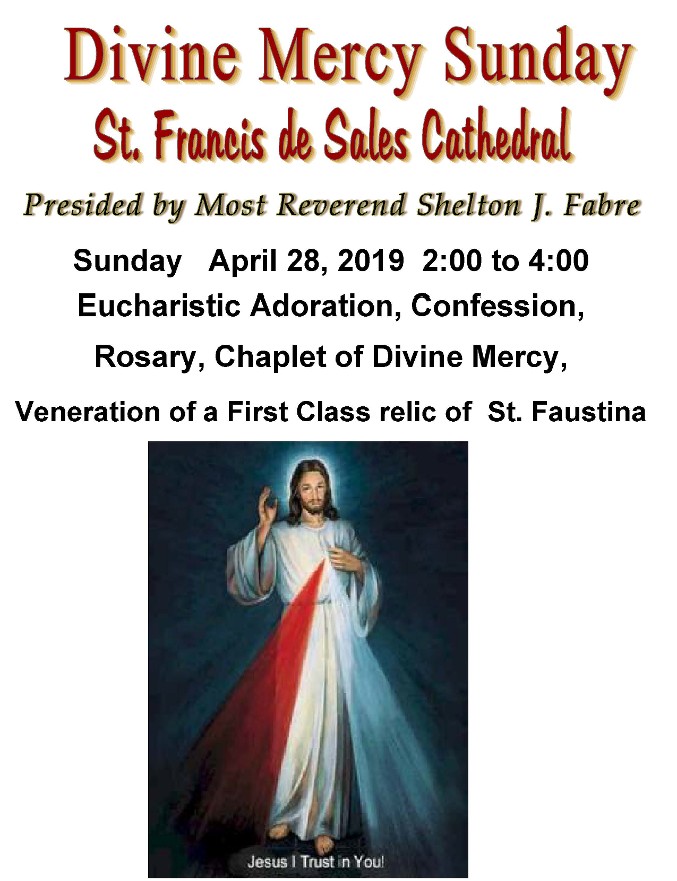 ++++++++++
BATON ROUGE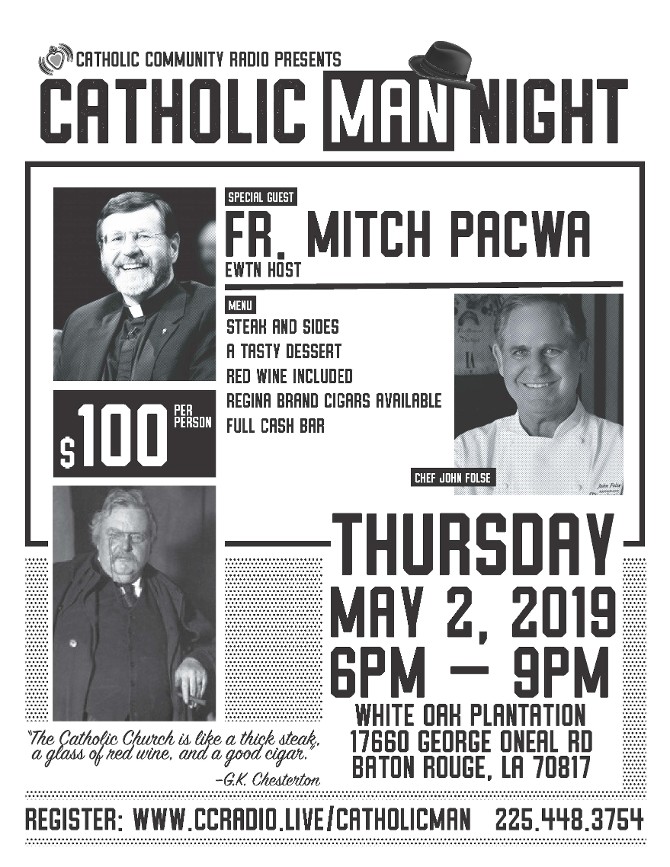 +++++++++
METAIRIE
St. Joan of Arc Prayer Warriors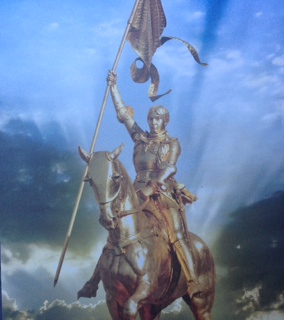 Conversion of our Greater New Orleans Area,
our Country, and our World to Our Lord Jesus Christ
(25 years of fighting to convert New Orleans)
Saturday, May 4, 2019
(and every First Saturday)
10:00 a.m. – 12:00 Noon
St. Mary Magdalen Catholic Church
6425 West Metairie Avenue, Metairie, LA 70003
Eucharistic Adoration
Confessions
Holy Rosary
First Saturday Devotions
Holy Mass
Chaplet of Divine Mercy
and other intercessory prayers.
Father Christian DeLerno, Jr.,
Celebrant and Spiritual Director
(Past Spiritual Director, Fr. Stan Klores)
ALL ARE INVITED!
Please bring your family and friends.
For more information call:
Cindy Hemelt (883-5783),
Marylyn Comesana (559-0965,
Pauline Lee (451-3658)
+++++++
HOUMA
AND THEN AT THE CATHEDRAL
on Saturday, May 4, 2019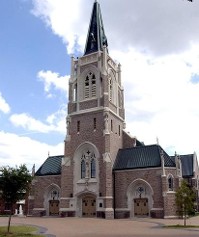 In the Our Lady of Lourdes Prayer Garden
MAY CROWNING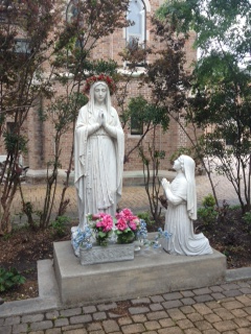 Rosary - 8:00 am
First Saturday Mass - 8:30 am
May Crowning - After 8:30 am
Lite Refreshments after May Crowning
All are invited!
++++++++++
ST. BENEDICT
PROSOPON ICON WORKSHOP
MAY 20 - 25, 2019
Christian Life Center, Saint Joseph Abbey
(Located within the Archdiocese of New Orleans, La.)
With an opportunity for daily prayer with the monks of St. Joseph Abbey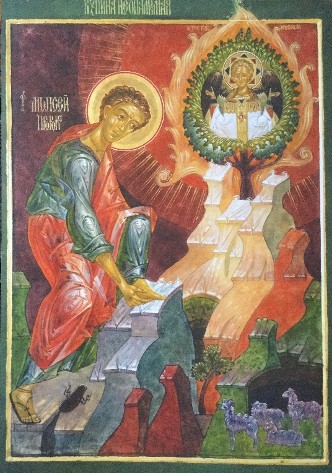 For information on this Prosopon Icon Workshop, please visit:
Prosopon School of Iconology at: http://www.prosoponschool.org/
or contact Christine Daunis at:
Phone: 225-252-3090

Email: CHRISTINEDAUNIS@YAHOO.COM
+++++++++++++++
LACOMBE
2019 HOLY SPIRIT NOVENA
"COME, HOLY SPIRIT, COME!"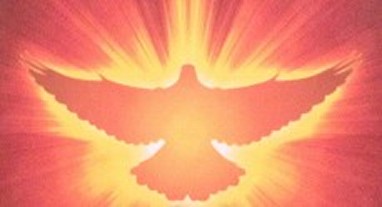 Friday, May 31st through Saturday, June 8th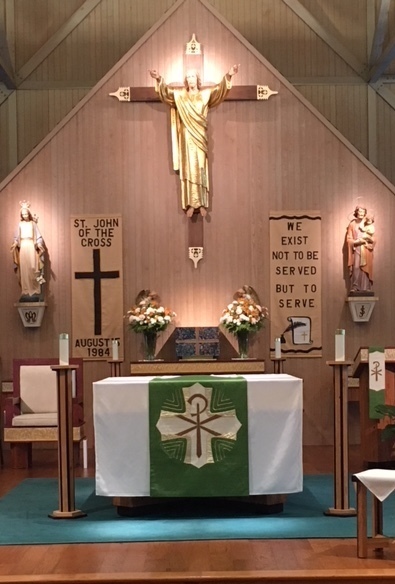 St. John of the Cross Catholic Church
61051 Brier Lake Dr, Lacombe, LA 70445
God has been generously putting together another unbelievable line-up of incredible priests and music ministers for the 2019 Holy Spirit Novena. The Novena begins on Friday, May 31, and runs through June 8. Praise and worship along with the Sacrament of Reconciliation will begin at 6:30 p.m. each evening with the Holy Sacrifice of the Mass beginning at 7 p.m.
This year's theme is "Come Holy Spirit, Come", and God has sent us all that we need to be uplifted, reassured, healed, comforted, and directed by the His Holy Spirit.
Father Sidney Speaks along with Tongues of Fire will once again open the Novena on Friday, May 31. Father Sidney's testimony, and the praise and worship of Tongues of Fire were amazing at the Novena last year. There will be a coffee shop at the community center following Mass on Friday night.
Father Gil Martin, pastor of St. John of the Cross, will be our main celebrant on Saturday, June 1. His homilies the past two years were off the charts. It will be one of the last homilies he will give before retiring at the end of June. Emily and Christian Strickland, a mother and father of two seeking holiness, will lead us in song.
Father Tony Rigoli and the Our Lady of Guadalupe Choir will lead us closer to God and His Holy Spirit on Sunday, June 2. Come experience the joy and comfort that only Father Tony and the Our Lady of Guadalupe Church community can provide in these uncertain times.
Archbishop Gregory Aymond will be the main celebrant on Monday, June 3, with the St. John of the Cross Choir leading us in song. This night will be powerful as the archbishop will reassure us that the cleansing and purification of the Catholic Church is being led by the Holy Spirit. And if you heard our choir at last year's novena, you know they knocked it spiritually out of the ballpark. They have taken it to another spiritual level ever since.
Father Herb Kiff, the pastor of Mater Dolorosa, a real crowd pleaser from two years ago, will be back to tell us the truth about our times. God has paired him with local Christian recording artist, John Finch, who will lead us in praise and worship. There will be a coffee shop following Mass on Tuesday, June 4 aimed at young adults and teenagers.
Father Alex Guzman from St. Margaret Mary will be with us on Wednesday. The dynamic Colin MacIver will lead us in praise and worship. This is yet another powerful spiritual pairing by the Holy Spirit.
Father Chris Zavachis, who grew up in St. Margaret Mary's parish, and who is now assigned to Our Lady of the Lake, will be with us on Thursday, June 6. The inspirational Sacred Heart of Jesus Choir will be taking us closer to God through their gift of song.
Friday, June 7, will be the healing Mass. The Holy Spirit contacted Father Robert Joel Cruz, from the Diocese of Houma-Thibodaux

and told him he needed to return with his healing team to the Holy Spirit Novena. If you were here two years ago, you will remember it was one of the most incredible spiritual nights in the history of St. Tammany Parish. The healing presence of the Holy Spirit was so powerfully amongst us. Many miracles happened that night and throughout the Holy Spirit Novena the past two years. So many prayers have been answered, and so much peace has been experienced.
The Novena will conclude on Saturday, June 8. Father Gil Martin will be the main celebrant, and Deacon Ricky Suprean of St. John of the Cross will present God's homily. Praise and worship on the last two nights has yet to be finalized, but the prospects are outstanding, and rest assured, they will lead us closer to God the Father, and Jesus, His Son, through His Holy Spirit.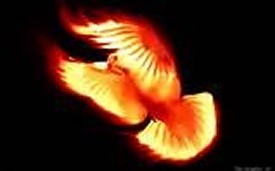 Come Holy Spirit! Come!!
++++++++
LAFAYETTE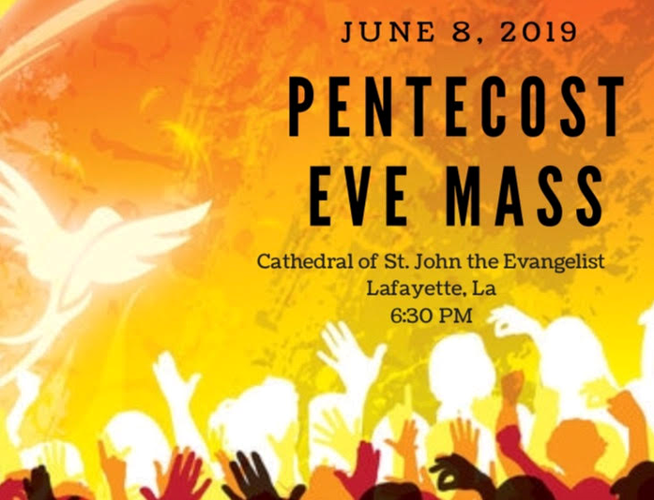 ++++++++
NEW ORLEANS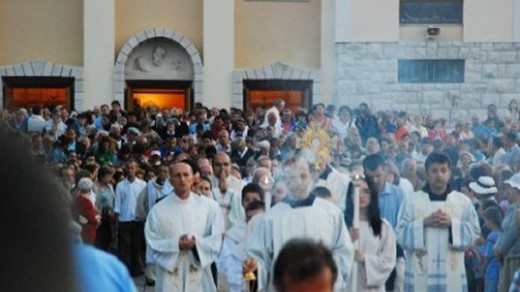 Eucharistic Procession
Archbishop Aymond will preside over the procession on June 23, 2019 for The Solemnity of the Most Holy Body and Blood of Christ
Save the date! More information will follow concerning details!
+++++++++++
DULAC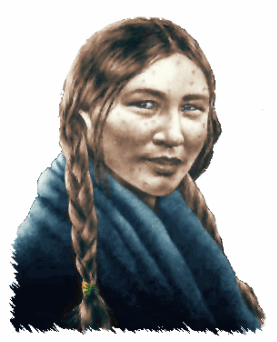 MASS TO HONOR ST. KATERI TEKAWITHA
Holy Family Catholic Church
Friday, July 12, 2019
Mass at 6:30 pm
Meal to follow
To learn more about St. Kateri, click here.
+++++++++
BAYOU TECHE AREA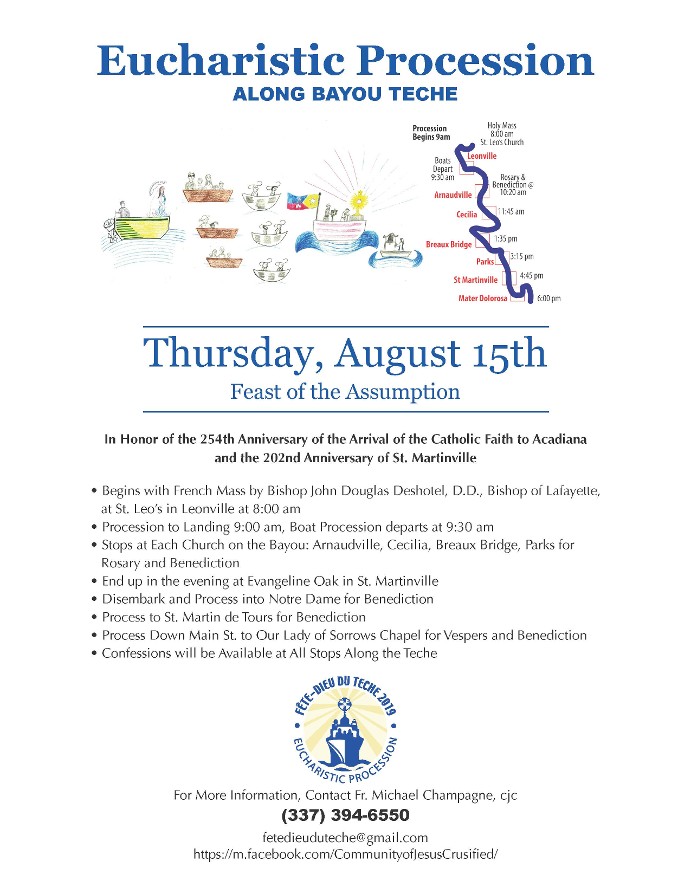 ++++++++++
BAYOU LAFOURCHE AREA
FAITH OF OUR FATHERS
EUCHARISTIC PROCESSION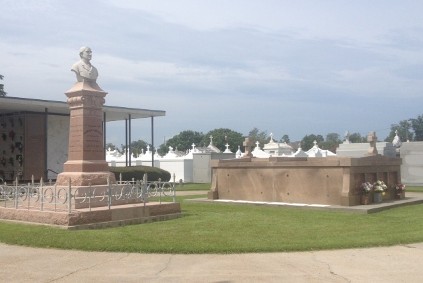 BEGINS WITH MASS AT
OUR LADY OF PROMPT SUCCOR
IN GOLDEN MEADOW
AND ENDS AT
ST. JOSEPH CO-CATHEDRAL
IN THIBODAUX
Save this date!
Saturday, October 5, 2019
This procession is along Bayou Lafrouche
and is connected to each parish and the cemeteries
along the bayou where the "Fathers of our Faith" are buried.
More details to follow.
Want to know more, contact:
The Spiritual Bulletin Board of Louisiana
and we will send you to the right person.
+++++++++++++++
RACELAND/MATTHEWS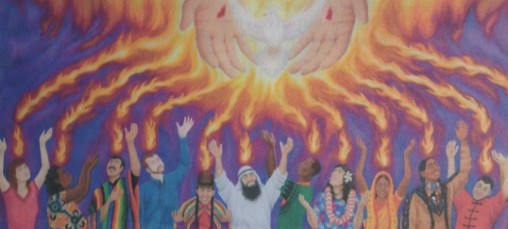 CATHOLIC REVIVAL
COMING TO BAYOU LAFOURCHE!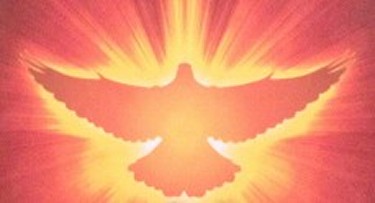 Presented by:
Catholic Charismatic Renewal of Houma-Thibodaux
Friday and Saturday, October 18 and 19
SAVE THE DATE!
Details will be placed here as they develop!
Or click here to visit the CCRHT diocesan website.
+++++++++
STATEWIDE
ARE YOU LOOKING FOR A LOCAL ALTERNATIVE
TO THE 2020 WASHINGTON MARCH FOR LIFE?
If you can't got to Washington (and most can't) but you still want to march for life, march through the streets of Louisiana. Spend one Saturday morning and make a public statement for the defenseless that cannot speak for themselves.
Follow me to the...
LOUISIANA LIFE MARCHES IN LOUISIANA
2020 Dates will be listed when available.
For information of how Louisiana cares for LIFE, click here.