LOUISIANA
FRONT PAGE EVENTS
When reviewing the listed events, try to not look at each event as a stand-alone event but instead as a body of events that the Fire and Power of the Holy Spirit builds one upon the other...
← LOOKING FOR MORE? PLEASE GO TO THE LEGEND ON THE LEFT SIDE OF THIS PAGE AND PUT YOUR CURSOR ON ONE OF THE PAGES. THEN CLICK ON YOUR ITEM OF INTEREST.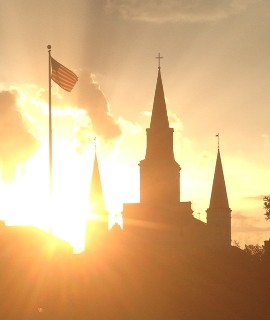 (Taken in New Orleans on Saturday, July 18, 2015)

Got a multi-parish Louisiana Catholic event you would like to have listed? If so, please send event information or a jpeg image or a pdf document to: macleanland@bellsouth.net to get it listed.
UPCOMING CATHOLIC EVENTS ACROSS LOUISIANA ARE SHOWN BELOW
SCROLL DOWN TO VIEW THEM
NOTICE!
DUE TO VIRUS CONCERNS, MOST PUBLIC EVENTS WERE CANCELLED! LIVE AND PUBLIC EVENTS ARE SLOWLY BEGINNING. AS THEY ARE RECEIVED, THEY WILL ATTEMPT TO BE POSTED. THE ARE GENERALLY LISTED BELOW IN DATE ORDER WITH REGULARLY OCCURRING MONTHLY EVENTS LISTED LAST. IN-PARISH-ONLY EVENTS ARE NOT LISTED. PLEASE SEND YOUR MULTI-PARISH EVENT TO macleanland@bellsouth.net

+++++++
BAYOU LAFOURCHE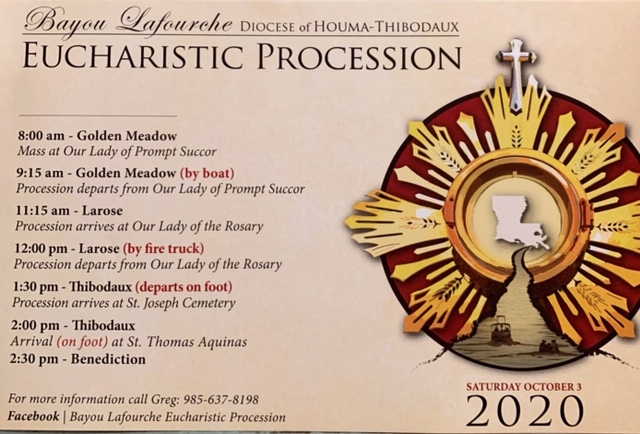 LAKE CHARLES
STELLA MARIS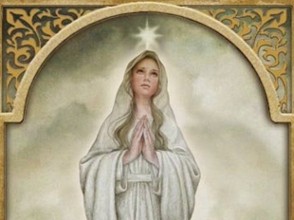 Star of the Sea
Celebrating 100 years of Apostleship of the Sea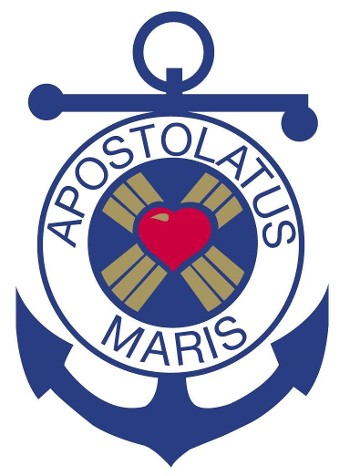 EUCHARISTIC PROCESSION AND BENEDICTION
Saturday, October 3, 2020
8:30 am - Holy Mass in honor of Our Lady Star of the Sea at the Cathedral of the Immaculate Conception (Bishop Provost will be the Celebrant)
9:30 am - Marian and Eucharistic Procession to the Lake Charles Civic Center Seawall
10:30 am - Adoration and Benediction of the Blessed Sacrament by the Seawall
For more information, visit our Facebook page at Stella Maris Centennial Boat Procession.
In light of the devastation caused by Hurricane Laura, we have modified the schedule. We are omitting the boat procession and the refreshments. Nevertheless, the Procession to the Seawall and having Adoration and Benediction by the Lake keep the connection with Our Lady Star of the Sea and the Apostleship of the Sea.

NEW ORLEANS AREA

OUR LADY IS CALLING US TO PRAYER!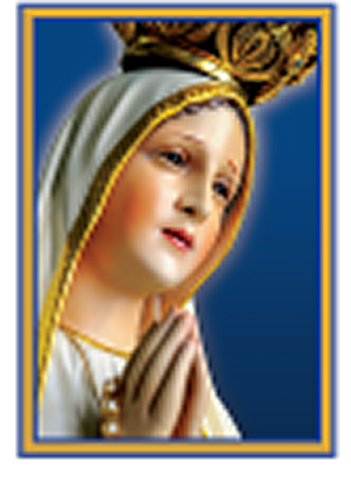 30TH ANNIVERSARY
GREATER NEW ORLEANS ROSARY CONGRESS
Saturday, October 3rd through Friday, October 9th
ROSARY CONGRESS MASSES AT: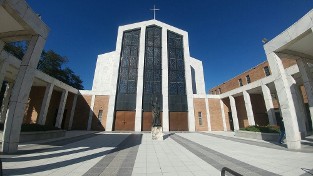 ST. DOMINIC:
Oct. 3, 2020 Saturday 4:00 pm
Oct. 4, 2020 Sunday 10:30 am
Oct. 5-9 2020 Monday - Friday 8:30 am
Link for virtual Mass at St. Dominic, click here.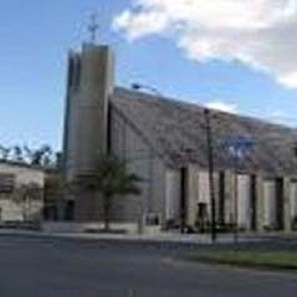 ST. RITA OF CASCIA/Harahan:
Oct. 9, 2020 Friday 7:00 pm (Closing Mass and Healing Service)
Link for virtual Mass at St. Rita Church: Please go to Facebook page. To do that click here.

For all other information and to volunteer, click here.
HOUMA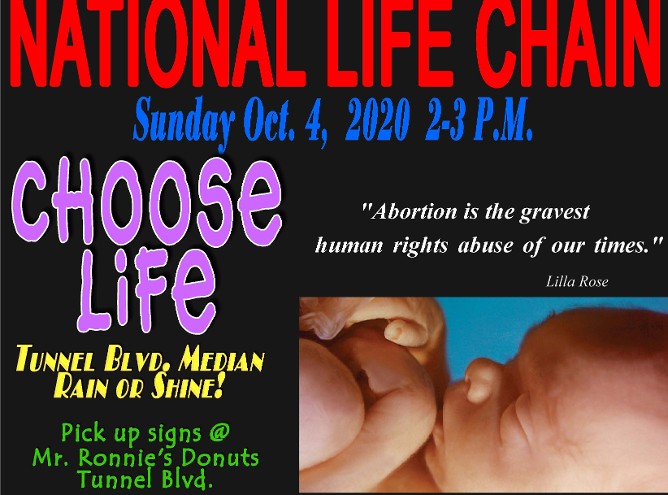 To find out about the Love Life Amendment and all matters of LIFE, scroll up to the legend and click on the page titled "Louisiana is For Life"! Please get involved in passing the Love Life Amendment on November 3rd!
LAPLACE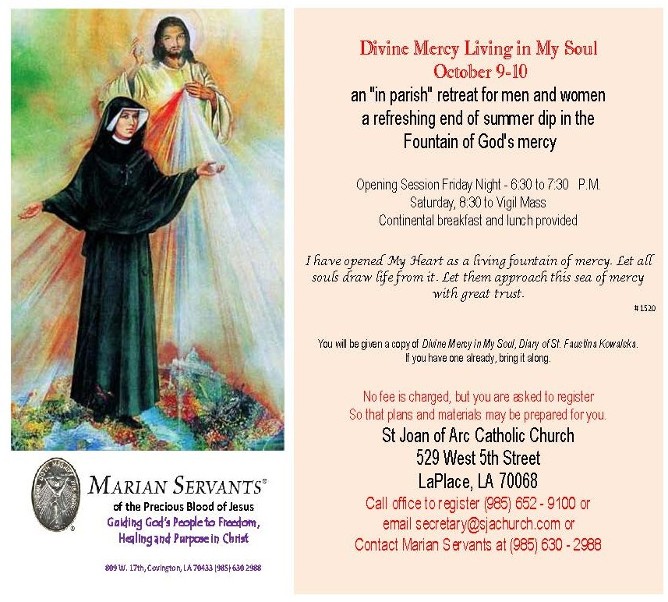 LULING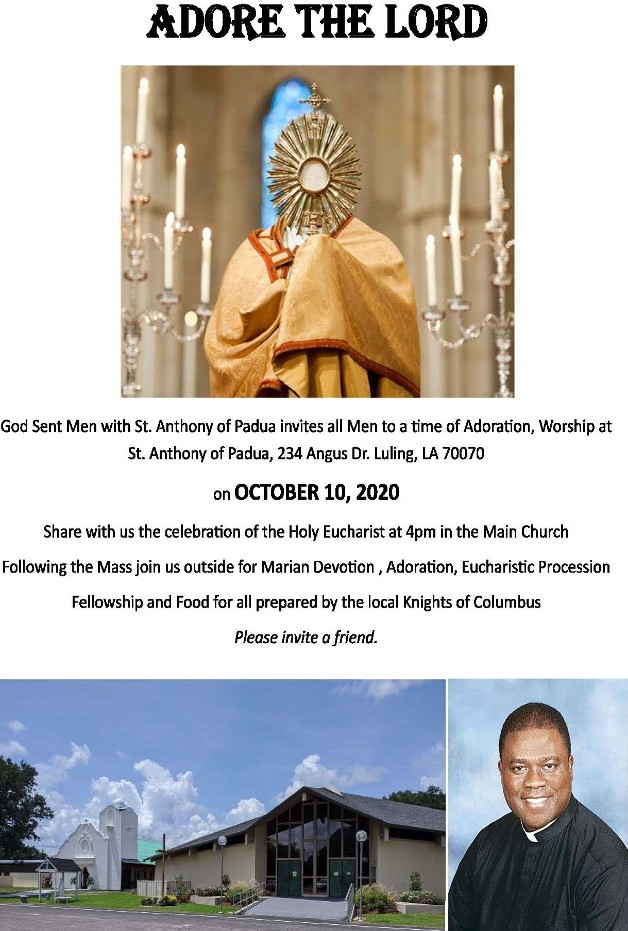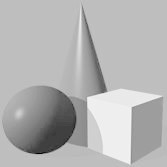 HOUMA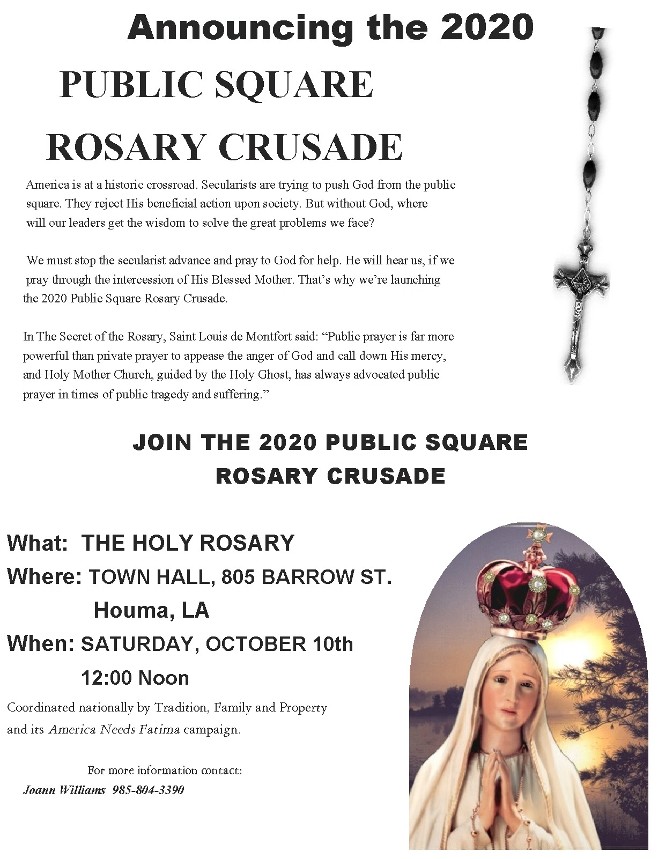 HOUMA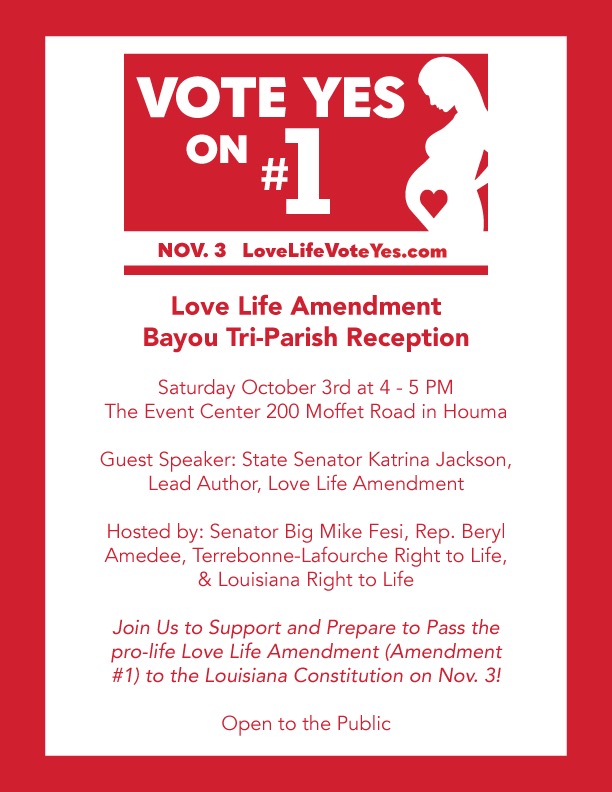 METAIRIE

To get more information and to register, click here.
STATEWIDE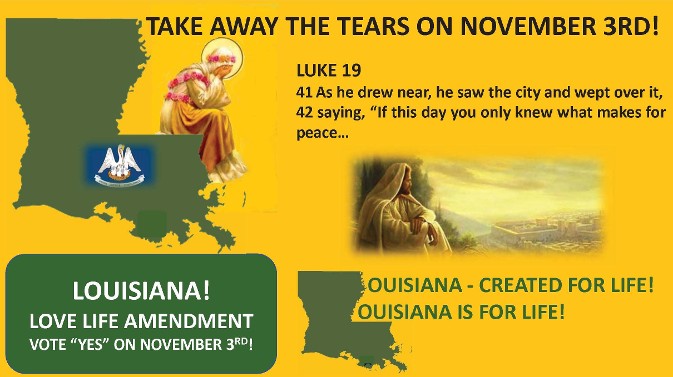 Love Life Website, click here.
Louisiana Bishops' statement, click here.
GIBSON
A glorious time of the year is again approaching. Praise and Worship Swamp Pilgrimages are now being scheduled through the beautiful swamps of South Louisiana. For more information, please contact Capt. Billy at 985-868-4625.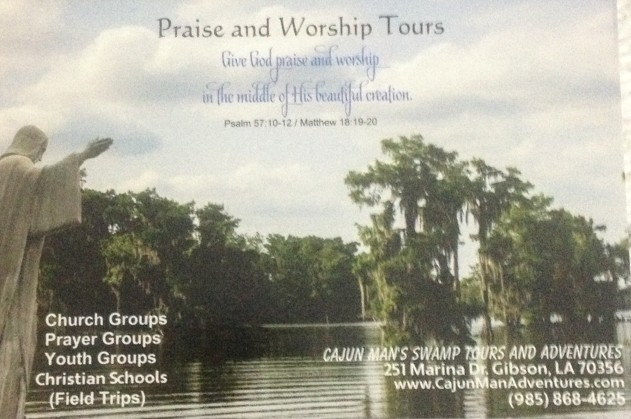 ++++++++++
THE SPOTLIGHT IS ON
REOCCURING EVENTS IN: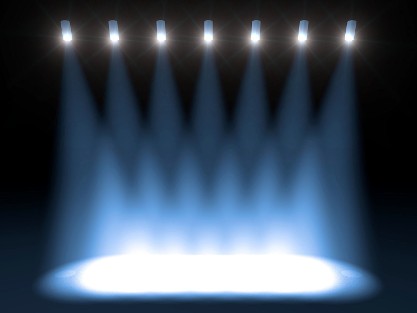 MADISONVILLE
Date/Time/Location: Monday evenings from 6:00-9:00pm
Beginning Monday, September 28, 2020
Lake Pontchartrain Basin Maritime Museum
133 Mabel Drive
Madisonville, LA 70447
The Encounter School of Ministry is a dynamic training program designed to teach, equip, and activate you in the full lifestyle of Jesus so that you can walk with God in intimacy and demonstrate his love and power to the world around you!
FOR INFORMATION ABOUT THE SCHOOL, CLICK HERE.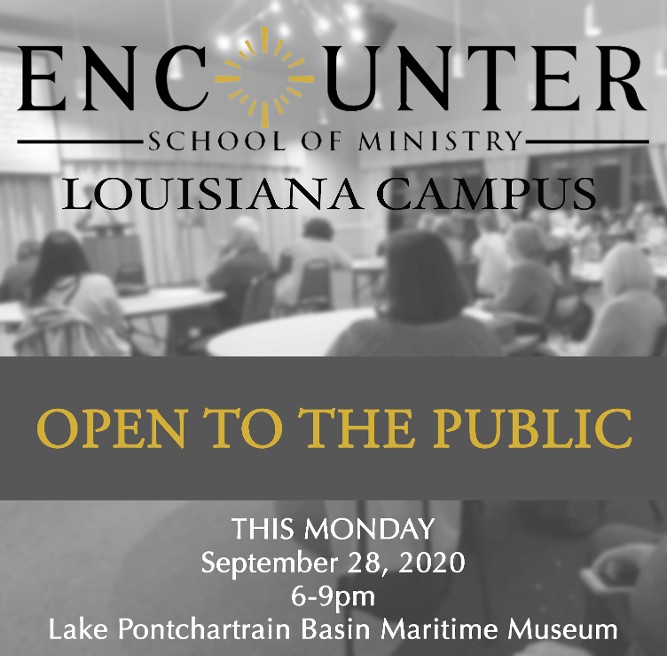 GREATER NEW ORLEANS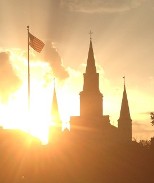 The Prayer Warriors of St. Joan of Arc are joining TFP and America Needs Fatima for a Public Square Rosary praying for our police at police stations in Metairie. PLEASE join us, if you can. The police need our support, our witness, and our prayers. Where and when, please call Cindy Hemelt (504-883-5783) or Pauline Lee (504-451-3658).
God bless America!
Help spread the word.
AMELIA
On the third Thursday of each month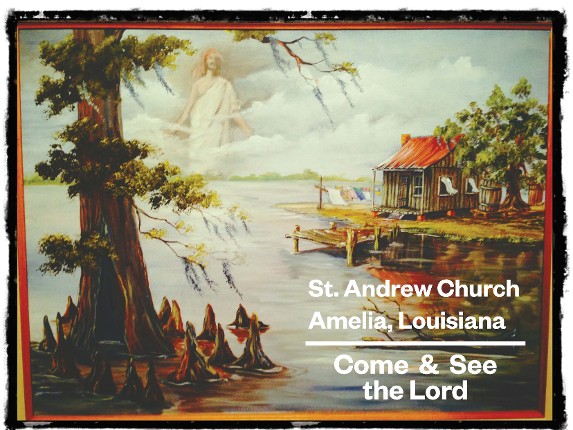 For October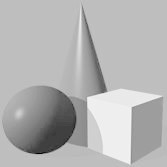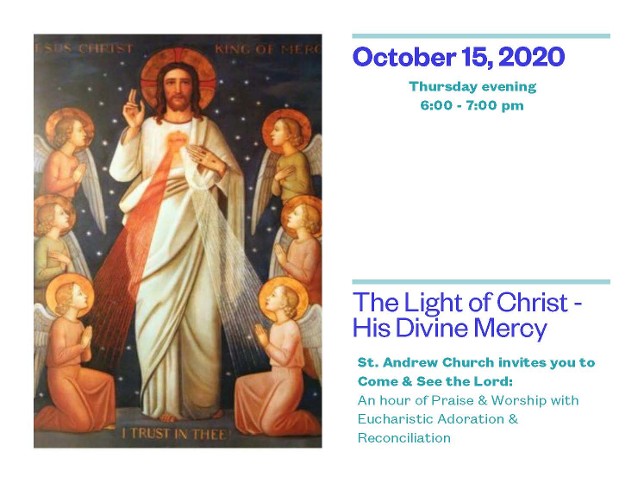 All are invited!
METAIRIE

SPACING GUIDELINES:
Masks are strongly encouraged.

Please observe social distancing; refrain from hugging, shaking hands, speaking closely, etc.

No song books will be used.

Priests and Ministers of Communion must use hand sanitizers before distributing
Communion and use masks while distributing Communion.

Reception of Communion on the hand is strongly encouraged; those who wish to receive on the tongue are requested to wait until the end, after everyone else has received.

Communion is under one specie only; the chalice will not be offered.

For all information and events, click here.
HOUMA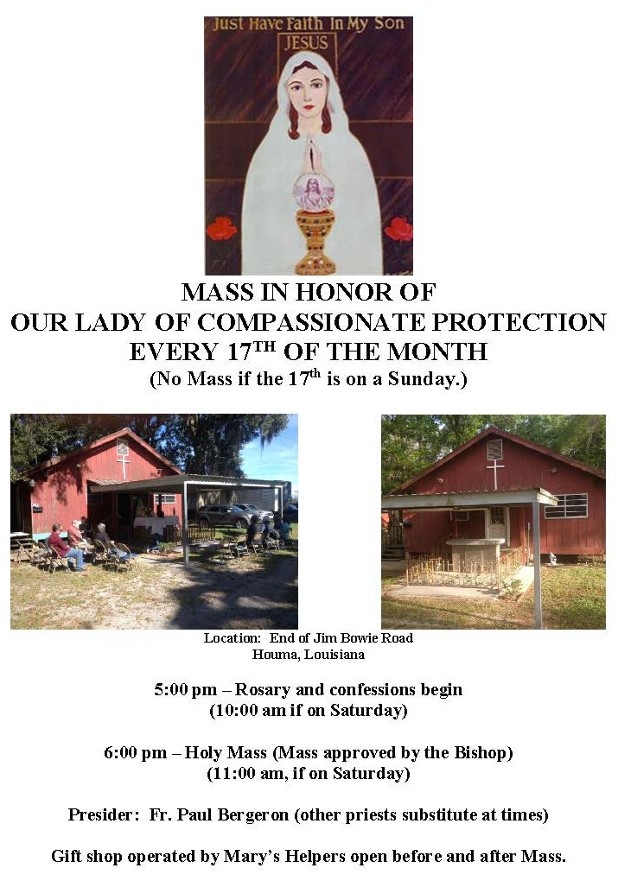 METAIRIE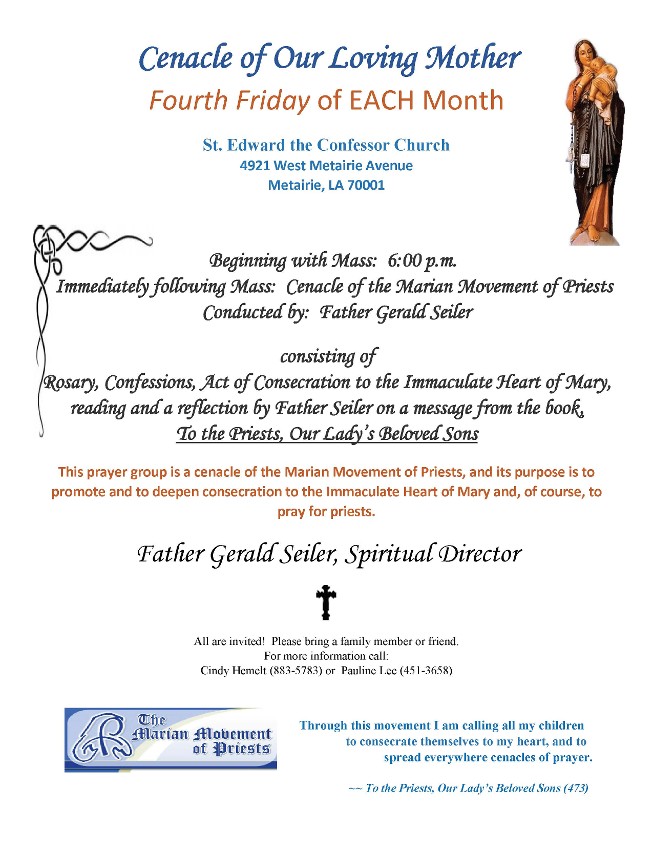 METAIRIE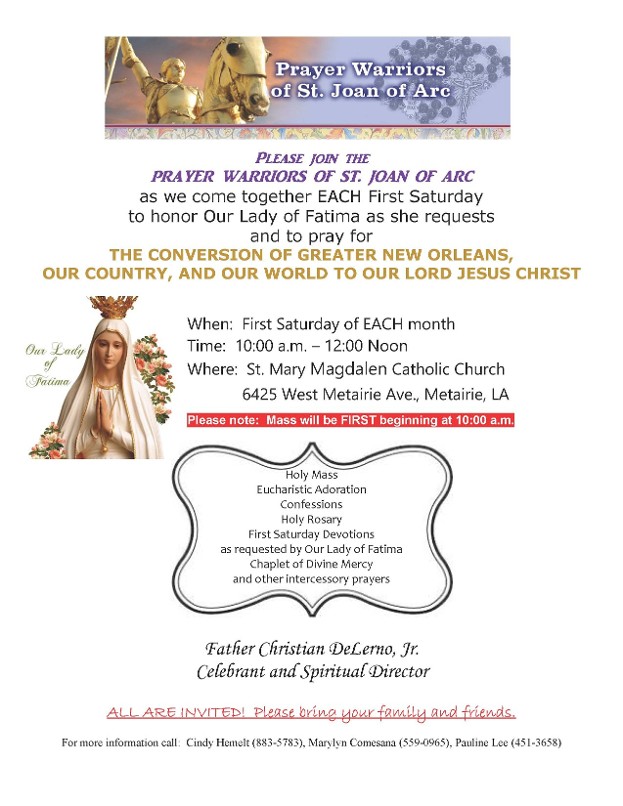 NEW ORLEANS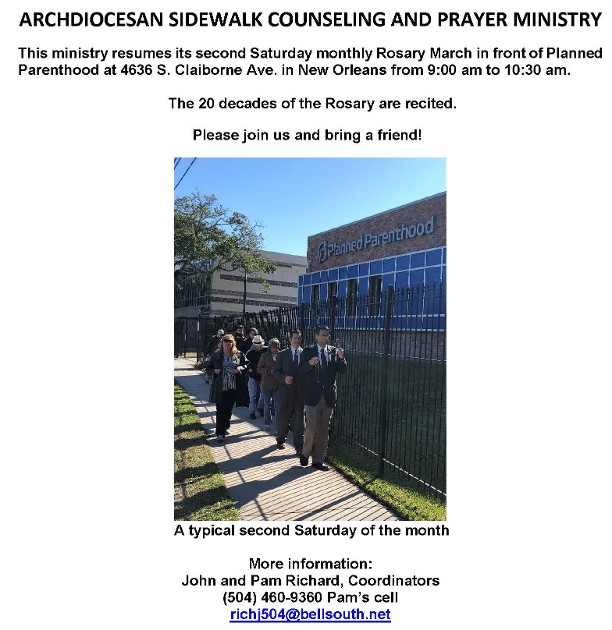 METAIRIE