LOUISIANA FRONT PAGE EVENTS
←(FRONT PAGE NEWS)

When reviewing the listed events, try to not look at each event as a stand-alone event but as a body of events that the Fire and Power of the Holy Spirit builds one on the other as an ongoing and mighty...
← LOOKING FOR A MINISTRY OR ACTIVITY, GO TO THE LEGEND ON THE LEFT SIDE OF THIS PAGE AND PUT YOUR CURSOR ON ONE OF THE HEADINGS OF THESE LOUISIANA SITES. EVERYTHING WITHIN THAT HEADING WILL POP UP. THEN CLICK ON YOUR ITEM OF INTEREST. WANT TO ADD SOMETHING, LET US KNOW.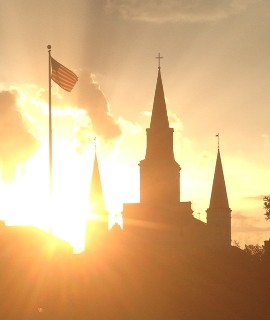 (Taken in New Orleans on Saturday, July 18, 2015)

Got a multi-parish Louisiana Catholic event you would like to have listed? If so, please send event information or a jpeg image or a pdf document to: macleanland@bellsouth.net to get it listed.
UPCOMING CATHOLIC EVENTS ACROSS LOUISIANA ARE SHOWN BELOW
SCROLL DOWN TO VIEW THEM
(THEY ARE GENERALLY IN DATE ORDER) ++++++++++++++++++++++++++++++++++++++++++++++++++++++++++++++++++++
THE SPIRITUAL BULLETIN BOARD OF LOUISIANA GETS MANY REQUESTS ABOUT THE LOCATIONS OF HEALING MASSES AND SERVICES THROUGHOUT SOUTH LOUISIANA. THERE IS NOW A PAGE LISTING THE MINISTRIES AND PRIESTS THAT WE KNOW ABOUT. CLICK HERE FOR THAT PAGE.

++++++++++++++++++++++++++++++++++++++++++++++++++++++++++++++++++++
NOTICE!
DUE TO VIRUS CONCERNS, MOST PUBLIC EVENTS WERE CANCELLED! LIVE AND PUBLIC EVENTS THAT HELP MOVE THE CHURCH AWAY FROM THE DAMAGING ENVIRONMENT OF "SACRAMENTAL EXILE" WILL ATTEMPT TO BE POSTED. PLEASE SEND THEM IN.
+++++++++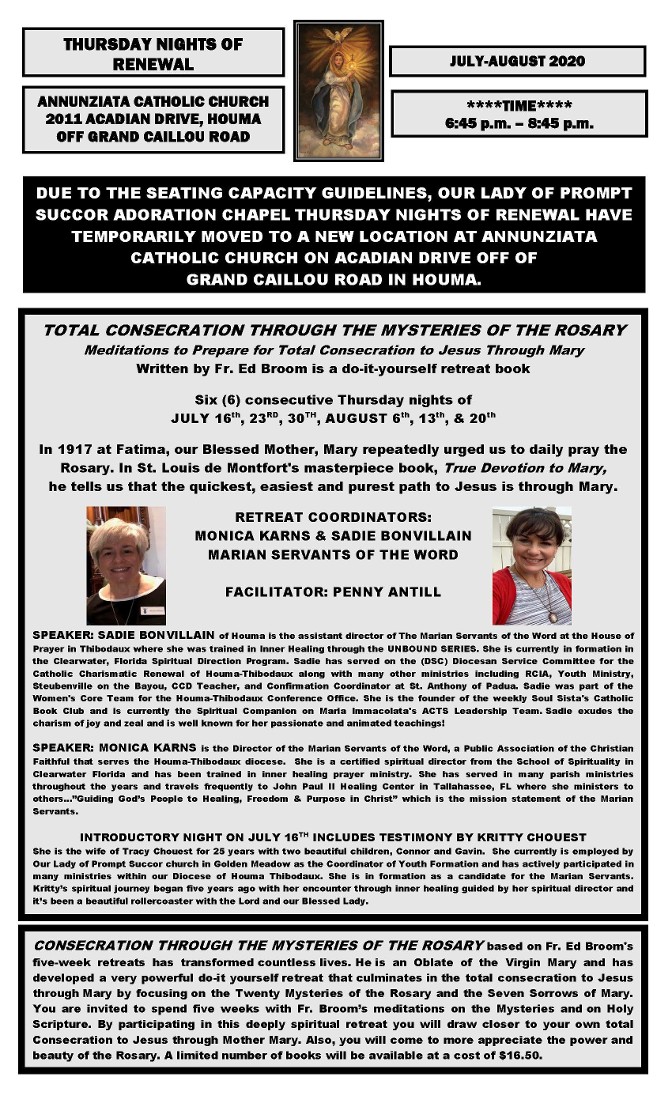 +++++++
METAIRIE
These events are live starting July 8, 2020
SPACING GUIDELINES:
Masks are strongly encouraged.

Please observe social distancing; refrain from hugging, shaking hands, speaking closely, etc.

No song books will be used.

Priests and Ministers of Communion must use hand sanitizers before distributing
Communion and use masks while distributing Communion.

Reception of Communion on the hand is strongly encouraged; those who wish to receive on the tongue are requested to wait until the end, after everyone else has received.

Communion is under one specie only; the chalice will not be offered.

For all information and events, click here.
+++++++++
HOUMA
These events are live starting July 16, 2020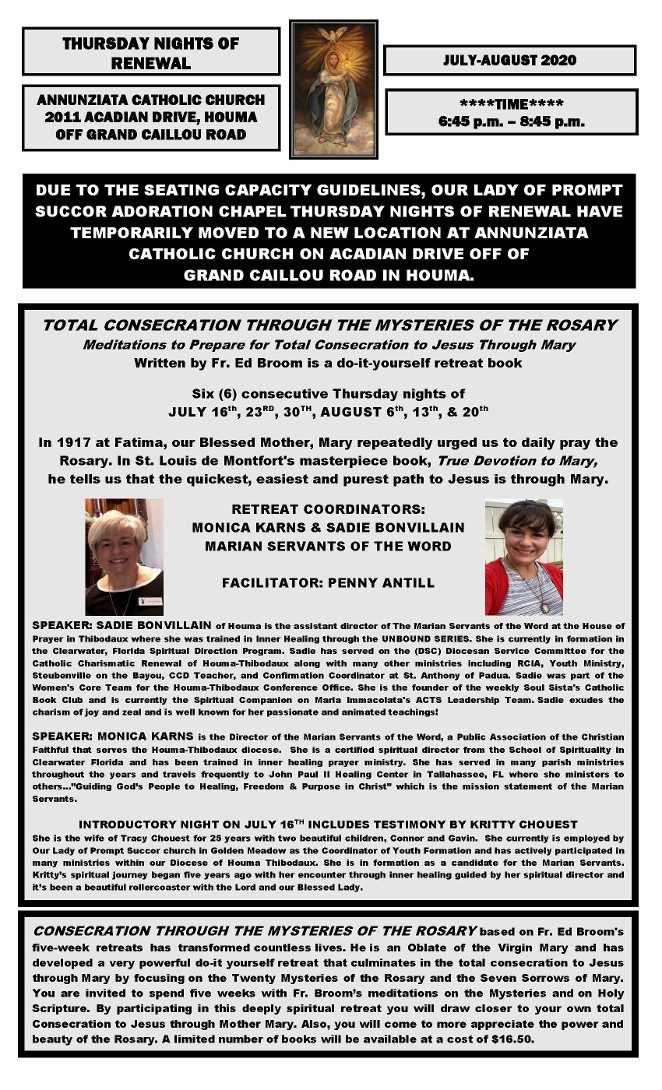 ++++++
HOUMA
This event is live on July 17, 2020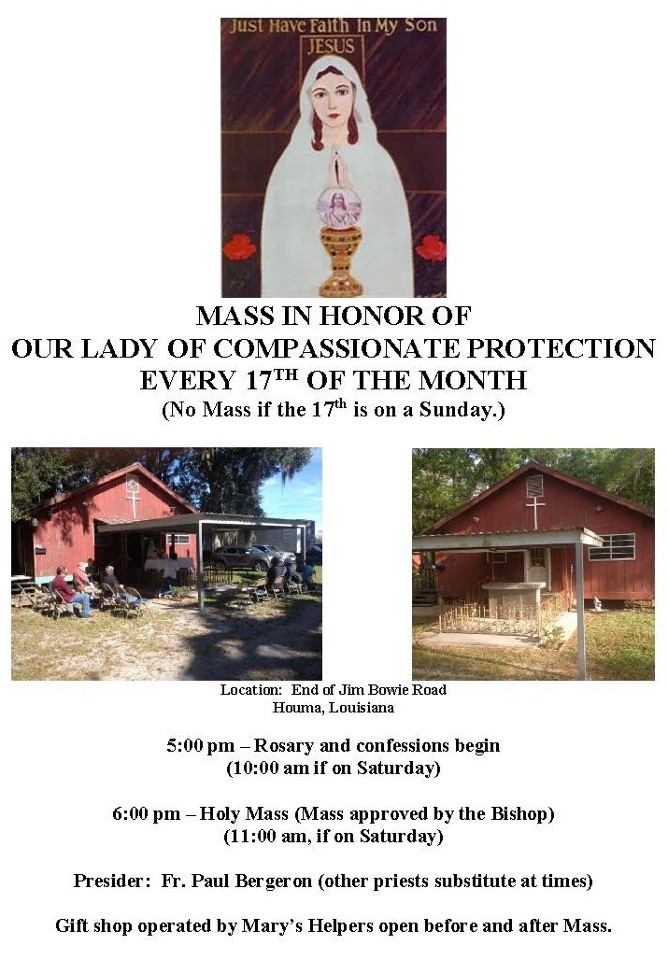 ++++++++
METAIRIE
This event is live on July 24, 2020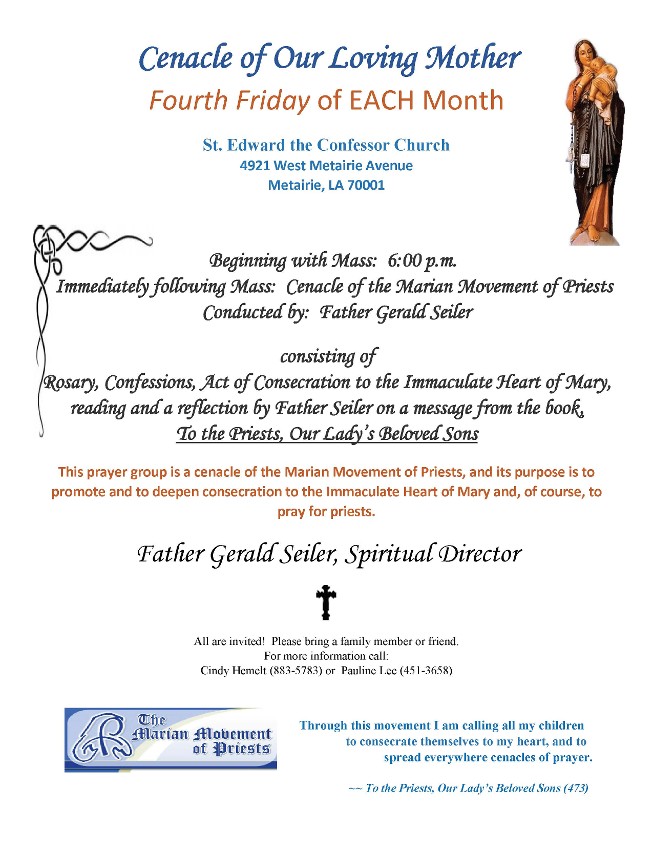 +++++++++
HOUMA
This event is live on August 2, 2020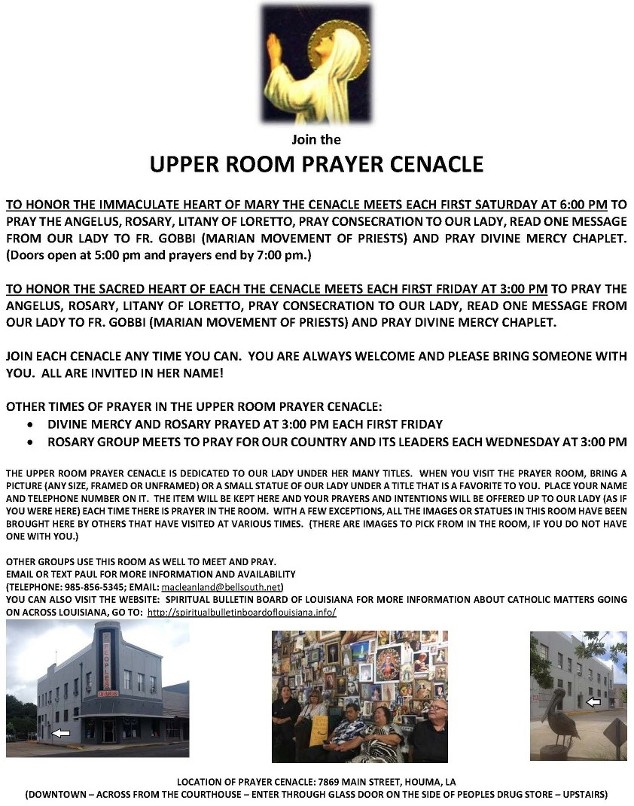 ++++++++++
BAYOU TECHE

This event is live on August 15, 2020!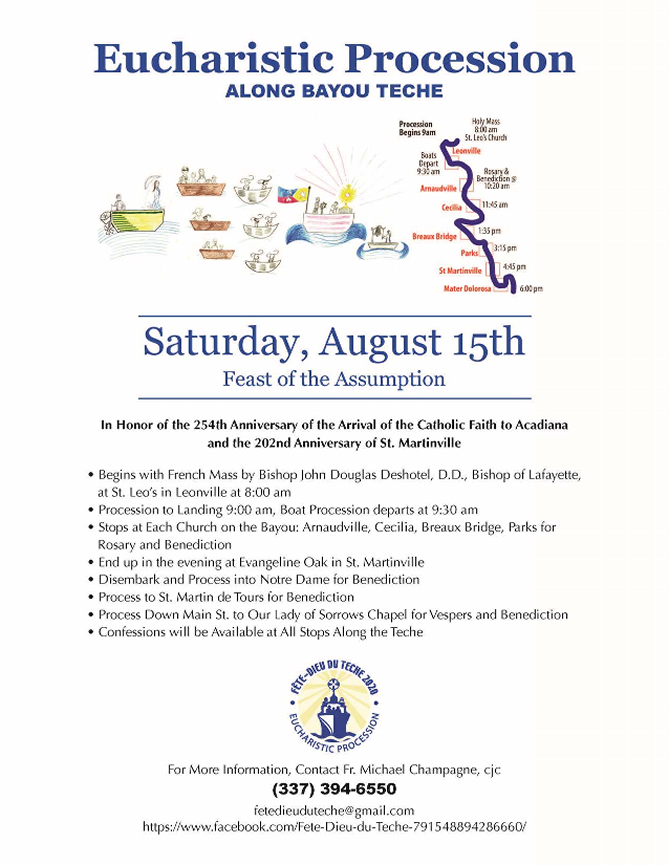 +++++++++
BAYOU LAFOURCHE
This event is live on October 3, 2020
Begin the day with 8:00 am First Saturday Mass
After Mass Eucharistic Procession begins from Our Lady of Prompt Succor in Golden Meadow to St. Joseph Co-Cathedral in Thibodaux.
(Process by boat, fire truck and walking.)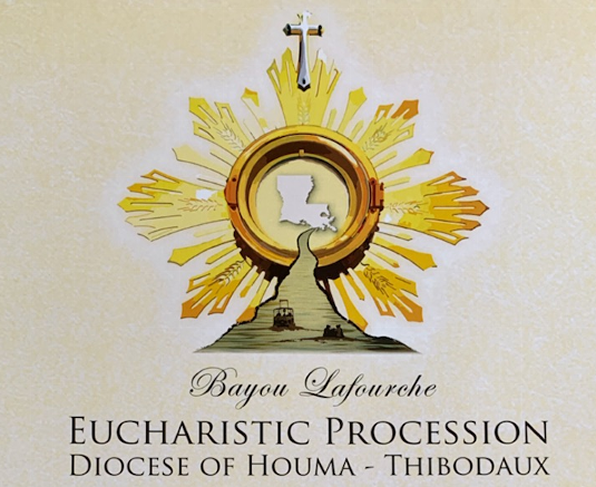 Get involved in this event!