LOUISIANA FRONT
PAGE NEWS AND EVENTS
← IF YOU CANNOT FIND AN EVENT IN THE LIST BELOW, GO TO THE LEGEND ON THE LEFT SIDE OF THIS PAGE AND PUT YOUR CURSOR ON ONE OF THE HEADINGS OF LOUISIANA SITES. THAT MIGHT HELP YOU. EVERYTHING WITHIN THAT HEADING WILL POP UP. THEN CLICK ON YOUR ITEM OF INTEREST. WANT TO ADD SOMETHING, LET US KNOW.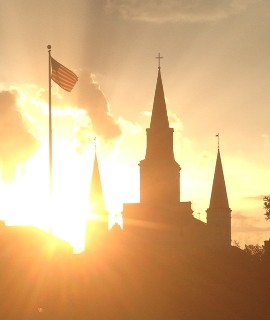 (Taken in New Orleans on Saturday, July 18, 2015)
To list a multi-parish Louisiana Catholic event, please send event information or a jpeg image or a pdf document to: macleanland@bellsouth.net to get it listed.
UPCOMING CATHOLIC EVENTS ACROSS LOUISIANA ARE SHOWN BELOW
THE SPOTLIGHT IS CURRENTLY ON: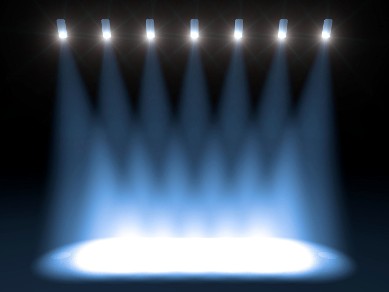 NEW ADORATION CHAPELS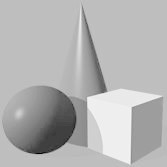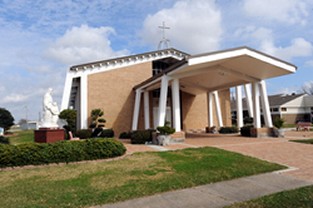 ST. ANN CATHOLIC CHURCH
IN BOURG, LA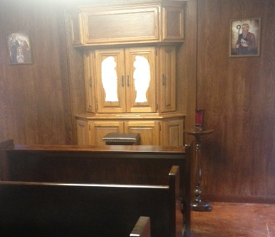 For the entrance code and more information about the chapel, please contact the parish.
For more about Eucharistic Adoration across South Louisiana, please scroll up to the legend and click on "Louisiana and the Eucharist".
+++++++++
ST. THOMAS AQUINAS CATHOLIC CHURCH
NICHOLLS STATE UNIVERSITY IN THIBODAUX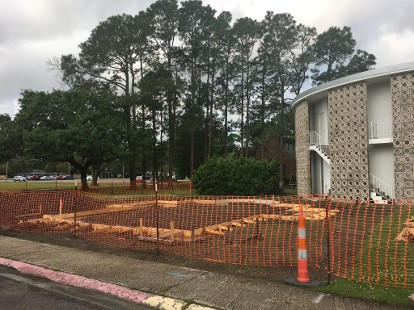 Status of Construction on March 12, 2019
For futher updates go to parish website.
+++++++++++++++++++
THE SPIRITUAL BULLETIN BOARD OF LOUISIANA GETS MANY REQUESTS ABOUT THE LOCATIONS OF HEALING MASSES AND SERVICES THROUGHOUT SOUTH LOUISIANA. BELOW ARE THE MINISTRIES AND PRIESTS THAT WE KNOW OF WHO DO THIS QUITE OFTEN OR WHO SEND US INFORMATION. WANT TO ADD ONE WE ARE MISSING, PLEASE LET US KNOW.

Houma-Thibodaux Diocese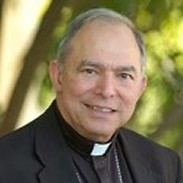 Sam Jacobs, Bishop Emeritus in Houma

Contract through website: Spirit Aflame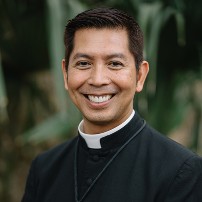 Fr. Joel Cruz in Amelia
Pax Chrisit Healing Ministry
Healing Masses are at St. Andrew Parish in Amelia,

unless otherwise noted.
Rosary at 6:30 pm
Mass at 7:00 pm
++++++++++++
Voice of the Lord
Healing and Deliverence Ministry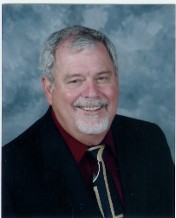 Kerry Bueche
Catholic Lay Evangelist
Contact Information:
Telephone - (985) 868-0702 or (985) 209-3299
Email - buechek@bellsouth.net
+++++++++++++++++++++++++++++++++++++
New Orleans Diocese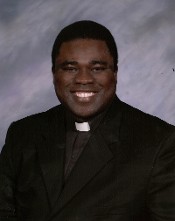 Fr. Anthony Odiong at St. Anthony Parish
at 234 Angus Dr. in Luling
Healing Service and Benediction after
6:00 pm Mass on last Thursday of each month.
Confessions are heard before Mass from 5:00 pm to 5:45 pm.
All information can be found
++++++++++++++++++++++
Lafayette Diocese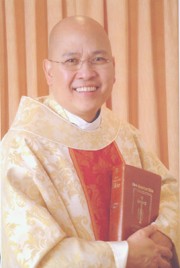 Fr. Manny Fernandez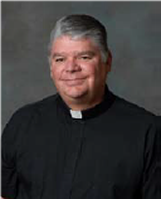 Fr. Mark Miley
Missionaries of Rosa Mystica website
++++++++++++++++++++++++++++++++++++
Lake Charles Diocese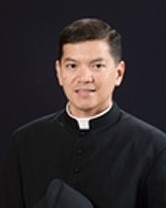 Fr. Rommel Tolentino
Cathedral of the Immaculate Conception
St. Raphael Ministries website
That is not to say there are not others.
If you know of others, please let us know.
+++++++++
LITTLE CAILLOU
at Our Lady of Prompt Succor Adoration Chapel!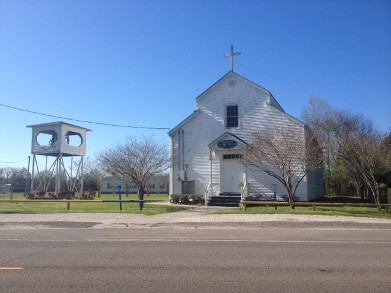 The chapel is located approximately 9 miles south of downtown Houma on Hwy LA 56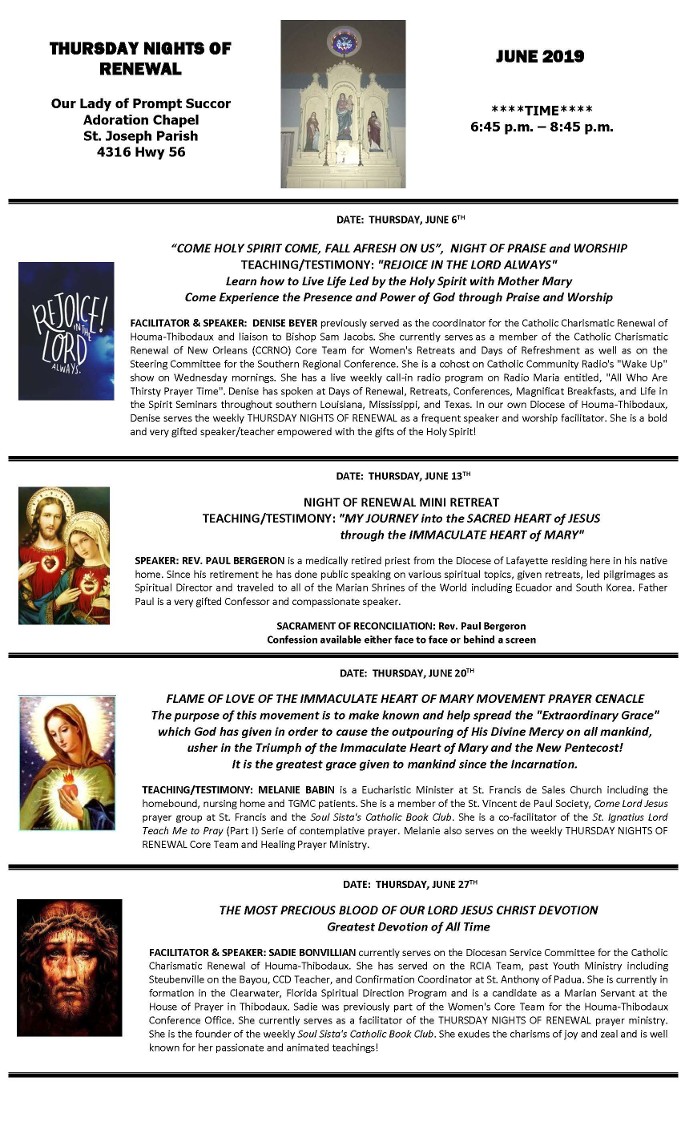 ++++++++
DEVOTION TO THE
MOST PRECIOUS BLOOD OF JESUS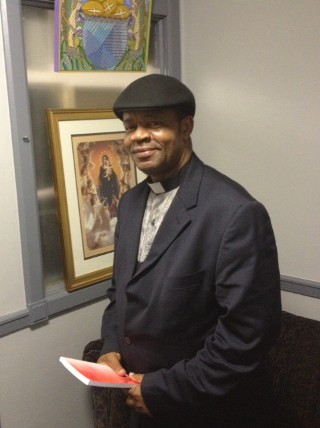 Rev. Anthony Anokete from Catholic Diocese of Awka in Nigeria recently visited various venues in the South Louisiana area and taught on the Devotion to the Most Precious Blood of Jesus. Fr. Anthony has been active in this devotion for many years who personally knows Fr. Barnabus and this devotion from its inception in Nigeria.

Fr. Anthony has served in the Houma-Diocese for years and is now in studies in the Washington D.C. area. While in Houma-Thibodaux, he consecrated many Catholics to the Most Precious Blood of Jesus. He intends on returning soon to South Louisiana to further spread this devotion across Louisiana and the nation and the world.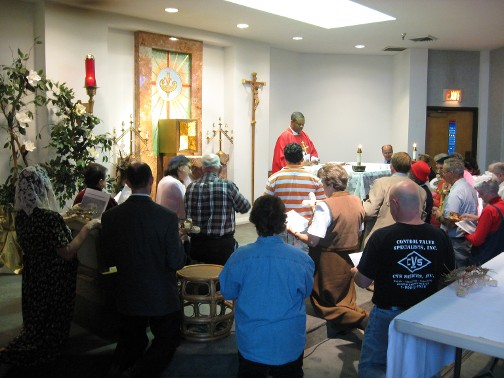 Fr. Anthony consecrating many to the devotion in 2007 at Lumen Christi Retreat Center in Houma-Thibodaux.
Want to contact Fr. Anthony to know more about his plans and this devotion, please email this website at: macleanland@bellsouth.net
+++++++++
NEW ORLEANS
PRO-LIFE WOMEN'S CONFERENCE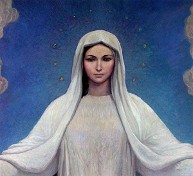 2019 THEME:
WHEN WOMEN LEAD
From Friday, June 21st through Sunday, June 23, 2019
For all the information on the conference, click here.
+++++++
KAPLAN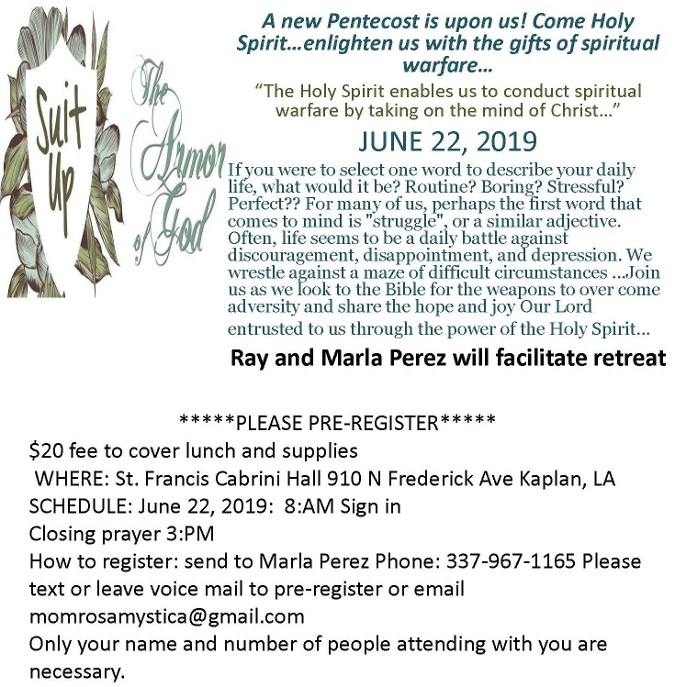 +++++++
NEW ORLEANS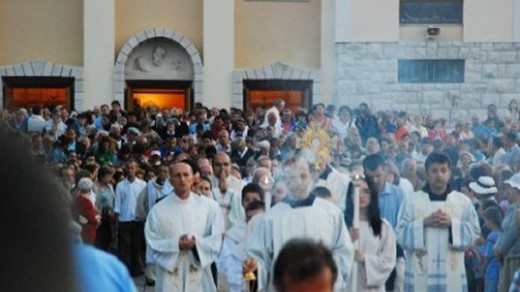 Eucharistic Procession
Sunday, June 23, 2019, 12:00 PM

Archbishop Aymond will lead a Eucharistic Procession on the Solemnity of the Body of Christ from St. Louis Cathedral to St. Mary's Chapel at the Old Ursuline Convent on Chartres St. The procession will immediately follow the 11:00 am Mass and conclude with Euchatistic Adoration and Benediction at St. Mary's Chapel. All are welcome.

+++++++++++
METAIRIE
MARIAN MOVEMENT OF PRIESTS
Cenacle of Our Loving Mother
Friday, June 28, 2019
St. Edward the Confessor Church
4921 West Metairie Avenue
Metairie, LA 70001
Beginning with Mass: 6:00 p.m.
Immediately following Mass: Cenacle of the Marian Movement of Priests
Conducted by: Father Gerald Seiler, Pastor
consisting of Rosary, Confessions, Act of Consecration to the Immaculate Heart of Mary, reading and a reflection on a message from the book,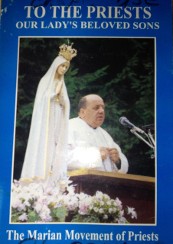 To the Priests, Our Lady's Beloved Sons
This prayer group is a cenacle of the Marian Movement of Priests, and its purpose is to promote and to deepen consecration to the Immaculate Heart of Mary and, of course, to pray for priests.
Father Gerald Seiler, Spiritual Director
For more information call
Cindy Hemelt (883-5783) or Pauline Lee (451-3658).
++++++
KENNER
++++++
RIVER RIDGE

For more information on this event and many others that are coming up, please go to https://ccrno.org/
+++++++++
METAIRIE
St. Joan of Arc Prayer Warriors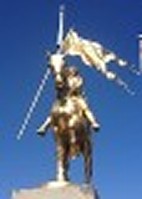 Conversion of our Greater New Orleans Area,
our Country, and our World to Our Lord Jesus Christ
(25 years of fighting to convert New Orleans)
Saturday, July 6, 2019
(and every First Saturday)
10:00 am TO 12:00 pm
St. Mary Magdalen Catholic Church
6425 West Metairie Avenue, Metairie, LA 70003
Eucharistic Adoration
Confessions
Holy Rosary
First Saturday Devotions
Holy Mass
Chaplet of Divine Mercy
and other intercessory prayers.
Father Christian DeLerno, Jr.,
Celebrant and Spiritual Director
(Past Spiritual Director, Fr. Stan Klores)
ALL ARE INVITED!
Please bring your family and friends.
For more information call:
Cindy Hemelt (883-5783),
Marylyn Comesana (559-0965,
Pauline Lee (451-3658
+++++++++
ABBEVILLE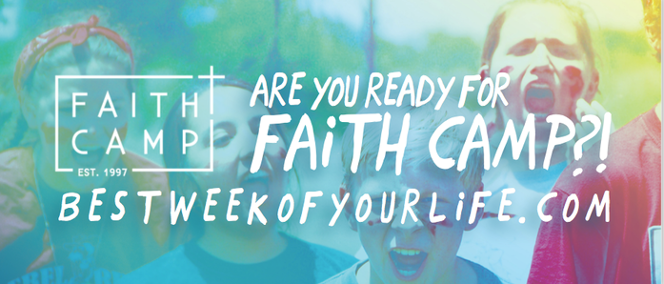 For more information, click here.
++++++
AMITE
JULY 10, 2019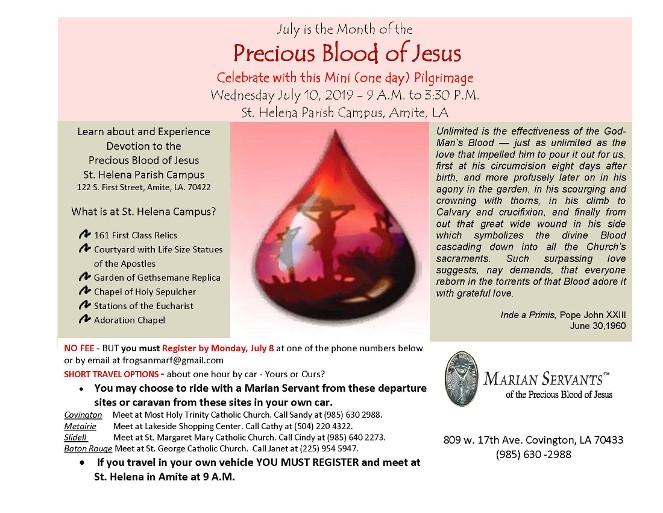 +++++++
DULAC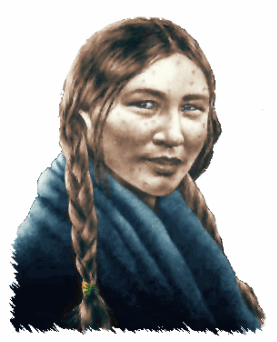 MASS TO HONOR ST. KATERI TEKAWITHA
Holy Family Catholic Church
Friday, July 12, 2019
Mass at 6:30 pm
Meal to follow
To learn more about St. Kateri, click here.
+++++++++
PONCHATOULA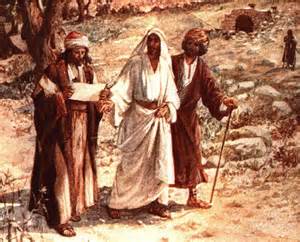 MEN'S ROAD TO EMMAUS RETREAT
July 19-21, 2019
Open to All Men from All Areas
Put aside the "hustle and bustle" of daily life and attend the men's Emmaus retreat the weekend of July 19-21. The retreat is held at Rosaryville Spirit Life Center in beautiful, peaceful Ponchatoula, Louisiana. The retreat is based on the scripture passage "The appearance on the road to Emmaus" (Luke 24: 13-35) and is an uplifting experience that has a profound effect on men's lives. The retreat begins at 5:00 PM Friday and ends after the 5:30 PM mass on Sunday. For those on the South Shore round trip transportation is provided from St. Dominic Church. Please don't ignore this opportunity but pray on it instead. Something special definitely awaits you at Rosaryville!
For more information please contact one of the following:
Norman Madere (504) 481-0411
Johnny Fisk (504) 427-6601
++++++++++++
LAFAYETTE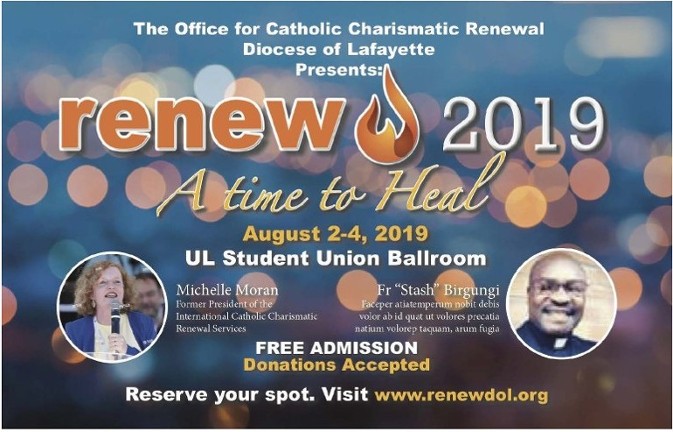 +++++++++++
BAYOU TECHE AREA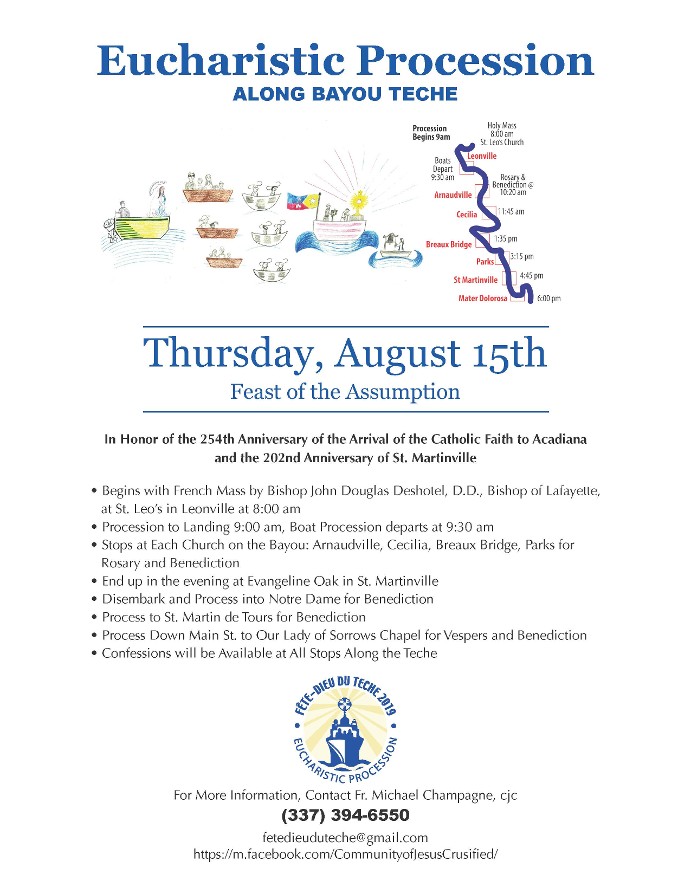 ++++++++++
BAYOU LAFOURCHE AREA
FAITH OF OUR FATHERS
EUCHARISTIC PROCESSION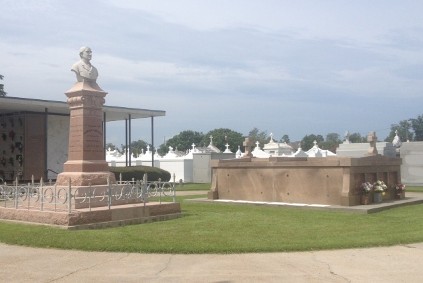 BEGINS WITH MASS AT
OUR LADY OF PROMPT SUCCOR
IN GOLDEN MEADOW
AND ENDS AT
ST. JOSEPH CO-CATHEDRAL
IN THIBODAUX
Save this date!
Saturday, October 5, 2019
This procession is along Bayou Lafrouche
and is connected to each parish and the cemeteries
along the bayou where the "Fathers of our Faith" are buried.
More details to follow.
Want to know more, contact:
The Spiritual Bulletin Board of Louisiana
and we will send you to the right person.
+++++++++++++++
RACELAND/MATTHEWS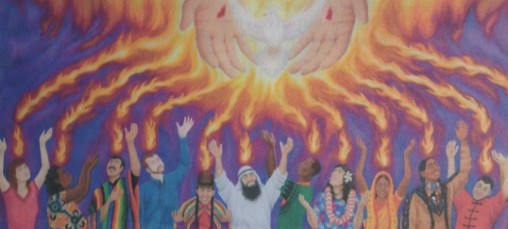 CATHOLIC HOLY SPIRIT REVIVAL ON
BAYOU LAFOURCHE!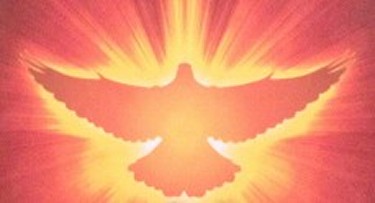 Presented by:
Catholic Charismatic Renewal of Houma-Thibodaux
Friday and Saturday, October 18 and 19
YOUR FAITH HAS SET YOU FREE -
ENCOUNTERING GOD'S
TRANFORMING POWER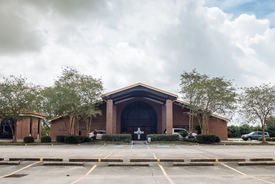 St. Hilary Catholic Church


Bishop Shelton Fabre will join us to begin the day!
Speakers: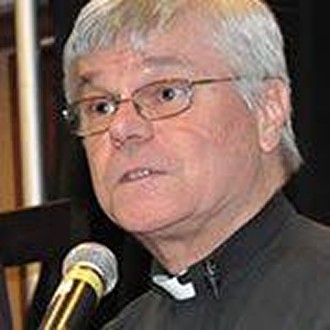 Fr. Jim Blount, Society of Our Lady of the Trinity, a Spiritual Director, Charismatic Preacher known for Healing & Deliverance Ministry, an Exorcist in Augusta, GA and National Chaplain for the Flame of Love Movement.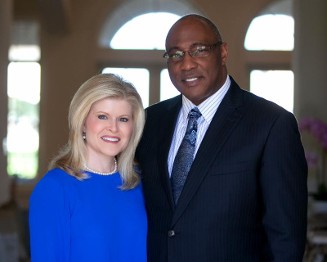 Deacon Larry & Andi Oney, an Evangelistic couple with "Hope and Purpose Ministries"and Authors with local roots.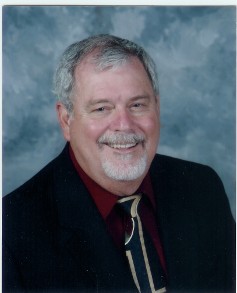 Kerry Bueche, founder of "Voice of the Lord Ministries", Bible Study Teacher and a local Evangelist gifted in Charismatic Preaching and Healing Ministry.
Amoung other things, the day will include:
Priests for Sacramental Reconciliation and Mass – Eucharistic Adoration

Altar call and Baptism in the Holy Spirit

Rosary groups to lead Living Flame of Love Rosary

Healing Ministry & Prayer Teams
Click here to visit the CCRHT diocesan website.
+++++++++
HOUMA AREA
PRAISE & WORSHIP SWAMP PILGRIMAGE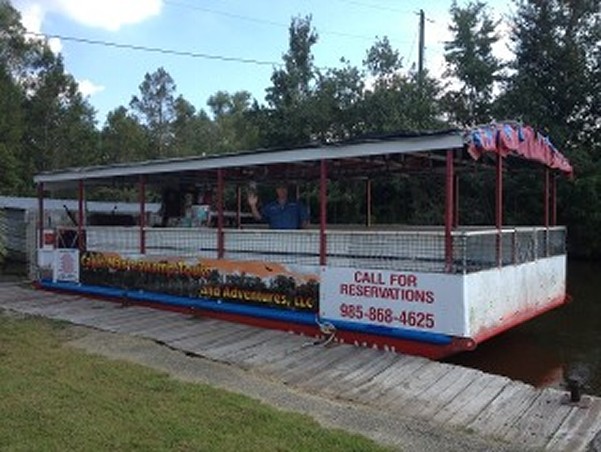 SAVE THE DATE
Sunday, October 27, 2019
Leaving the dock at about 3:30 pm
A beautiful time of the year to do this!
More details will follow as to the particulars of the day.
The boat seats 40+ people.
Call 985-868-4625 to make a reservation
for yourself or your ministry.
For more information about these pilgrimages, click here.
++++++++
STATEWIDE
ARE YOU LOOKING FOR A LOCAL ALTERNATIVE
TO THE 2020 WASHINGTON MARCH FOR LIFE?
If you can't got to Washington (and most can't) but you still want to march for life, march through the streets of Louisiana. Spend one Saturday morning and make a public statement for the defenseless that cannot speak for themselves.
Follow me to the...
LOUISIANA LIFE MARCHES IN LOUISIANA
2020 Dates will be listed when available.
For information of how Louisiana cares for LIFE, click here.