LOUISIANA FRONT
PAGE NEWS AND EVENTS
Do not look at each event as a stand-alone event but as a body of events that together go to build across Louisiana a mighty
WORK OF GOD!
← IF YOU CANNOT FIND AN EVENT IN THE LIST BELOW, GO TO THE LEGEND ON THE LEFT SIDE OF THIS PAGE AND PUT YOUR CURSOR ON ONE OF THE HEADINGS OF LOUISIANA SITES. THAT MIGHT HELP YOU. EVERYTHING WITHIN THAT HEADING WILL POP UP. THEN CLICK ON YOUR ITEM OF INTEREST. WANT TO ADD SOMETHING, LET US KNOW.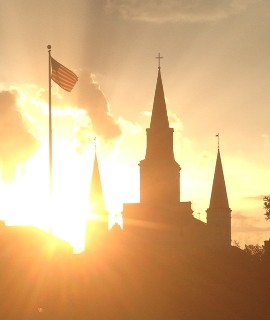 (Taken in New Orleans on Saturday, July 18, 2015)
To list a multi-parish Louisiana Catholic event, please send event information or a jpeg image or a pdf document to: macleanland@bellsouth.net to get it listed.
UPCOMING CATHOLIC EVENTS ACROSS LOUISIANA ARE SHOWN BELOW
THE SPOTLIGHT IS CURRENTLY ON: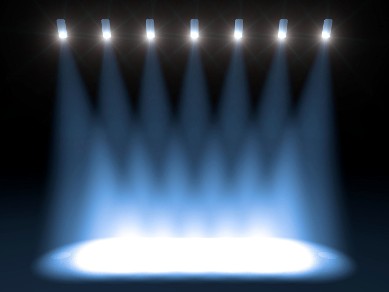 A STORM CALLED BARRY AND
THE POWER OF PRAYER
TO PRAY AGAINST THIS ACT OF NATURE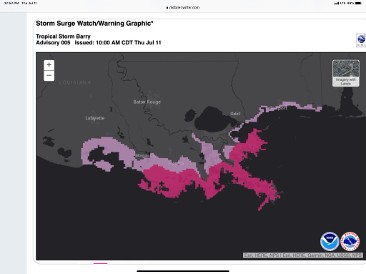 To listen to Governor Edwards speak to the Power of Prayer, click here.
(Go to 3:33 in the press conference for his remarks.)
For more on this go to:
Louisiana and its Spiritual Storms
++++++++++++
August 15th was the Solemnity of the Assumption.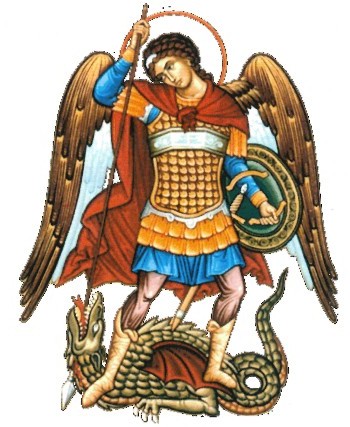 On that day began the
40 DAY CONSECRATION PRAYER TO ST. MICHAEL THE ARCHANGEL
(From August 15th through September 29th
[September 29th is the Feast of Sts. Michael, Gabriel and Raphael, Archangels)
The prayer is as follows:
Oh, most noble Prince of the Angelic Hierarchies, valorous warrior of Almighty God, and zealous lover of His glory, terror of the rebellious angels, and love and delight of all the just, my beloved Archangel Saint Michael, desiring to be numbered among your devoted servants, I, today offer and consecrate myself to you, and place myself, my family, and all I possess under your most powerful protection.
I entreat you not to look at how little I, as your servant have to offer, being only a wretched sinner, but to gaze, rather, with favorable eye at the heartfelt affection with which this offering is made, and remember that if from this day onward I am under your patronage, you must during all my life assist me, and procure for me the pardon of my many grievous offenses and sins, the grace to love with all my heart my God, my dear Savior Jesus, and my Sweet Mother Mary, and to obtain for me all the help necessary to arrive to my crown of glory.
Defend me always from my spiritual enemies, particularly in the last moments of my life.
Come then, oh Glorious Prince and succor me in my last struggle, and with your powerful weapon cast far from me into the infernal abysses that prevaricator and proud angel that one day you prostrated in the celestial battle.
Accompany me then to the throne of God to sing with you, Archangel Saint Michael and all the angels, praise, honor and glory to the One who reigns for all eternity. AMEN.

To learn more about St. Michael the Archangel's appearances in Tlaxcala, Mexico, beginning in 1631 to a 17-year-old named Diego Lázaro de San Francisco who was married to Francisca Castillian Xuchitl and the messages that accompanied those appearances as well as the healing waters and the shrine that followed, click here.
+++++++++++++++++++++++++++++++++++++++++++++++++++++++++++++++++++
Imagine, the conversation that may have taken place before time between Jesus and all his angels, (consider that Pope Leo named St. Michael, in the prayer he was inspired to offer, the "Prince of the Heavenly Host" *):
64 "But there are some of you who do not believe." Jesus knew from the beginning the ones who would not believe and the ones who would betray him.
65 And he said, "For this reason I have told you that no one can come to me unless it is granted him by my Father."
6:66 As a result of this, Lucifer, the highest of the angels and many others turned from eternal life and toward eternal death and no longer accompanied him.
67 Jesus then said to St. Michael and the remaining angels, "Do you also want to leave?
68 St. Michael answered him, "Master, to whom shall we go? You have the words of eternal life.
69 We have come to believe and are convinced that you are the Holy One of God."
70 Jesus answered St. Michael, "Did I not choose all? Yet one of you is the devil?"
71 He was referring to Lucifer, the head of the angels, who would betray him, with many others.
As we know, a conversation just like this did take place in time in the Gospel of John, Chapter 6. Then, It is all about accepting the "Heavenly Host"!

That conversation is directed to each of the Church Militant as well!
DO WE STAY OR LEAVE?
+++++++++++++++++++++
A TREMENDOUS LOUISIANA MINISTRY LED BY THE HOLY SPIRIT
ABBEVILLE AREA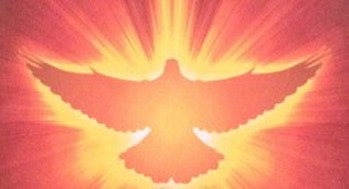 GOD MADE SELF DRIVEN MINSTRIES

"Awakening the laity's MISSION!"
To check out its activities at its website, click here.
+++++++++++++++++
THE SPIRITUAL BULLETIN BOARD OF LOUISIANA GETS MANY REQUESTS ABOUT THE LOCATIONS OF HEALING MASSES AND SERVICES THROUGHOUT SOUTH LOUISIANA. BELOW ARE THE MINISTRIES AND PRIESTS THAT WE KNOW OF WHO DO THIS QUITE OFTEN OR WHO SEND US INFORMATION. WANT TO ADD ONE WE ARE MISSING, PLEASE LET US KNOW.

Houma-Thibodaux Diocese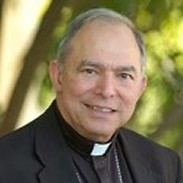 Sam Jacobs, Bishop Emeritus in Houma

Contract through website: Spirit Aflame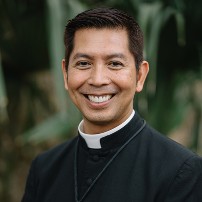 Fr. Joel Cruz in Amelia
Pax Chrisit Healing Ministry
Healing Masses are at St. Andrew Parish in Amelia,

unless otherwise noted.
Rosary at 6:30 pm
Mass at 7:00 pm
++++++++++++
Voice of the Lord
Healing and Deliverence Ministry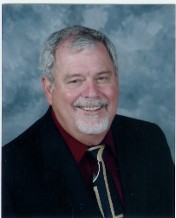 Kerry Bueche
Catholic Lay Evangelist
Contact Information:
Telephone - (985) 868-0702 or (985) 209-3299
Email - buechek@bellsouth.net
+++++++++++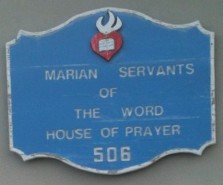 Marian Servants of the Word
House of Prayer
located at 506 Cardinal Drive
Thibodaux, LA. 70301
Director: Monica Karns
985-688-5578
Requests for Prayer Line
985-447-6564
+++++++++++++++++++++++++++++++++++++
New Orleans Diocese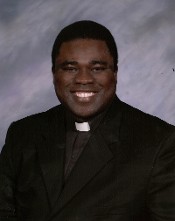 Fr. Anthony Odiong at St. Anthony Parish
at 234 Angus Dr. in Luling
Healing Service and Benediction after
6:00 pm Mass on last Thursday of each month.
Confessions are heard before Mass from 5:00 pm to 5:45 pm.
All information can be found
++++++++++++++++++++++
Lafayette Diocese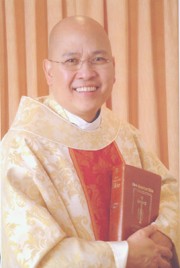 Fr. Manny Fernandez
++++++++++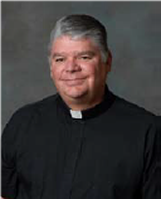 Fr. Mark Miley

Missionaries of Rosa Mystica website
++++++++++++++++++++++++++++++++++++
Lake Charles Diocese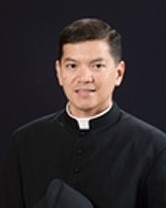 Fr. Rommel Tolentino
Cathedral of the Immaculate Conception
St. Raphael Ministries website
That is not to say there are not others.
If you know of others, please let us know.
+++++++++
LITTLE CAILLOU
at Our Lady of Prompt Succor Adoration Chapel!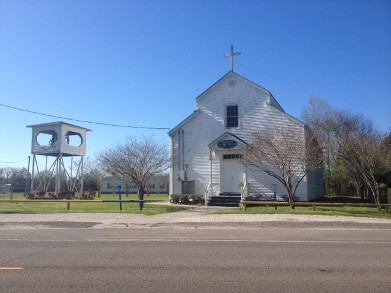 The chapel is located approximately 9 miles south of downtown Houma on Hwy LA 56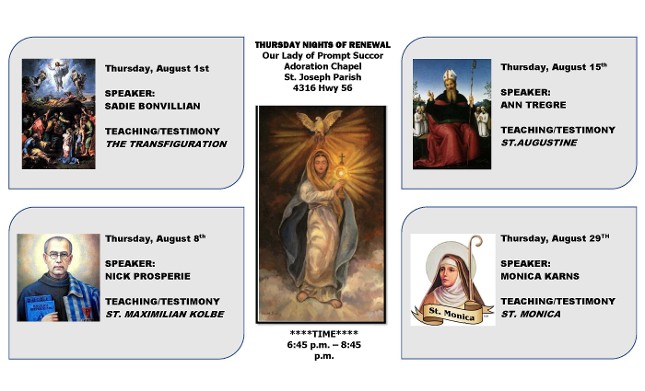 +++++++++++
LAKE CHARLES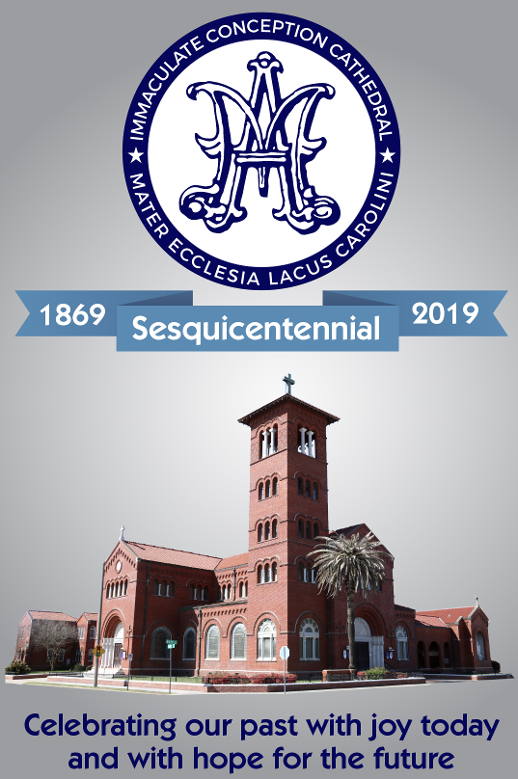 MULTIPLE EVENTS TO CELEBRATE - SAVE THE DATES
Want more information, call the Cathedral (337-426-7251)

September 8: ICCS Family Mass @ 9:30 AM, followed by Reception in the Ave Maria Hall celebrating Our Lady's birthday and our 150th Anniversary.

September 29: Blessing of St. Francis de Sales statue after the 9:30 AM Mass, Rectory Open House after all the Masses on September 28th & 29th.

October 5: Cathedral Choir Sesquicentennial Anniversary Concert @ 7:30 PM.

October 19: ICCS Panther Run @ 7:30 AM (10k & 5k) and 8:30 AM (1 mile color run).

October 20: Cathedral Parish Family Picnic @ 12:30 PM @ Drew Park.

November 2: All Souls Day Requiem Mass at the Old Catholic Cemetery @ 9 AM, Bereavement Mass @ 4 PM.

November 16: Sesquicentennial Gala at the Historic Calcasieu Marine National Bank @ 6:15 PM. Tickets available for purchase at the Cathedral office, 436-7251.

November 23: Christ the King Procession by Foot & Boat (Joint celebration with Sacred Heart Catholic Church and Our Lady of Prompt Succor Catholic Church, both celebrating their Centennial), 12:30-5:00 PM (details to follow).

December 8: Immaculate Conception of the Blessed Virgin Mary (Extraordinary Form), Marian Procession after the 5:00 PM Extraordinary Form Mass.

December 9: The Immaculate Conception of the Blessed Virgin Mary (Ordinary Form - transferred), School Mass at the Cathedral @ 8:30 AM, followed by Marian Procession to ICCS.

December 12: Sesquicentennial Anniversary Mass @ 6:00 PM, followed by Reception in the Ave Maria Hall.

December 29: Sesquicentennial Anniversary Closing, Solemn Pontifical Mass @ 11:15 AM, followed by Reception in the Ave Maria Hall.
+++++++++++++
METAIRIE
MARIAN MOVEMENT OF PRIESTS
Cenacle of Our Loving Mother
Friday, August 23, 2019

St. Edward the Confessor Church
4921 West Metairie Avenue
Metairie, LA 70001

Beginning with Mass: 6:00 p.m.
Immediately following Mass: Cenacle of the Marian Movement of Priests
Conducted by: Father Gerald Seiler, Pastor
consisting of Rosary, Confessions, Act of Consecration to the Immaculate Heart of Mary, reading and a reflection on a message from the book,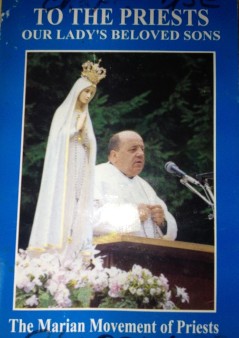 To the Priests, Our Lady's Beloved Sons
This prayer group is a cenacle of the Marian Movement of Priests, and its purpose is to promote and to deepen consecration to the Immaculate Heart of Mary and, of course, to pray for priests
Father Gerald Seiler, Spiritual Director
For more information call
Cindy Hemelt (883-5783) or Pauline Lee (451-3658).
+++++++
METAIRE

Click here to register
++++++++++
LAFAYETTE
ACADIANA PUBLIC SQUARE ROSARY
Acadiana Public Square Rosary
Saturday - Aug. 31st
11:00 AM to 12:00 Noon
at the intersection of Johnston St. and University Ave.

* * * * *
For several years, Catholics have peacefully gathered each month at this busy intersection to recite a Public Square Rosary for America and the local community. Every last Saturday of the month, from 11:00 AM to 12:00 Noon, public prayer and witness of our faith are offered to God through Mary's intercession in order to make reparation for sin and the conversion of our dear country.
+++++++
METAIRIE
ST. JOAN OF ARC PRAYER WARRIORS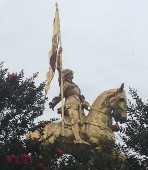 Conversion of our Greater New Orleans Area, Louisiana

our Country, and our World to Our Lord Jesus Christ
(25 years of fighting to convert New Orleans)

Saturday, September 7, 2019
(and every First Saturday)
10:00 am TO 12:00 pm
St. Mary Magdalen Catholic Church
6425 West Metairie Avenue, Metairie, LA 70003
Eucharistic Adoration
Confessions
Holy Rosary
First Saturday Devotions
Holy Mass
Chaplet of Divine Mercy
and other intercessory prayers.

Father Christian DeLerno, Jr.,

Celebrant and Spiritual Director
(Past Spiritual Director, Fr. Stan Klores)
ALL ARE INVITED!
Please bring your family and friends.

For more information call:
Cindy Hemelt (504-883-5783),
Marylyn Comesana (504-559-0965),
Pauline Lee (504-451-3658)
+++++++++
MANDEVILLE
ENCOUNTER - LOUISIANA CAMPUS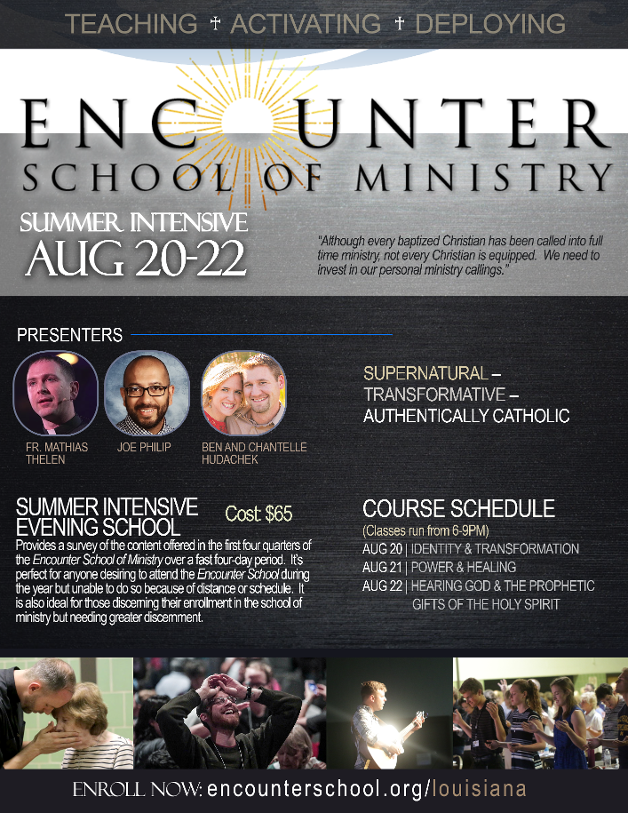 THEN BEGINNING ON MONDAY EVENINGS
SCHOOL OF MINISTRY
Begins on Monday, September 9, 2019
and continues on Monday evenings from 6:00-9:00pm
Fleur-De-Lis Event Center
Private Restaurant

1645 North Causeway Blvd
Mandeville, LA 70471
Visit Encounter's website, click here.
+++++++
LAFAYETTE
ST. JULES CATHOLIC CHURCH

FAITH DIVERS GROUP
"Take a leap of faith"
September 9, 2019 Meeting
Speaker: Paul Maclean
"Our Lady and Her Son are relentless pursuers of persons. Paul will talk about how She and Her Son relentlessly pursued him for so many years and how they ultimately got him to be "ALL IN" for Jesus! (But jumping out of a plan is not on his "bucket list".)

For more information on this group, contact:
Eric Greenwood | (337) 319-8068 | ericgree1@gmail.com
To go on the Faith Divers page, click here.
++++++
HOUMA
SAVE THE DATE

JACINTO, one of the visionaries from Garabandal, Spain will present, through interpreter, on
Thursday, September 19th, 2019

from 1:00 to 6:00 pm
in the major conference room at the Plantation Inn on Martin Luther King Blvd. in Houma.
Notes:
There is no charge but there will be a FREE WILL OFFERING taken up.
Jacinta will bring some of her prayer shawls to sell and orders will be taken.
There is a short set of stairs up to conference room (no elevator available).
Jacinta will be present at the Lou Saia Mass site on Bowie Road in Houma on September 17th but she will not speak. Mass will be at 5:00 pm.
Want to learn more about Garabandal, click here.
Stay tuned to this site for more information that might become available.
++++++++
SCHRIEVER

CLICK HERE TO REGISTER
++++++++

HOUMA

Other upcoming events:
Steubenville On The Bayou
Junior High Faith Experience
Son Rise Christian Music Fest
Lift 3:16, Inc. is a nonprofit organization created to bring the Word of God to the community through events that offer Encounters with Christ.
To learn more about the events and LIFT 3:16, click here.
+++++++++
BAYOU LAFOURCHE AREA
FAITH OF OUR FATHERS
EUCHARISTIC PROCESSION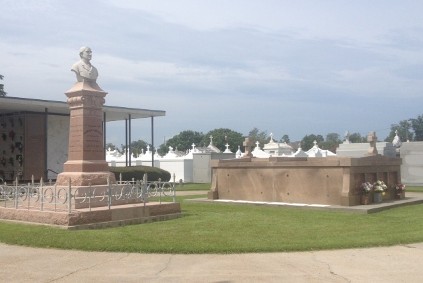 BEGINS WITH MASS AT

OUR LADY OF PROMPT SUCCOR
IN GOLDEN MEADOW

AND ENDS AT
ST. JOSEPH CO-CATHEDRAL
IN THIBODAUX
Save this date!
Saturday, October 5, 2019
This procession is along Bayou Lafrouche
and is connected to each parish and the cemeteries
along the bayou where the "Fathers of our Faith" are buried.
More details to follow.
Want to know more, contact:
The Spiritual Bulletin Board of Louisiana
and we will send you to the right person.
+++++++++++++++
HARAHAN
ROSARY CONGRESS
Save the date!
St. Rita Catholic Church
Saturday, October 5, 2019 through Friday, October 11, 2019
An entire week of worship, adoration, prayer and events.
When bulletin is finalized, it will be placed on this site.
++++++
THERIOT-NEW ORLEANS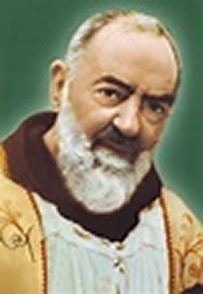 BUS TRIP TO SEE PADRE PIO RELICS
The relics of Padre Pio will be at Notre Dame seminary on Saturday, October 5th. A bus will leave St. Eloi Catholic Church in Theriot (Fr. Dean Danos, Pastor) and will stop at the Tourist Information Center in Raceland at approximately 9:00 am for anyone interested in joining them to see the relics and Notre Dame Seminary.
The fee for the bus is $10.00.
Please call St. Eloi office at 985-872-2946 to reserve a seat on the bus.
The deadline to register is Thursday, October 3rd @ NOON.
Lunch will be at FIVE HAPPINESS CHINESE RESTAURANT!
++++++++
NEW ORLEANS
BLESSED SELLOS HEALING MASS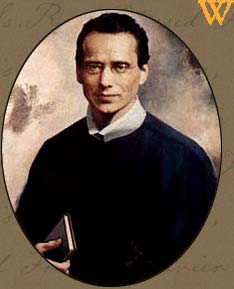 NATIONAL SHRINE OF BLESSED FRANCIS SEELOS
SEELOS CENTER
St. Mary's Assumption Church
919 Josephine Street
Sunday, October 6, 2019
Intercessory Prayer at 12:00 noon
Mass at 1:00 pm
Telephone: 504-525-2495
For Shrine and Center website, please click here.
++++++++
RACELAND/MATTHEWS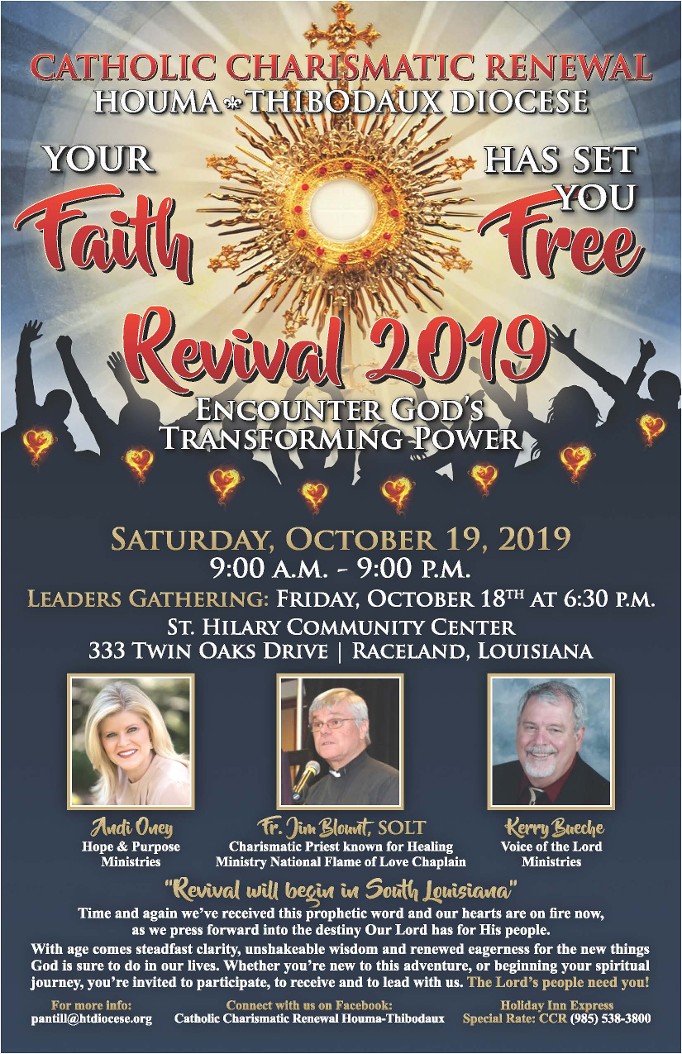 Click here to visit the CCRHT diocesan website.
+++++++++
HOUMA AREA
PRAISE & WORSHIP SWAMP PILGRIMAGE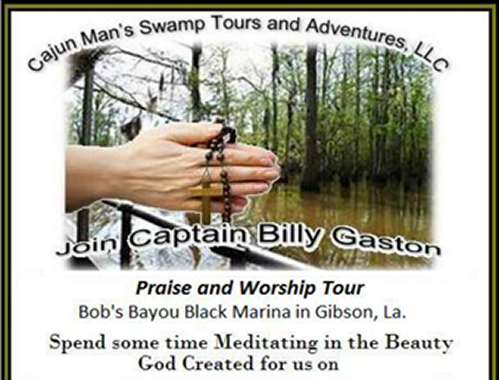 Sunday, October 27, 2019
This Praise & Worship pilgrimage is open to Catholics from all areas.
Parishes and/or ministries or indivduals can reserve seats.

This pilgrimage through the South Louisiana swamps will include stops at very special places along the way to worship. It will include Eucharistic Adoration, Rosary and praise & worship to God for His Glorious Creation. These pilgrimages have always been days to remember and go to further claim the land for God that He has placed here over the eons, that is now symbolized by the mother pelican feeding her baby chicks, and that is a church symbol of the Eucharist. (For more on that click here. There will be short presentation on that phenomenon during the pilgrimage.
(Suggested free will offering $15.00)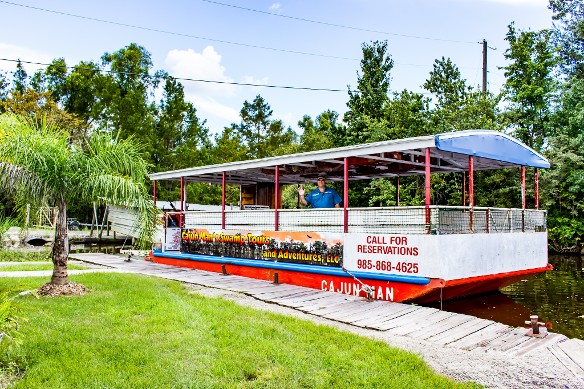 SAVE THE DATE
Leaving the dock at about 3:30 pm
Dock is located on Hwy 182 just easterly of Gibson.
A beautiful time of the year to do this!
The boat seats 40+ people.
Call 985-868-4625 to any questions answred or to make a reservation.
For more information about these pilgrimages, click here.
++++++++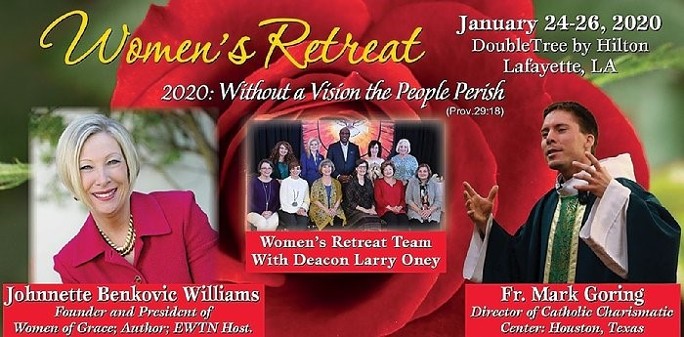 +++++++
STATEWIDE
ARE YOU LOOKING FOR A LOCAL ALTERNATIVE
TO THE 2020 WASHINGTON MARCH FOR LIFE?
If you can't got to Washington (and most can't) but you still want to march for life, march through the streets of Louisiana. Spend one Saturday morning and make a public statement for the defenseless that cannot speak for themselves.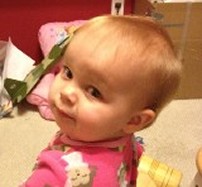 Follow me to the...
LOUISIANA LIFE MARCHES

2020 Dates will be listed when available.
For information of how Louisiana cares for LIFE, click here.
+++++++++++++++++++++
BATON ROUGE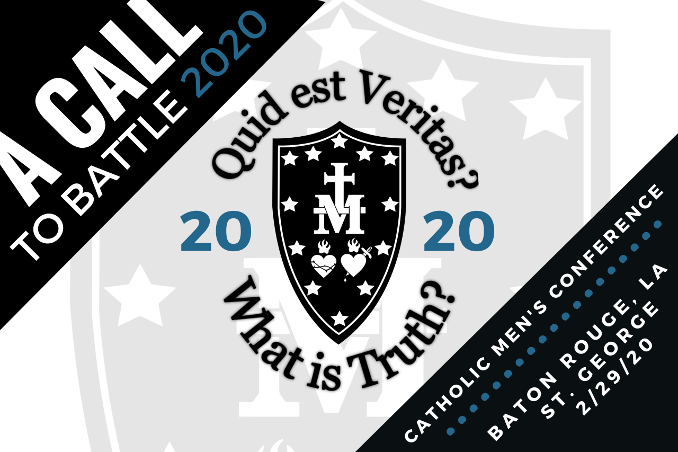 TICKETS GO ON SALE ON AUGUST 15, 2019
(THE SOLEMNITY OF THE ASSUMPTION).
TO PURCHASE TICKES AND GET OTHER INFORMATION, CLICK HERE.