LOUISIANA FRONT PAGE
NEWS AND EVENTS
← IF YOU CANNOT FIND AN EVENT IN THE LIST BELOW, GO TO THE LEGEND ON THE LEFT SIDE OF THIS PAGE AND PUT YOUR CURSOR ON ONE OF THE HEADINGS THAT MIGHT HELP YOU FIND IT. EVERYTHING WITHIN THAT TOPIC WILL POP UP. THEN CLICK ON YOUR ITEM OF INTEREST. WANT TO ADD SOMETHING, LET US KNOW.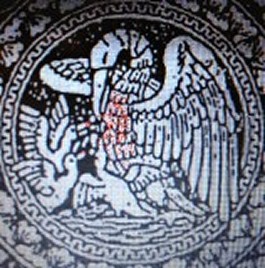 LOUISIANA
CREATED BY WATER, PURIFIED BY FIRE, REPENT LOUISIANA!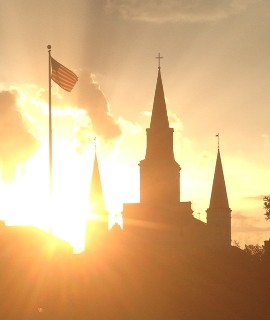 BE A PART OF THE FRESH FIRE TO FALL!
(Taken in New Orleans on Saturday, July 18, 2015)
Do something! Evangelize!
Become a part of the news and upcoming events that are listed below. These events are listed to give Catholics a way to stay networked, connected and united as one body in Christ. Send in events that you may be aware of! This is a personal website. if you want to see some of the awesome resources offered by the Diocese of Houma-Thibodaux, in its website, as well as the offices of the diocese dedicated to evangelize, go to:
Office of New Evangelization, click here.
To hear and see Fr. Mark Toups and many others explain all about the Strategic Plan to Evangelize and some of its activities in the Houma-Thibodaux Diocese!...click here.
+++++++++++++++++++++
SPOTLIGHT ON A DIOCESE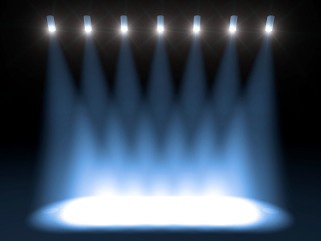 HOUMA-THIBODAUX DIOCESE
CELEBRATING 40 YEARS
CROSSING OVER INTO A "NEW"
TIME OF EVANGELIZATION!
CLICK HERE TO JOIN IN THE PARISH NOVENA
LEADING TO PENTECOST SUNDAY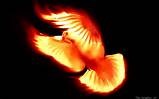 COME, HOLY SPIRIT!
+++++++
CATHOLIC EVENTS
OF INTEREST
PLEASE SCROLL ALL THE WAY DOWN TO SEE ALL THE NEWS AND EVENTS. THEY ARE LISTED IN NO PARTICULAR ORDER OF TIME OR IMPORTANCE. EVENTS AT THE END ARE EQUALLY AS EFFICACIOUS AS AT THE BEGINNING! SEE WHAT IS GOING ON ACROSS SOUTH LOUISIANA BUT MOST IMPORTANTLY WHAT IS NEAR YOU!!!
(To list a multi-parish Louisiana event at no cost, email: macleanland@bellsouth.net)
+++++++
GARYVILLE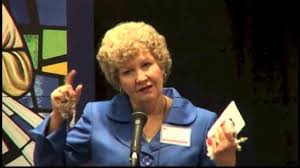 SONDRA ABRAHAMS
Will speak at St. Hubert's Church in Garyville, La on Sunday, May 28th at 1:30pm in the church. She had a life death experience. She experienced Heaven, hell and purgatory and events that were yet to come at that time. Come and hear her story!
+++++++
NEW ORLEANS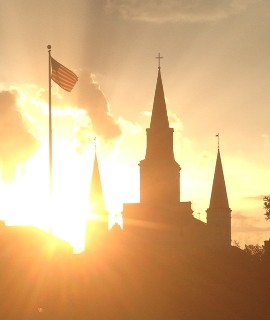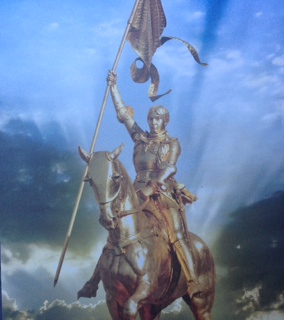 MAY 30 – FEAST DAY
On Tuesday, May 30, 2017, the Prayer Warriors of St. Joan of Arc will go on "pilgrimage" to venerate St. Joan of Arc at her monument on Decatur Street, to thank her for her patronage, and also to beg her intercession for our Greater New Orleans area, our country, and our world.
We will meet at 10:00 a.m. in the parking lot of Clearview Shopping Center at the section of the lot in front of Target and closest to the corner of Veterans and Clearview. We will carpool and take as few cars as possible down to Decatur Street. There we will place flowers at the monument, pray a Rosary, along with prayers to St. Joan of Arc, and conclude with the song "The Maid of France, with Visioned Eyes."
If you would like to join in this "pilgrimage," please let us know so that we can be aware of whom to expect so as to not leave anyone inadvertently behind.
Also, please call Cindy if you need any further information at 504-883-5783 or 504-931-2977.
+++++++
NOTICE!
Due to Mother's Day being on May 14th, the swamp pilgrimage sheduled for Sunday, May 14th that was planned to be led by:
has been rescheduled to Sunday, May 28th! For more information, click here.
+++++++
THERIOT
YOU CAN ATTEND ANY SATURDAY!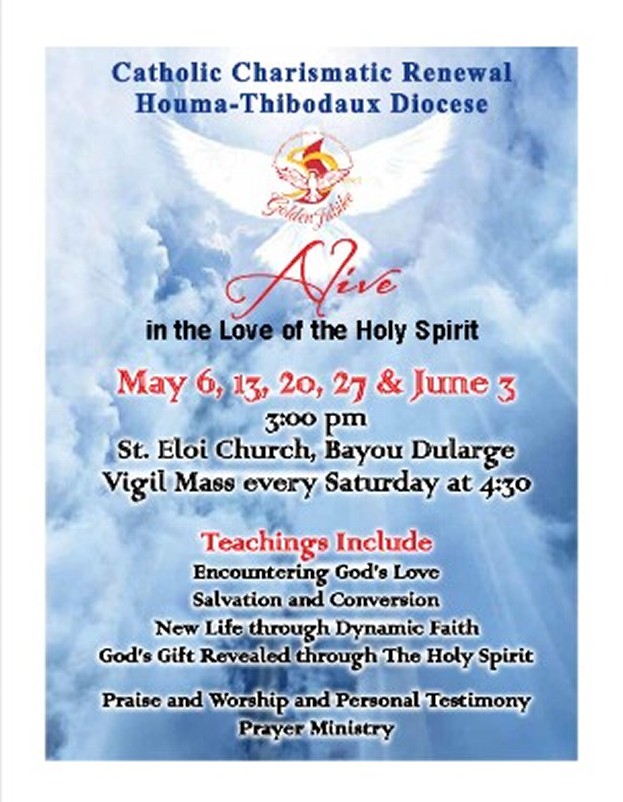 ++++++++
NEW ORLEANS
CENTER OF JESUS THE LORD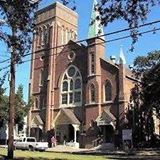 To learn all about this event and everything else going on at the Center, click here.
++++++++
METAIRIE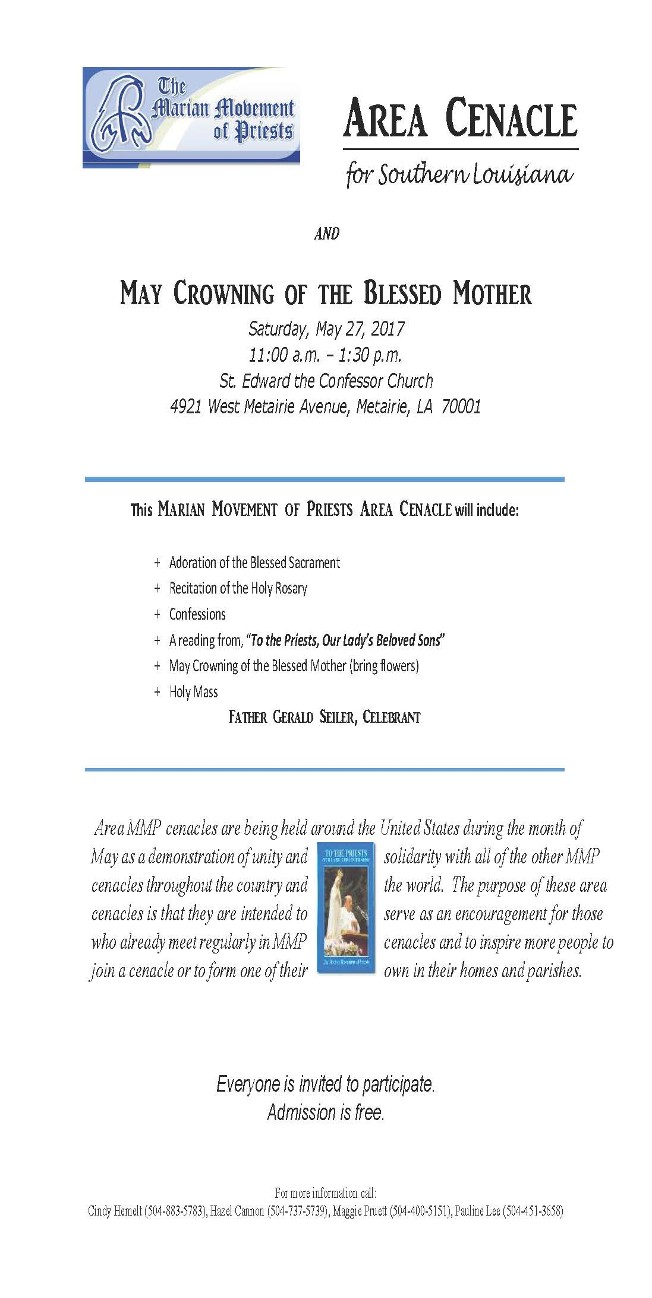 ++++++++++++
LACOMBE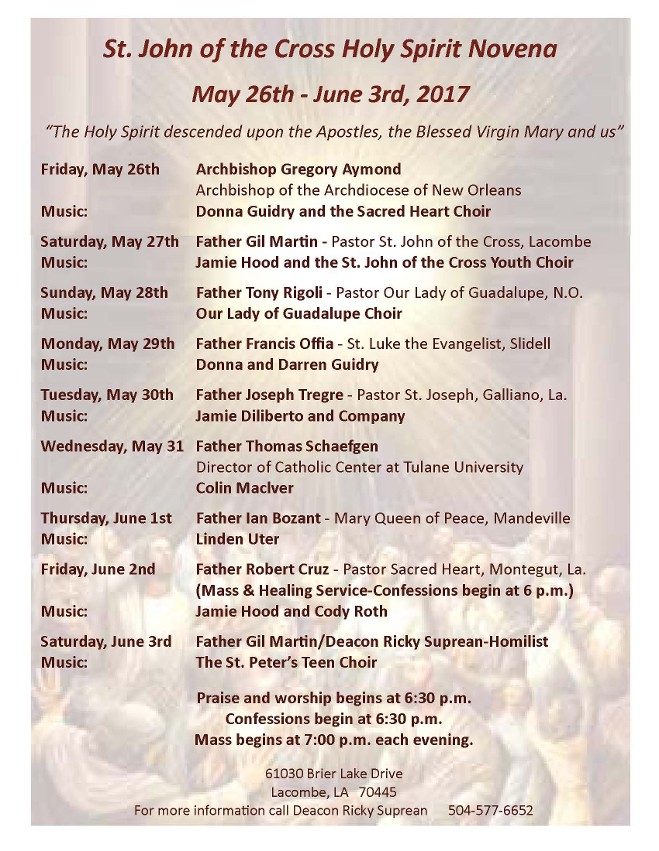 +++++++
NEW ORLEANS
CENTER OF JESUS THE LORD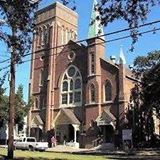 PENTECOST VIGIL REVIVAL and
EMPOWERMENT IN THE HOLY SPIRIT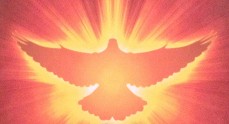 Saturday, June 3, 2017, from 9:00 am to 7:00 pm
with Deacon Mel Marts,
and Fr. Anthony Odiong,
and Kerry Bueche
On Pentecost Sunday, June 4, 2017
10:00 am - Praise and Worship
10:30 am - Multicultural Mass of Unity
Presider: Fr. George Roy, OMI
To learn all about this event and everything else going on at the Center, click here.
++++++++
METAIRIE
GREAT NEWS!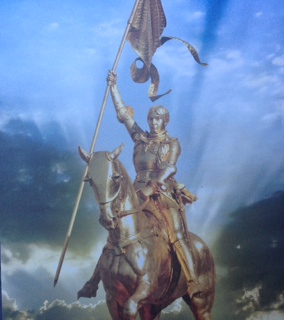 A new beginning for the Prayer Warriors of St. Joan of Arc!
The Prayer Warriors of St. Joan of Arc have a new spiritual director, Father Chris DeLerno, starting anew at St. Mary Magdalen Catholic Church in Metairie on the First Saturday of each month. (The Prayer Warriors are so thankful for Fr. Stan Clores. He has faithfully traveled with us for so many years as our spiritual director. We pray for him and we know he prays for us. Together, we follow St. Joan into battle!)
The address of St. Mary Magdalen is 6425 West Metairie Avenue, Metairie, LA 70003 where we will gather in the chapel from 10:00 a.m. to 12 Noon on the First Saturday of each month starting May 6.
For more about this new beginning and St. Joan of Arc go here.
++++++++++++++
NAPOLEONVILLE, MONTEGUT, LACOMBE
Fr. Robert Cruz and
Pax Christi Healing Minsitry
events click here.
++++++++++
NEW ORLEANS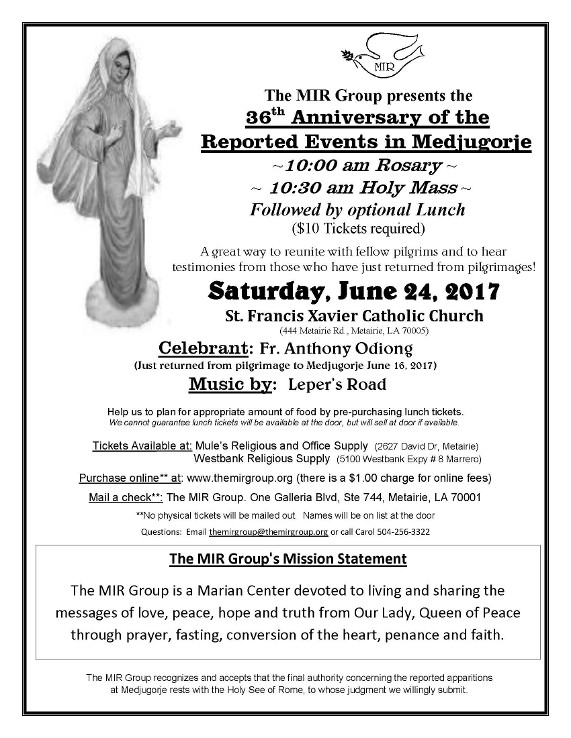 +++++++++++
NEW ORLEANS, METARIE,
HOUMA, ABBEVILLE,
COVINGTON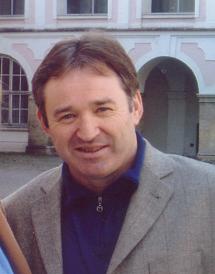 ALAN AMES
(To read about his worldwide ministry work, click here.)
Thursday, June 22nd - 7:00 p.m. Mass, Talk, Healing
St. Dominic Catholic Church
775 Harrison Avenue New Orleans, LA 70124
Phone: (504) 488-0906
Friday, June 23rd - 7:00 p.m. Mass, Talk, Healing
St. Mary Magdalen Catholic Church
6425 W. Metairie Ave., Metairie, LA 70003
Phone: (504) 733-0922

Saturday, June 24th – 4:00 p.m. Vigil Mass, Talk & Healing
Our Lady of the Most Holy Rosary Catholic Church
8594 East Main Street Houma, LA 70363
(985) 876-76752
Sunday, June 25th - 5:00 p.m. Mass, Talk, Healing
St. Theresa Catholic Church
101 N. Leonard Ave., Abbeville, LA 70510
Phone: (337) 893-5631
Monday, June 26th - 7:00 Mass, Talk, Healing
Most Holy Trinity Catholic Church
501 Holy Trinity Drive, Covington, LA 70433
Phone: (985) 892-0642
++++++++++
RIVER RIDGE

For more information, click here.
++++++++++++
THERIOT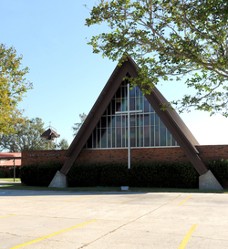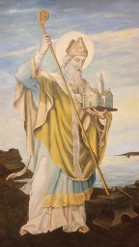 St. Eloi Catholic Church
Healing Mass with anointing of the sick on Sunday,
June 25th at 3:00pm.
Several priests will be available for anointing of the sick. Prayer blankets will be blessed and St. Joseph healing oil will be available.
Join us! All are welcome!
++++++++
DULAC
MASS TO HONOR ST. KATERI TEKAWITHA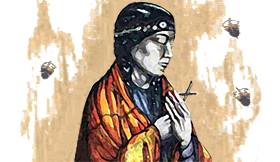 Holy Family Catholic Church
July 14th, 2017
Mass at 6:30 pm
Dinner and fellowship after Mass.
For so much more about St. Kateri, click here.
++++++++++
ABBEVILLE

FAMILY MISSIONS COMPANY
FAITH CAMP
Entering 7th, 8th, or 9th grade this fall? Then it's your time to be a CAMPER!
First Week: July 10th - July 14th, 2017
Second Week: July 17th - July 21st, 2017
Camp Woodman
13505 Junius Rd
Abbeville, LA 70510
For all the information you need, click here.
+++++++++++
LAFAYETTE
2017 MAN-TO-MAN
CATHOLIC MEN'S CONFERENCE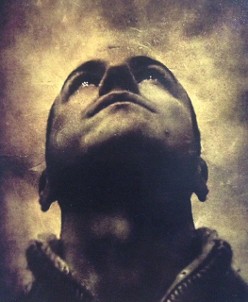 August 19, 2017
Our Lady of Fatima Catholic Church
Guest Speaker: Deacon Harold Burke-Sivers
For developing information visit 2017m2m website.
++++++++++++
ST. MARTINVILLE
COMMUNITY OF JESUS CRUCIFIED

Married Couples Retreat
July 28th - 30th
A preached retreat for couples consisting of talks and meditations pertinent to living out the Sacrament of Matrimony.
Fr. Champagne is the Retreat Director, with married couples also giving talks.
Please bring a Bible, paper, and pencil/pen, toiletries, towels and washcloths.
Please DO NOT bring shorts, tank tops, or sleeveless shirts/blouses.
The Retreat will be held at
Our Lady of Sorrows Retreat Center
103 Railroad Avenue, St. Martinville, La. 70582
To register, contact Cheryl Moss at (337) 453-2385
For more information about the community or other upcoming retreats,
click here.
+++++++++
MANDEVILLE
THE ST. PAUL CENTER FOR
BIBLICAL THEOLOGY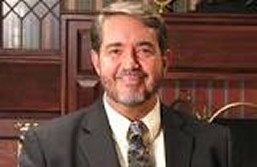 The St. Paul Center invites you to spend an uplifting morning with Dr. Scott Hahn discussing the importance of the Creed. Join us for a two-part talk where Dr. Hahn will reflect on how the Creed is a statement of faith that binds the Church together in Covenant and Communion.
The event will begin with a talk by Dr. Hahn on the Creed as Commitment, followed by a break with an opportunity to purchase books, and will conclude with a second talk on the Creed as Communion.
The talk will be held at Mary, Queen of Peace Church in Mandeville, LA on June 3rd, 2017. The event is free but due to limited seating tickets will be required.
To register, please click here.
++++++++++++
CHAUVIN AREA
OUR LADY OF PROMPT SUCCOR ADORATION CHAPEL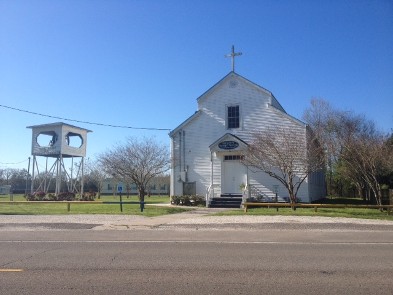 WEEKLY THURSDAY NIGHT MEETINGS
FOR MORE INFORMATION CLICK HERE.
+++++++++++
METAIRIE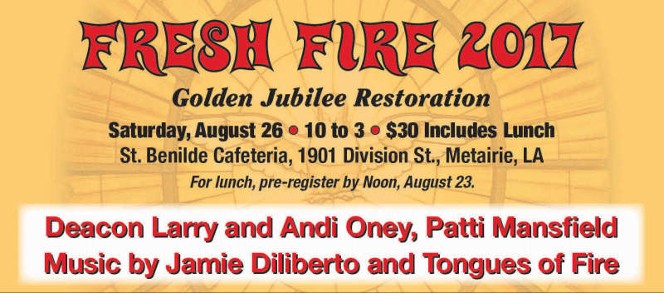 For more information, click here.
+++++++++++
BAYOU TECHE AREA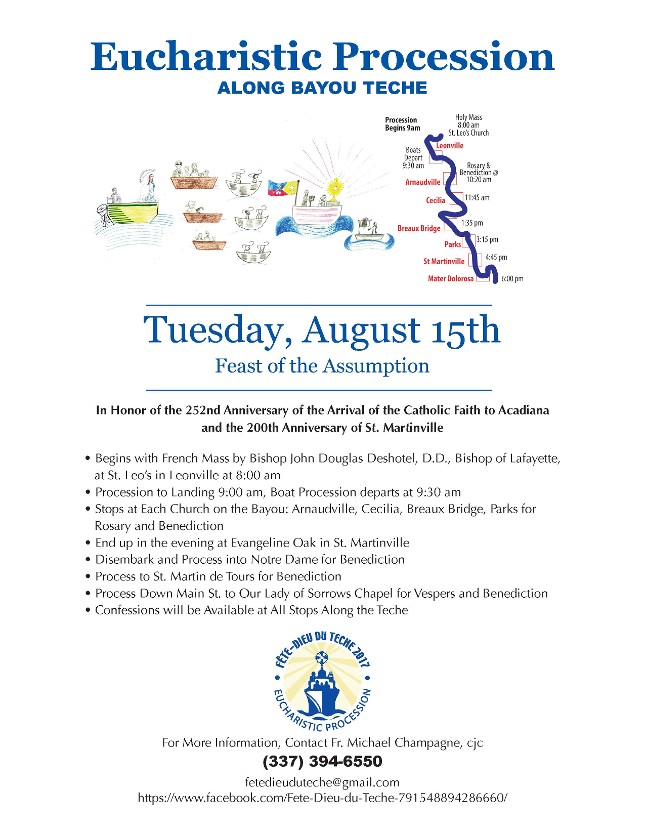 ++++++++++++
HOUMA AREA

++++++++++++++++++++++
BAYOU LAFOURCHE AREA
FAITH OF OUR FATHERS
EUCHARISTIC PROCESSION
ALONG BAYOU LAFOURCHE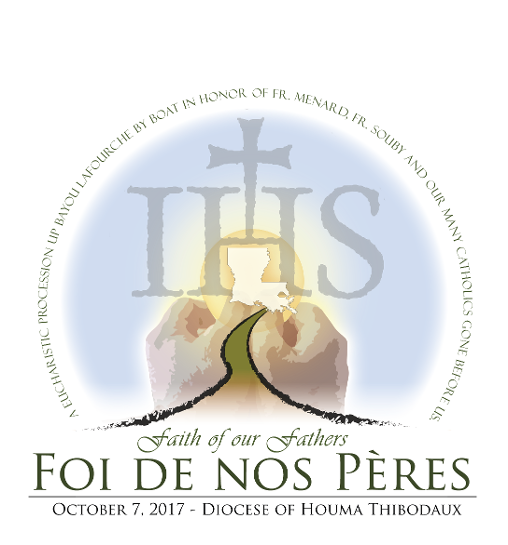 Saturday, October 7, 2017
(Memorial of Our Lady of the Rosary)
From Grand Isle to the Thibodaux Area
This procession will make stops at churches along Bayou Lafourche. The plans for this procession are now being developed. To become involved, contact this website email address: macleanland@bellsouth.net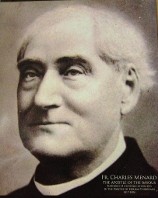 A day dedicated to the many faithful priests, religious and laity that have prepared the way for us!
+++++++++++
HOUMA
STEUBENVILLE ON THE BAYOU CATHOLIC YOUTH CONFERENCE
and Lift 3:16
Invite all youth to attend the 2017 conference on
June 16th through 18th in Houma.
For all the details, go to:
http://www.steubenvilleonthebayou.com/
+++++++++
STATEWIDE
STOP! LISTEN UP!
YOU PRO-LIFE AND CANNOT
GO TO WASHINTON TO MARCH FOR LIFE?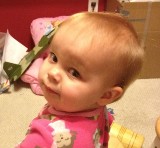 LOUISIANA LIFE MARCHES
IN 2018 ARE AT:
BATON ROUGE - JANUARY 20TH
SHREVEPORT/BOSSIER CITY - JANUARY 27TH
PINEVILLE/ALEXANDRIA - FEBRUARY 3RD
FOR ALL INFORMATION CLICK HERE: