LOUISIANA FRONT PAGE
NEWS AND EVENTS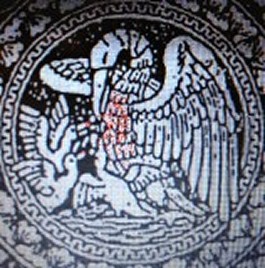 LOUISIANA
CREATED BY WATER, PURIFIED BY FIRE, REPENT LOUISIANA!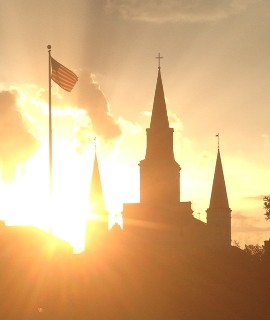 BE A PART OF THE FRESH FIRE TO FALL!
(Taken in New Orleans on Saturday, July 18, 2015)
Do something! Evangelize!
Become a part of the news and upcoming events that are listed below. These events are listed to give Catholics a way to stay networked, connected and united as one body in Christ. Send in events that you may be aware of! This is a personal website. if you want to see some of the awesome resources offered by the Diocese of Houma-Thibodaux, in its website, as well as the offices of the diocese, go here:
http://htdiocese.org/new-evangelization
+++++++++++++++++++++
CATHOLIC EVENTS
OF INTEREST
PLEASE SCROLL ALL THE WAY DOWN TO SEE ALL THE NEWS AND EVENTS. THEY ARE LISTED IN NO PARTICULAR ORDER OF TIME OR IMPORTANCE. EVENTS AT THE END ARE EQUALLY AS EFFICACIOUS AS AT THE BEGINNING! SEE WHAT IS GOING ON ACROSS SOUTH LOUISIANA BUT MOST IMPORTANTLY WHAT IS NEAR YOU!!!
IMPORTANT
IF YOU CANNOT FIND AN EVENT IN THE LIST BELOW, SCROLL UP AND GO TO THE LEGEND ON THE LEFT SIDE OF THIS PAGE AND PUT YOUR CURSOR ON ONE OF THE HEADINGS THAT MIGHT HELP YOU FIND IT. EVERYTHING WITHIN THAT TOPIC WILL POP UP. THEN CLICK ON YOUR ITEM OF INTEREST.
(To below list a multi-parish Louisiana event at no cost,
email macleanland@bellsouth.net)
++++++++++++++++++
SPOTLIGHT ON A MINSITRY

COMPASSIONATE BURIALS FOR
INDIGENT BABIES
For more info, click here.
++++++++++++
DIVINE MERCY ACROSS LA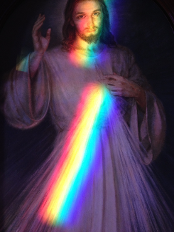 Individual events all on Sunday, April 28th (unless noted):
St. Francis de Sales Co-Cathedral in Houma
St. Joseph in Galliano
St. Eloi in Theriot
Our Lady of Perpetual Help in Kenner
For information on a location you might like to attend, contact the parish.
If you know of a Divine Mercy event and want to list it, let us know.
+++++++++++++
METAIRIE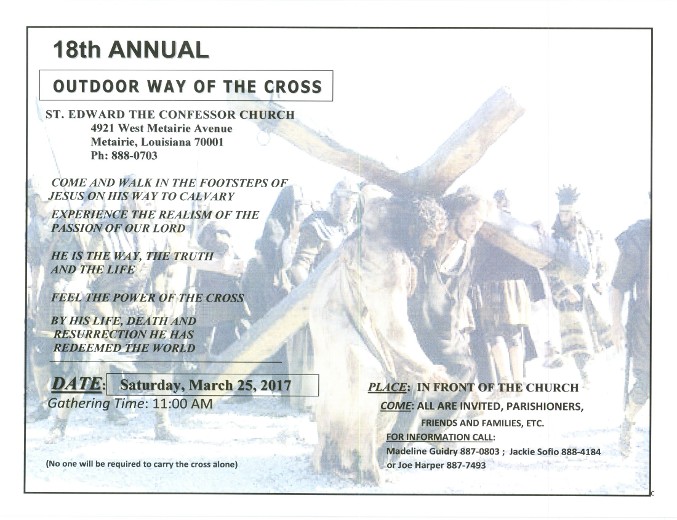 ++++++++
GUEYDAN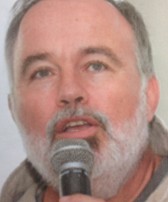 FR. PHILIP SCOTT, F.J.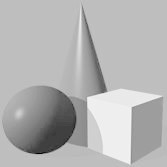 Father Scott will be doing a Lenten Mission this year starting April 3, 2017 through April 6, 2017 at Saint Peter Catholic Church in Gueydan
Fr. Scott is the Founder of Family of Jesus, a family of priests, brothers, and sisters dedicated to Christ and His Church, bound by private vows of obedience, chastity, poverty and martyrdom; praying to be healed and formed into a family by the Divine Family (Father, Son, and Holy Spirit) in order to live out in a prophetic manner their baptismal calling to follow Jesus Christ and to be His instruments of healing for families, including not only the individual domestic family, but also the broader family of the Church and of society. They were founded by Father Philip Scott in 1998 under the auspices of Bishop Robert Lynch of the Diocese of St. Petersburg. They have been missionaries in Chaclacayo, Peru, since January 10, 2003.
For further Information Contact Saint Peter Rectory at 337-536-9258.
++++++
HOUMA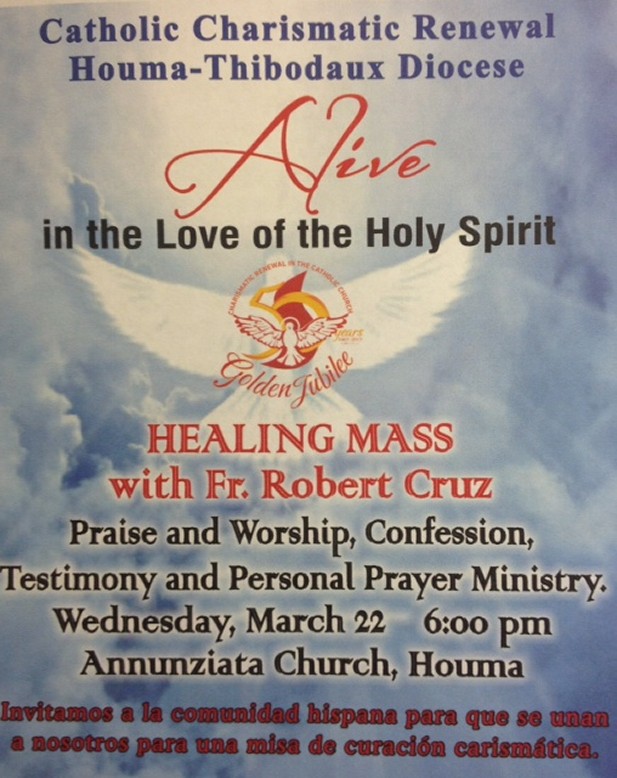 +++++++
HOUMA
CAJUN MAN PRAISE AND WORSHIP SWAMP PILGRIMAGES
Click Here for details.
++++++++++++
THERIOT
LIFE IN THE SPIRIT SEMINAR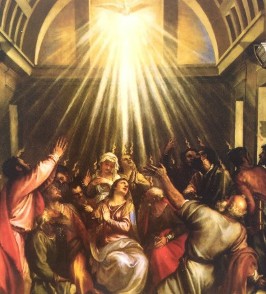 St. Eloi Church along Bayou Dularge
Each Saturday in May beginning at 3:00 pm!
For more about the value of and/or attending and/or hosting
a Life in the Spirit Seminar in your parish,
go to the diocesan webpage for the
Charismatic Renewal for the Diocese of Houma-Thibodaux
Or go to the diocesan webpage for Houma-Thibodaux
Or contact this website at macleanland@bellsouth.net
Scroll down a bit on this page and see what happens at St. Eloi on the last Saturday of each month. The Brides of the Most Blessed Trinity meet. Try to join them one or more last Saturdays!
+++++++
THIBODAUX

PROCESSION IN HONOR OF ST. VALERIE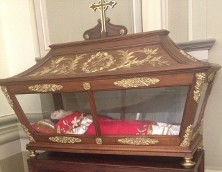 St. Joseph Co-Cathedral
Saturday, April 30th
8:30 am - Procession
9:30 am - Mass
April 28th is the Feast Day of St. Valerie, the Patron Saint of Thibodaux and our Firemen. Each year we honor her with a Mass and procession, which is led by the Firemen. The Traditional Choir sings at the Mass. Flowers and decorations in Red abound in the Church.
All are welcome to process and to the Mass!
+++++++
THERIOT
St. Eloi
After the Vigil Mass on May 6, 2017
a showing of the movie
(approximate 85 minutes long):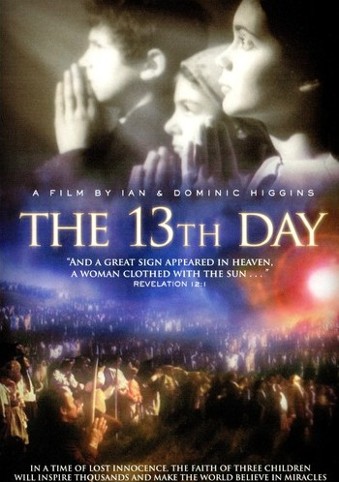 ++++++++++
THERIOT
Also at St. Eloi
Saturday, May 13th, 2017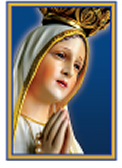 Mass in honor of our
Blessed Mother and
100 years since the Fatima appariations
Mass will begin at 11:00 am
All welcome!
+++++++
THERIOT
Also at St. Eloi
Saturday, March 25, 2017,
Day of Prayer for Priests
and for more Vocations to the priesthood.
2:00 pm, Adoration, Rosary
and Divine Mercy Chaplet
4:00 pm Confessions
4:30 pm Holy Mass.
++++++
HOUMA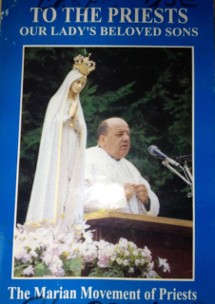 MARIAN MOVEMENT OF PRIEST
PRAYER CENACLE
Each 4th Tuesday of the month at
WOW Hall on Hollywood Road in Houma
Speaker on 03.28th - Paul Maclean will speak about
the unique annointing placed on Louisiana
by its creation over time.
DULAC
MASS TO HONOR ST. KATERI TEKAWITHA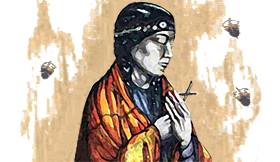 Holy Family Catholic Church
July 14th, 2017
Mass at 6:30 pm
Dinner and fellowship after Mass.
For so much more about St. Kateri,
scroll down a bit and go to the
Kateri Conference website now located in
Alexandria, Louisiana.
++++++++++
ABBEVILLE

FAMILY MISSIONS COMPANY
FAITH CAMP
Entering 7th, 8th, or 9th grade this fall? Then it's your time to be a CAMPER!
First Week: July 10th - July 14th, 2017
Second Week: July 17th - July 21st, 2017
Camp Woodman
13505 Junius Rd
Abbeville, LA 70510
For all the information you need, click here.
+++++++++++
LAFAYETTE
2017 MAN-TO-MAN
CATHOLIC MEN'S CONFERENCE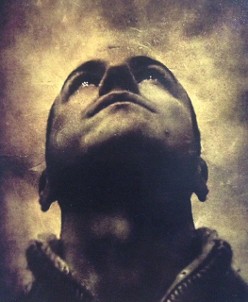 August 19, 2017
Our Lady of Fatima Catholic Church
Guest Speaker: Deacon Harold Burke-Sivers
For developing information visit 2017m2m website.
++++++++++++
ST. MARTINVILLE
COMMUNITY OF JESUS CRUCIFIED

Married Couples Retreat
July 28th - 30th
A preached retreat for couples consisting of talks and meditations pertinent to living out the Sacrament of Matrimony. Fr. Champagne is the Retreat Director, with married couples also giving talks.
Please bring a Bible, paper, and pencil/pen, toiletries, towels and washcloths.
Please DO NOT bring shorts, tank tops, or sleeveless shirts/blouses.
The Retreat will be held at
Our Lady of Sorrows Retreat Center
103 Railroad Avenue, St. Martinville, La. 70582
To register, contact Cheryl Moss at (337) 453-2385
For more information about the community or other upcoming retreats,
click here.
+++++++++
MANDEVILLE
THE ST. PAUL CENTER FOR
BIBLICAL THEOLOGY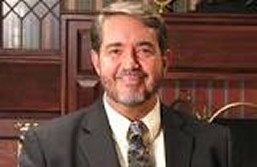 The St. Paul Center invites you to spend an uplifting morning with Dr. Scott Hahn discussing the importance of the Creed. Join us for a two-part talk where Dr. Hahn will reflect on how the Creed is a statement of faith that binds the Church together in Covenant and Communion.
The event will begin with a talk by Dr. Hahn on the Creed as Commitment, followed by a break with an opportunity to purchase books, and will conclude with a second talk on the Creed as Communion.
The talk will be held at Mary, Queen of Peace Church in Mandeville, LA on June 3rd, 2017. The event is free but due to limited seating tickets will be required.
To register, please click here.
++++++++
TICKFAW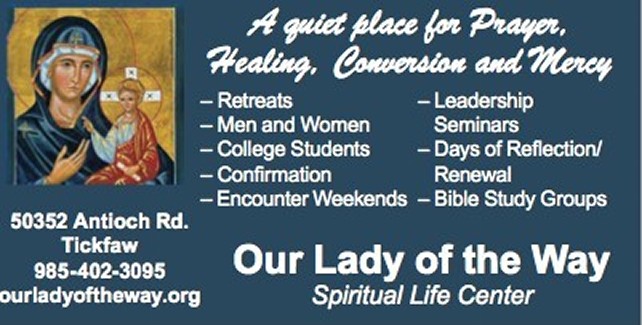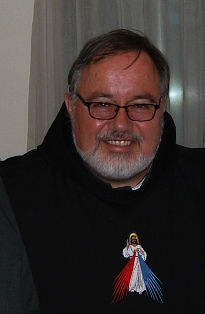 Father Martin Scott,
Servants of Divine Mercy
March 24th - 26th, 2017
Registration/ Details online:
Testimonial of Suitability / Approval of FR. Scott on file with the Diocese of Baton Rouge Chancery
++++++++++++
CHAUVIN AREA
OUR LADY OF PROMPT SUCCOR ADORATION CHAPEL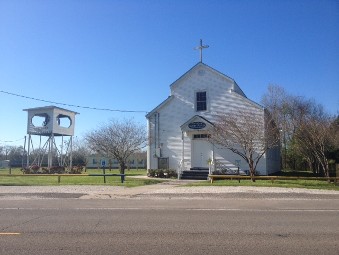 WEEKLY THURSDAY NIGHT MEETINGS
FOR MORE INFORMATION CLICK HERE.
+++++++
+++++++
ROSARYVILLE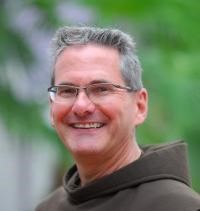 Living the Lord's Prayer
with Fr. Albert Haase, OFM
April 8, 2017
We invite you to join us for another great journey with Fr. Albert Haase, OFM at Rosaryville on "Psalm Saturday." The event will be followed by Mass.
When asked for a teaching on prayer, Jesus did not respond with a method or technique. Rather, he responded with words that captured the essence of his teaching and lifestyle. Down through history, many have looked upon the Lord's Prayer as more than simply a way to pray. Tertullian, a late 2nd century priest of the Christian community of Carthage in North Africa, referred to this prayer as a "summary of the entire Gospel."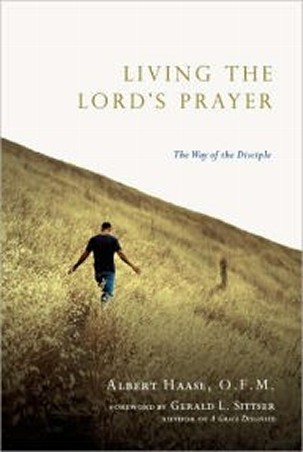 Based upon Fr. Albert's bestselling book, Living the Lord's Prayer: The Way of the Disciple, this day of recollection on Saturday, April 8, will focus on the Our Father as a way to live. With his distinctively inspirational and engaging preaching style, Fr. Albert will help deepen your appreciation and love for the prayer Jesus taught us and the life he challenges us to live.
Ordained a Franciscan priest in 1983, Albert Haase, OFM, is a popular preacher, teacher, spiritual director and radio talk show guest. A former missionary to mainland China for over eleven years, he is the award-winning author of nine books on popular spirituality and the presenter on four bestselling DVDs. He has trained spiritual directors for ten years. He lives in Texas. Visit his website at www.AlbertOFM.org
++++++++++
MATTHEWS
CURSILLO
DIOCESE OF HOUMA-THIBODAUX
EUCHARISTIC PILGRIMAGE TO EWTN AND
THE SHRINE OF THE MOST BLESSED SACRAMENT
Sunday, June 4, 2017 - Tuesday, June 6, 2017
Pilgrimage group will:
Attend a live show of At Home with Jim and Joy
Visit Mother Angelica's gravesite
Visit gift shop...and more
Group will worship and pray together as follows:
Mass
Adoration
Rosary
Divine Office
Healing Service
Confession
Divine Mercy Chaplet
The group will depart from the Tourist Center in Matthews at 2:00 pm on Sunday, June 4th and will return at 11:00 pm on Tuesday, June 6th.
For more info contact: Rosa Sampey at 985-537-5667
Spiritual Directors: Fr. Roch Naquin and Fr. Dean Danos
For upcoming Cursillo dates, scroll down this page!!!
+++++++++++
HOUMA
"I THIRST FOR JESUS"
A weekend retreat on our thirst for God, and His thirst for us.
Lumen Christi Retreat Center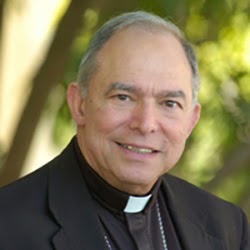 Presenter: Bishop Sam Jacobs
Begins on Friday, March 31, 2017 @ 5:00 pm
Closes on Sunday, April 2 with Mass
For all information about retreat call: 985-868-1523
To stay in touch with Bishop Jacobs, visit his website.
+++++++
MAY CROWNING
Saturday, May 6, 2017
Rosary at 8:00 am
Mass at 8:30 am
May Crowing Ceremony in Lourdes Prayer Garden
outside of the cathedral after Mass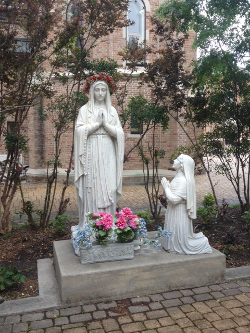 (Bring flowers to place at the statue.)
Lite Refreshments in the Youth Center after Crowing.
As we enter further into the 100 year anniversary of Fatima, let us make the Five First Saturday devotion. To learn more about that devotion, click on Her picture above.
To prepare for this May Crowning and the Fatima Experience from May 13th through October 13th, a rosary is prayed each Saturday after the 8:30 am Mass.
+++++++++++++
PONCHATOULA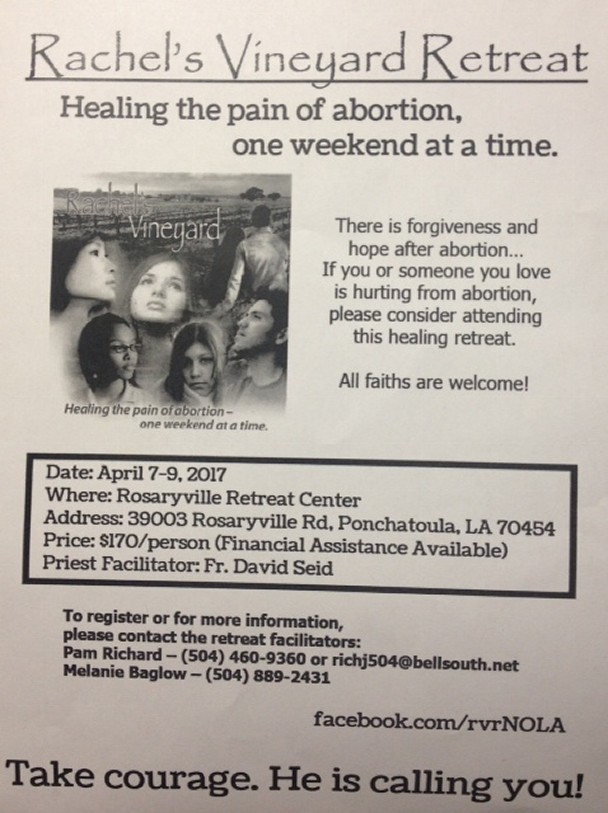 ++++++
BAYOU TECHE AREA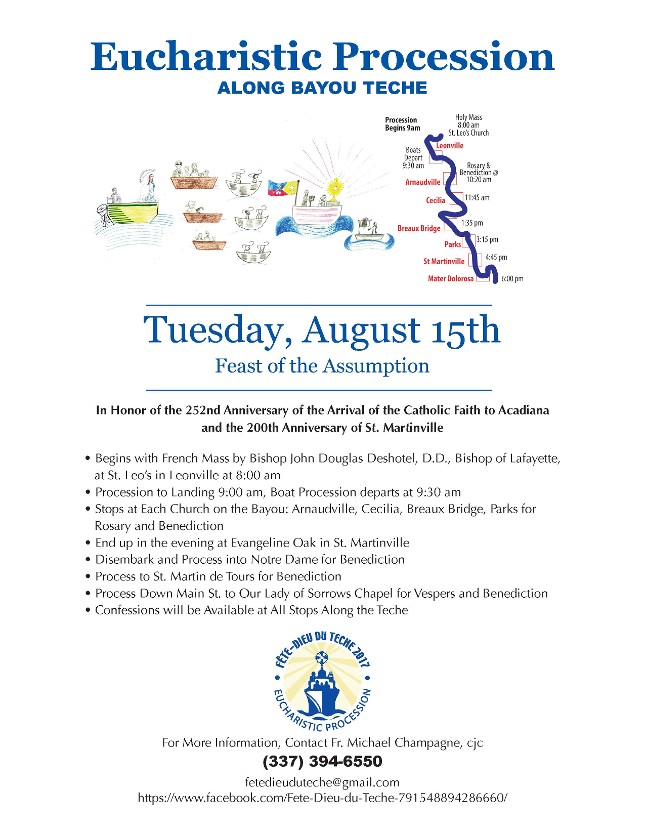 ++++++++++++++++++++++
BAYOU LAFOURCHE AREA
FAITH OF OUR FATHERS
EUCHARISTIC PROCESSION
ALONG BAYOU LAFOURCHE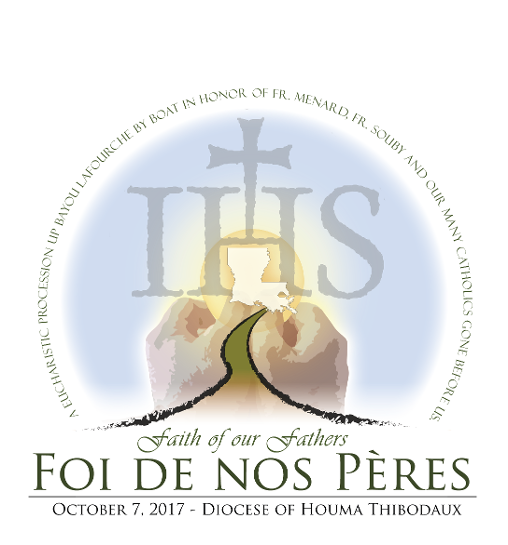 Saturday, October 7, 2017
(Memorial of Our Lady of the Rosary)
From Grand Isle to the Thibodaux Area
This procession will make stops at churches along Bayou Lafourche. The plans for this procession are now being developed. To become involved, contact this website email address: macleanland@bellsouth.net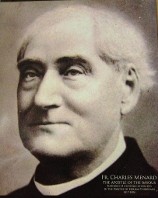 A day dedicated to the many faithful priests,
religious and laity that have prepared the way for us!
+++++++++++
HOUMA
STEUBENVILLE ON THE BAYOU CATHOLIC YOUTH CONFERENCE
and Lift 3:16
Invite all youth to attend the 2017 conference on June 16th through 18th in Houma.
Group registration opens January 13, 2017
For all the details, go to:
http://www.steubenvilleonthebayou.com/
+++++++
SPIRITUAL WARFARE CLASSES
Fr. Robert Cruz, the Pastor of Sacred Heart Catholic Church in Montegut is offering classes at his church. It is located at 1113 Hwy 55 in Montegut, LA 70377. Telephone number is 985-594-5856.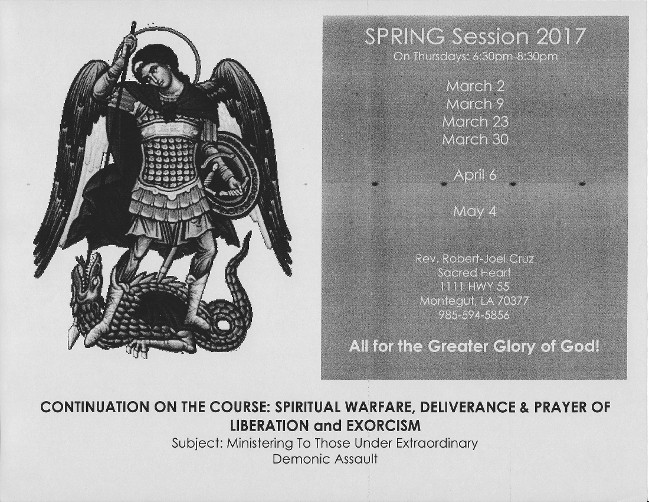 +++++++++++++++
ST. BENEDICT
ABBEY YOUTH FESTIVAL
Saturday, March 25, 2017
For more information, visit this website:
http://www.abbeyyouthfest.com/#our-story
++++++++++
METAIRIE

VISIT WEBSITE TO SEE ALL UPCOMING EVENTS:
++++++++
HOUMA
RETREAT ON THE DIVINE WILL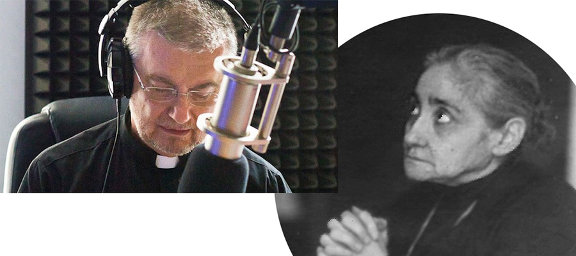 May 19th through 21st, 2017
Lumen Christi Retreat Center
Presenter: Fr. Robert Young
The weekend will focus on "How to grow in sanctity by living in the Divine Will of God". This will be an exciting and special weekend. More details to follow.
Read more about Divine Will of God by visiting this website:
For information on this upcoming retreat, please contact:
Mary Bourgeois
Telephone: 337-380-4367 Email: maryfrances17@bellsouth.net
Nancy Smith
Telephone: 985-855-8744 Email: nanooys@hotmail.com
STATEWIDE
STOP! LISTEN UP!
YOU PRO-LIFE AND CANNOT
GO TO WASHINTON TO MARCH FOR LIFE?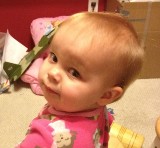 LOUISIANA LIFE MARCHES
IN 2018 ARE AT:
BATON ROUGE - JANUARY 20TH
SHREVEPORT/BOSSIER CITY - JANUARY 27TH
PINEVILLE/ALEXANDRIA - FEBRUARY 3RD
FOR ALL INFORMATION CLICK HERE: