FAITHFUL LOUISIANA CATHOLICS ALLOW THEMSELVES TO BE UNIQUELY LED INTO SERVICE BY OUR MOST BLESSED LADY
TO: "CRUSH THE HEAD OF THE SERPENT"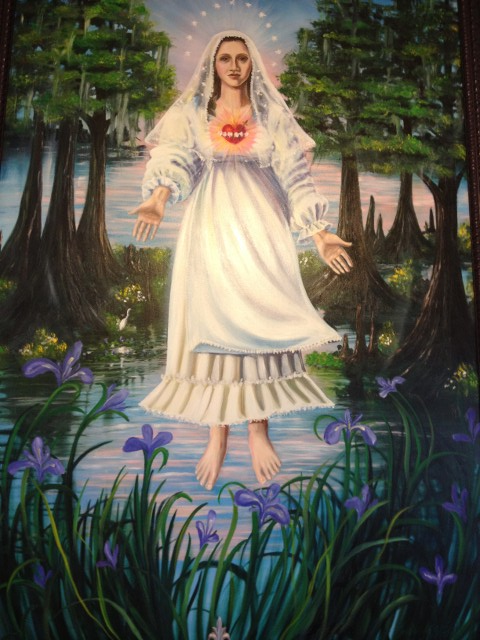 OUR LADY OF THE BAYOU
(Painting by Delores Legendred is in Adoration Chapel at St. Bridget Parish in Schriever, LA)

Louisianawim across the State of Louisiana and the country are generationally called to evangelize wherever they are planted. Especially as a result of Hurricanes Katrina and Rita in 2005 have so many Louisianawim been transplanted so quickly and to so many other areas. Those two storms, like large stones, "splashed" the Louisianawim throughout the nation. Those two storms placed the Louisianawim in many unexpected places and put Louisiana on the "center-stage" of the world for the times we are in...and that are to come. So, wherever you are across this country...keep in touch. To learn more about the Louisianawim click here! To learn more about how God formed the land of the Louisianawim click here! To learn more about how many pray Come, Lord Jesus using His Mother's Rosary click here!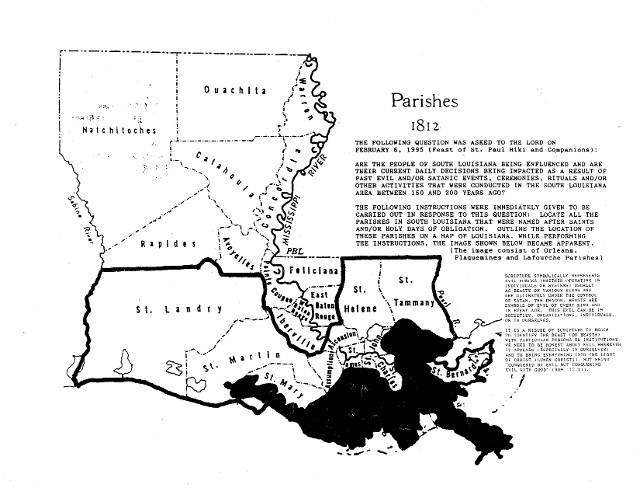 THE SERPENT...THE DRAGON...GENERATIONS OF STRONGHOLDS BEING BROKEN BY
THE PRAYER AND FASTING OF SO MANY...BE A PART OF THAT!
IS THIS TOO RADICAL FOR YOU?
IF SO, CONSIDER THESE WORDS BY A TRUSTED MAN:
– Included as part of a Bicentennial (1976) talk given in the United States by the future St. John Paul II, then Cardinal Karol Wojtyla of Krakow, Poland-
"We are now standing in the face of the greatest historical confrontation humanity has gone through. I do not think that wide circles of American society or wide circles of the Christian community realize this fully. We are now facing the final confrontation between the Church and the anti-Church, of the Gospel versus the anti-Gospel.

"We must be prepared to undergo great trials in the not-too-distant future; trials that will require us to be ready to give up even our lives, and a total gift of self to Christ and for Christ. Through your prayers and mine, it is possible to alleviate this tribulation, but it is no longer possible to avert it. . . .How many times has the renewal of the Church been brought about in blood! It will not be different this time."

STILL A LITTLE TOO RADICAL FOR YOU? HOPE NOT! THAT WOULD BE A MISTAKE WITH ETERNAL CONSEQUENCES FOR YOU AND OTHERS YOU LOVE AND INFLUENCE. LISTEN TO WHAT AN OUTSTANDING PREACHER AND TEACHER OF THE CHURCH SAYS ABOUT THE DEVIL AND THE REALITIES OF HIS WORKS.
+++++++++++++++++++++++++++++++++++++++++++++++++++++++++++++++++++++++++++++++
VISIT OUR OUT OF STATE NETWORKING
PARTNER'S WEBSITE: