LOUISIANA AND THE HOLY EUCHARIST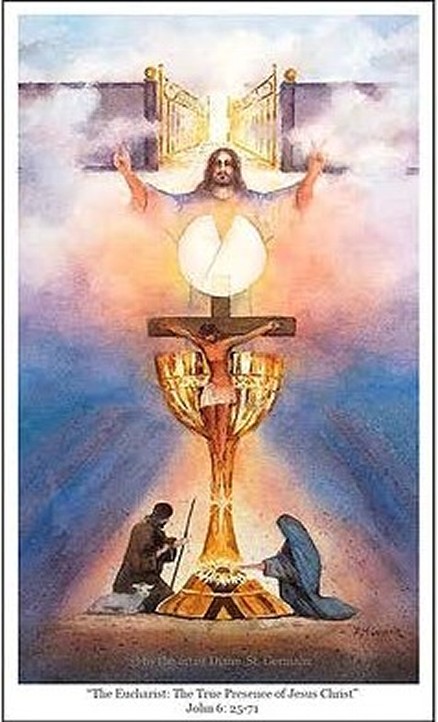 For more information on this painting by Diane St. Germain from Slidell, LA, please click here.
Although this page of this website is primarily dedicated to Eucharistic Adoration in Louisiana, that is not to minimize the existence and tremendous effects of Adoration in other areas of America as well.
To read what is happening in just one small area along the Gulf Coast of Alabama, please see the information on this fantastic book and consider buying it for further reading and reflection. The "miracles" detailed there can equally happen in your area, if one turns first to Jesus, Truly Present in the Holy Eucharist! Remember, nearly every community in America has its own "Main Street"!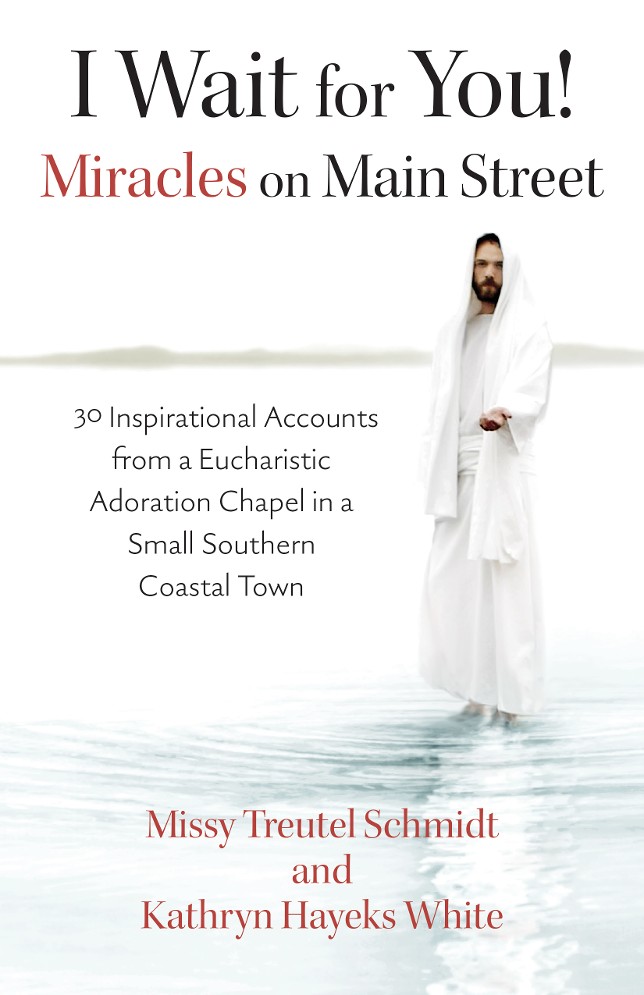 to order, use this code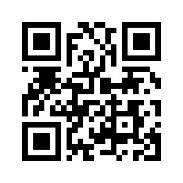 or order from Amazon Books, click here.
or to visit Miracles on Main Street website, click here.

NOW,
BACK TO LOUISIANA AND ITS EUCHARISTIC ANNOINTING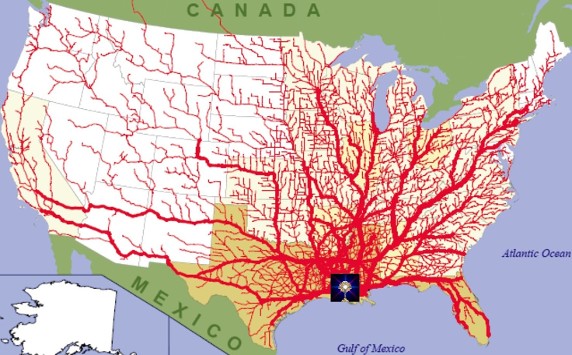 Before reading below, consider watching this short video pertaining to a very recent Eucharistic Miracle in Mexico. It will show anyone how amazing God is and how He uses the Holy Eucharist to get our attention! Click here to see video.
Want to see another Eucharistic Miracle currently under investigation in Connecticut, click here.
Also, before reading below about the Holy Eucharist, please consider listening to Fr. Kirby at Our Lady of Grace Catholic Church at Indian Land, SC speak on the importance of not receiving Holy Communion, while in living in mortal sin and the harm of grave sin, without regularly receiving the sacrament of CONFESSION, before Holy Communion. Please click here to listen to Fr. Kirby.
Pertaining to Eucharistic Adoration between Masses, it is very difficult to consistently come before Jesus, in His Real Presence and Glory, while one remains in the state of grave sin. Our personal conscience find it hard to repeatedly do that. Could the failure to regularly receive Confession be in part why so many fail to regularly attend Eucharistic Adoration? Please click here to listen to Fr. Kirby.

Note: In the event you are visiting this page and you are not Catholic, or in the event you have some questions as to "Who" the Eucharist is, and what that means to Catholics (and you), there are many great homilies or teachings available on line by creditable Catholic presenters. You can research that yourself, or, as an alternative to that, you contact this website to get more information as to those presentations.

The author of this website, as a lay person from South Louisiana, has been blessed to have traveled across South Louisiana (and elsewhere) since 1994 to help open new Adoration Chapels as well as increase attendance at Adoration Chapels that were already in existence.
Those activities began after the author became the coordinator of the Adoration Chapel at St. Francis de Sales Cathedral in Houma, LA in 1994.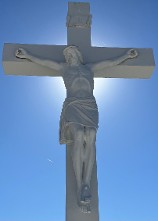 "The Light" returns into the darkness of this world!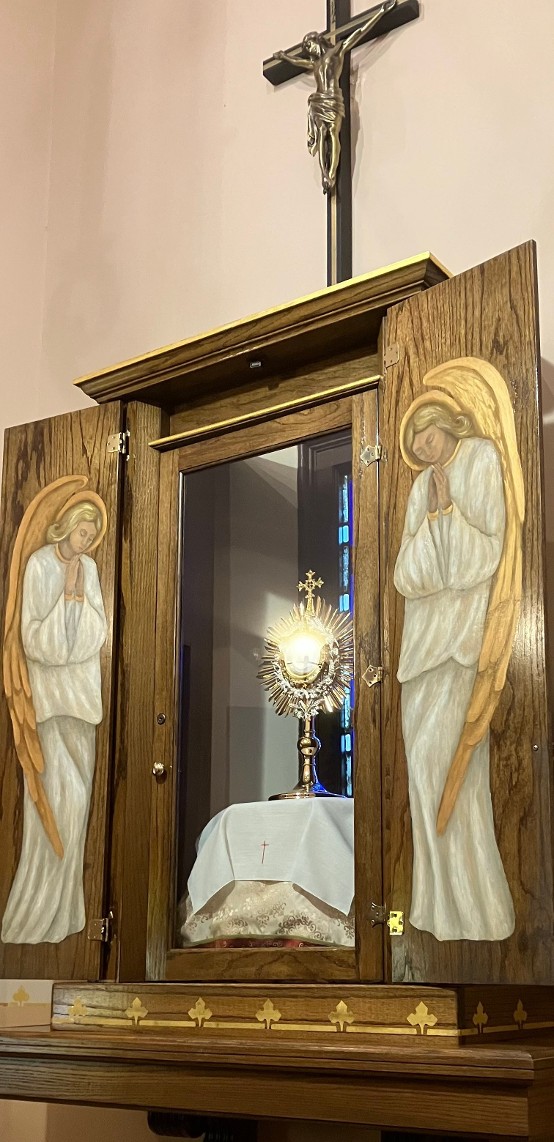 Adoration Chapel at St. Francis de Sales Cathedral in Houma, LA
What the author has personally experienced since that time is an "explosion" of Eucharistic Adoration facilities across Louisiana. (This "explosion" has been lessened since the Covid experience and the numberous hurricanes that have hit South Louisiana over the last few years. The facilities are still there [in most cases] but the Adorers have become fewer in number.)
Devotion to Jesus present in the Blessed Sacrament is actually a part of who we are as a Louisiana people living on a unique piece of land created over millions of years and symbolized by the mother pelican - a symbol of the Eucharist. With that fact, what else would one expect to happen on this land?
It has been an extreme blessing to be a part of that phenomenon, as a lay person. Being a lay person has in no way hindered that involvement but, in fact, may have been at times freeing. There was a freedom in being able to move in short notice to go wherever something was needed in connection to spreading Eucharistic Adoration across Louisiana. It is life-giving to be able to go out as commissioned in the Gospel of Matthew (28: 16-20) and further described and elaborated on in the Gospel of Mark (16: 15-20).

The numerous facilities that are now in place to Adore are there for a time soon-to-come. In the author's opinion, The Holy Spirit will soon fill them with Adorers that will be looking to fill a perceived need that the world cannot fill. We are being called to assist in that effort.
The per capita "explosion" can be seen when one views this population website. (So many chapels with so few people.)
A little further down this page one will view an image of a map of the State of Louisiana that attempts to show the Adoration Chapels across South Louisiana that have the facilities to operate 24/7 (one monstrance on the map = one chapel). It is called an "attempt" because in certain places there are so many chapels, all the monstrancies that would represent each chapel cannot be placed on the map...too many to mark! Additionally, more chapels are being added to the map all the time.
From the population website above, on can calculate that the majority of these Adoration Chapels are in a small area with a relatively small population of 2.5 million people (of course, not all Catholics). That is the Holy Spirit moving Louisiana Catholics hearts to build facilities to Adore! There is an annointing available to us that we can open ourselves up to!

At all times, we must remember that in such a movement, the "smaller" we are, the more we can be the "Eucharistic People" we are created and called to be. Being "small" prepares one's heart to Adore. There is much more on that (the "Anawim" throughout these webpages.
(If you want to talk more about any of this and/or to possibly have this author visit your parish and make a presentation to your parish, adorers or ministry, please contact at louisianawim@protonmail.com or call at 985-856-5345 (Houma).
The Church no longer has the luxury of delaying. Now is the time! For information on that visit this site's page titled, "Why now is the time". We are in a unique time.

AVAILABLE TO YOU FREE:
An information packet focused on the practical aspects of running an Adoration Chapel (and increasing Eucharistic Adoration) has been prepared and is available at no charge to individuals and parishes for their prayer, consideration and use. Over the past 25 years, the author has compiled this information packet to help Pastors and coordinators increase Eucharistic Adoration in their respective parishes. Of course, not all items in the information packet may apply to each parish but there is information in it that may help your particular parish increase Eucharistic Adoration. A parish does not have to have a full time chapel to be able to use the underlying information that makes up this packet. It can also be used by parishes with no chapel but still meet for Adoration sometime during the week.
(This information packet is in pdf format and can be emailed at no cost. Just contact this website through email.)

Further down this page you will also see an attempt to list all the Adoration Chapels in Southern Louisiana known to the author that have the facilities to run 24 hours per day, 7 days per week. (If you know of a new chapel opening in your, area or if there is some way we can help you increase the number of adorers at your existing chapel, please let us know.)

It has been noticed over the years, that oftentimes, coordinators of Adoration Chapels get so lost in the real and serious needs of their own individual chapels, they tend to forget the powerful Adoration network they are actually a part of. In an effort to address this the author is presently attempting to network all the Adoration Chapels across Louisiana, (shown below on this page).
In 2020, this effort, in order to help get a "20/20 SPIRITUAL VISION" of the times we are in. It is NOT an effort to form an "organization" but to form a "network" to simply help each chapel become aware of each other and to be united in prayer all day ... each day ... statewide network ... as one Mystical Body praying for the Glorious Return of Jesus!
If you want to know more about any of this and/or become a part of this effort, please contact us by emailing at louisianawim@protonmail.com or call at 985-856-5345.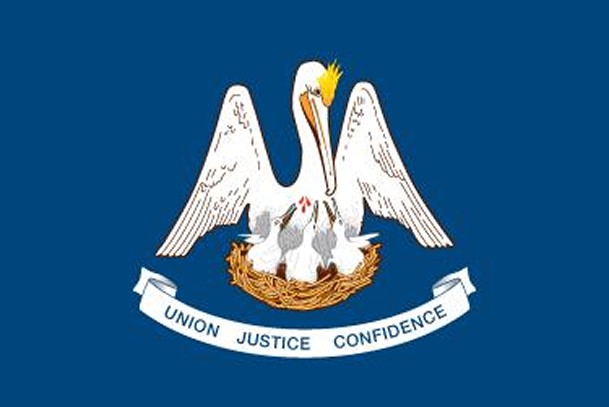 (To learn more about the three drops of blood, click on the image above.)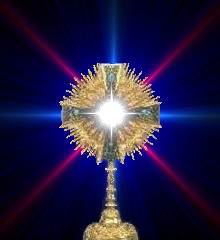 (Click on image to see what is going on in New Orleans)
236. It is in the Eucharist that all that has been created finds its greatest exaltation. Grace, which tends to manifest itself tangibly, found unsurpassable expression when God himself became man and gave himself as food for his creatures. The Lord, in the culmination of the mystery of the Incarnation, chose to reach our intimate depths through a fragment of matter. He comes not from above, but from within, he comes that we might find him in this world of ours. In the Eucharist, fullness is already achieved; it is the living centre of the universe, the overflowing core of love and of inexhaustible life. Joined to the incarnate Son, present in the Eucharist, the whole cosmos gives thanks to God. Indeed the Eucharist is itself an act of cosmic love: "Yes, cosmic! Because even when it is celebrated on the humble altar of a country church, the Eucharist is always in some way celebrated on the altar of the world".[166] The Eucharist joins heaven and earth; it embraces and penetrates all creation. The world which came forth from God's hands returns to him in blessed and undivided adoration: in the bread of the Eucharist, "creation is projected towards divinization, towards the holy wedding feast, towards unification with the Creator himself"... Pope Francis [Laudato Si: On Care for Our Common Home]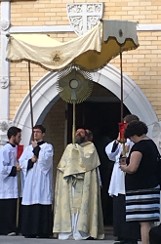 (For more information on this procession in the Diocese of Lafayette, LA, click on image.)
From a theological perspective, it is important to emphasize that a procession is a sign of the Church's condition, the pilgrimage of the People of God, with Christ and after Christ, aware that in this world it has no lasting dwelling. Through the streets of this earth it moves towards the heavenly Jerusalem. It is also a sign of the witness to the faith that every Christian community is obliged to give to the Lord in the structures of civil society. It is also a sign of the Church's missionary task which reaches back to her origins and the Lord's command (cf. Mt 28, 19-20), which sent her to proclaim the Gospel message of salvation.
OUR COMMON HOME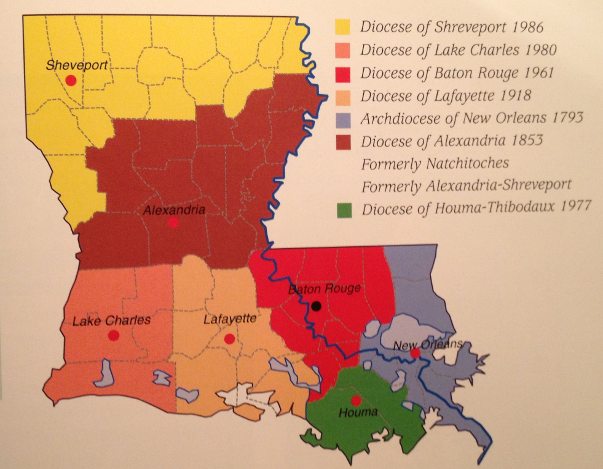 Louisiana Dioceses
LOUISIANA (THE PELICAN STATE) HAS AN AN EXTRAORDINARY DEVOTION TO THE EUCHARIST BASED IN THE SIMPLE FAITH OF ITS PEOPLE...AND IT SHOULD BE THAT WAY! TO LEARN MORE ABOUT THAT DEVOTION AS WELL AS LOUISIANA AND WHAT IS SYMBOLIZED IN OUR STATE SYMBOL (THE PELICAN), CLICK ON THE FLAG BELOW:
LOUISIANA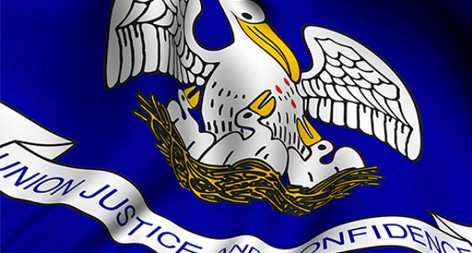 CLICK HERE FOR MORE INSPIRING INFORMATION ABOUT THE PELICAN FEEDING HER BABY CHICKS, THE EUCHARIST, THE CORRECT DEPICTION OF OUR STATE SYMBOL AND A HOUMA, LOUISIANA RESIDENT WHO WAS CONVICTED TO GET IT CORRECT!
Catechism of the Catholic Church states in paragraph No. 1324:
"The Eucharist is 'the source and summit of the Christian life.' 'The other sacraments, and indeed all ecclesiastical ministries and works of the apostolate, are bound up with the Eucharist and are orientated toward it. For in the blessed Eucharist is contained the whole spiritual good of the Church, namely Christ himself, our Pasch.'"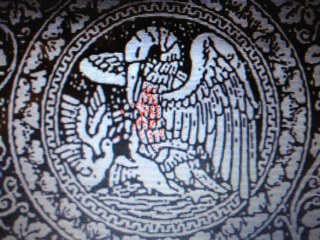 When we meet God face to face in eternity, we will grieve over each Mass that we could have attended but did not attend due to some reason we now consider more important.
To read Bishop Emeritus Sam Jacobs' teaching on the Eucharist, click on the photo immediately below.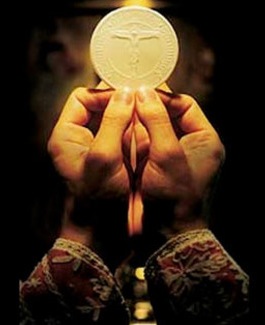 DO NOT REJECT JESUS' TRUE PRESENCE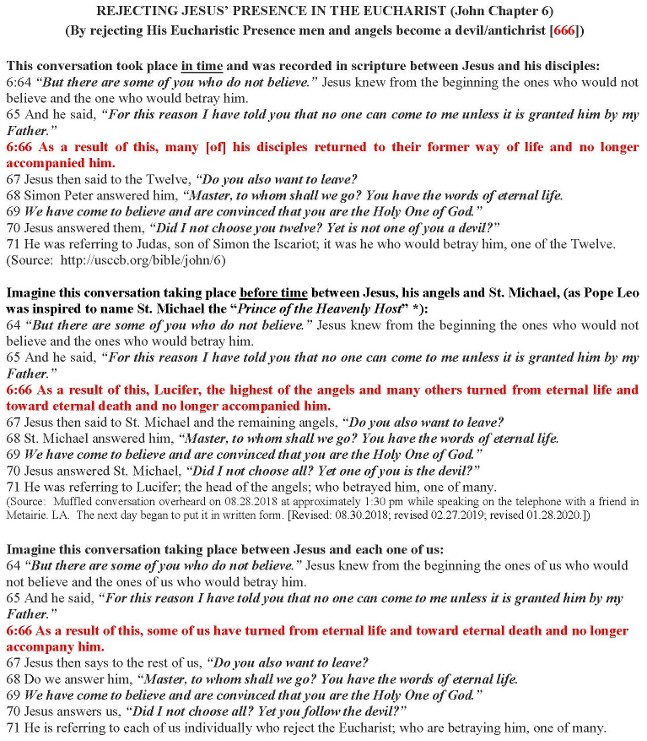 GO TO MASS DAILY, IF AT ALL POSSIBLE!
GO TO CONFESSION AS NEEDED

DO NOT WAIT WHEN IN GRAVE SIN!
Between Masses, as you travel across Louisiana, visit Jesus present in the Blessed Sacrament in the Adoration Chapels across the State. To try and do that, review the chapels across the State listed below. Make Mass and then Adoration of the Eucharist between Masses the most important part of your day. You will never be sorry about devoting that time to Jesus.
Having a problem doing that, ask your Guardian Angel to inspire you to attend Mass daily and then to get you to a Mass! It will happen! In between Masses spend time in Eucharistic Adoration!
ADORATION CHAPELS IN LOUISIANA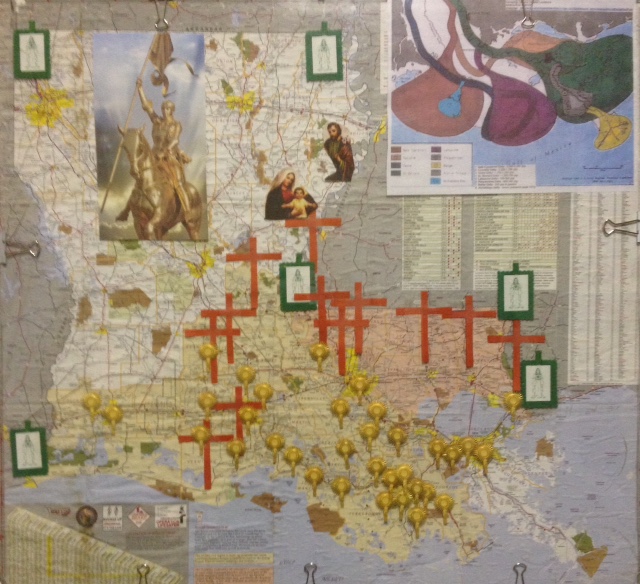 Eucharistic chapels (50+) across South Louisiana.
Where you see no monstrance, there are wetlands...no land!
Population = approximately 2.5 million total people (even less Catholics)
(Missing a chapel you know of, please let us know.)
Below is the listing of the Adoration Chapels that are believed to be either 24/7 now and/or are capable of extending their hours to 24/7. If you want to know more about the present times of adoration and/or the code at any particular chapel, call the parish. (If your parish [or a parish you are aware of] has been accidently left off the list or if a chapel is listed below that no longer exists, please let us know at louisianawim@protonmail.com
We have developed a listing of the total "Adoration Network" across the State of Louisiana so that as Catholics move around Louisiana it will become easy to stop during the day and spend time with Jesus. (To see the method to enter a chapel, please contact the parish.)
Note: It is believed that there will be a time very soon when these chapels will not be large enough to accomodate all the Catholics that want to adore Jesus truly and substantially present in the Holy Eucharist. Due to the great attendance in those days, Eucharistic Adoration will be in the churches!!!
Please note that South Louisiana has been battered by numerous hurricanes and since 2019. Additionally, the State has endured a time of extensive "Sacramental Exile" due to public health reasons. Therefore, the listing of chapels below might not be today as it was before 2019. If you see a change that needs to be reflected and/or would like to send in an image of your chapel (look below), let us know or send it in to the following email address: louisianawim@protonmail.com.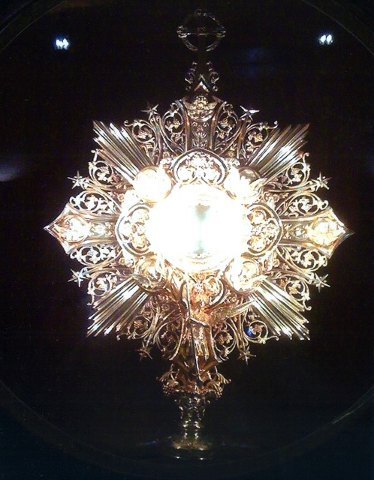 †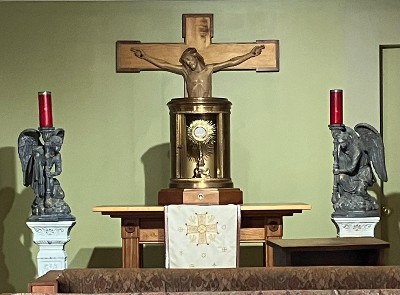 Abbeville - St. Therese of the Child Jesus (337-893-5631)
†
Alexandria - St. Rita Parish (318-445-7141)
†
Amite - St. Helena ((985)-748-9057)
†
Arnaudville - St. Francis Regis (337-754-5912)
†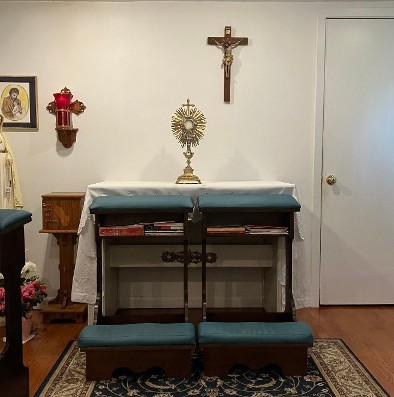 Ama - St. Mark Parish (504-431-8505)
†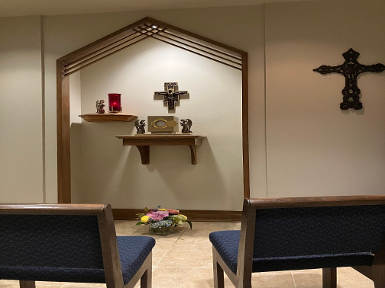 Baton Rouge - Most Blessed Sacrament Parish (225-752-6230)
†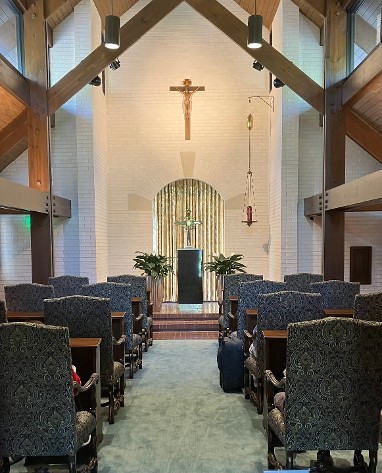 Baton Rouge - Our Lady of Mercy Parish (225-926-1883)
†
Baton Rouge - Sacred Heart of Jesus (225.387.6671)
†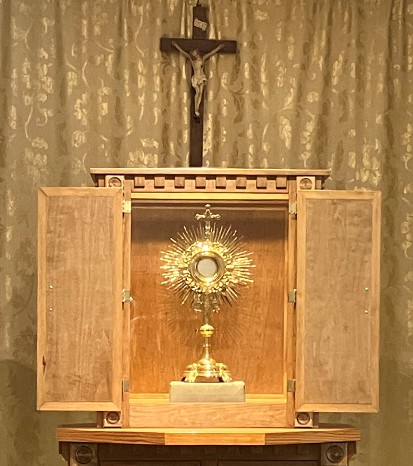 Baton Rouge - St. Agnes Parish (225-383-4127)
†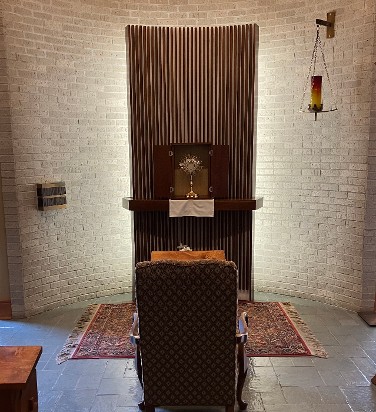 Baton Rouge - St. Thomas More Parish (225-275-3940)
†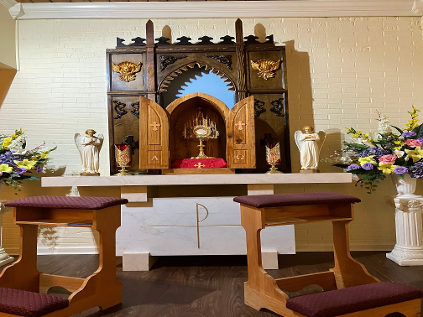 Bayou Vista - St. Bernadette Soubirous Parish (985-395-2470)
†
Bourg - St. Ann Parish (985-594-3548) (Temporarily closed due to Hurricane Ida damage)

†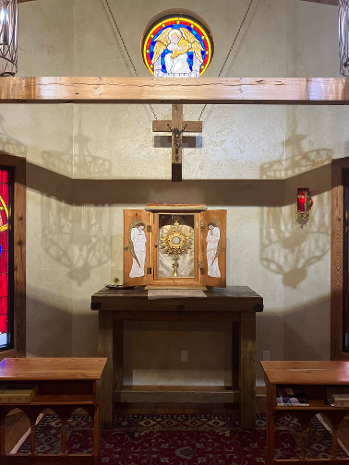 Cecelia - St. Joseph Parish (337-667-6634)
†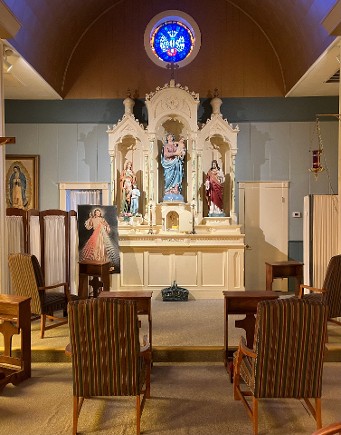 Chauvin Area - Our Lady of Prompt Succor Chapel in St. Joseph Parish (985-594-5859)
†
Covington - St. Peter (985-892-2422)
†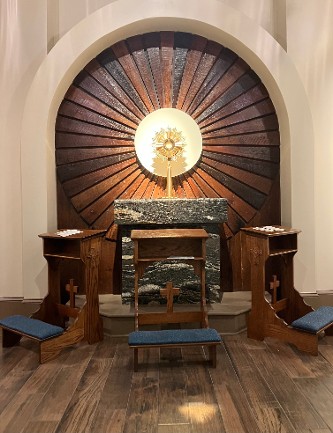 Destrahan - St. Charles Borromeo (985-764-3948)
†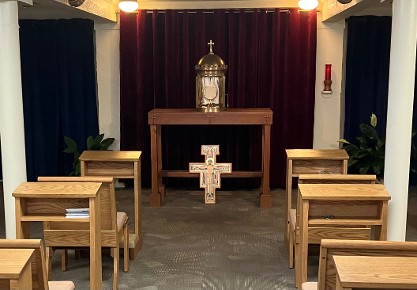 Donaldsonville - Ascension of Our Lord Parish (225-473-3176)
†
Eunice - St. Anthony Parish (337- 457-5285)
†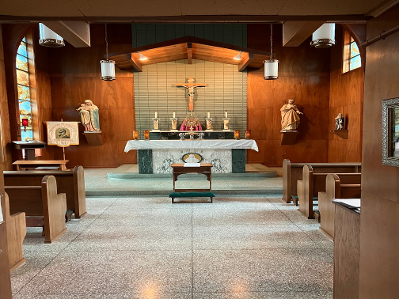 Franklin - Church of the Assumption (337-828-3869)
†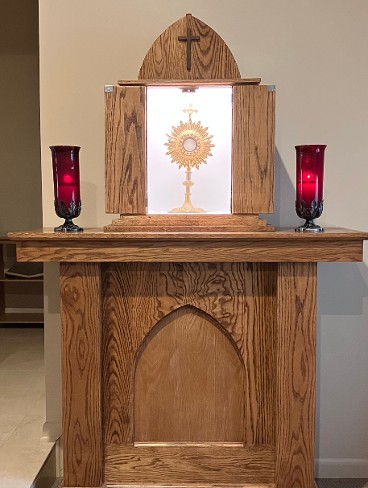 Gueydan - St. Peter the Apostle ( 337 536 9258)
†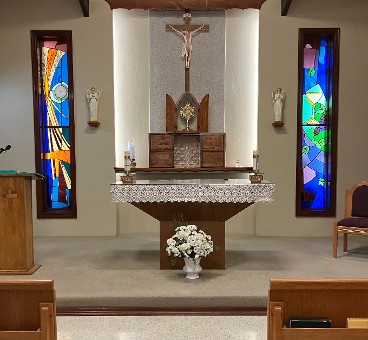 Gonzales - St. Mark Parish (225-647-8861)
†
Harahan - St. Rita Parish (504-737-2915)
†
Harvey - St. John Bosco Parish (504-340-0444)
†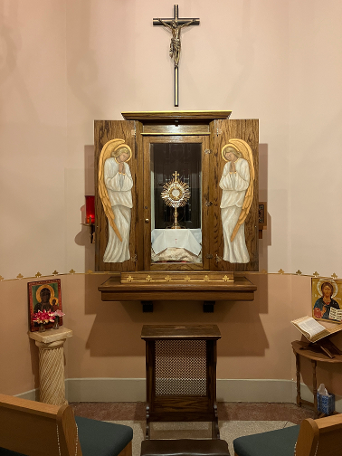 Houma - St. Francis de Sales Cathedral Parish (985-876-6904)
†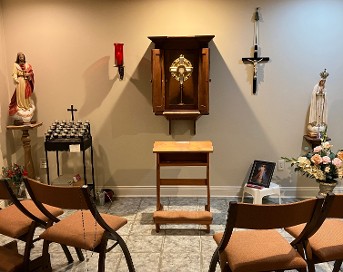 Houma - St. Anthony of Padua Parish (985-872-0922)
†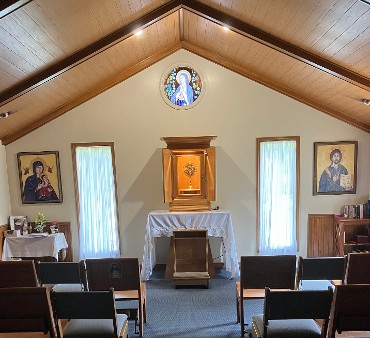 Houma - St. Bernadette Soubirous Parish (985-879-1506)
†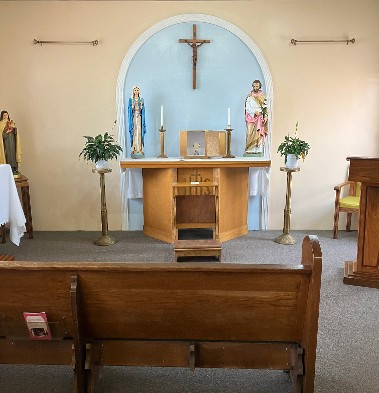 Houma - Our Lady of the Most Holy Rosary Parish (985-876-7652)
†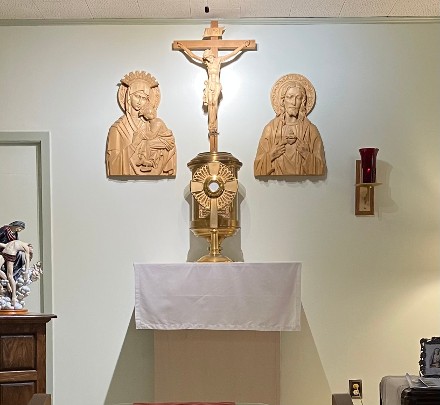 Iota - St. Joseph (337-779-2627)
†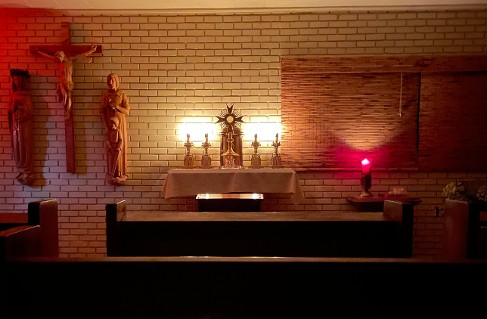 Jeanerette - St. John the Evangelist Parish (337-276-4576)
†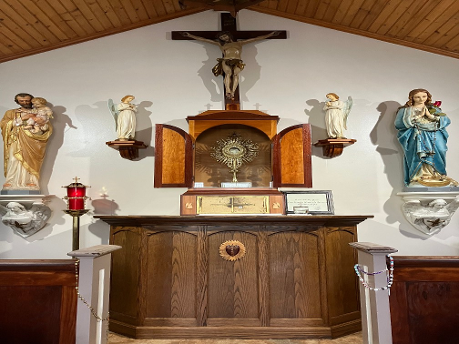 Kaplan - Our Lady of the Most Holy Rosary (337-643-6472)
†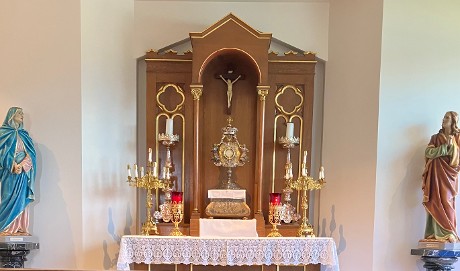 Kenner - Divine Mercy Parish (504-466-5016)
†
Kenner - Our Lady of Perpetual Help Parish (504-434-0361) (Closed)

†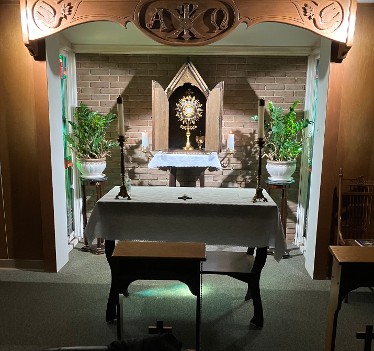 Labadieville - St. Philomena Parish (985-526-4247)
†
Lake Charles - Our Lady Queen of Heaven Parish (337-477-1236)
†
LaPlace - Ascension of Our Lord (985-652-4532)
†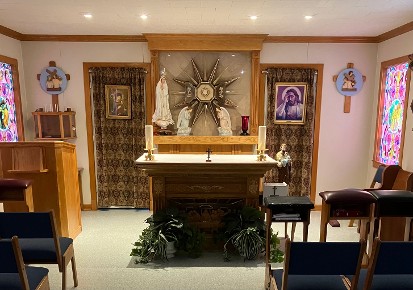 Larose - Our Lady of the Rosary Parish (985-693-3433)
†
Lockport - Holy Savior Parish (985-532-3533) (Closed)

†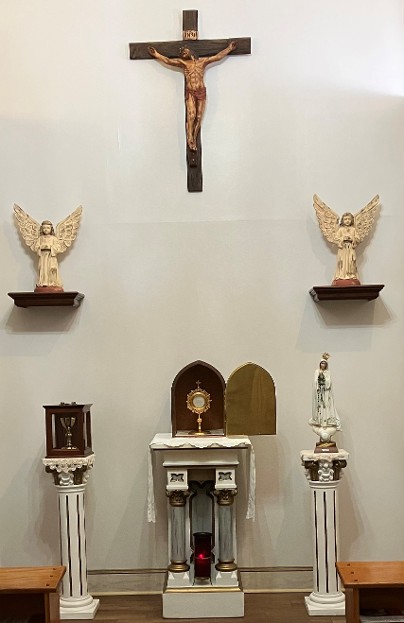 Loreauville - St. Joseph (337-229-4254)
†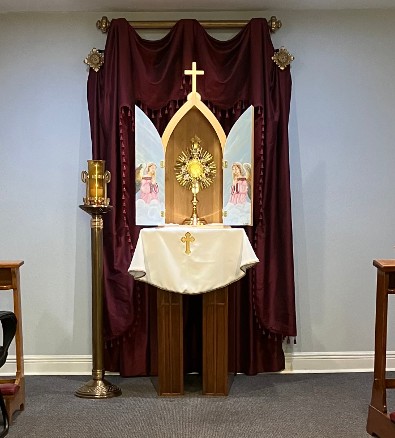 Lutcher/Gramercy - Our Lady of Prompt Succor Mission Church of Most Sacred Heart of Jesus (225-869-5324)
†
Mandeville - Our Lady of the Lake Parish (985-626-5671)
†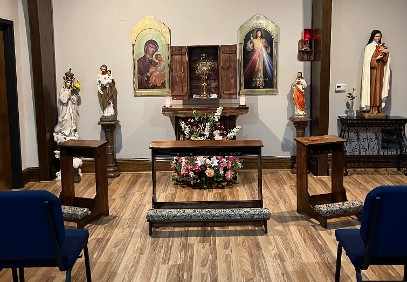 Matthews - St. Hilary Parish (985-537-6002)
†
Metairie - St. Catherine of Sienna Parish (504-835-9343)
†
Metairie - St. Clement of Rome Parish (504-887-7821)
†
Mowata - St. Lawrence (337-457-2739)
†
New Orleans - Holy Name of Jesus Parish (504-865-7430)
†
New Iberia - St. Peter (337-369-3869)
†
New Orleans - St. Dominic Parish (504- 494-4787)
†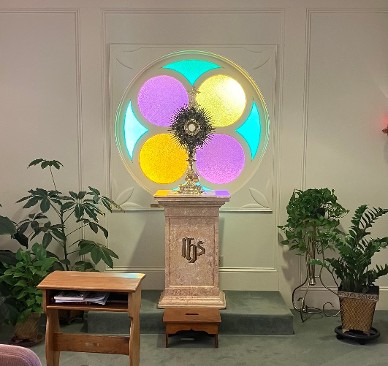 New Roads - St. Mary of False River Parish (225-638-9665)
†
Opelousas - Our Lady Queen of the Angels Parish (337-942-5628)
†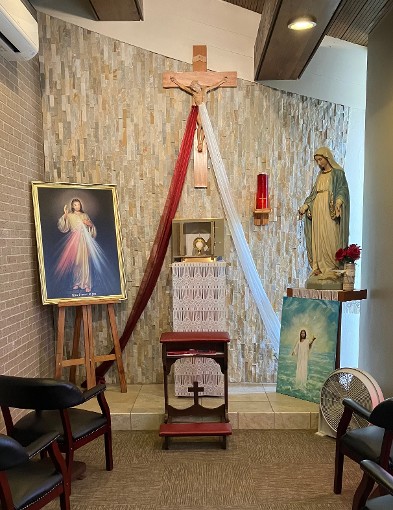 Pierre Part - St. Joseph the Worker Parish (225-252-6008)
†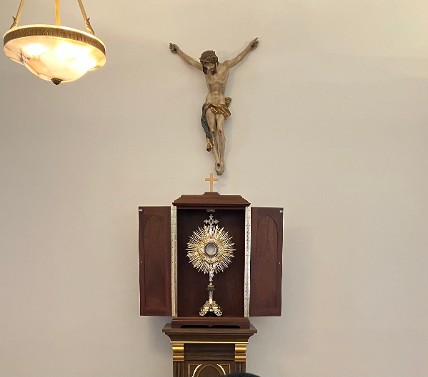 Plaquemine - St. John the Evangelist Parish (225-687-2402)
†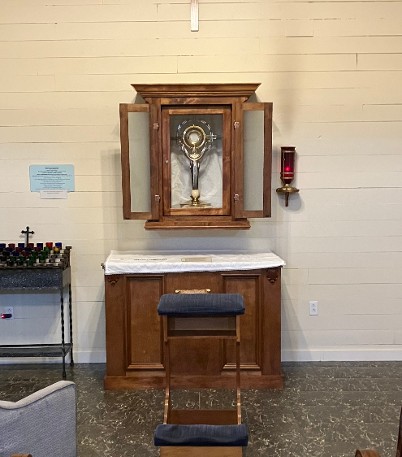 Schriever - St. Bridget Parish (985-446-6801)
†
Shreveport - St. Joseph Parish (318-865-3581)
†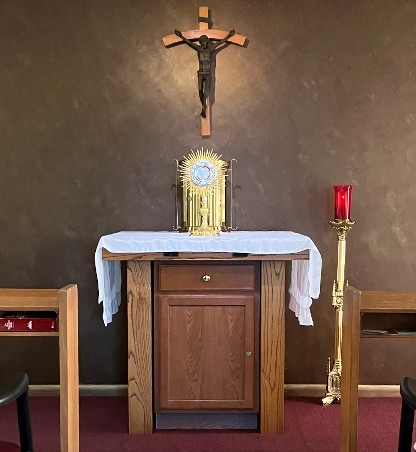 Slidell - Our Lady of Lourdes (985-643-4137)
†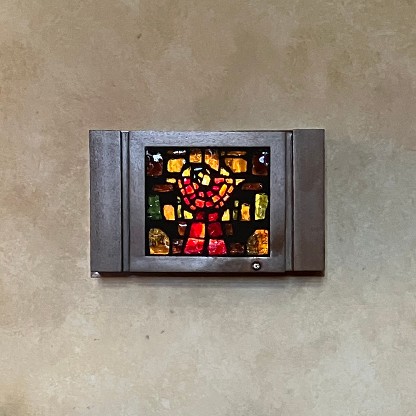 Slidell - St. Margaret Mary (985-643-6124) (Blessed Sacrament not presently exposed)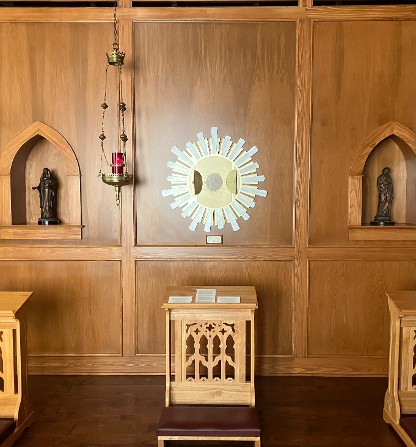 St. Amant - Holy Rosary Parish (225-647-5321)
†
St. Charles Community (985-446-6663) (Temporarily closed due to Hurricane Ida damage)

†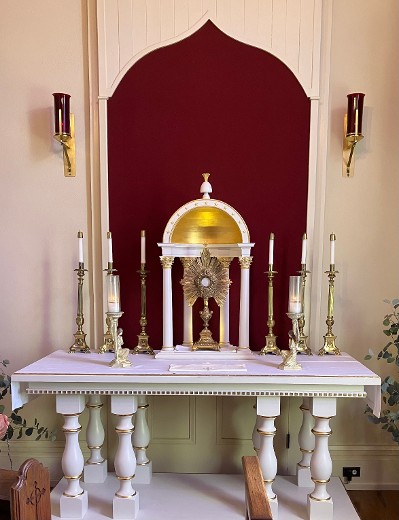 St. Martinville - St. Martin de Tours Parish (337-394-6021)
†
St. Martinville - Community of Jesus Crucified ((337-394-6550) (Private Chapel)

†
Sulphur - Our Lady of LaSalette Parish (337-527-6722)
†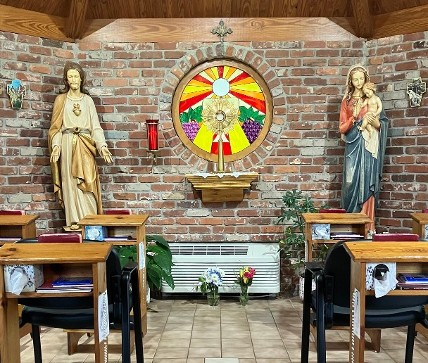 Thibodaux - Christ the Redeemer Parish (985-447-2013)
†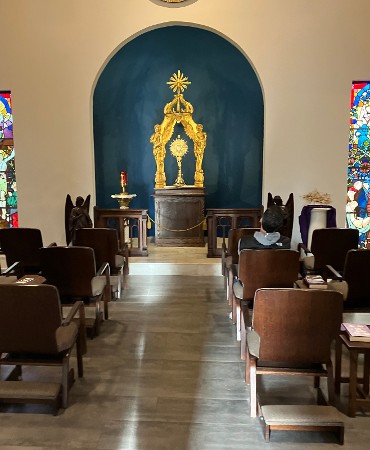 Thibodaux - St. Thomas Aquinas Parish - N.S.U. (985-446-6201)
†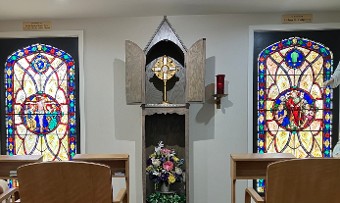 Vacherie - Our Lady of Peace Parish (225-265-3953)
For these and even more locations, click here!
THE SERPENT ... THE DRAGON ... GENERATIONS OF STRONGHOLDS ... CAN BE BROKEN BY DEVOTION TO THE EUCHARIST AND PRAYER AND FASTING...
BE A PART OF A EUCHARISTIC MOVEMENT TO BRING LIGHT BACK INTO THE DARKNESS OF GENERATIONS!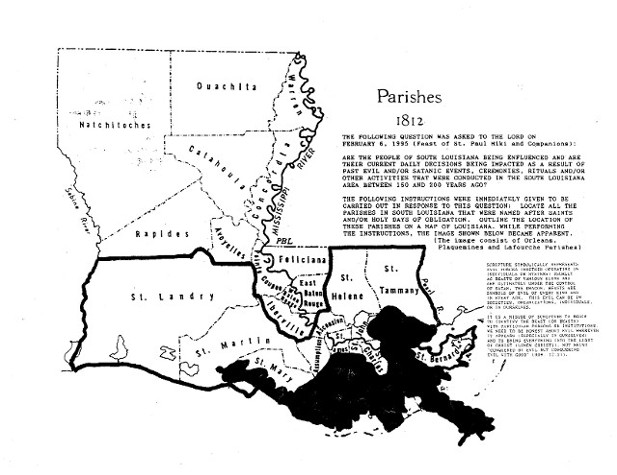 CLICK ON MAP TO KNOW MORE
I will put enmity between you and the woman, and between your offspring and hers; They will strike at your head, while you strike at their heel.
Genesis 3:15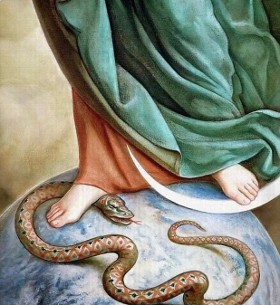 From the Archdiocese of New Orleans (the head) to the Diocese of Lake Charles (the heel) throughout the body of the serpent (Diocese of Lafayette and Diocese of Houma-Thibodaux), Our Lady's Louisiana Anawim or the Louisianawim play a unique role in the crushing of the head of satan. To see one of the Louisianawim's latest Random Acts of Faith, please scroll up to the legend on the left and visit the page in this website titled:
"Louisiana - Holy Water Blessing of America"!

Want to know more, contact: louisianawim@protonmail.com