LOUISIANA SPIRITUAL JAMBALAYA
Jambalaya is a Louisiana-born dish that has its origins in West African and Central African cuisine.
The history of jambalaya is shrouded in mystery. There is no evidence of any particular Old World dish associated with jambalaya. Jambalaya was traditionally made from whatever ingredients were handy, such as seafood, fresh meats and smoked meats.

Excerps above are from this site.
This page you are visitng lists particular "spiritual ingredients" that make up the Lousiana's "spiritual flavor".
SCROLL BELOW TO SEE SOME OF THE INGREDIENTS:
Ingredient No. 1
PUBLIC SHRINES

As Jesus continues to manifest His Eucharistic Presence and return into this dark world, Catholic homes across Louisiana are erecting shrines dedicated to Jesus and Mary and Joseph. As His presence becomes more apparent, as the invisible becomes more visible, consider placeing a shrine in your yard for the public to see. Some examples of existing shrines are: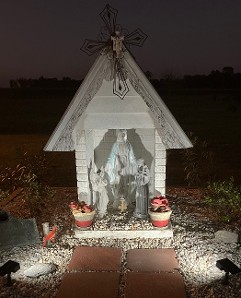 Schriever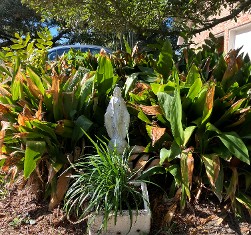 Houma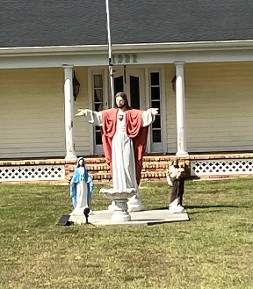 Houma
Do you have a shrine in your yard (or know of one) that you would like to have shown here, please take an image of it on your phone and text it to 985-856-5345 and/or email it to louisianawim@protonmail.com with your location in Louisiana and it will be inserted.
Ingredient No. 2

BECOME A ROSARY CAPTAIN FOR OCTOBER 2024

Thanks to the many rosary rally captains on October 14 2023, The American Tradition, Family and Property (TFP) had 22,045 Public Square Rosary Rallies nationwide and even abroad in Canada, South Africa, and Australia. These rallies answered the call for supernatural solutions to our nation's troubles, following Our Lady's Fatima requests.
Riding on the momentum from this year's rosary rallies, let us across Louisiana continue the crusade to win America for our Queen, Mary Most Holy. That is why I ask you today to become rally captain next year on October 12, 2024. Will you do that for Our Lady?
To sign up to become a rosary rally captain in your local area, click here.
To learn all about TFP and all they do, click here.