CAJUN MAN PRAISE AND WORSHIP SWAMP PILGRIMAGES
ISAIAH
13 If you refrain from trampling the sabbath, from following your own pursuits on my holy day; If you call the sabbath a delight, the LORD's holy day glorious; If you glorify it by not following your ways, seeking your own interests, or pursuing your own affairs
14 Then you shall delight in the LORD, and I will make you ride upon the heights of the earth; I will nourish you with the heritage of Jacob, your father, for the mouth of the LORD has spoken.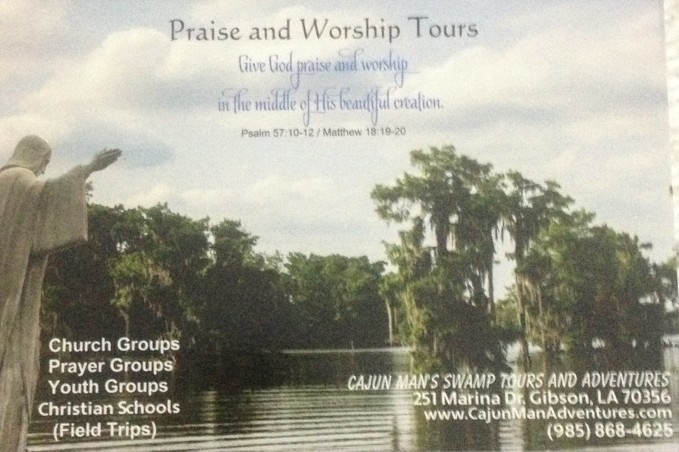 ANY CHURCH, PRIEST, SCHOOL AND/OR PRAYER GROUP CAN SPONSOR A SWAMP PILGRIMAGE ON ANY DAY TO MEET THEIR PARTICULAR NEEDS.
THE TOUR FEE IS $15.00 FEE PER PERSON AND THAT IS TO COVER TOUR EXPENSES. ANYTHING OVER $100.00 AND LOVE OFFERINGS WILL GO TO CAPT. GASTON'S LED BY THE SPIRIT HOMELESS MINISTRY BASED IN ANNUNZIATA PARISH IN HOUMA. FOR MORE INFORMATIONS ON THE PARTICULARS AS WELL AS RESERVATIONS CALL CAPTAIN GASTON! RESERVATIONS MUST BE MADE PRIOR TO SHOWING UP AT THE PHONE NUMBER 985-868-4625 OR VISIT HIS WEBSITE BY CLICKING HERE.
GENERAL INFORMATION:
Meet at Bayou Black Marina near Gibson no later than 1:30 pm on pilgrimage day. (There is a $2.00 marina parking fee for each vehicle.)
Pilgrimage leaves landing at 2:00 pm unless scheduled to meet other needs.
Pilgrimage arrive back at landing around 5:00 pm to 5:30 pm. (Exact time depends on what The Holy Spirit has to offer for the day.)
The details of what you would like to be done should be developed by you but is expected to include at least Divine Mercy Chaplet and Adoration. Add on to that anything you want to do.
Pilgrimage fee is $15.00 per head. All fee money over operating expenses as well as free will offerings will be divided between Captain Gaston's Led By the Holy Spirit Homeless Ministry based at Annunziata Parish in Houma, LA. (If you have a favorite non-profit charity you might want to be considered, let Captain Gaston know.)
Restroom facilities on boat.
Boat has sound system and music will be played while traveling.
Lite refreshments can be brought on boat.
41 passenger limit (All reservations have to be made beforehand. No last minute show-ups. Coast Guard regulations do no allow more than 41.)
Of course, any tour is subject to be cancelled or shortened due to severe weather at the time of the tour.