THIS PAGE LAST REVISED ON 03.07.2020
LOUISIANA "JUST-US" SYSTEM
ON PUBLIC TRIAL
We got our

on you!
Certain articles of interest that demostrate the bad fruit of no accountability when the court "players" know they will not be held fully accountable for their actions are linked below:
(If you know of such an article in Louisiana that is not listed, please send in the link for consideration to list it.)
Before spending time reading the linked articles, if you want to know more background on why these are listed, please visit the website page titled:
LOUISIANA - THE DARKNESS OF "JUST-US"
ARTICLES:
03.02.2020: THE ADVOCATE - Recent judge scandals prompt legislators to ask for more sunlight on judicial misconduct
https://www.theadvocate.com/baton_rouge/news/politics/legislature/article_e8b49968-5a56-11ea-b145-b71e8c9db254.html
03.02.2020: THE ADVOCATE - Under legislative pressure, Judiciary Commission mulls more confidentiality changes
https://www.theadvocate.com/baton_rouge/news/courts/article_20514310-5743-11ea-8582-37d52b7d13fe.html
02.29.2020: THE ADVOCATE - Judiciary Commission proposals 2.29.20
https://www.theadvocate.com/pdf_53dcab42-5be0-11ea-8af2-d339701a8ef2.html
02.27.2020: THE ADVOCATE - Judge resigns after racist texts, affair with top deputy; says she quit to 'stop the madness'
https://www.theadvocate.com/baton_rouge/news/communities/ascension/article_03fe9402-597c-11ea-846d-57c40c14944e.html
02.27.2020: THE OUACHITA CITIZEN - New legislation targets judges' secret investigations of misconduct
https://www.hannapub.com/ouachitacitizen/news/local_state_headlines/new-legislation-targets-judges-secret-investigations-of-misconduct/article_68c4c49c-58af-11ea-937d-0fc9f771b530.html
02.15.2020: THE ADVOCATE - Big industry got the Louisiana Supreme Court judge it wanted; can he vote on key issue?
https://www.theadvocate.com/baton_rouge/news/courts/article_1d1be89e-4f73-11ea-8c9e-ef57134f5c36.html
02.15.2020: THE ADVOCATE - Will Crain John Carmouche attack ad
https://www.theadvocate.com/pdf_f9546d02-4f7a-11ea-b54f-a3e201e8fe42.html
https://bloximages.newyork1.vip.townnews.com/theadvocate.com/content/tncms/assets/v3/editorial/f/95/f9546d02-4f7a-11ea-b54f-a3e201e8fe42/5e47220a72854.pdf.pdf
01.31.2020: THE ADVOCATE - After reportedly presiding over girlfriend's DWI case, Shreveport judge under investigation
https://www.theadvocate.com/baton_rouge/news/courts/article_547a3e20-4452-11ea-b96b-b770238b8657.html
01.11.2020: THE ADVOCATE - Rep. Sherman Mack's close relationship with judge raises concerns with House Speaker vote ahead
https://www.theadvocate.com/baton_rouge/news/politics/legislature/article_46f481c8-33c9-11ea-af44-f3185d8db15f.html
06.27.2019: THE OUCHITA CITIZEN - Supreme Court allows lawsuit against 4JDC judges, law clerk
https://www.hannapub.com/ouachitacitizen/news/local_state_headlines/supreme-court-allows-lawsuit-against-jdc-judges-law-clerk/article_379bd654-991e-11e9-8398-7b896c99aa09.html?utm_medium=social&utm_source=email&utm_campaign=user-share
TO EVIDENCE THE SIGNIFICANCE OF THE ISSUES ABOVE:
AN EXAMPLE OF HOW THINGS CAN GO BADLY IN COURT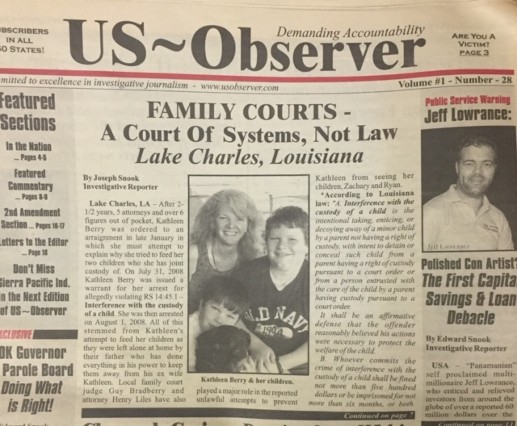 UNDATED: U.S. OBSERVER - Family Courts – A Court Of Systems, Not Law
Lake Charles, Louisiana
https://usobserver.com/family-courts-court-systems-not-law/
(There has been no link found for this paper copy of an accompanying third party article.)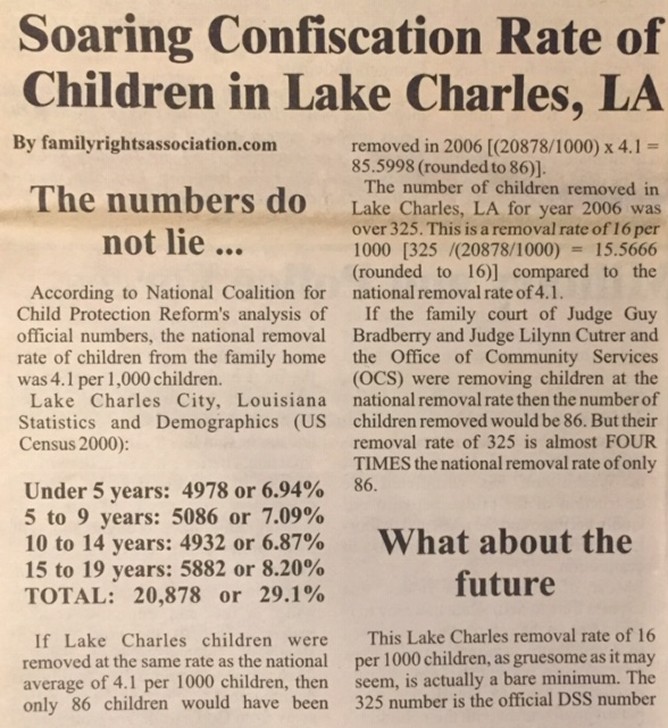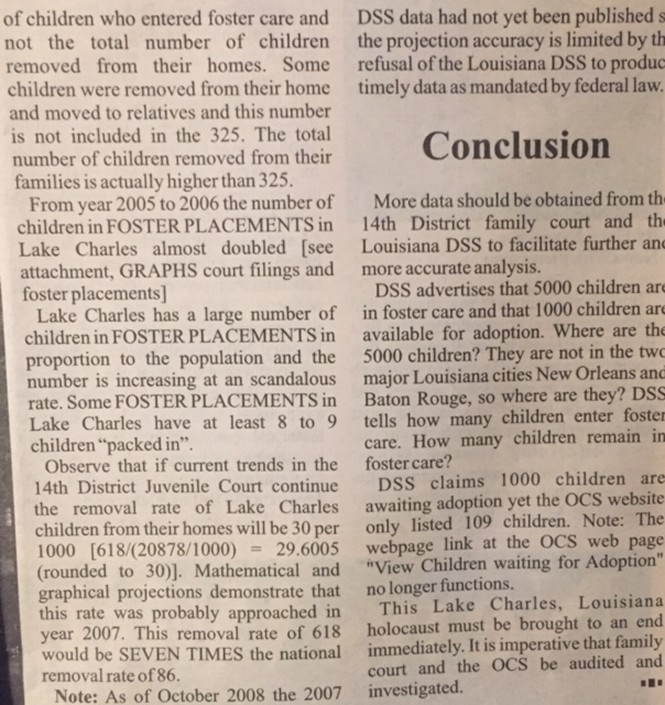 To try and be fair to Judge Guy Bradberry, please read:
https://lajudicialcollege.org/wp-content/uploads/2018/05/5aBradberryBio.pdf
Second U.S. Observer article:
https://usobserver.com/usobserver-exposes-clients-deceit/
Since deceipt by her was claimed by him, in an attempt understand how he reached that determination, Mr. Snook (with U.S. Observer) was recently contacted by this author and asked if there was ever a third article to give the now Dr. Berry a chance to rebut the claims made against her in his second article by her adversaries. To this date, there has been no response from Mr. Snook to answer that question. (Apparently, no third article either.)

Dr. Berry was also contacted by this author. She has restated that (although she attempted many times to contact Mr. Snook to try and rebut the claims in the second article), he never returned her calls to get that material information.

This courtroom collision that occurred in the mid-2000's is a reasonable example of the dynamics that can play themselves out in a Louisiana court, under certain circumstances. Judge Bradberry, with what reads to be an impeccable set of credentials and Dr. Kathleen Berry, a parent, also with an impeccable set of credentials (apparently except for the time she was in Judge Bradberry's court) and her husband all apparently collide in Lake Charles. The real victims that will hurt the longest from all this are the children - who are now no longer children!

The public (and the two sons) deserve to know what the specific dynamics were in that example action. All deserve to know in a timely manner.
With the "veiled" judicial system that is written about in many of the articles above, as well as through the pages of this website (in other matters connected to the author), the public will apparently never know the full set of dynamics that were/are in play across the courts of Louisiana.
The public deserves to know such information on each and every matter that goes before a court - either civil or criminal - in a timely manner. Total transparency! Why? At least because the public totally funds those court operations! The public deserves better!
It appears that some of the legislators in Louisiana are now trying to legislate that transparency. The unfortunate reality is that in such legislative matters, where there is typically subsequent litigation filed on such disputed issues (by the side that loses), it is ultimately and finally decided by the Louisiana Supreme Court. Although the only way to do it at this time, it seems a bit unfair based on the fact that the underlying problems, that were trying to be corrected by the legislation, was due to the actions (or inactions) of the same Louisiana Supreme Court, in the first place.
That is where the numerous articles being written can bring pressure upon the Louisiana Supreme Court to do better in its constitutionally mandated supervisory role. They at least know that certain people are reading and watching about what is going on.