The Blanchard IV Litigation
Blanchard 1986, et al, vs. Park Plantation LLC, et al
( United States District Court for the Western District of Louisiana -
Civil Action Number: 04-1864)
For the time-being, only the following information written below will be stated pertaining to this litigation. Betty Blanchard joined the author to this litigation. Apparently, it was decided by Nancy Blanchard, on the behalf of Betty Blanchard, that only through the author's being named in this litigation could it be best defended. Much more will be added later about all that.
One must understand that In the early and mid-1990's, due to other actions of certain attorneys from Louisiana to Birmingham, Alabama (that were filed against the author and others in order to financially ruin him and those other parties) the author had no money to obtain competent legal representation in this litigation to defend himself. Therefore, the Blanchard IV Litigation had to be argued pro se by this author or it would be lost by default. (That means the author represented himself in Federal Court.)
TO DIVERT FOR A FEW WORDS:
This was all made necessary because the "targets" of the Federal Grand Jury Investigation in St. Charles and Jefferson Parishes, Louisiana, that was connected to Canlan Oil Company and Andrew McCollam, Jr., that was connected to old Chevron waste in an old production barge at Bayou Villars Field, had determined that the author must be financially broke and angry and therefore discredited when he was brought before the Federal Grand Jury as a witness as to what he knew about what had been done at Bayou Villars Field.
Being mostly attorneys, the principal responsible parties simply decided numerous court actions was the best way to break him and others. Therefore, courtrooms were in fact their "playground of choice", and as will later be shown, they were well-prepared to use them to their benefit. Those actions and the parties connected to them (especially Newman Trowbridge and Andrew McCollam, Jr. [both deceased]) will be disclosed and connected with dignity on related pages. Only the facts will be presented.
The waste that was in that concrete production barge was intentionally pumped into Lake Salvador at the Bayou Villars production facility in late 1991. There was between 3,000 and 4,000 barrels involved in that dumpage into the lake. Although asked to personally perform that illegal act, the author refused to play a part in any such illegal activity and removed himself from that situation prior to the act. In addition to the concrete producton barge the author was aware of other environmental problems in the old Chevron - Barataria production area so to have acted out on the request at Bayou Villar Field would have meant to act accordingly in other old Chevron operation areas as well. After years of working in oil and gas land and operations that was a costly decision but it was the right one. The responsible parties found contractors that would in fact do what was wanted, and they did it, and they got caught in the act by Federal Agents.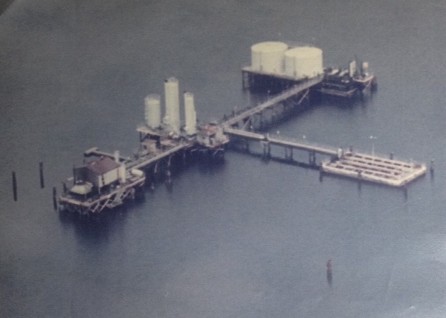 Canlan Oil Company - Bayou Villars Production Facility in Lake Salvador
(Was a Chevron, USA Production Facility)
(One should here note that in the Blanchard I Litigation the 60% ARCO share is now BP's obligation and the 40% Texaco share is now Chevron's.) Do we see a pattern beginning to develop here by large oil companies trying to transfer their old environmentally contaminated operations to smaller operators who do not have the economic means to fully remediate but the poltical connection to avoid full remediation and then move to leave the State trying to avoid full cleanup? This is exactly what has tried to get pulled off (and is trying now to be pulled off by at least Chevron in regard to its 40% share) on Betty Blanchard's property (Park Plantation) at the South Jeanerette Field in St. Mary Parish.
TO RETURN TO THE BLANCHARD IV LITIGATION:
Judge Richard T. Haik first presided over The Blanchard IV Litigation. It was always the author's position that he was always in a conflicted position due to his earlier wrong ruling in the Blanchard I Litigation. The reversal of his previous State Disrict Court decision was filed before him more than once by the author to prepare for that recusal motion to be filed. Before that motion was filed by the author, Judge Haik removed himself.
Judge Tucker Melancon and Magistrate Judge C. Michael Hill presided over the litigation in a potential conflicted way due to their earlier rulings in the Blanchard II Litigation.
Fortunately, this litigation finally ended up in front of Magistrate Judge Mildred Methvin and she prepared a Report and Recommendation that was soon accepted by Judge Tucker Melancon with no changes.
That final decision was appealed to the United States Court of Appeals for the Fifth Circuit in New Orleans. The decision was affirmed and finalized.
After that, the author began to save funds to go to Washington and argue at the U.S. Supreme Court but the filing parties did not move on that option. That final court decision should have opened the door to easily intervene into the The Blanchard III Litigation.
Unfortunately, since Betty Blanchard died on or about May 2, 2007 she did not see this final decision. She passed away extremely concerned about its outcome. That meant that the same scoundrels that tried to clandestinely take this elderly widow's minerals from her in 1995 and 1996 (that was first argued in the Blanchard I Litigation and has been not fully argued and/or adjuciated on the merits in any successive Blanchard Litigtion) were successful in taking her final peace from her on this matter as she passed away. Wrong! Wrong! Wrong! That is in part why the author will post her affidavits throughout these pages. That is exactly why she wrote them.
There will be much more to come on this in time.