The Blanchard V Litigation
(St. Mary Parish Docket No. 132659)
This is an ongoing litigation and the October 22, 2018 decision by Judge Pitman is currently being appealed to the First Circuit Court of Appeal in Baton Rouge.
It is not a complicated matter. The defendants claim it has been settled res judicata. There are no other exceptions raised by them. The defendants cite two litigations that supposedly support the defendants' sole legal position. The two litigations are:
The author was never a party to that litigation. Not being an attorney; therefore, in the author's lay opinion, Magistrate Judge C. Michael Hill's lengthy Report and Recommendation written and accepted by Judge Tucker Melancon with no changes, that has been cited by the defendants in the subject litigation, was a nice "academic" endeavor but it was not necessarily so lengthy as written.. Most importantly, Park Plantation, LLC was not even in existence during the Blanchard I litigation: therefore, it had no standing to bring the Blanchard II litigation in the first place. That is reallly all that had to be written. This subject litigation never got to the merit of the matters and therefore it never was fully adjudicated on its merits. Magistrate Judge Mildred Methvin understood that when she dismissed The Blanchard IV Litigation and the United States Court of Appeals for the Fifth Circuit in New Orleans understood that when it affirmed her decision to dismiss. The Blanchard II Litigation was not fully adjudicated on its merits.
The author was never granted a decision to be allowed to be a party to that litigation. The author tried extremely hard just to intervene in that litigation but simply failed. It took extreme actions by the court itself to procedurally interfere with his legal right to intervene. Regardless, The Blanchard III Litigation has not been fully adjuciated on its merits.
A few interesting filings:
October 22, 2018: Testimony from the Hearing before Judge Lewis Pitman.
October 29, 2018: Judgment from the hearing on October 22nd. Please note in the transcript above that there are NO ORAL REASONS ASSIGNED FOR JUDGE LEWIS PITMAN'S JUDGMENT, as the judgment stated existed.
January 30, 2019: Written Reasons for Judge Pitman's decision from the bench on October 22, 2018. Oops! At least one problem with these reasons. After waiting for approximatley three (3) months for them to be created and filed, they are not signed by Judge Lewis Pitman!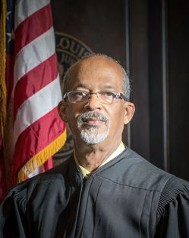 The reasons are signed by: District Judge Curtis Sigur.
The good Judge Sigur has had no known direct professional connection to (or oversight of) this subject litigation except that he somehow signed the written reasons that were allegedly relied on by Judge Pitman to make his decision in open court on October 22, 2018.
Interestly though, Judge Sigur IS seriously and unknowingly personally connected to what has been and is trying to be addressed by the series of Blanchard litigations that reach as far back as 1986. Born on December 8, 1957, he was reared in the Glencoe/Four Corners area of St. Mary Parish. ARCO was operating in the South Jeanerette Field at that time.
Remember, in some of the other website pages you were introduced to the small Four Corners Community. According to his district bio, he actually comes from an area being potentially affected by the environmental contamination from the Blanchard Tract and the larger South Jeanerette Field as a result of ARCO's past operations in St. Mary Parish. It has long been known and even documented that this community area has been impacted by a potential complex mix of environmental issues. For at least 33 years there has been obstruction by the "just-us" system and the State's regulatory agencies to fully remediate Park Plantation and South Jeanerette Field - one potential source and very serious one. It is highly possible that environmental contamination from South Jeanerette Field extends southerly to Four Corners toward Glencoe and further on to the south. If that is ever proven, fully assessed and remediated, it does not appear that it will be because our environmental regulators and/or the courts have sought the remedy on behalf of the public.
Please see these recent letters written by an environmental professional on behalf of Park Plantation, LLC and/or Nancy Blanchard:
Letter from Austin Arabie dated May 5, 2016 on environmental matters
Letter from Austin Arabie dated October 19, 2016 on environmental matters
Letter from Austin Arabie dated April 5, 2017 on environmental matters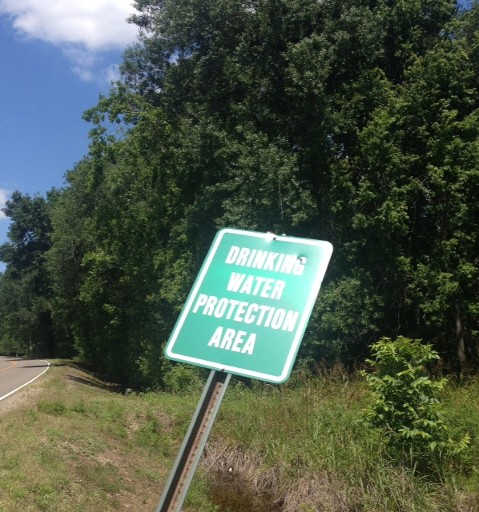 Sign located on Hwy 318 just southerly of Four Corners, LA in 2017 (not there now)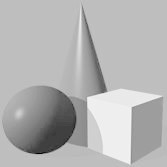 Dispite the recent environmental letters from Mr. Austin Arabie to the Office of Conservation and the environmental actions cited in the servitude between Park Plantation, LLC and the United States of America dated December 14, 2015 and files within the LDEQ and that Four Corners was publicly marked as a "DRINKING WATER PROTECTION AREA" in 2017, remember, in 1988 the influence and power of the defendants was able to get a representative of the Office of Conservation to attest to what was later proven to be an absolutely false affidavit regarding the environmental conditions of Park Plantation. Later, additional representive(s) were put on the stand in open court to support this false affidavit and the perception of restoration. The false affidavit and testimony was/were used in The Blanchard I Litigation to the benefit of the defendants and to the detriment of all others. That was just the beginning!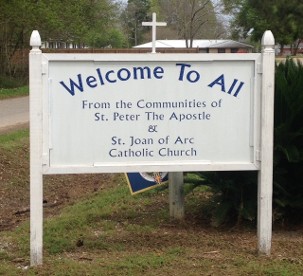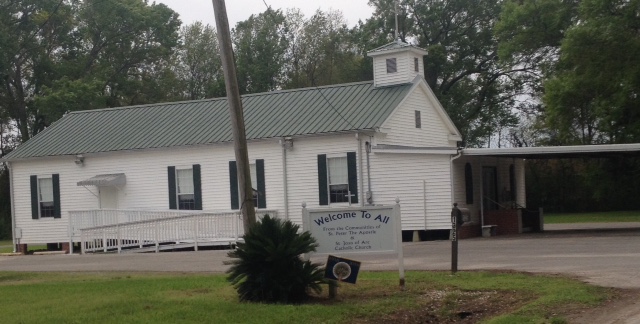 Additionally, Judge Sigur apparently attends St. Peter the Apostle Catholic Church in Four Corners. I have personally been to Mass at St. Peter's Catholic Church many times over the years. It is a praying, faith-filled and welcoming community of good people trying to sustain a shrinking rural community. I do not remember seeing Judge Sigur when I attended but certainly the area around his childhood home and church community deserve better efforts to protect the public from has been going on (and/or what not has been going on) just three or four miles northerly of them for so many years. Remember the 2004 Times Picayune article.
Public fishing, crawfishing, etc. from Bayou Choupique and southerly has been a common sight in that area over the years by the author. Not even signs to warn anyone about the mercury and sediment and mercury issues evidenced since 1995 and still there in plain sight in 2003 were erected. That would have been so easy to do except for...then the public would know! The absence of warning signs, if not legally wrong, certainly is morally wrong. This failure of the State's regulatory agencies to act in a prudent and timely manner on behalf of the public is directly adverse to the expressed intent of the Louisiana State Constitution and why these agencies were created in the first place. In 2008 Bill Schramm wrote the author that to the best of his recollection only 12 locations had been remediated as of that date. What about this? Has the total number of mercury meter locations in the South Jeanerette Field ever been voluntarily located and determined whether mercury is underneath them. If so, that should be made public, if not already.
Note: Based on at least Nancy Blanchard's and/or Austin Arabie's numerous letters to the Office of Conservation over many years and the ongoing compliance orders etc. and the 2004 news article's mentioning of the E.P.A. - Environmental Justice Advisory Council's interest in Four Corners, LA, it is the author's opinion, that the roughly $750,000 that was apparently paid to Park Plantation, LLC for some sort of perpetual servitude, would have been spent much better directed toward the environmental assessment and protection of the Four Corners, Glencoe areas as well as the other lands in the South Jeanerette Field. Also, if public funds are in any manner involved with that servitude, considering the environmental history of Park Plantation, Paragraph C. of Part VI (General Provisions). of the servitude is of particular interest.
So, no oral reasons assigned in court (as they said they were) and the written reasons are signed by the wrong district judge. I am sure the court will laugh a little and come up with some shallow excuse why this all happened but one cannot "unring a bell that has already been rung". The truth will be revealed over time.
An invitation is hereby being offered by the author to anyone to submit a truthful and/or reasonable and/or even an in part believable explanation of why reasons pondered over for approximately three (3) months by one district judge was ultimately typed by the secretary of and signed by a different district judge in the wrong division office. If these matters were not so serious, they would make a great comical fiction story. The former judge that presided over the Paul Maclean vs. G. Tim Alexander, III, et al, Judge Anne Simon should take note.
If this clearly wrong decision can get reversed and remanded back to St. Mary Parish for trial, I would expect there will be some very interesting forensic studies of the material filings and enlightening depositions will follow. Or, in the alternative, possibly a party or entity with real authority to act, and who cares, will lay eyes on some of the information revealed in these pages, take an interest in the wrongdoings effected upon the public by others, and step in and take over this matter to afford a full resolution of all matters for the common good of the public.
And so, the "machine" rolls on trying to keep these years of activities covered up. From removing material words from hearing transcripts in the Paul Maclean vs. G. Tim Alexander, III, et al Litigation in St. Mary Parish to the disappearance of entire court records in The Blanchard III Litigation in Jefferson Parish. Just doing whatever it takes to keep the facts surpressed. All of us are impacted when such things happen. Some more than others but we all are. Judge Sigur is just one good and recent example. Just sitting in his role doing the job he was voted to do in his division and all of a sudden he is personally involved. What happened there?
Who will be the first one to pull their proverbial finger out of the information dike that is holding back the truth. Who will be the first one to pull out the first card that will make this "house of cards" come tumbling down on the numerous wrongdoers that have been in the web for so many years. When that happens many will be held accountable. We shall see but I sense that time is getting close.
Now, the author is currently waiting for an appeal record to be produced by the St. Mary Parish Clerk of Court's office. As was pro se argued all the way to the Louisiana Supreme Court in 2003 in the litigation titled: Paul Maclean vs. G. Tim Alexander, III, et al, it is hoped that this record will be full, complete and accurate - even if unusual.