Been here before? Looking for the latest? Scroll down to:
"News Flash!"
The Blanchard V Litigation
(St. Mary Parish Docket No. 132659)
PAUL MACLEAN
VS.
BP/ARCO;
CHEVRON USA HOLDING, INC;
TEXACO EXPLORATION AND PRODUCTION COMPANY;
MARATHON OIL COMPANY;
TORTUGA OPERATING COMPANY;
TORTUGA INTERESTS, INC;
BLANCHARD 1986 LTD;
JOHN E. HINE; AND
PETER L. TURBETT :
This is an ongoing litigation that was filed by the author in July of 2018. The October 22, 2018 decision by Judge Lewis Pitman against the author is currently being appealed to the First Circuit Court of Appeal in Baton Rouge.
This latest Blanchard litigation is not a complicated filing. In fact, it is quite simple.
The defendants have argued that the issues raised by the plaintiff have been already been settled res judicata. There are no other exceptions raised by the defendants. The defendants cite two Blanchard litigations that supposedly support the defendants' sole exception.
Of course, the plaintiff/author takes issue with the defendants' legal position. The plaintiff argues, that the the merits of this litigation have never been adjucated in any court, and if they were/are ever fully adjudicated in a fair court, the weak "house of cards" that has been built during the Blanchard and Blanchard-related litigations over the last 33 years will fall and the purported 1996 settlement agreement that purportedly settled The Blanchard I Litigation in 1996 will be found to be void ab initio (void from the beginning) and that absolutely null agreement will be set aside.
The two litigations cited by the defendants in their res judicata argument are:
The Blanchard II Litigation
The author was never a party to that litigation. Not being an attorney, in the author's lay opinion, Magistrate Judge C. Michael Hill's lengthy July, 2002 Report and Recommendation that was accepted by Judge Tucker Melancon with no changes, that is now being cited by the defendants in The Blanchard V Litigation, was simply a lengthy "academic" endeavor - that did not need to be so lengthy in its presentation. Park Plantation, LLC (the plaintiff) was not even in existence during the Blanchard I litigation: therefore, it had no standing whatsoever to bring the Blanchard II litigation, in the first place. That is really all that had to be written by Magistrate Judge Hill. Instead he bloviated on all matters convoluting a very simple matter. This subject litigation never got to the merit of the matters and therefore it never was fully adjudicated on its merits. This litigation fails the test for res judicata.
Magistrate Judge Mildred Methvin understood that when she wrote her 2007 report and recommendation to dismiss the The Blanchard IV Litigation. Judge Tucker Melancon accepted her report and recommendation with no changes and dismissed The Blanchard IV Litigation. The United States Court of Appeals for the Fifth Circuit in New Orleans also understood that when it affirmed the her decision to dismiss. The Blanchard II Litigation was not fully adjudicated on its merits. This litigation fails the test for res judicata.

The Blanchard III Litigation
After a favorable decision by Magistrate Judge Mildred Methvin and a favorable decision in Jefferson Parish by Judge Stephen Windhorst, the author appropriately attempted to intervene in The Blanchard III Litigation but failed in that effort. It took extreme actions by the court to interfere with and halt the author's legal right to intervene. The court put its heavy finger on the scale of justice.
Regardless, for other facts as well, The Blanchard III Litigation has not been fully adjucated on its merits. You can read more about it by clicking on The Blanchard III Litigation page on the legend on the left.
To support the position that the issues has never been fully adjudicated in The Blanchard III Litigation, there are and were additional Interrogatories and Production of Documents to Defendants filed in The Blanchard III Litigation on November 15, 2018 by the plaintiff. If parties are still making filings, there is no way the Blanchard III has been fully adjudicated.

This litigation as well fails the test for res judicata.
Back to real time. A few filings of interest in The Blanchard V Litigation:
October 22, 2018: Testimony from the Hearing before Judge Lewis Pitman.
October 29, 2018: Judgment - Please note in the transcript above that there are NO ORAL REASONS ASSIGNED FOR JUDGE LEWIS PITMAN'S JUDGMENT, as the judgment stated existed.
January 30, 2019: Written Reasons for Judge Pitman's decision from the bench on October 22, 2018. A couple of problems with these written reasons! First, they were not assigned in open court on October 22, 2018, as the judgment stated they were, and secondly, after waiting for approximately three (3) months for them to be considered, written and filed, the final product is not signed by Judge Lewis Pitman! Oops! A little error by someone!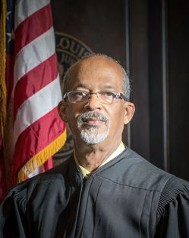 The reasons are signed by: District Judge Curtis Sigur.
The good Judge Sigur has had no known direct professional connection to (or oversight of) this subject litigation except that he somehow wrongly signed the written reasons that were allegedly relied on by Judge Pitman to render his decision in open court on October 22, 2018.
Interestly though, Judge Sigur IS seriously and unknowingly personally connected to what has been going on for years, and what has been tried to be addressed by the series of Blanchard and Blanchard-related litigations that have reached back in time as far back as 1986. Funny how things can be.
Born on December 8, 1957, Judge Sigur was reared in the Glencoe/Four Corners area of St. Mary Parish. ARCO was operating in the South Jeanerette Field just northerly of there at that time. These areas are being potentially environmentally impacted by the public hazards generated by those operations. These public hazards are in part what the Blanchard litigations are about.

Remember, in some of the other website pages you were more introduced to the small Four Corners Community. According to his judicial district bio, he actually comes from the area being potentially affected by the environmental contamination from the Blanchard Tract and the larger South Jeanerette Field, as a result of ARCO's past operations in this area of St. Mary Parish. It has long been known and even documented that this general community area has been impacted by a potential complex mix of environmental issues. There was E.P.A. testimony about that.

For at least 33 years there has been obstruction by the "just-us" system and the State's regulatory agencies to fully remediate Park Plantation and South Jeanerette Field - one potential source across Louisiana and a very serious one. It is highly possible (and indeed likely) that the documented environmental contamination (including ground water) from South Jeanerette Field extends southerly to Four Corners toward Glencoe and further on to the south. If that is ever fully assessed, proven and ultimately remediated, it will not be because State environmental regulators and/or the courts have sought the remedy on behalf of the public. They have in fact hindered such efforts to the benefit of the defendants and adverse to the public good.

Please see these recent letters written by an environmental professional on behalf of Park Plantation, LLC and/or Nancy Blanchard. These letters written thirty (30) years after the existence of contamination (public hazards) was/were first brought to ARCO and Texaco, et al and the State of Louisiana:
Letter from Austin Arabie dated May 5, 2016 on environmental matters
Letter from Austin Arabie dated October 19, 2016 on environmental matters
Letter from Austin Arabie dated April 5, 2017 on environmental matters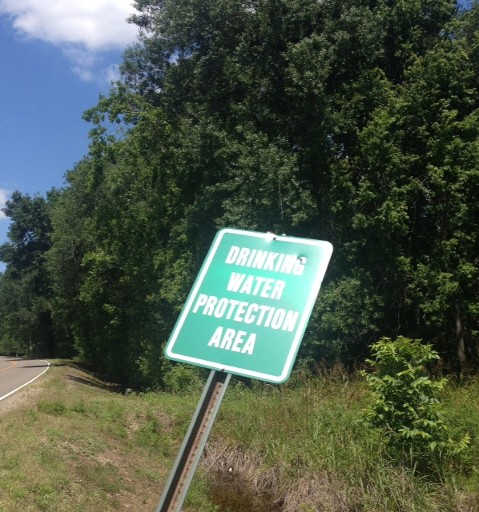 Sign located on Hwy 318 just southerly of Four Corners, LA in 2017 (not there now)
After you read the recent environmental letters from Mr. Austin Arabie to the Office of Conservation, and consider the numerous other files within the Louisiana Office of Conservation and the LDEQ, and that Four Corners was publicly marked as a "DRINKING WATER PROTECTION AREA" in 2017, further consider that in 1988 the influence and power of these same defendants was so strong that it was able to get a representative of the Louisiana Office of Conservation to falsely attest to what was later proven to be an absolutely false affidavit regarding the environmental conditions of Park Plantation. The affidavit was a total sham. Unbelievably, after the false affidavit was filed in The Blanchard I Litigation, other Louisiana Office of Conservation representive(s) were put on the stand to testify in open court to support this false affidavit and the perception of no public hazards. Their sworn statements were untrue! The false affidavit and testimony was/were used in The Blanchard I Litigation to the benefit of the defendants and to the detriment of all others. Potentially, mostly the small rural communities southerly of the subject lands.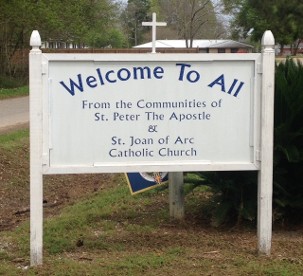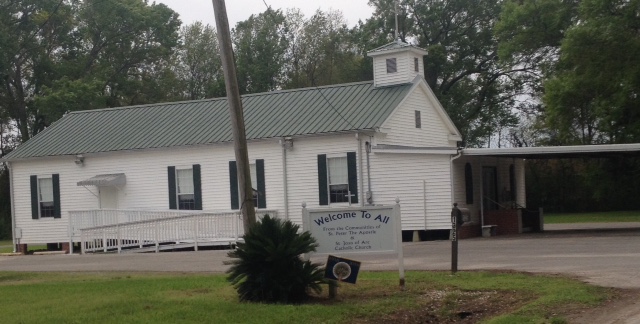 Additionally, Judge Sigur apparently attends St. Peter the Apostle Catholic Church in Four Corners. I have personally been to Mass at St. Peter's Catholic Church many times over the years. It is a praying, faith-filled and welcoming rural community of good people trying to sustain a shrinking rural community.
I do not remember seeing Judge Sigur when I attended but certainly the area around his childhood home and church community deserve better efforts to protect them from has been going on (and/or what not has been going on) just three or four miles northerly of them for so many years. Remember the 2004 Times Picayune article.
Public fishing, crawfishing, etc. from Bayou Choupique and the southerly waterway has been a common sight in that area over the years. Not even signs were erected to warn anyone about the mercury and sediment and mercury issues evidenced since 1995 and that mercury was still sitting on the ground in 2003 and were known to State regulators. That would have been so easy to do except for...then the general public would know! The absence of warning signs, if not legally wrong, certainly is morally wrong.
This failure of the State's regulatory agencies to act in a prudent and timely manner on behalf of the public is directly adverse to the expressed intent of the Louisiana State Constitution and why these agencies were created in the first place. To realize that State regulators are in control of such remediation matters is alarming.
In 2008 Bill Schramm wrote the author that to the best of his recollection only 12 mercury meter locations had been remediated as of that date. Has the total number of mercury meter locations in the South Jeanerette Field ever been fully located and has it ever been determined whether mercury is underneath all of those locations? South Jeanerette Field has but a few locations of what might be out there across Louisiana. If so, that finding should be made public to be viewed. If not, that should be demanded by the appropriate party.

Note: Based on at least Nancy Blanchard's and/or Austin Arabie's numerous letters to the Office of Conservation over many years and the ongoing compliance orders etc. and the above mentioned 2004 news article's mentioning of the E.P.A. - Environmental Justice Advisory Council's interest in Four Corners, LA, it is the author's opinion, that the roughly $750,000 that was apparently paid to Park Plantation, LLC for some sort of perpetual servitude, would have been been much better spent directed toward the environmental assessment and protection of the Four Corners and Glencoe areas as well as the other lands that are in the South Jeanerette Field. Also, if public funds are in any manner involved with that servitude, considering the environmental history of Park Plantation, for so many years, the verbiage in Paragraph C. of Part VI (General Provisions). of the servitude is of particular interest.
So, no oral reasons assigned in court (as the judgment said they were) and the written reasons relied on for the judgment are signed by the wrong district judge. When told what has been done, I am sure the court will jest a little and come up with some shallow excuse why this all happened. But, one cannot "unring a bell that has already been rung". The truth about what really happened will be revealed over time. This record irregulatory is particularly troubling to the author due to the two other acts of court public record tampering experienced in the past Blanchard-related litigations having pages on this website.

An invitation is hereby being offered by the author to anyone to submit a truthful and/or a reasonable and/or even an in part believable explanation of why the reasons pondered-over for approximately three (3) months by one district judge was ultimately typed by the secretary of and signed by a different district judge in the wrong division office ... a judge that had no judicial connection at all to the matter! If these matters were not so serious, they would make a great fictional story. The former judge that presided over the litigation titled: Paul Maclean vs. G. Tim Alexander, III, et al, Judge Anne Simon should take note of a possible future story.

If this clearly wrong decision can get reversed and remanded back to St. Mary Parish for a real trial on its merits, I would expect there will be some very interesting forensic studies of the material filings and enlightening depositions will subsequently follow. Some questions needs to be asked and answered.

Or, as an alternative, a party or entity with real authority and the courage to act against such wrongdoings will lay eyes on some of the information revealed in these web pages. Maybe such a party will take an interest in the wrongdoings effected upon the public by others and will step in and afford a full resolution of all matters for the common good.
And so, the "machine" rolls on trying to keep these years of activities covered up. From removing material words from hearing transcripts in the Paul Maclean vs. G. Tim Alexander, III, et al Litigation in St. Mary Parish to the disappearance of entire court records in The Blanchard III Litigation in Jefferson Parish, it is all a legal disgrace. No respect for the rule of law. Parties just doing whatever it takes to keep the facts surpressed. The court itself putting a finger on the scales of justice. All of us are impacted when such things happen. Some more than others. Judge Sigur is just one good and recent example of an innocent party that has been impacted by the bad intentions of others. There he was, just sitting in his judicial role doing the job he was voted in to do in his district division and all of a sudden he somehow is involved.

Who will be the first one to pull their proverbial finger out of the information dike that is holding back the truth of all this. Who will be the first one to pull out the first card that will make this "house of cards" come tumbling down on the numerous wrongdoers that have acted badly over so many years. When that happens many will be held accountable. We shall see but I do sense that time is getting closer.
The author has been waiting for months for an appeal record to be produced by the St. Mary Parish Clerk of Court's office. We shall see what that record contains when lodged. What will be in the record and what might not be.

As was pro se argued by the author all the way to the Louisiana Supreme Court in 2003 in the litigation titled: Paul Maclean vs. G. Tim Alexander, III, et al it is hoped that this present record will be full, complete and accurate - eventhough it is quite unusual. As always, the author still believes the court has a greater obligation to deliver a full, complete and accurate record than the author has an obligation to pay for anything less. We shall see what sort of record the author's money has paid for.

There is a new set of events playing themselves out at the First Circuit of the Louisiana Supreme Court. Waiting to see how that turns out before adding it to this page. Would like to add just facts.

NEWS FLASH!
Recently, one of the many viewers/commentors (who keeps up with the unusual and extreme court antics that have [and are] going on around the Blanchard litigations that are published on this website), sent a June 26, 2019 decision by the Louisiana Supreme Court (LSC) concerning an unrelated legal matter that has apparently been ongoing in North Louisiana for years. An interesting decision, in deed!

As a viewer, if you have taken the time to read some of this website's pages, concerning the Blanchard legal actions that have spanned the last 33 years in St. Mary Parish and elsewhere, you will probably understand how this recent decision in North Louisiana is potentially very meaningful in many ways in connection to an underlying issue that has plagued the Blanchard litigations and its collateral actions. The issue is public records that have been tampered with.

Note: I know from discussions with others over the years, this particular underlying issue has also been of concern to many other parties to litigations - both civil and criminal. Not being an attorney, an attempt will now be made to expand on a recent development that impacts this issue in a way that is limited to my skill set.

The issue in bad play is the underlying obligation of the court to provide a true and complete court record of all actions within and during court proceedings. As one can see from reading this page thoroughly from the beginning, public record irregularities have become a part of this current litigation as well - in a very strange and unusual way (written reasons for a judgment signed by a judge that has nothing to legally do with the litigation). This sort of thing is not an unusual happening in the Blanchard series of litigations. If fact, it is getting to be expected.
In regard to the Blanchard series of litigations, lawyers of the court have from the beginning protected other lawyers of the court from being held accountable for their wrongful actions while being lawyers. As you can read on other pages of this website, many of those lawyers were/are quite influential.
It is believed by the author that the Attorney Code of Professional Conduct purports to not support such activity by lawyers. Since 1999 there have been many disciplinary complaints filed by this author against judges and lawyers not only in the Blanchard series of litigation but in other litigations connected to it because certain members of the bar were intertwined in each. Of course, all with no discipline!
In one particular complaint, after following all required appeals and receiving no serious consideration, the matter was removed from the Office of the Disciplinary Counsel and brought directly to the LSC for discipline. Of course, no discipline! In that complaint, to have disciplined the attorney would have been to move inconsistently with denial of the writ by the LSC in the Paul Maclean vs. G. Tim Alexander, III, et al litigation (written about in other pages of this website). To have acted justly in either one would have meant that the LSC would have had to act justly on the other action. The simple answer against a pro se non attorney ... just deny both with no reason for judgment. (Remember, displinary complaints are not open to the public and the writ was withheld from public view.)
The level of "protectionism" experienced by the author has gone way past what anyone would ever had expected 33 years ago. That is only because the author is still alive. That "protectionism" actually extended over into court record tampering in 2001. The fox has been watching the hen house for at least 16 years in the Blanchard - connected litigations. This recent decision in North Louisiana has turned the light directly on a court record issue that has been contested by this author since 2001.

To see the article written about this 2019 LSC decision, click here.
Or, to see a pdf of that article about this 2019 LSC decision, click here.
For the actual 2019 LSC decision and its opinions, click here.
The decision and its opinions that were just rendered on June 26, 2019 by the current justices of the LSC go to evidence the present court's strong and correct position as to the extreme importance of having true and complete court records. This present LSC apparently seems to rightly take that foundational requirement very seriously. So seriously in-fact that it has actually opened the door for individuals to sue judges that might knowingly not act appropriately to the issue of having less than true and complete court records, if that can be adequately proven by the claimant.

The absence of (but the need for) true and complete court records is a position that this author has repeatedly (but unsuccessfully) pled pro se in numerous State court venues from 2001 through 2003 and then later again unsuccessfully pled in 2014 in Jefferson Parish (through an attorney). This present LSC can now legitimately claim to be more credible and acting more in accordance with the State Constitution by this latest decision. Previously, to the detriment of the author of this website, the court through its various judges in District Courts and Courts of Appeal and even to the justices of the LSC (during the relevant time periods stated), rendered judgments that did not simularly require true and complete court records.
As a result, at least three underlying questions must be instantly posed for consideration:
1. What laws have changed since 2003 that bear upon this different standard of producing and maintaining true and complete court records?
2. Why did the 2003 (and later) court(s) not have the same need of (and therefore move to) produce true and complete court records (in at least the author's litigations), just as the court now deems is lawfully required as of June 26, 2019 in that litigation?
3. Prior to June 26, 2019, how many other litigations (and in which litigations [civil and criminal]) did the court use the lower standard for providing true and complete court records?
As normal, answers/comments to those questions are welcomed and expected.

In the author's litigations, the author has never denied paying for a true and complete court record. Since 2001, it has always been the author's position that the court's obligation to deliver a true and complete court record is greater than is the appellant's obligation to pay for a incorrect court record that is not true and complete. The author's position was sufficiently and repeatedly pled with affidavits of evidence, in multiple court venues, in front of numerous intelligent men and women of the bar. If anyone with authority would have cared at all about the underlying requirement to preserve a true and complete court record, it could have been rapidly dealt with. But, no one did. The author has waited and prayed for 16 years for the decision of the type that has just been rendered by the current LSC. Justices go and come...courts change. The personality of courts change. Apparently, this current LSC is acting more lawfully. At least in that North Louisiana litigation.

For the author's/appellant's pro se writ filing to the LSC in 2003, click here.
For the LSC's 2003 decision to that writ filing, click here.
(Want to see some "hide and seek" or should I say "dodge and weave" by the LSC to withhold such an aggregious decision against the author from public view and comment in 2003? Look for that decision in the LSC press releases for that day in 2003. See if you can find IT on September 5, 2003! If you do, please advise.)

Over time, it will be interesting to investige and study how many of the current justices of the LSC were in their "black-robed" positions during the Blanchard III Litigation and the Paul Maclean vs. G. Tim Alexander, III, et al actions when the LSC failed to protect and provide true and complete court records for those litigations. It would also be interesting to see if those justices should not receive immunity for their failure at the time. Whether those litigations would have ultimately succeeded or failed on their own merits is not the first issue to be considered, the first issue is that the plaintiff / intervenor deserved to have true and complete court records from which to argue those merits at the time, whatever those merits were.
To borrow some descriptive verbiage from the recent 2019 decision, it appears that the 2003 court system did not have the same level of concern over whether the court records were "spoliated, concealed, removed, destroyed, shredded, withheld, and/or improperly 'handled' (the author will add to that list of unlawful actions toward the record, "had material verbiage removed therefrom".) Based on the 2019 decision, It appears to the author, more than ever, that since 2003 he has been unlawfully subjected to a selective "just-us" system.
This author is likely not the only one. Should the 2003 court receive immunity for their failures? Again, should the 2014/2015 judges/justices that learned through filings in the Blanchard III Litigation the entire court record was "removed, destroyed, withheld and/or improperly 'handled' " be granted immunity? (The deputy clerks said it just disappeared) the author and his attorney (listened to the deputy clerks say it just disappeared).

After considering all the above and in light of all the above, it is highly likely that certain surfaces and groundwater and/or subsurface water remains not fully environmentally restored in part because of this "just-us" system that has greatly benefitted the responsible parties and not the general public. If one looks at the recent ongoings in St. Mary Parish in this litigation, it would appear to any reasonable person that "protectionism" appears to be alive and well in St. Mary Parish.
Despite what Nancy Blanchard, as Manager, may claim in the December, 2015 WARRANTY EASEMENT DEED IN PERPETUITY that she has "no actual knowledge of a release or threatened release of Hazardous Materials, on, beneath, near or from the Easement Area" while receiving over and at least $750,000.00, it is highly likely that the contamination clearly evidenced for numerous years by her and her attorneys and experts extends off site onto surrounding lands and possibly southerly into the Four Corners and Glencoe areas of St. Mary Parish. Mercury from manometers is not a non-hazardous oilfield waste (NOW). It is a hazardous waste with great penalties for unpermitted storage on a tract of land. Clicking on links from this page supports this hypothesis. The common good demands that the public be protected.
When it comes to "spoliated, concealed, removed, destroyed, shredded, withheld, and/or improperly 'handled' " public records, of equal concern are the numerous criminal cases that may have been impacted by such court records that are less than true and complete. Were certain words ever inserted or removed to obtain a certain outcome? A serious question: Are individuals sitting in jail or prison today after being tried with such records. Again, the common good demands that the be public be protected.

There will be much more written about all this as the author studies the various opinions of the recent decision in North Louisiana and receives more comments from readers of this website. The author welcomes other investigators to assist in this effort.

This page last revised on 07.07.2019