Paul Maclean vs. G. Tim Alexander, III, et al
(St. Mary Parish Docket No. 103,096)
Plaintiff, Paul Maclean
Plaintiff's attorney: Gregory J. Schwab
Early on the litigation began in Houma, LA, Terrebonne Parish and was presided over by Judge Paul Wimbish. The action was relocated to St. Mary Parish to the court presided over by Judge Anne L. Simon. After a hearing on February 21, 2001 the plaintiff moved in this litigation as pro se.
Defendant, G. Tim Alexander, III's Attorney: James H. Gibson (during the litigation he was with the law firm of Allen & Gooch in Lafayette, LA.)
Defendant, Coregis Insurance Company, Attorney: Daniel A. Rees (during the litigation he was with the law firm of Rees & Rees in St. Martinville, LA. Mr. Rees had earlier been the law firm of Christovich & Kearney. That law firm had previously represented ARCO in the Blanchard I Litigation.)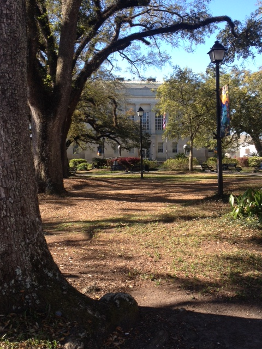 Terrebonne Parish Courthouse (Houma, LA)
As I earlier wrote, this litigation began in Terrebonne Parish, LA. Judge Paul Wimbish presided over it. It was later discovered that Judge Wimbish (now deceased) presided over this litigation with a serious conflict of interest over this litigation as well as another Terrebonne Parish. Judge Wimbish was connected in business with Andrew McCollam, Jr. (also now deceased).
Andrew McCollam, Jr. was an attorney who was connected to The Blanchard I Litigation and to Canlan Oil Company. Canlan Oil Company was one of the targets of a 1991 Federal Grand Jury Investigation on environmental matters as well a party in an action in Jefferson County in Birmingham, AL against the author.
The contamination that was discharged into Lake Salvador in Jefferson Parish was Chevron contamination that was gathered for years in a concrete barge at Bayou Villar's Field (shown in photo image).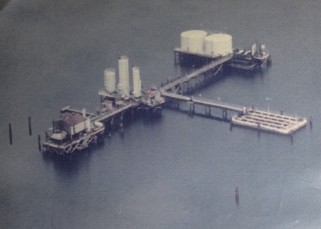 Note: Chevron is a defendant in the Blanchard litigations (having taken over Texaco's position). Do we have a pattern seen here?
Note: The author filed a judiciary complaint against Judge Paul Wimbish in 1999 for his conflicts with Andrew McCollam, Jr. and others. Of course, no discipline. Of course, all in secrecy as required by the Louisiana Supreme Court.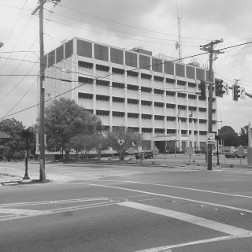 St. Mary Parish Courthouse (Franklin, LA)
Although Terrebonne Parish was the proper venue for this litigation, under Judge Wimbish's decision, this litigation was removed from Terrebonne Parish and refiled in St. Mary Parish, LA where it was alloted to Judge Anne L. Simon.

AFTER A HEARING ON FEBRUARY 21, 2001 IN ST. MARY PARISH, IT BECAME NECESSARY TO ACT PRO SE IN THIS LITIGATION. THE FOLLOWING OCCURRED THAT DAY THAT WAS CONNECTED TO MATERIAL VERBIAGE IN A HEARING TRANSCRIPT:
After reading the affidavits above, one might first say that the words intentionally removed from the hearing transcript might not have been material. That would be a prematurely wrong assumption.
First, they were material before they were removed
Secondly, they were removed exactly because they were material.
Thirdly, if they were not material they would not have been removed but instead the verbiage would have remained in the written transcipt.
How material were these words to the author? At the heart of the argument was an attorney, Newman Trowbridge, Jr. He was Betty Blanchard's attorney before April 11, 1986. From his own self-described explanation in 1986, it was proven that he and his oil and gas business associates wanted her (his client's [an elderly widow]) minerals that had been operated by ARCO (now BP). He was very politically connected and those connections offered many opportunities for him and his associates to obtain those minerals without the fear of being held accountable.

If one would review Judge Anne L. Simon's political candidate's contribution reports, in which all legal contributions are required to be filed, as per the Louisiana Campaign Finance Disclosure Act, that are available for public viewing, one would discover the list of lawyers and law firms that were part of her legal contributors, and if one would further understand certain contributor's historical connections to The Blanchard I Litigation and/or this subject litigation, one would have an understanding of why the material words about certain attorneys wanting to get "on" her docket before the presiding judge retired were indeed material. Properly contributing to campaigns is legal. The author believes her contributions were all legal. Although legal, they do indicate relationships. Relationships strong enough in this case so that when the judge spoke those words in open court she apparently instructed her court reporter to remove them. (An additional important issue is identified in Paragraph No. 14, No. 15 and No. 16 of the Nancy Blanchard affidivat. The time mentioned is a period of time long before the author was in her court. When and how many times may have this word tampering been done before? That is a serious question to many others.)

Commencing in 2001, questions needed to be asked by persons with supervisory authority (and answered) about which attorney(s) might be trying to get "on" her docket before she retired. Those were important questions to ask.
Commencing in 2001, questions needed to asked by persons with supervisory authority (and answered) in light of the transcript irregulatories, why this litigation was moved by the defendants to be "expedited" before this judge. If recalled correctly, the dismissal of this litigation might have actually been on Judge Anne L. Simon's last day on the court before her retirement. Those were important questions as well.
Although posed all the way to the Louisiana Supreme Court by the author, to the author's knowledge, these questions were not publicly asked by or answered for persons with supervisory authority for the public's good. A serious failure.

Conversely, if the verbiage had not been removed then the court or the defendants' attorneys could have easily and timely proven that by transcribing the recorded tape of the hearing to show that the material words were never spoken by Judge Anne L. Simon. The material words were spoken, as the affidavits stated, and therefore that was never done.
As earlier stated, commencing after February 21, 2001, this action proceeded pro se.
Pro se Writ to Louisiana Supreme Court filed by the author dated August 1, 2003
Summarily, the author did not object to paying the district court to copy the record to appeal the action. The author did object to paying for an incorrect record. The author believed the court had a higher obligation to deliver a full and correct record from which to argue than the author had an obligation to pay for a known incorrect record. That is what the author argued all the way to the Louisiana Supreme Court. Seemed like a very solid position, if placed before unbiased elected representatives of the general public.

Note: In the Blanchard IV Litigation the author paid and failed to get a full and correct record. You can see those facts by clicking on that website page.
Now, back to this litigation.
Writ denial dated September 5, 2003
Louisiana Supreme Court decisions for September 5, 2003 (2003 - 57)
Louisiana Supreme Court decisions for September 5, 2003 (2003 - 58)
As one can see, the writ denial decision cannot be found on these two pages of the Louisiana Supreme Court website that the author reasonably believes are intended to evidence the decisions on September 5, 2003 that were rendered by the Louisiana Supreme Court that day. Please review and see if YOU can find the decision anywhere on the Louisiana Supreme Court site that is intended for public viewing of its decisions. If you can find it, please advise the author as soon as possible. This narrative will be modified accordingly.
Remember, if the filing is not easily available on the court's website, the press and/or others can never see it to report on it or even know about the decision and the substance and/or the materialness of the arguments that were before the highest court in this State.
Please also importantly note: In reading the Nancy Blanchard affidavit, based on what was allegedly stated to her, it is highly conceivable and indeed likely that word modifications to hearing transcripts may have occured for years before this subject litigation's hearing on February 21, 2001. That would be many years before this litigation was filed in St. Mary Parish, LA.
Therefore, based on the Nancy Blanchard affidavit, one must ask oneself "which" words were removed from "which" transcripts in "which" legal actions (civil and/or criminal) and why were they removed by Judge Anne L. Simon? Is it possible that this practice extends to other judges in other district courts as well? Those are the questions this author put before the Louisiana Supreme Court in the writ. Again, to many secrets...not answered.
In 2003 the writ was denied with no comments. The highest court simply refused in 2003 to address these serious questions and issues placed before it that occurred in 2001.
Note: Please visit The Blanchard III Litigation in Jefferson Parish to see another example of court record irregulatories not addressed by the court system in the Blanchard series of litigations. Again, with the ultimate impact of continuing to protect the defendants in The Blanchard I Litigation.
Later in 2001, while this record tampering issue was beginning to be addressed in St. Mary Parish in this subject litigation by the author, Judge Ann L. Simon was actually sitting in for justices at dockett proceedings for the Louisiana Supreme Court! Based on this, as important as it was for the public, it is the author's opinion, it was highly unlikely the writ ever had a chance of being taken seriously by the same court she was asked to sit on.
If something meaningful and just had been done in 2003 by the Louisiana Supreme Court, as a result of the writ filed before it by the author, and the court would have subsequently acted in the public's good to correct the matter, it is possible that the lost and/or destroyed court record in The Blanchard III Litigation court record in 2014 in Jefferson Parish, LA may never had occurred. Further court protection for the defendants in The Blanchard I Litigation would have ended.
Then in 2014 the Louisiana Supreme Court appointed a new judge in a very important and extremely conflicted litigation in St. Charles Parish! The author has no opinion at all on Judge Simon's decisions in that litigation. Her decisions were what they were. That litigation is only identified here so to try and evidence the Louisiana Supreme Court's apparent lack of concern and holding of others accountable for their failure to develop and maintain accurate and complete court/trial records.
The State Constitution has given the Louisiana Supreme Court the supervisory jurisdiction to address these types of court matters. The Louisiana Supreme Court has failed to do that.
There are now new justices that have been elected to the Louisiana Supreme Court since 2003. Maybe something meaningful can now happen to help the public gain faith in a real justice system that is first here to serve the public good.
Finally, a review of Judge Anne L. Simon's legal contributions in past elections also show a potential relationship connection to the presiding judge in The Blanchard V Litigation that might go to in part explain the strange court happenings that recently there. (A decision in favor of the author in the Blanchard V Litigation would have opened many things from the past.)

More informaton will follow, please stay tuned!
But, while waiting, one might consider this article.