THE BLANCHARD I LITIGATION
(St. Mary Parish Docket No. 77,796)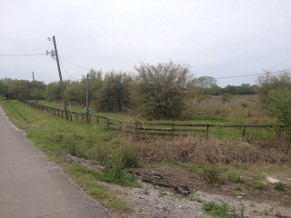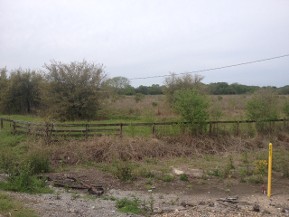 Park Plantation (Looking southerly along Penn Road)
This is the underlying litigation of all subsequent Blanchard litigations as well as the Paul Maclean vs. G. Tim Alexander, III, et al Litigation. When filed in 1986 it was alloted to State District Judge Richard T. Haik. In 1989 he ruled against the plaintiffs in a Summary Judgment decision and on behalf of the defendants. That decision was later reversed and remanded in 1991 back to St. Mary Parish for trial but Judge Haik had been appointed to Federal Court by that time. Never got to see him in district court again.
Did see him again about 15 years later on the same contamination and set of facts. He later presided over The Blanchard IV Litigation for awhile in Federal Court although that was probably not a thing he should have done. After the author was joined to that litigation, he wisely removed himself from it for I was going to pro se move for his recusal.
Back to the Blanchard I Litigation in St. Mary Parish. Judge Marcus Broussard temporarily presided over this litigation as district judge and then after elections it was presided over by Judge Charles L. Porter.
There is much to write about this litigation but there are other actions on this website that are more ongoing in real time and pressing that need to be first fully written about and evidenced on this website. For the time-being, just a few documents will be attached that will supply the gist of the wrongdoings that underlie this subject litigation:
Letter from Newman Trowbridge, Jr. to ARCO dated February 7, 1986. This letter was unsuccessful in its goal. ARCO did not want to sell one property in a private sale to Newman Trowbridge's oil and gas clients. The mineral lease had already been packaged for sale to the public with other fields. Trowbridge was also Betty Blanchard's attorney at the same time of this letter. Betty Blanchard had wanted ARCO off her property for years. Trowbridge knew that from representing her for years. She was not advised of this letter to ARCO for other clients as well as his oil and gas business associates.
Letter from John E. Hine to Betty Blanchard dated February 27, 1986. This letter was unsuccessful in its goal. Betty Blanchard did not want to sell her land or minerals. She refused his offer. John Hine was one Newman Trowbridge's Houston-based oil and gas business associates. Should they had been successful in buying her minerals, they would have delivered a demand letter upon ARCO as operator. As you will next read, this is not speculation. Betty Blanchard was not aware that John Hine was Trowbridge's Houston-based oil and gas business associate.
Portion of deposition of John Hine dated June 20 and 21, 1994. Line 9 of Page No. 71 admits what they were trying to do, if John Hine and his business associates could have bought Betty Blanchard's mineral interest.
Letter from William Wessel to Newman Trowbridge (deceased) dated November 14, 1986.
Letter from Newman Trowbridge to William Wessel dated December 2, 1986.
Affidavit of Betty Blanchard dated October 5, 2000.
The author began to first discover some of the above actions in April of 1986. Betty Blanchard gave the author her Power of Attorney and Agency to act on her behalf and the action began. It has yet to end.
In this first litigation and all the other Blanchard and/or Blanchard-connected actions, it has always been the defendants' main objective to not let this most basic set of facts (evidenced above) to come out in open court in a trial on the merits. If that would have happened, it was a clear loss for them.
An understanding of the wrongdoings that first began in 1985 and 1986 makes the conjured up purported 1996 compromise settlement agreement (and all that was connected to it) to at least avoid full environmental remediation of Park Plantation void ab initio. If people could do what they did as evidenced above to an elderly widow who depended on a extremely conflicted attorney (and his law firm) for her only legal counsel (until he was uncovered), those same people could easily later prepare and execute an unlawful agreement to acquire her mineral royalty and to avoid full environmental remediation of her property - that was first schemed to do over ten (10) years earlier.
As one reads these website pages one will see what certain powerful people can do and how the legal system can be used (and uses people) to get what they want for themselves and their business associates (mineral royalty income) and others (avoidance of full environmental remediation) while other people (including attorneys and judges) remain silent about what they also have seen (and for attorneys and judges likely in violation of Louisiana Legal Ethics Rules). One will see that for some it truly is a "JUST-US" system.
Over time, the author will list legal professionals that have touched upon this litigation and other Blanchard litigations and shall demonstrate how acting favorably for the defendants can tend to steer many of them onward to promising futures within the legal profession. There is nothing wrong with a professional rising rapildy through the ranks of one's peers and most of these individuals certainly had the talents and skills to do that without the Blanchard litigation(s). Still, it will be interesting to evidence those careers to read and then YOU can then make YOUR own decision about what may appear.