THE ROSARY
THE "HEART" OF OUR DEVOTIONAL PRAYER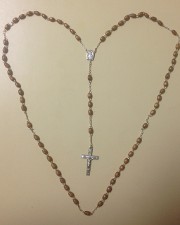 (COUNT THE DECADES)
IT IS TIME FOR ALL TO CONSIDER PRAYING
THE SIXTH GLORIOUS MYSTERY
On May 17, 1998 in Houma, Louisiana, a new mystery began to be prayed. That new mystery simply added an additional decade after the customary Fifth Glorious Mystery ("The Coronation of Mary as Queen of Heaven and Earth"). The additional decade is call the Sixth Glorious Mystery. ("The Glorious Return of Her Son"). It is true, Our Blessed Mother will be truly "Crowned" when Her Son returns. The whole world will know that She is who we declare Her to be in Her Rosary. Her Immaculate Heart will Triumph!
This additional decade not only represents the last step in the life of Jesus – His Glorious Return at the Final Coming – but also His return through the Eucharistic Miracle that occurs during Mass – and so many other ways every day. By the multiple levels of His daily return, "The Light Returns in the Darkness" of this world. Buy through the Holy Eucharist, He has remained with us, as He promised.
This new decade is not mandatory but it is most appropriate to pray and it is sought to be added only after the Fifth Glorious Mystery. By praying the Sixth Glorious Mystery in this way, we are effectively praying for His return by using His Mother's rosary – an efficacious practice that will bear good fruit because His Mother asked us to pray the rosary. This requested practice is so aligned with the objectives of the Come, Lord Jesus! lay apostolate that is spreading across Louisiana and elsewhere.
IMAGINE, IF YOU WOULD!
Imagine an image of what Jesus will wear when he returns.
Imagine as part of His attire was a tremendous blue cape that stretched to the horizon - as far as one could see.
Imagine, as Jesus approached, His cape was not really just blue but it was instead a patchwork of separate pieces of cloth...all colors, shapes, designs. Actually, pieces of "remnant" cloth!
Imagine, He will mysteriously and mystically "wear" the "remnant" church as He returns.
THE REMNANT CHURCH...
"STITCHED TOGETHER WITH HIS MOTHER'S ROSARY!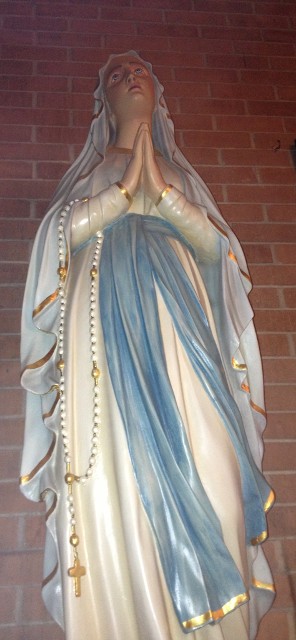 (PHOTO FROM ST. BRIDGET CATHOLIC IN SCHRIEVER, LA)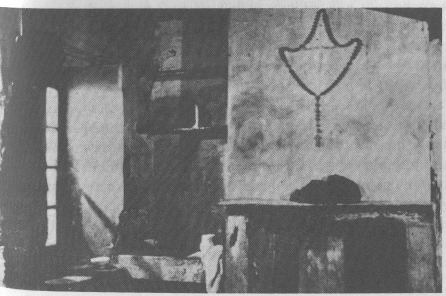 PHOTO FROM ST. BERNADETTE HOME (COUNT THE DECADES)
Maranatha...Come Lord Jesus!
THIS IS EXTREMELY SERIOUS!
TIME IS OF THE ESSENCE!
CHECK LINK BELOW:
http://www.catholicnewsagency.com/news/after-vision-of-christ-nigerian-bishop-says-rosary-will-bring-down-boko-haram-78382/